Here you can get the free pattern for a mini crochet stocking.
These are a really easy make, and are perfect for either an advent calendar, or a cutlery holder.
I have the  the step by step pattern to make a little crochet stocking, that is made in one piece.
These are the perfect size for a chocolate bar, and can be made as ornaments for the Christmas tree, advent calendars or cutlery holders – you choose!
If you'd like to Save this for later, please Pin it below.
How do you crochet a mini stocking?
These little crochet stockings are an advanced beginner pattern.  They only use a few stitches, so are great at expanding your knowledge just slightly.  You'll need to know how to (or will learn when making these)
Single Crochet 
Half Double Crochet in rounds
Half Double Crochet in rows, turning.
Yarn for a mini crochet stocking
I was very kindly gifted by Wecrochet some Brava Worsted weight yarn, which is my new favourite yarn, and which I used for the larger stocking
I've made these little stockings in 2 of the most common weights of yarn for my USA readers, and my UK readers, as we have different "common" yarn.
USA Friends, I've used Crochet.com "Brava" in worsted weight
UK Friends, I've used Stylecraft Special DK
>>> Find Stylecraft Special DK
But, being different weights, they are different sizes and make different sized stockings.
Both yarns are 100% acrylic, and are nice cost effective purchase.  You'll need 2 colours for each stocking.
Other Christmas Crochet Patterns with this yarn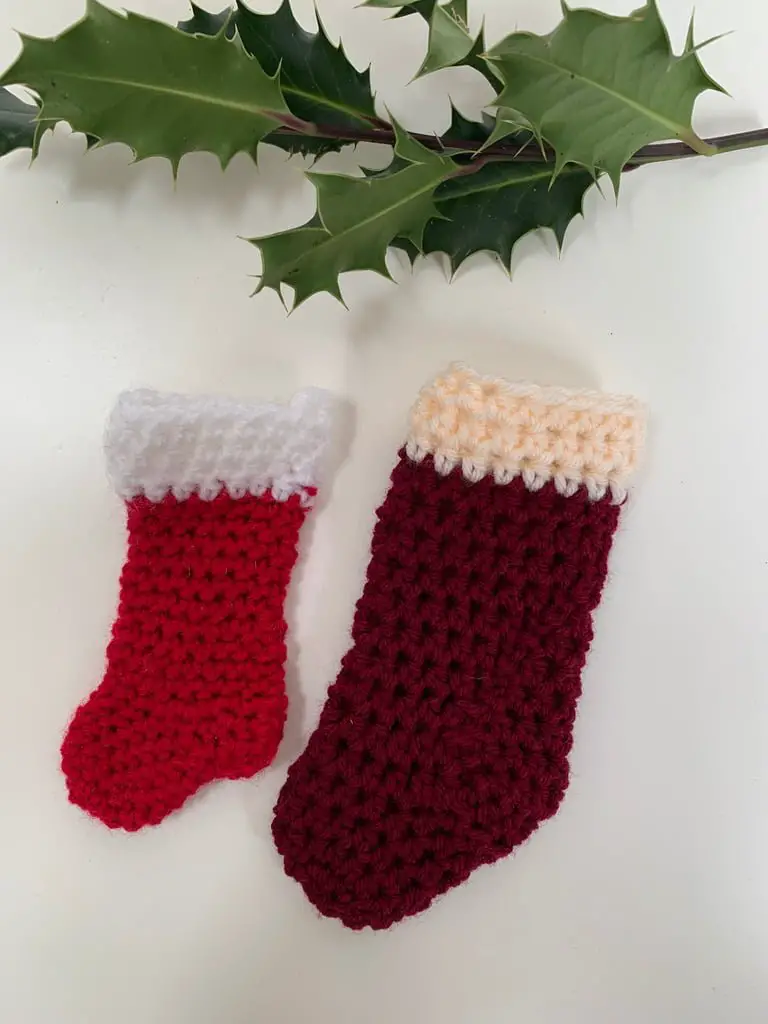 How big is a mini crochet stocking?
This will depend on what yarn you use!
The smaller of the stockings using the DK yarn measures 13.5cm x 6cm (5 ¼ inches x 2 1/4 inches).
The worsted weight stocking measures 17 x 8 cm (6 1/2 x 3 inches).
Both will fit different items, the worsted weight will easily fit a chocolate/ candy bar.  The DK weight will fit cutlery easily.
How long does it take to make a Mini Crochet Stocking?
These are a really quick make!  I'd expect you to have these made in under an hour with the ends sewn in too!
Mini Stocking Crochet Pattern options
There  are a few ways you can get the crochet pattern for my mini crochet stockings.
There are a few ways you can access and enjoy this crochet pattern and help support Off the Hook for You.
You can find and use the mini crochet stocking pattern here on the blog that is supplemented with ads.
You can purchase, print and keep the 2 page advert-free pattern PDF in any of my shops.
>>>Get the Bundle of 40 Festive Patterns for $12.99
>>>Get the advert free Instant PDF on Etsy
>>>Get the advert free Instant PDF on Lovecrafts
>>>Add to your Ravelry Queue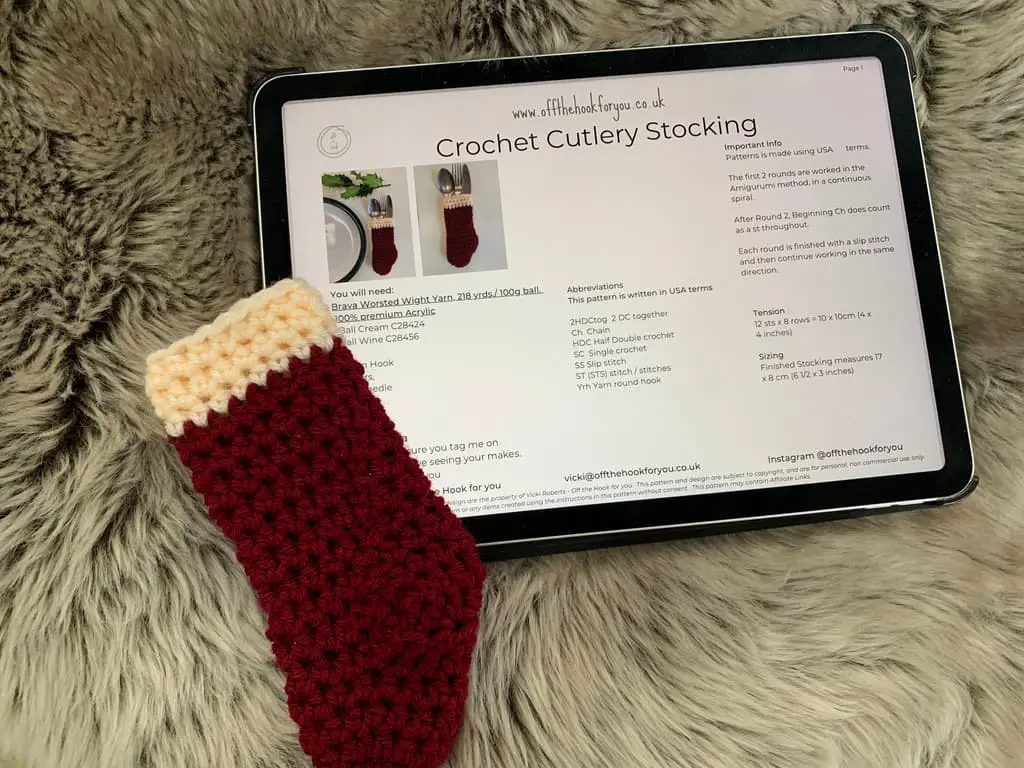 To crochet a Mini Christmas Stocking
You will need:
Brava Worsted Weight Yarn, 218 yrds,/ 100g ball. 100% premium Acrylic
1 Ball Cream C28424
1 Ball Wine C28456
Scissors
Yarn needle
Abbreviations
This pattern is written in USA terms
2HDCtog  2 HDC together
Ch  Chain
HDC Double crochet
MR Magic Ring
SC  Single crochet
SS Slip stitch
st (sts) stitch / stitches
Important Pattern Info
Patterns is written using USA terms.
The first 2 rounds are worked in the Amigurumi method, in a continuous spiral.
After Round 2, Beginning Ch does count as a st throughout.  Each round is finished with a slip stitch and then continue working in the same direction.
Tension
12 sts x 8 rows = 10 x 10cm (4 x 4 inches)
Sizing (Using Worsted weight yarn)
Finished Stocking measures 17 x 8 cm (6 1/2 x 3 inches)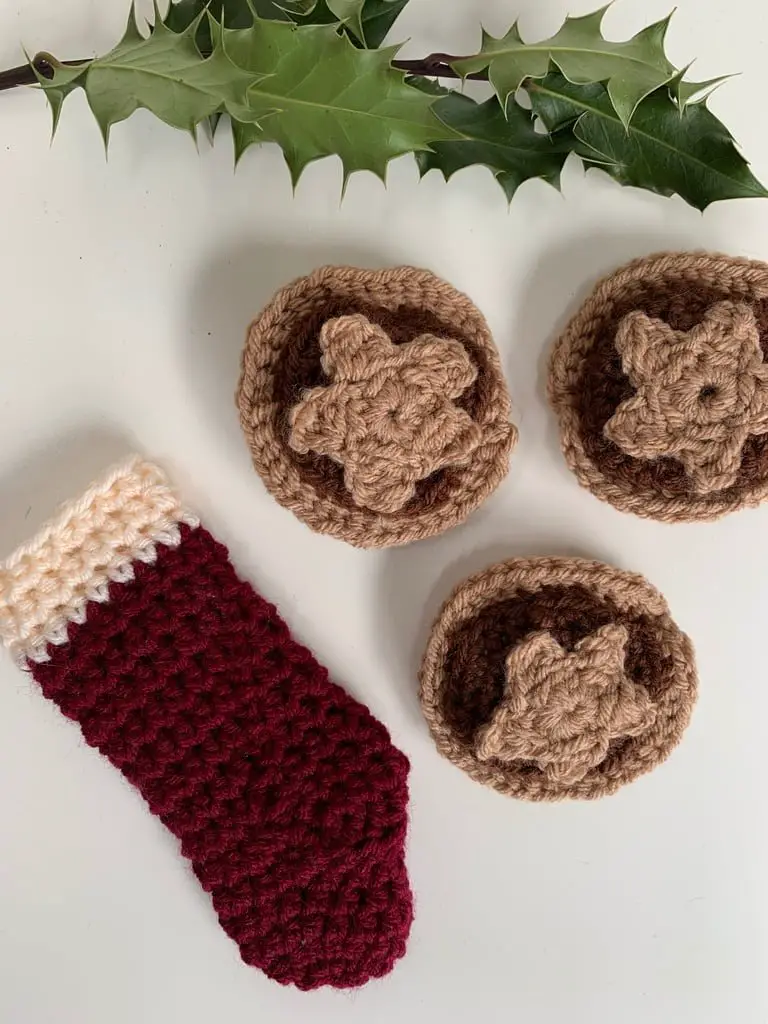 Mini Stocking Crochet Pattern
The toe is worked in the amigurumi method in a continuous spiral, no slip stitching
Toe
Rnd 1: With wine, working into a magic ring, 8SC, join. [8sts]
Rnd 2: (2SC) 6 times, ss to join. [16sts]
Rnd 3: Ch2, 1HDC in each SC around [16 sts]
Rnd 4-6: Ch2, 1HDC in each st around.
To shape the heel
Row 1 : Ch2, 6HDC. Turn. [7sts]
Row 2-3: Ch2, 6HDC. Turn.
Mini Crochet Stocking Leg
Now working in rounds, you are going to make the rows into a round combining the toe to the heel.
Rnd 1: Along the side edge, work 3HDC evenly spaced. On the top of the toe, make 1HDC in the next 3 sts, 2HDCtog, 1HDC in in the next 3 sts, 2HDCtog, 1HDC in next 5 sts, then 1HDC in each of the st of the heel. [19 sts]
Rnds 2-8: Ch2, HDC around, SS to join.
Rnd 9: Join cream, Ch2, HDC around. SS to join.
Rnd 10-11: Ch2 HDC around
Fasten off, weave in ends and turn inside out.
As you've made the stocking in one piece there is nothing else to do! Should you wish to hand your stocking, SS round to the back of the stocking above the heel, Ch20, and SS to the next st to make a loop.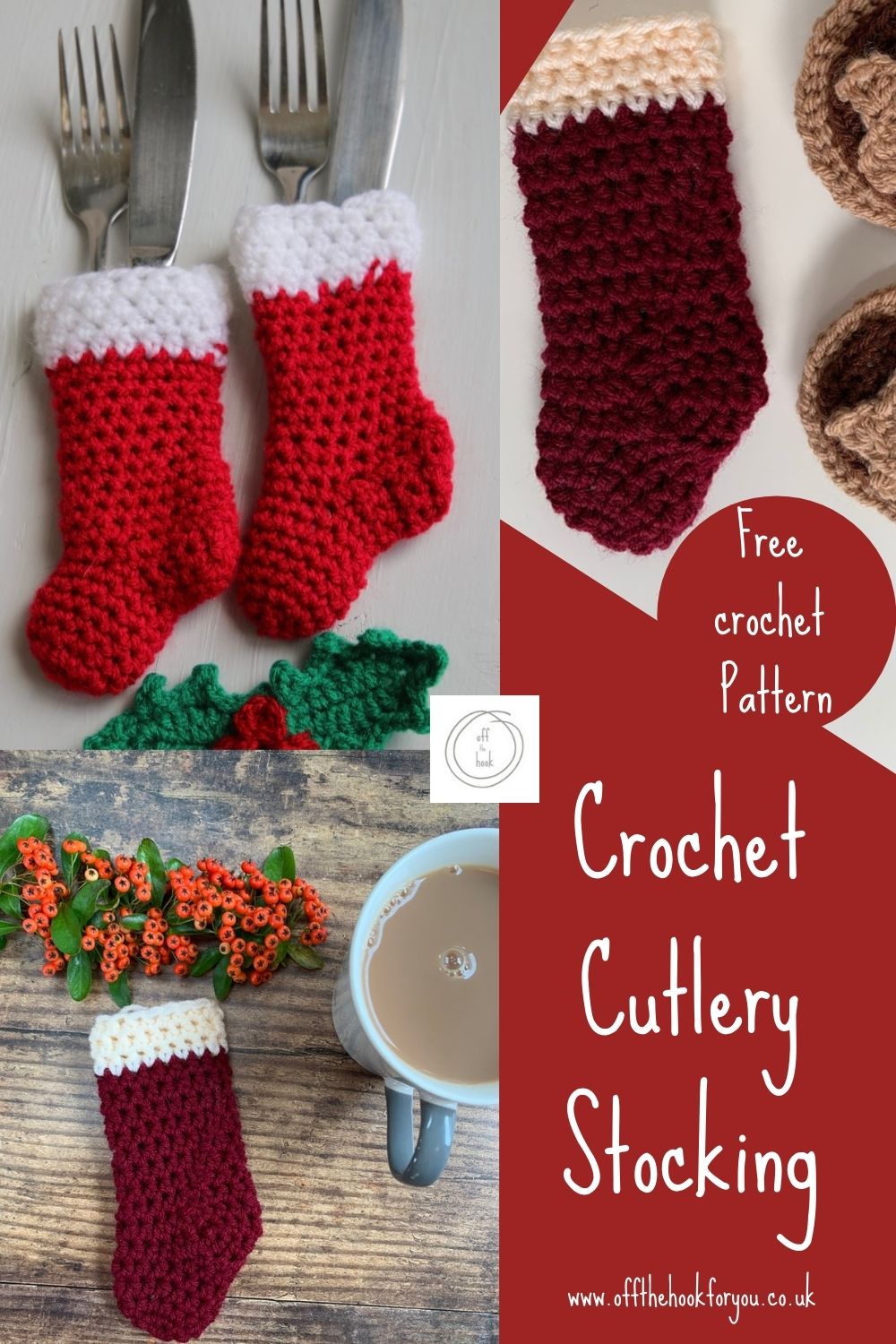 For more Christmas Crochet Patterns you might like:
Join me at Off The Hook For You to share your crochet!
Thanks for visiting  – I'd love to stay connected with you so please sign up for my email list where a free PDF pattern is waiting for you (just so you can see what my PDF patterns are like).   
Finished one of my crochet pattern makes?  I'd love to see it and so would the world, so get sharing!  You can find me in the following ways:
Disclaimer 
This post may contain affiliate links which I earn a small commission from if you choose to click and purchase anything from. You pay the same price, I get a very small amount for sending you their way.  It helps me to make my crochet patterns free on the blog.