Here you can find the free pattern for a Boho Crochet Christmas Stocking.
I love a Christmas stocking, and what better way to show someone you care about them, by making a personalised stocking at Christmas.  
This is a really easy one piece pattern with no seam.  I've used the way it's constructed to give the shape, making this a nice and simple crochet make.
If you like this pattern, please pin it for later below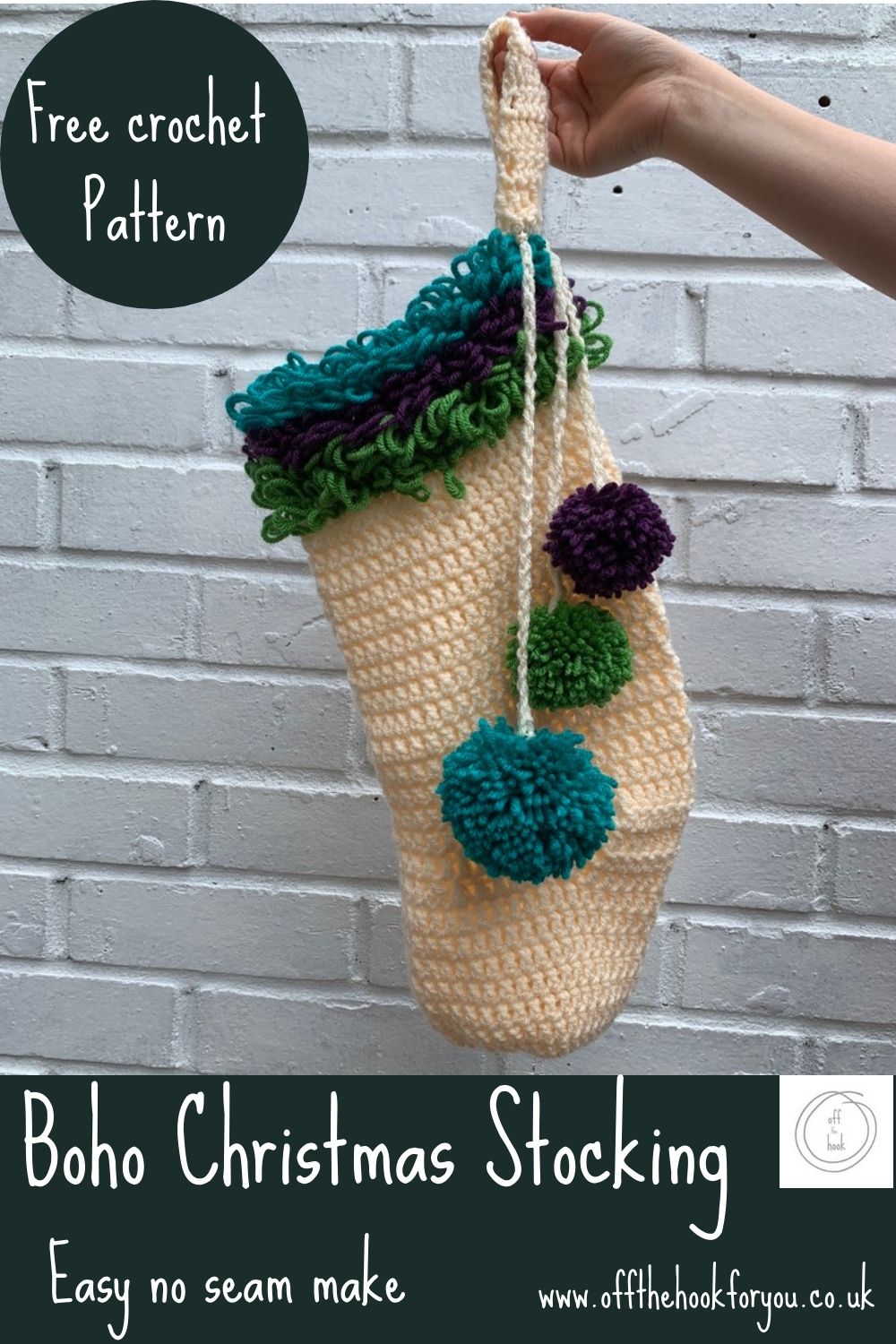 Pattern Options
There are a few ways to get the pattern for this Boho Crochet Christmas stocking and help support Off the Hook for You.
You can find and use the Boho Crochet Christmas Stocking pattern here on the blog that is supplemented with ads.
You can purchase, print and keep the 2 page advert-free pattern PDF below.
>>>Get the advert free Instant PDF on Etsy
>>>Get the advert free Instant PDF on Lovecrafts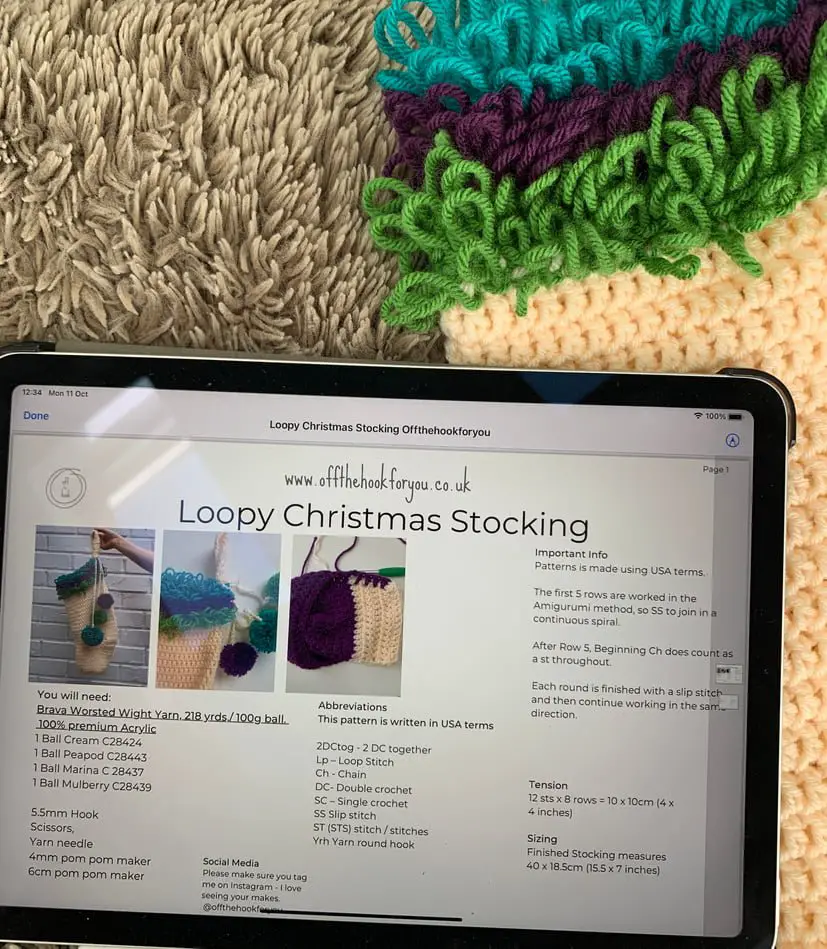 Yarn for a Boho Crochet Christmas Stocking
Yarn for this pattern was kindly gifted by Wecrochet.  If you haven't ever shopped with this company, the choices are just so many I almost didn't make my mind up in time!
I went for the Brava Worsted weight yarn which comes in 50 different colours. 
Why?  Well I wanted a Worsted weight yarn just to be nosey really!  In the UK we don't have "worsted" as a weight, and I wanted to see what all the fuss was about.
This yarn did not disappoint!
It's a premium acrylic that is very easy on the bank balance at only $2.99 a 100g ball / skein.
Colours wise, I wanted something a bit more boho and Jazzy than the traditional red and cream, hence I kind of went a little crazy!

How long does it take to make the Boho Crochet Stocking?
This pattern, takes about 2 hours to make the main cream part of the stocking.  
The loop stitch took me about 1-2 hours, just because I'm not very fast at it, but this is something to bear in mind.
For a super quick make >>> check out my quick and Easy Crochet Stocking



What do you need to know to Crochet a Boho Stocking?
This is a really easy pattern (like most of my patterns – I'm all for making things simple and easy!)
You'll need to know:
Half Double crochet
Double crochet
Loop Stitch
Chain
How to make a pom pom



How big is the Crochet Stocking?
This stocking measures 40 x 18.5cm or 15.5 x 7 inches when finished. This is using a worsted weight yarn and a 5.5mm hook.
Boho Crochet Christmas Stocking Pattern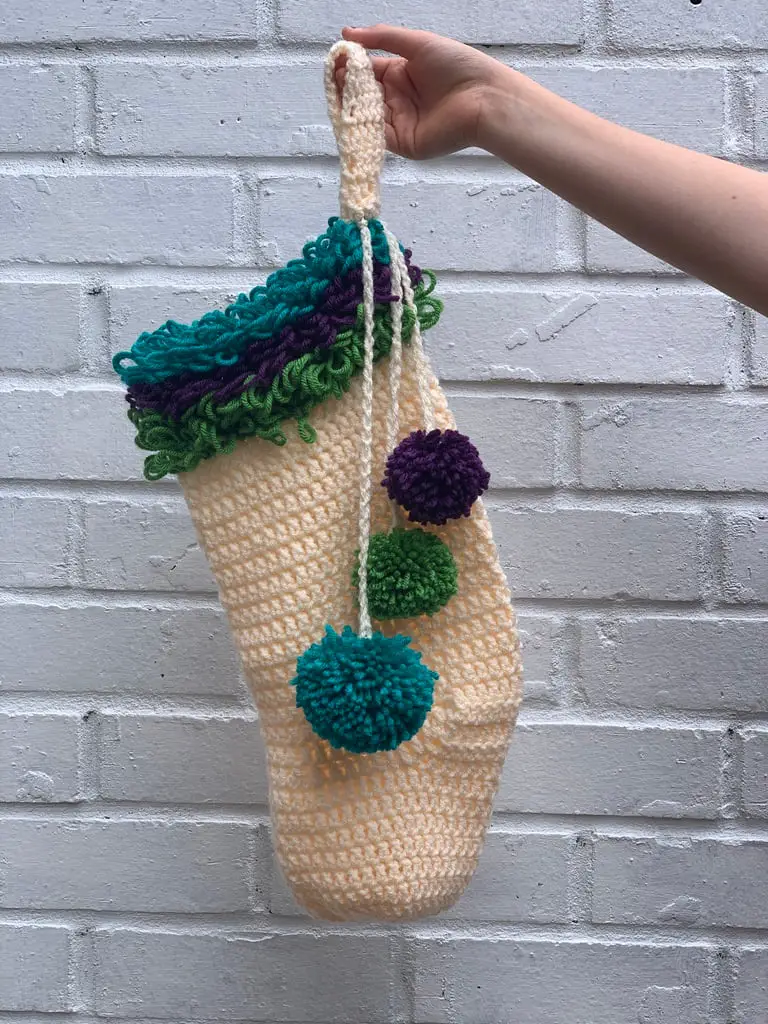 You will need:
Brava Worsted Wight Yarn, 218 yrds,/ 100g ball. 100% premium Acrylic
Scissors
Yarn needle


Abbreviations This pattern is written in USA terms
2DCtog – 2 DC together
Lp – Loop Stitch
Ch – Chain
DC- Double crochet
SC – Single crochet
SS Slip stitch
ST (STS) stitch / stitches
Yrh Yarn round hook



Important Info
Patterns is made using USA terms.
The first 5 rows are worked in the Amigurumi method, so SS to join in a continuous spiral.
After Row 5, Beginning Ch does count as a st throughout.
Each round is finished with a slip stitch and then continue working in the same direction.
Tension
12 sts x 8 rows = 10 x 10cm (4 x 4 inches)
Sizing
Finished Stocking measures 40 x 18.5cm (15.5 x 7 inches)
Special Stitches
Loop Stitch (Lp): [Insert hook in st, extend your finger to size of loop required, yrh Anticlockwise, pul (keeping finger in loop), yrh, draw through 2 loops on hook.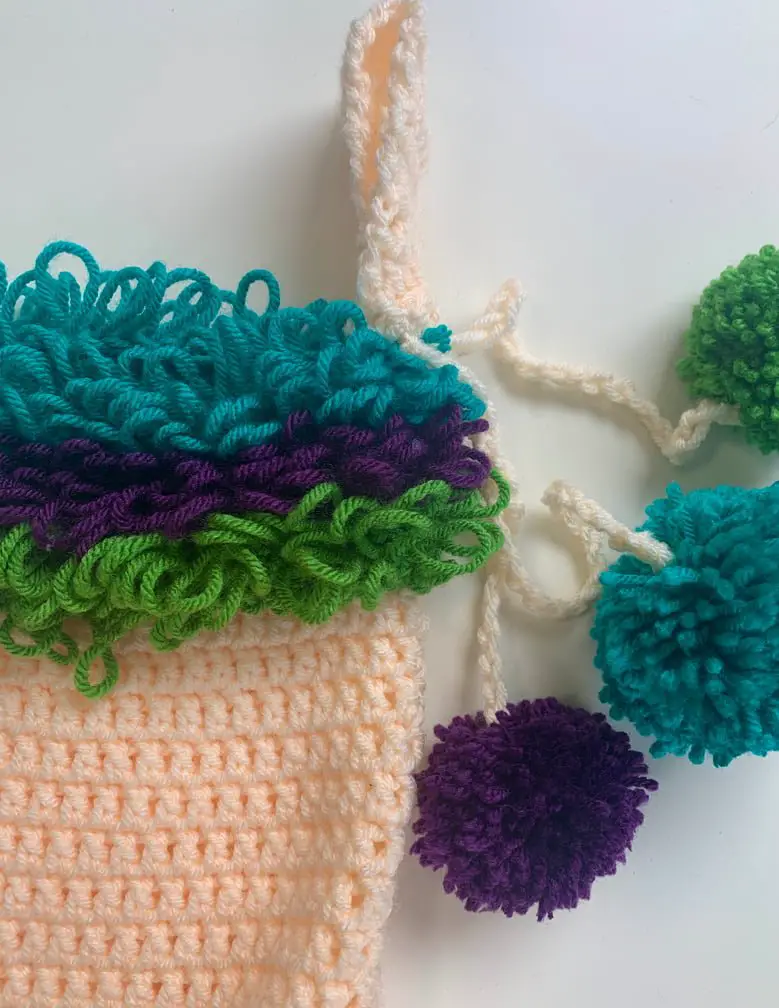 Pattern
The toe is worked in the amigurumi method in a continuous spiral, no slip stitching
Toe
Rnd 1 With cream, working into a magic ring, 8SC. 8sts
Rnd 2: [2SC] 6 times. 16sts
Rnd 3: [1SC, 2SC in next st] 8 times. 24 sts
Rnd 4: [2SC, 2SC in next st] 8 times. 32 sts
Rnd 5: [3SC, 2SC in next st] 8 times. 40 sts
Rnd 6: Ch3, 1DC in each st. SS to join. 40 sts
Rnds 7-12: Ch3, 1DC in each st. SS to join. 40 sts
Heel
Now working in rows, turning at the end of each row
Row 1: Ch3, 1DC in next 14 st. Turn. 15 sts
Rows 2-5: Ch3, 1DC in each st. Turn.

Stocking Leg
Now working in rounds, you are going to make the rows into a round.
Rnd 1: Along the side edge, work 4DC, 2DCtog [5DC, 2DCtog, 2DCtog)] twice, 5DC, 2DCtog, 4DC along side edge. SS to top of Ch3. 29sts, or 44sts if you include the heel.
Rnds 2-15: Ch3, DC around, SS to join. 44sts. Fasten off, weave in end. Turn right side out.
Rnd 16: Join Peapod, Lp around, SS to join.
Rnd 17-18: Lp around. SS to join.
Repeat Rnds 16-18, changing colour to Mulberry and Marina. Fasten off weave in ends.

Strap
Fold stocking in half, counting back on the back edge, count 3 sts to the right (if right handed).
Row 1: Join cream yarn. Ch3, 5DC. Turn. 6sts
Row 2-14: Ch3, 5DC. Turn. Fasten off weave in ends
Making up
Sew the strap onto itself on the inside of the stocking to give a loop.
Make pom poms, 2 x 4cm in Mulberry and Peapod, 1 x 6cm in Marina. Make 3 chains of Ch20, Ch25, Ch30 in cream. Attach the pom poms to the chain and sew to the strap.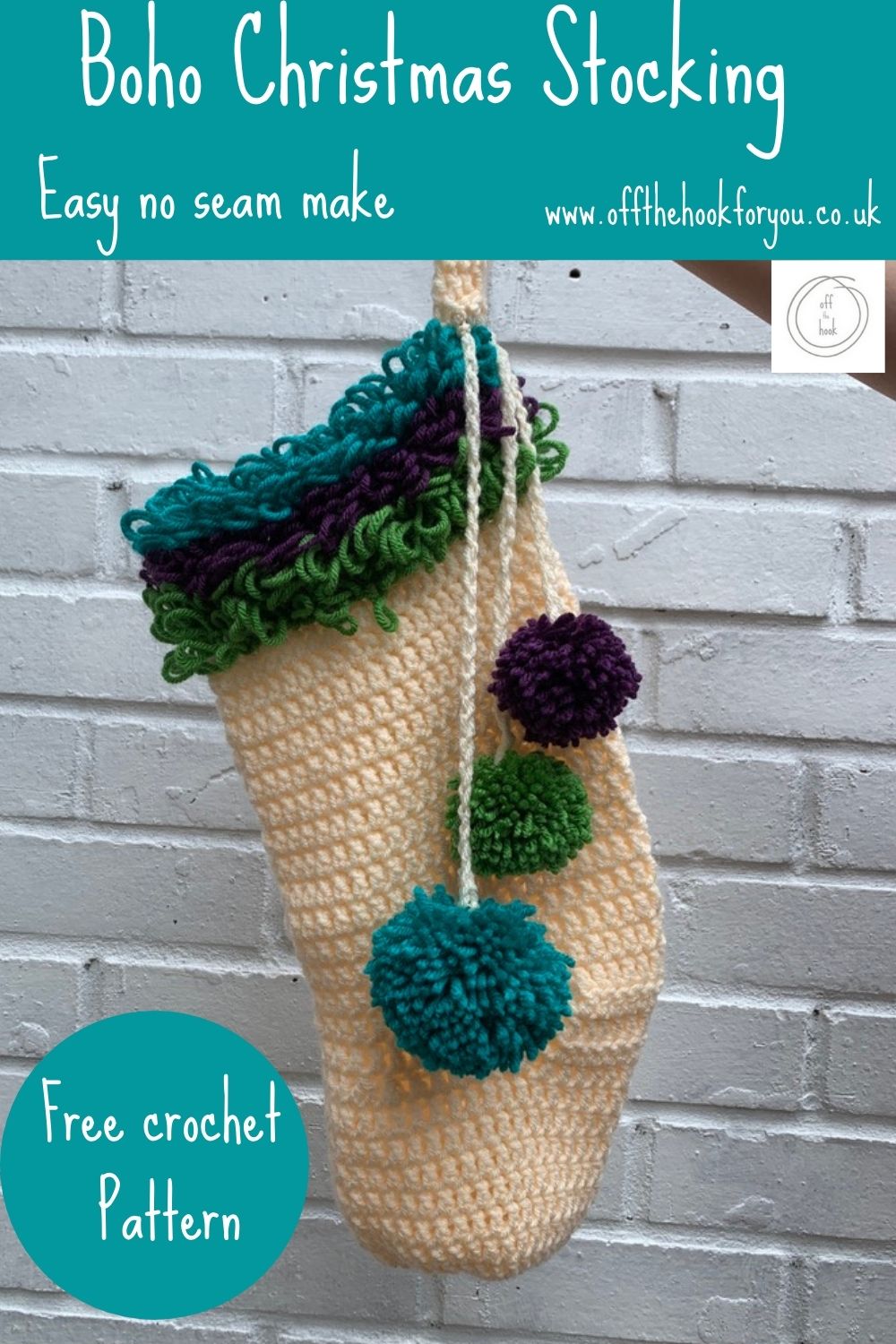 Join me at Off The Hook For You to share your crochet!
Thanks for visiting  – I'd love to stay connected with you so please sign up for my email list where a free PDF pattern is waiting for you (just so you can see what my PDF patterns are like).   
Finished one of my crochet pattern makes?  I'd love to see it and so would the world, so get sharing!  You can find me in the following ways:
Disclaimer 
This post may contain affiliate links which I earn a small commission from if you choose to click and purchase anything from. You pay the same price, I get a very small amount for sending you their way.  It helps me to make my crochet patterns free on the blog.