Hello, Welcome, here you can get the free pattern for a quick crochet Christmas Stocking, which is really easy and will only take you about an hour to make, yep, only an hour!
This is a really easy beginners pattern to make a large crochet Christmas stocking.
The key to this project is the yarn. I love super bulky/ chunky yarn – because it's quick to crochet anything with basically – I'm a lazy crocheter at heart (Or I never leave myself enough time to make something!)
So remember the Cygnet Seriously chunky metallics yarn, well I knew exactly what I wanted to make with the Lithium, as the red is so festive and Christmas coloured.
If you want to save this for plater – please Pin it below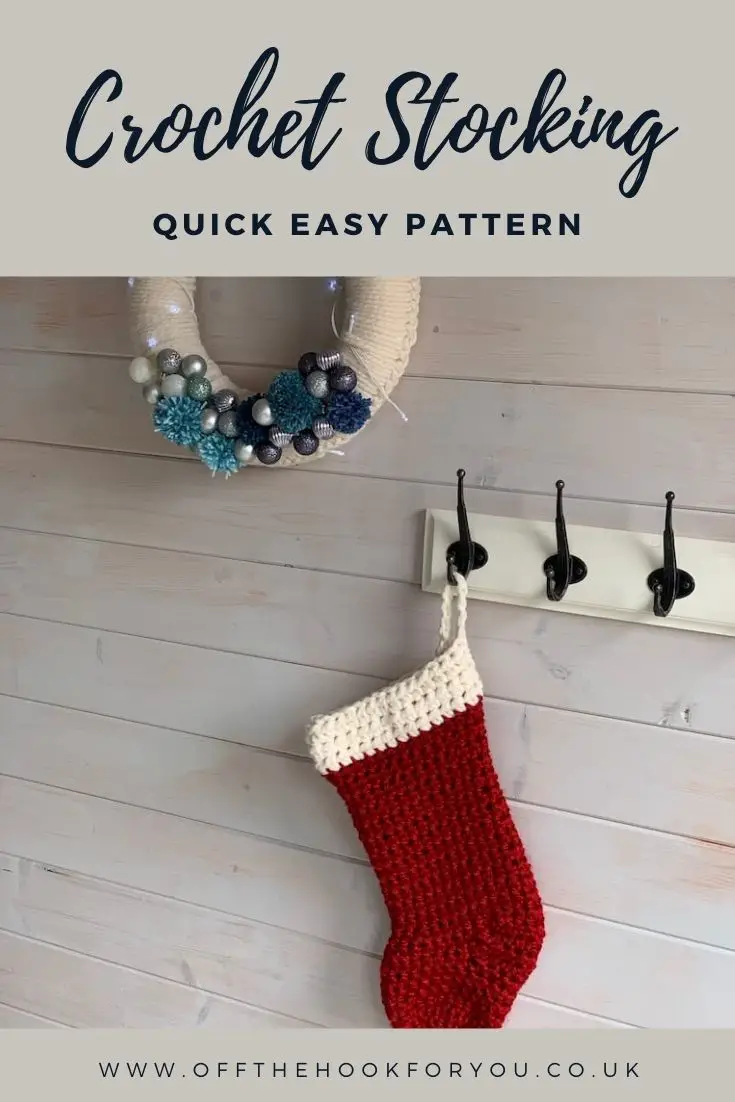 Just look at this red, it's absolutely stunning, and crying out to be made into something Christmasy.
Needless to say, it didn't take me long, and I was crocheting away with my Clover 10mm hook.
>>>Find out about my super quick crochet wreath here
How to Crochet a Christmas Stocking
I call this an improvers beginners pattern.
It's not for complete beginners as there are a few stitches and techniques you need to know how to:
work in a circle (Amigurumi method)
Chain
Single crochet (US)
Half Double crochet (US)
2 HDC together
So slightly more involved than a beginners granny square for example, but not my much!
Large Crochet Christmas Stocking
This is a large Crochet Christmas stocking.
It measures 40cm x 17cm or 16 inches x 7 inches , the perfect size for when Santa comes to visit.
So to make this great stocking, perfect for the end of the bed, or the mantel piece, look no further.
As with all my patterns, you can get the free pattern below or an instant down loadable nicely formatted PDF (Ad free below), just think of it like buying me a coffee!
If you want to purchase an Advert free pattern, you can get it here at the usual places.
>>>PDF Advert free Lovecrochet.
>>>Add to your Ravelry Queue Ravelry
Yarn Choice – Quick and Easy Crochet Stocking
Yarn choice here is absolutely key as to why this crochet stocking pattern will only take about a hour to make.
The thicker the yarn, the quicker the project and this is no exception!
>>>Check out all my Super Bulky Yarn patterns here
For this stocking pattern the yarn was key. Just look at the sheen on the red. Good news, they have now brought out a green too, and a white/ cream in the same brand.
>>>Cygnet Seriously Chunky Metallics
For USA Friends >>>Mighty Stitch by Wecrochet
If you like this pattern you might also like, one of my other free Christmas Crochet patterns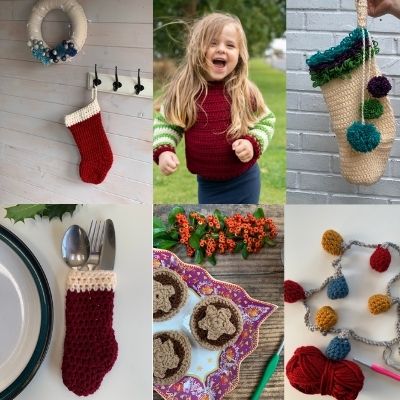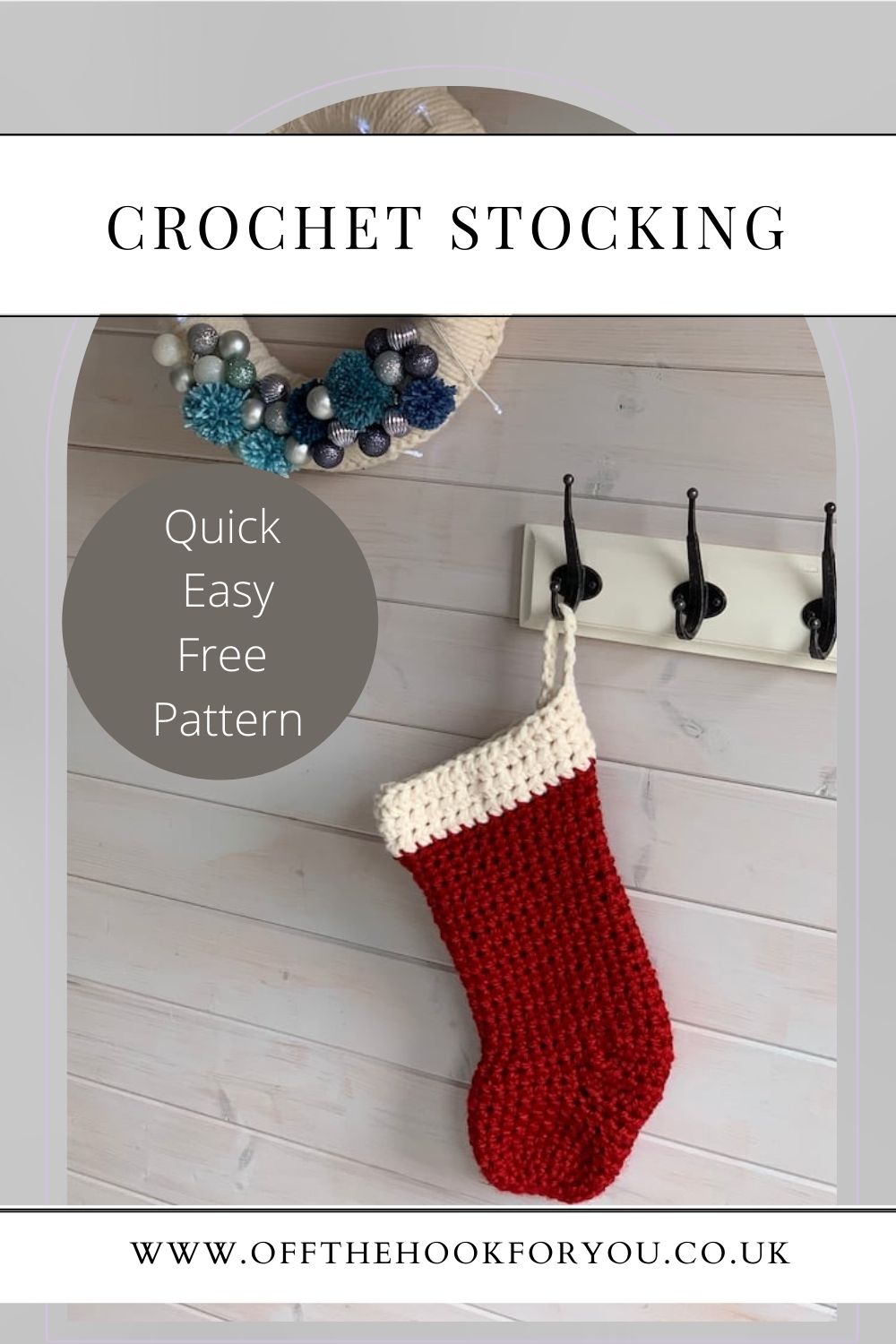 Crochet Christmas Stocking Pattern – Quick and Easy
2 balls Cygnet Seriously chunky Metallics in Lithium
1 ball Cygnet Seriously chunky in cream
Stitch marker
Scissors
Abbreviations – USA Terms

Ch – Chain
MR – Magic ring
HDC – Half double crochet
sc – single crochet
2HDCtog – 2 half double crochet together
SS – Slip Stitch
You might also like these super chunky yarn makes:
To Make a Super Quick Crochet Christmas Stocking

The stocking is worked in the round and in rows, in one continuous piece, mainly using the amigurumi method of a continuous spiral.

Round 1: Magic ring, chain 1, 8 sc in the ring,  pull tight [8sc]
Round 2: 2sc in each sc around.  [16sc]
Round 3: 2sc in first sc, 1sc, repeat around. [24sc]
Round 4: 1HDC in each sc around. [24HDC]
Round 5-7: 1HDC in each. [24HDC]

Now working in rows to make the heel, ch2 counts as a stitch.
Find more Festive makes here>>>>

Row 1: Ch2, 10HDC.  Turn [11 sts]
Row 2-5: Ch2, 1HDC in each st. Turn. [11sts]
Now working in rounds again to get to the leg part of the stocking.

Round 1: Along the side of the heel part you've just crocheted, make 3HDC evenly spaced, On the top of the toe, and into the top of the stitches, 3HDC,[ 2HDCtog, 1HDC] repeat 2 more times, 3 HDC, HDC along the top of the heel. [30 sts]

Round 2: 8HDC, 2HDCtog, 3HDC, 2HDCtog, 1HDC in next 14 sts. [28 sts]
Round 3: 1 HDC in each st around. [28 sts]
Rounds 4- 13: 1 HDC in each. [28sts]
Round 14: 1 HDC in the first 24 stitches, (To line up with middle of the back of the stocking) Change to cream yarn on the last YO. [24sts]
Round 15 – 16 : 1HDC in each [28 sts]
Round 17: 1HDC in each,  on the final stitch, chain 10, and join to the next stitch with a sc to create a loop to hang the stocking.
Join me at Off The Hook For You to share your crochet!
Thanks for visiting  – I'd love to stay connected with you so please sign up for my email list where a free PDF pattern is waiting for you (just so you can see what my PDF patterns are like).   
Finished one of my crochet pattern makes?  I'd love to see it and so would the world, so get sharing!  You can find me in the following ways:
Disclaimer 
This post may contain affiliate links which I earn a small commission from if you choose to click and purchase anything from. You pay the same price, I get a very small amount for sending you their way.  It helps me to make my crochet patterns free on the blog.