I've been teaching people to crochet for over 5 years now, and have learned a lot in that time about what works to make sure kids and adults both learn, and can enjoy this great craft. This post is about how to teach a child to crochet specifically, but all information here can easily be used for adults too.
Why you should learn to crochet?
Crochet is a great skill to learn at any age, but for children especially it will give them a skill that keeps on giving.
I've taught my son, who is right handed, and my daughter who is left handed to crochet, as well as Wooly Club at the local school – a mix of both "handed". The tips given here can be used for both left and right handed, and kids and adults alike.
This posts tell you all the tips and tricks I've learnt while teaching people to crochet successfully!
If you want to save this for later please Pin it below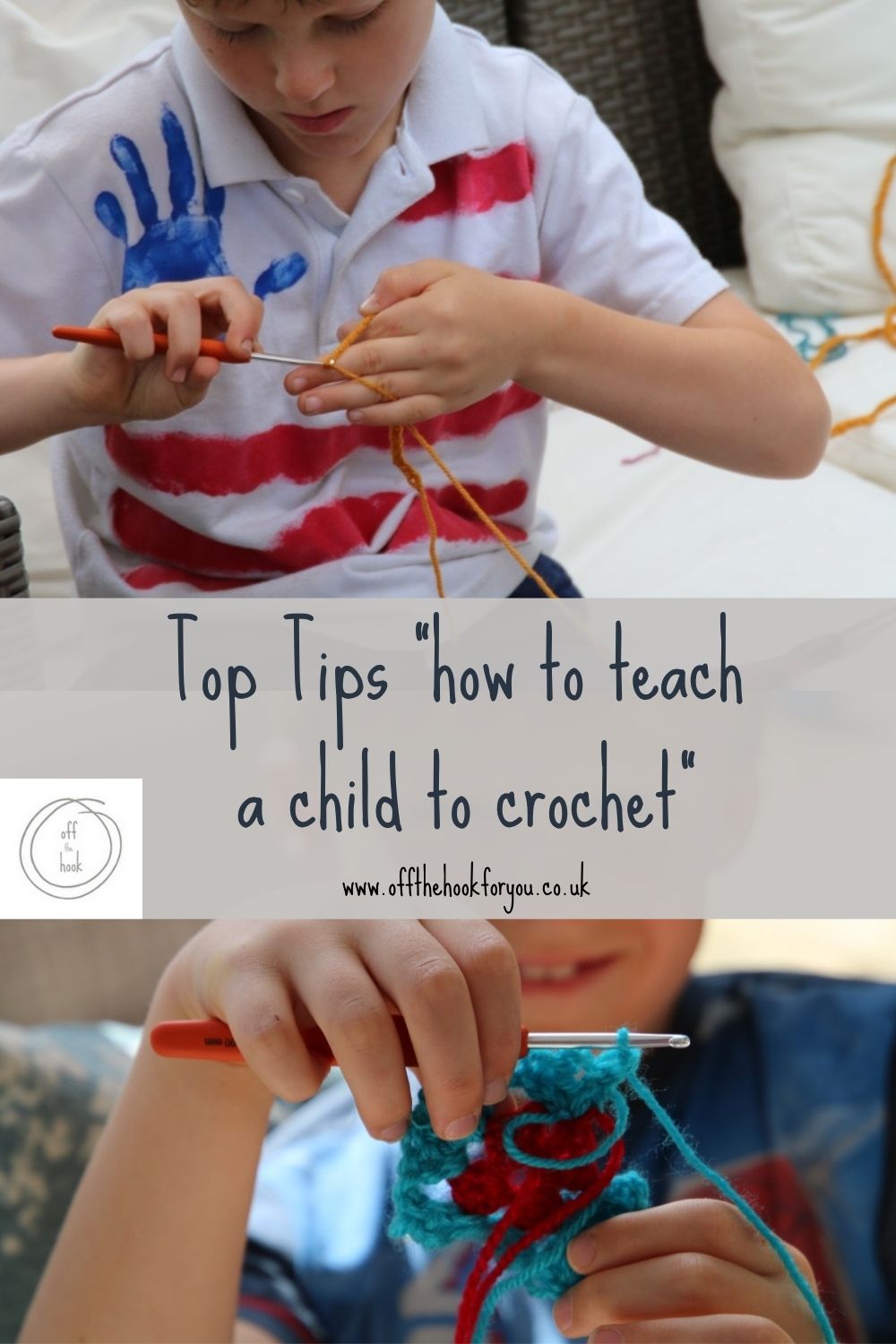 One question I'm often asked
Is it easier to teach a child to crochet or knit?
I think the answer to this will depend on who is teaching!  If you are more drawn to crochet, you'll find teaching crocheting easier, and the same for knitting.
With both techniques there are some tips and tricks that will really help the child to learn to crochet (or knit) which I'll describe below.
With both techniques – the first time they attempt it – you should "start them off".
Whether this be a slip knot for chaining, the granny square middle for a granny square or casting on the stitches in knitting. This will make it so much easier for the child to succeed.
The second time – let them go for it and try start off themselves, give them a little help too – but they should be confident enough to try now – and suceed! It'll make it easier in the long run.
Why should you teach a kid to crochet?
There are so many reasons why you should teach a child to crochet – the list is endless.
Improve fine motor skills.  Having worked in a kids nursery for 3-4 year olds, one thing we spend a lot of time teaching is fine motor skills.  This can be anything using tweezers to pick things up, to singing and doing the actions with our fingers.   Fine motor skills are required to help children to write, so anything that can strengthen their fingers should be encouraged.
It's a skill can they actually make something with – making it fun!
Even the sewing in the ends is great for fine motor skills – and teaches sewing too!
It's a craft where they can learn about different yarns, from how they feel to how thick, or fluffy they are, and where they come from!
Most kids will want to spend hours and hours on a "screen" in the current climate. You can help rebalance things by teaching them a new skill away from a screen using their hands for something other than "swiping".  This can only be a good thing.
In the longer term, it will teach them maths!  Yep, even the basic granny square will be teach them basic maths. From a square has 4 sides, so we need 4 groups of stitches.
The sense of learning something new is amazing.  The joy I see on children's' faces when they've picked up a hook for the first time, and actually made something really is the best.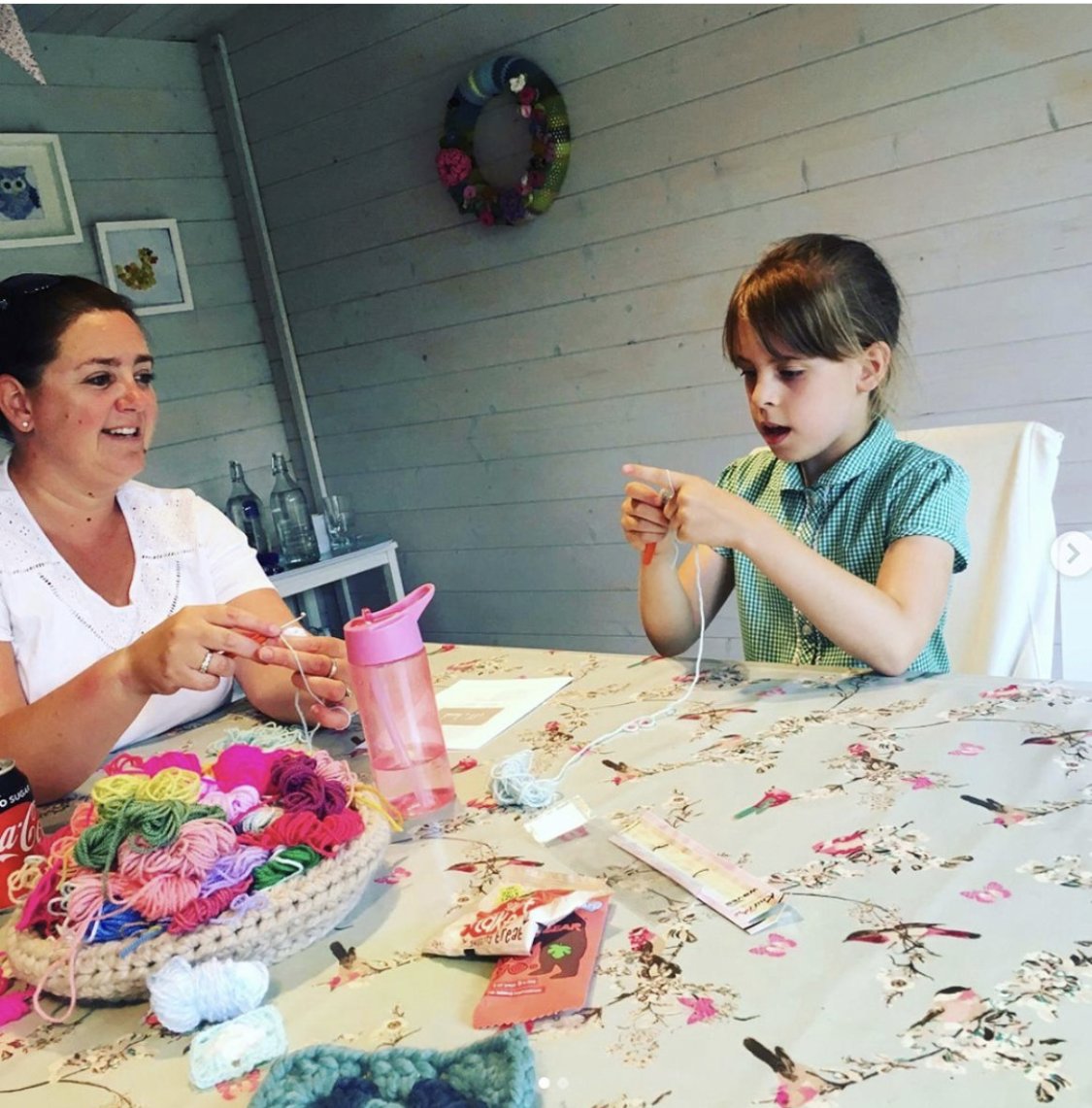 What age can a child learn to crochet?
There are a lot of different factors that need to be taken into account here, as well as what project they want to learn (and you to teach!).
The difference in the project you pick can be the make or break here!
I have happily taught children aged 4-6 to chain, but anything more detailed than that – and they tend to switch off.  It takes a lot of brain power to get your fingers to work in the way you want them too and concentrate on what you are doing!
Crochet snakes are brilliant – and appeal to most of the younger age group.
Age 6-7 and they can usually make a granny square or a flower, but I explain this is in a very different way to how I'd teach an adult.
We talk about Long bits, grabbing yarn/ wool, and I'll go into that more later.
>>>For my absolute beginners granny square post and video click here
Age 8-9, as long as they have the basics above, you could easily teach them 
or to make an easy scarf.
These will use different skills, as they'll need to count (for a hat), and work in a straight line – for a scarf.
These both teach the fundamentals of 1 stitch in each stitch will give a straight line (It's sounds so simple – but it is a lot to grasp!)
Once the fundamentals of crochet are learnt – they sky is the limit!  
(A word of note – even though Amigurumi (the cute little toys) look cute, they require a lot of counting and a nice even stitch to look good.  I'd personally leave these until granny squares and hats are completely mastered and practiced to stop the child getting disheartened as it probably won't look like the picture they've seen in the pattern!)
Is it difficult to teach a left hander to crochet?
My daughter is left handed, my son right handed, and having taught a lot of adults to crochet the number one tip here is:
Put the crochet hook on the table, and without saying anything – just ask the child/ adult to pick the hook up.
This will show you what hand they prefer to use – and it may not be the one they write with!
You'll be surprised the number of people who, even though they say they are right / left handed, will automatically pick the hook up with a different hand to what they said!
The only real difference to teaching a left handed crochet is the way you work.
For a right hander – a granny square is worked anti-clockwise.
For a left hander – a granny square is worked clockwise.
The same applies for working in a rows (which I don't advise teaching first!), 
A right-hander works from right to left.
A left-hander works from left to right.
Kids learn a lot better from being shown what to do – I taught myself to crochet left handed for this very reason – and I "wrap the yarn" when I crochet left handed rather than going under for right handed – either is fine.
There are lots of left handed videos on Youtube – and it's worth having a look.  I know people talk about using a mirror, but I think as long as you explain what you are doing throughly – the child can copy from what you are saying rather than looking.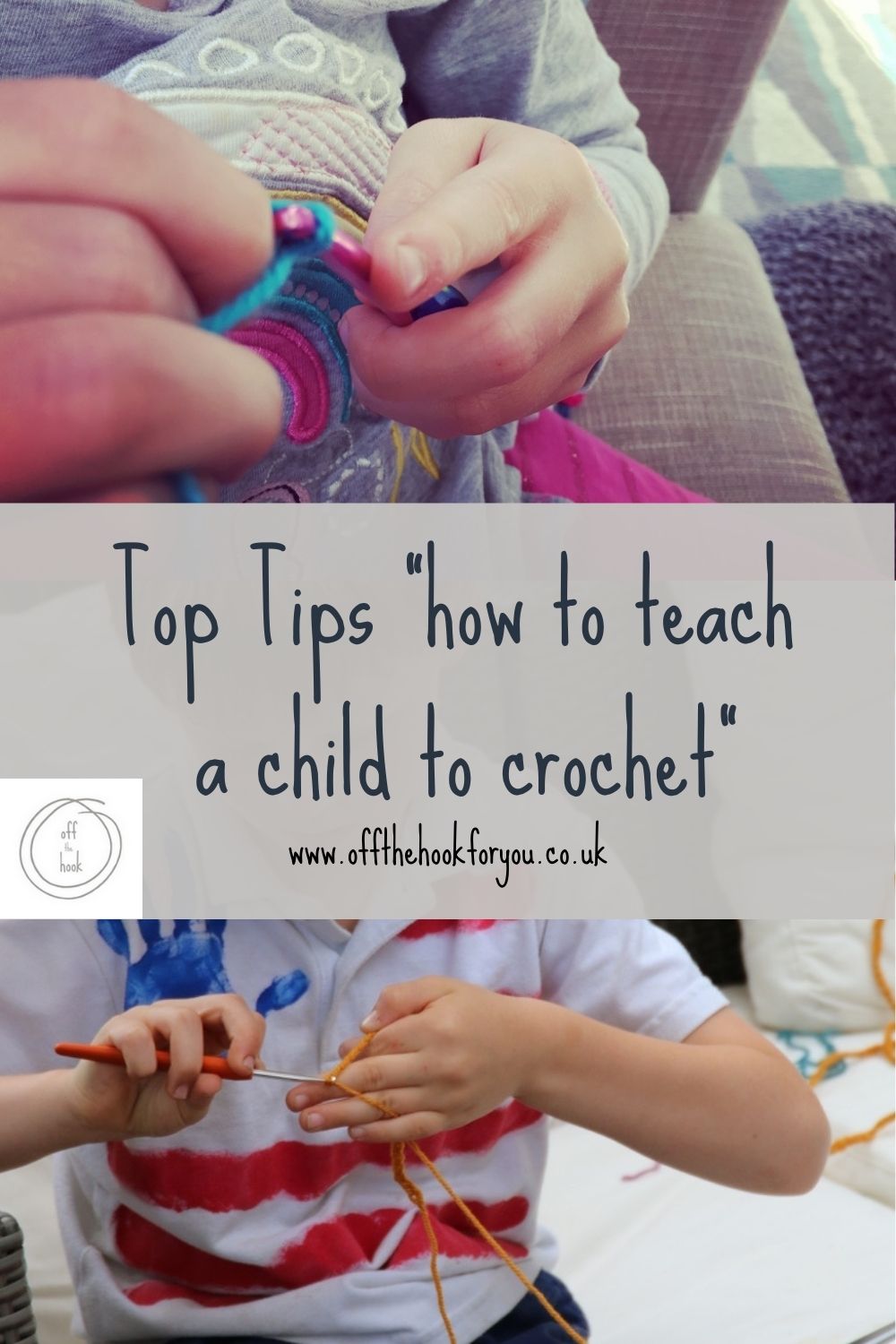 Crochet terminology to use
I mentioned above I teach adults and children to crochet – but I use different words for the kids when I teach them how to crochet.
A 5 year old will not respond to a Yarn round hook, pull through loop, yarn round hook etc etc…….
You need to make it fun!
I use words such as, Under,  grab it, Under, wiggle through etc.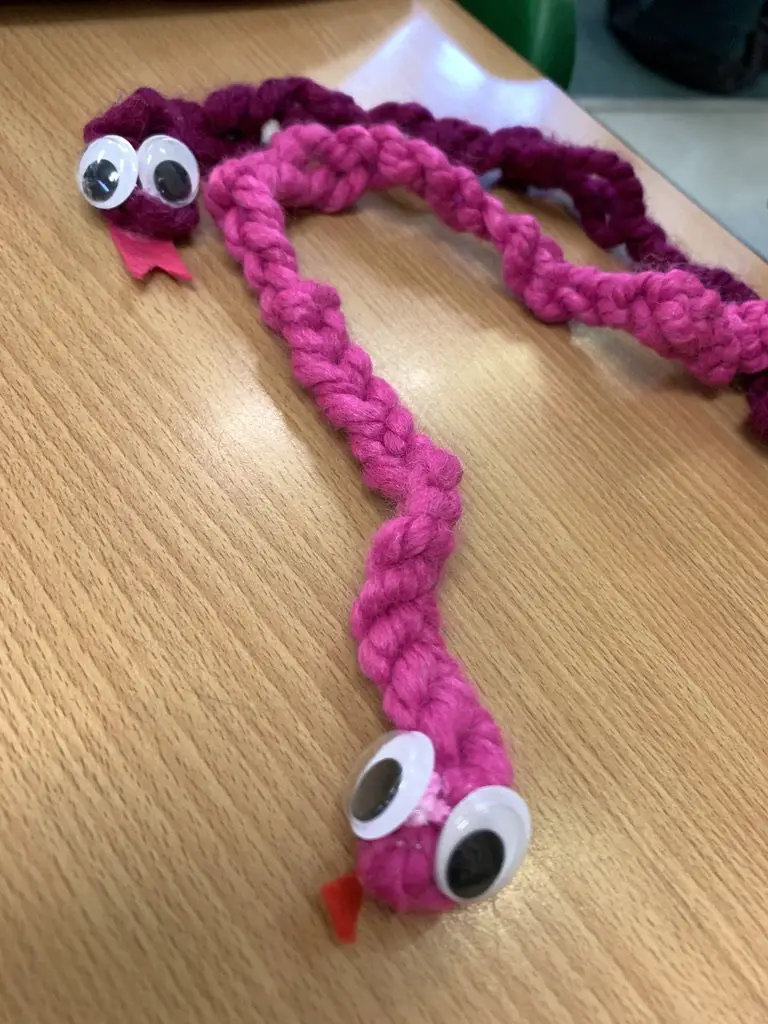 How to teach a child to crochet a chain
This is the easiest place to start, and I usually start with a crochet snake!
This appeals to all ages, and can be as short or as long as you like.
Small thin yarn is fiddly – especially for little fingers – so think big and chunky.
Do not worry if they don't hold the yarn as you do.  We all hold our yarn differently, and you will find children automatically want to wrap and use their fingers to move the loops over the hooks – like finger crochet.  This is absolutely normal. 
When they get super fast at moving the loops with their fingers – I'd try again to get them to hold the yarn so the "wiggle the hook under" as in the long run it will make their crocheting quicker.
So I use Super chunky yarn, with a 10mm hook, and let the child pick the colour yarn.
I make the slip knot for them the first time (I describe it as a number 6), and hand them the hook with the slip knot in place
Then holding the hook in their "dominant crochet" hand, ask them to "wind/ wrap" the yarn around the hook (or go under – depending on how they are holding the yarn).  You should be demonstrating this too at this point
Then to wiggle the bottom one (Pointing) over the top one
Then get them to try again
And again
"See how long you can make your snake in x minutes"  Bear in mind they have a very short attention span, so this might only be 3 minutes at this point!
Let them continue for as long as they happy. When there snake is done – its sewing in the ends (these needles are brilliant for the yarn above – and are great for fine motor skills too)
Then it's sticking goggly eyes, and a tongue from felt (again using scissors is great for fine motor skills)
Tips for teaching crochet to a child
Take it slowly
If you start and they lose interest really quickly – it's probably not the right time to teach them – I'd wait for another day
Make it fun
Demonstrate every stage slowly
Choose a fun quick project – crochet snakes, or I've even had kids who've crocheted whole ball in chain!
Once the basic chain is mastered – move onto a quick flower – or a granny square
One thing to note here – is that with most things – the child may not want to listen to you if you are the Parent/ Grandparent. Sometimes they need someone impartial (Think like a teacher that can get your child to do anything – but if you try – no way!). So if you try to teach them and it doesn't work out – try and get a friend to help, or look for a course with someone they don't know.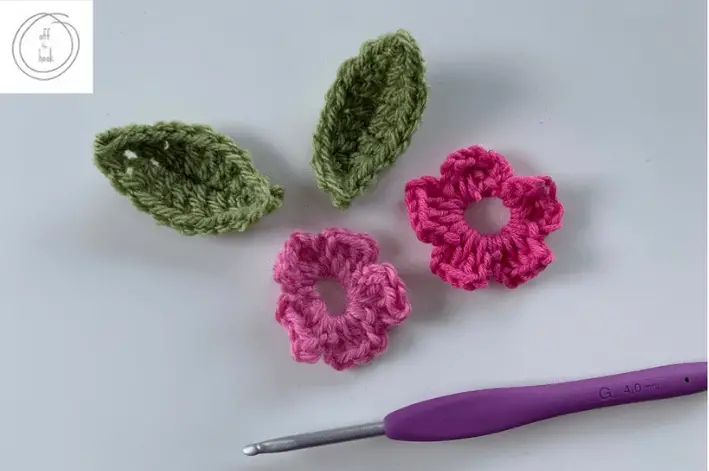 Once crochet chaining is mastered you'll find some children will want to progress onto the next project really quickly. 
I'll show them the flower/ square they will be making, and explain that each "long bit" is one stitch. 
Very very importantly here – I will also show then a drawn chart for the thing they are making. The pictures and relating each line on a diagram to a stitch is so much easier to see when in a picture form than words.
"A picture paints a thousand words".
Then onto the making – again – I demonstrate each step really slowly, one step at a time.
A little crochet flower is the perfect quick make because you start with a chain (and they can already do that),  You make a circle (new skill) with a slip knot, and then chain again. 
Then it's onto the US Double crochet, and this does take some explaining – the hardest part is where to put the hook.  So I use a stitch marker – you can find out about this by reading my granny square post here.
One key to teaching crochet to kids – is that the projects need to be quick. They will probably be colourful too!
So thats it – my tips on how to teach a child to crochet – hopefully you have success – if so I'd love to hear about it.
If you want to save these tips for later please Pin it here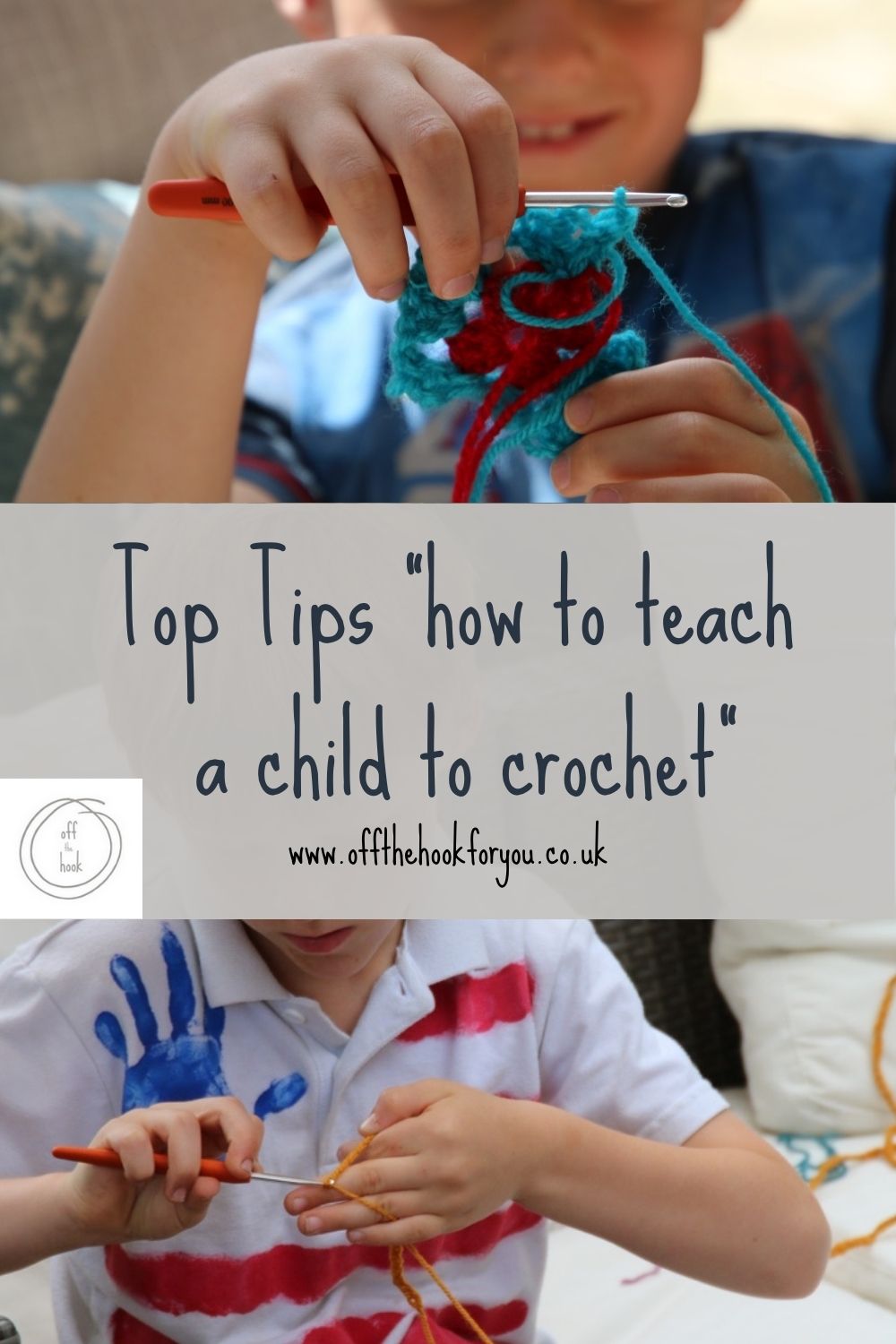 Join me at Off The Hook For You to share your crochet!
Thanks for visiting  – I'd love to stay connected with you so please sign up for my email list where a free PDF pattern is waiting for you (just so you can see what my PDF patterns are like).   
Finished one of my crochet pattern makes?  I'd love to see it and so would the world, so get sharing!  You can find me in the following ways:
Disclaimer 
This post may contain affiliate links which I earn a small commission from if you choose to click and purchase anything from. You pay the same price, I get a very small amount for sending you their way.  It helps me to make my crochet patterns free on the blog.