Today I'm going to show a neat little trick how to make a crochet pot or jar cover.  This is a really simple little trick, that turns a boring old mason or jam jar into something really pretty.
These can not only be used as a crochet vases, but also as a tea light/ candle holder too.
They are quick and easy to make – and super effective.
Here I give you an idea of how to crochet a jar cover to fit any sized jar – so you can modify this as you want too.
How to make a crochet jar/ pot cover
There are a lot of different ways to do this, and a lot will depend on what effect you want to get at the end, and yarn choice can make a big difference here.
If you want to save this for later please pin in below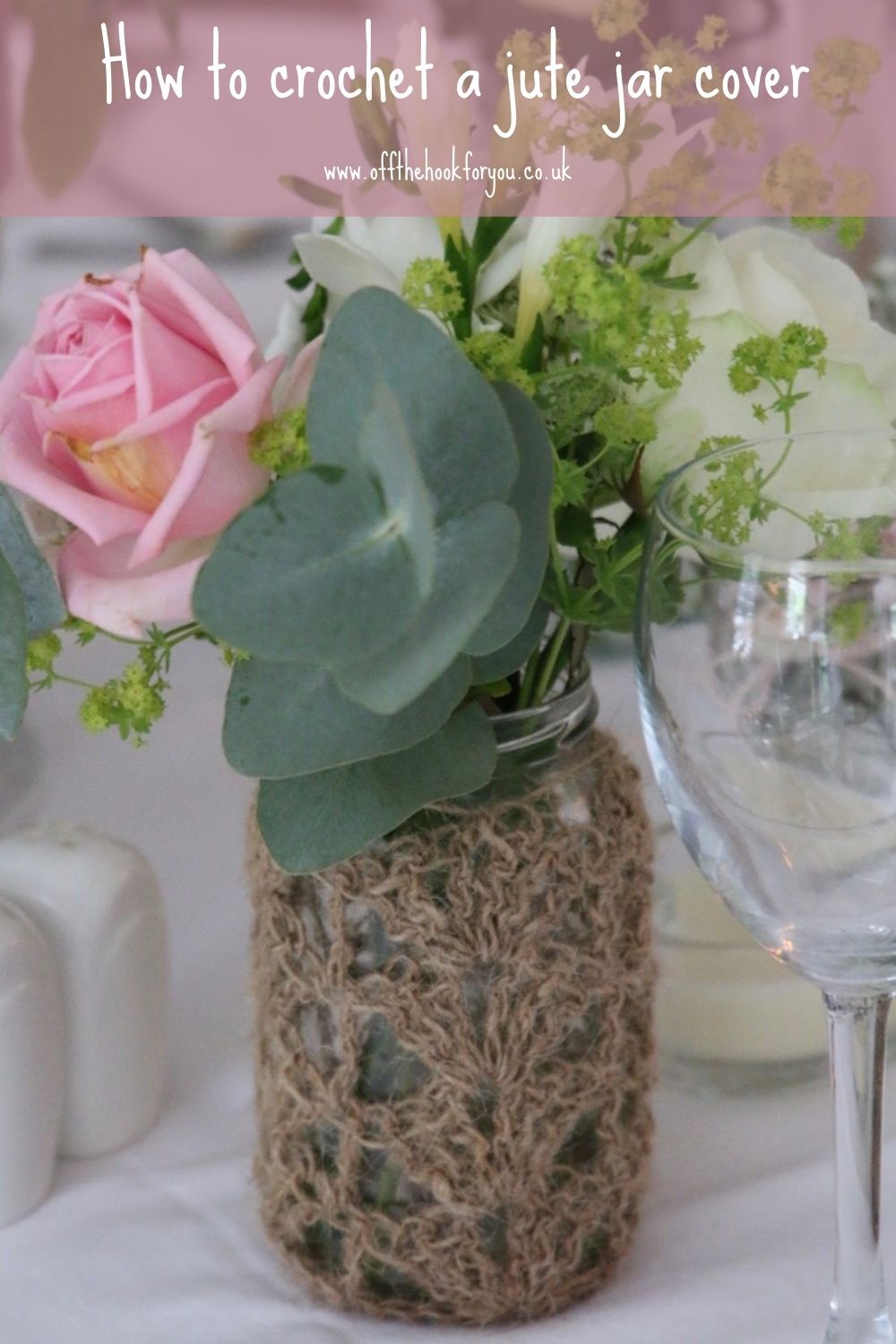 I made some using a standard DK, but honestly – they looked cheap, and not "professional" at all. 
A quick switch to a Jute/ hessian/ Garden twine based yarn, and the difference was huge.
I made these as crochet wedding flower jars for my sisters wedding, using Jute/ garden twine/ hessian (It has lots of names).
>>>For other Home decor ideas – look here
>>> crochet plant pot cover – get the free pattern here
They looked absolutely beautiful on the tables with flowers in them, and a great quick and easy wedding table piece.
The can also be used as crochet candle/ tealight holders, as they let just the right amount of light through for that atmospheric look.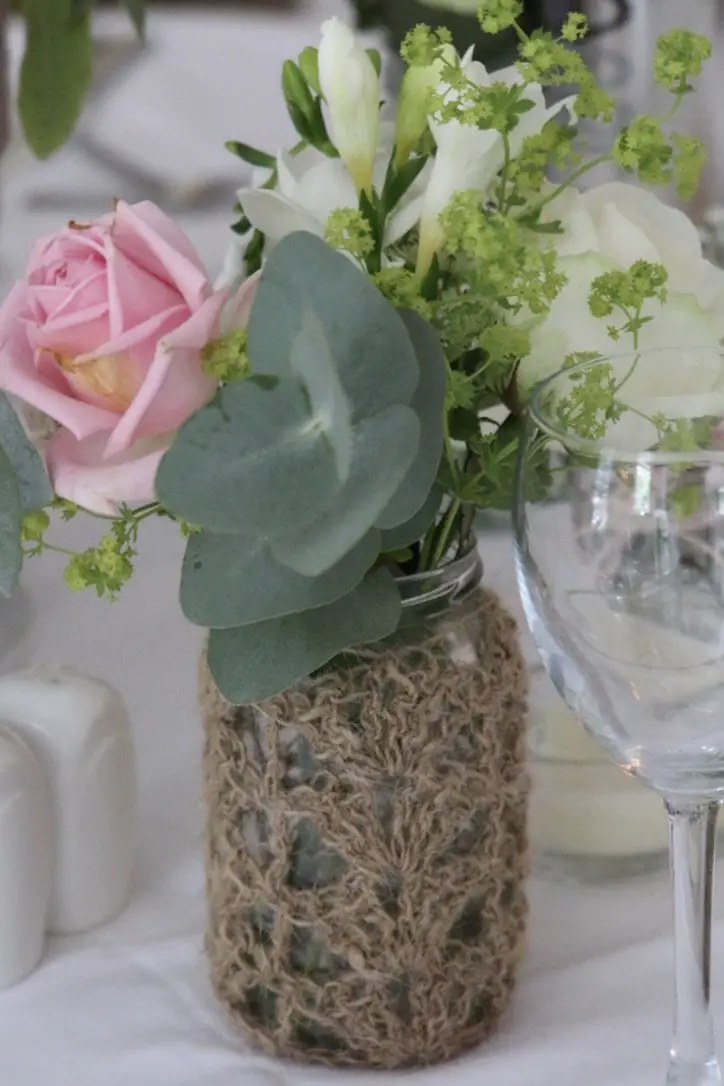 But what I will say here is crocheting with garden twine can be really hard on your hands,
There is no real way around it – if you want a lovely effect with this natural fibre, then you kind of have to take the pain!
Tips for crocheting with Jute/ hessian/  Garden twine
Wear gloves
Don't try and rush
Give yourself enough time to make the jars
Use a bigger hook than you'd usually pick up
Moisturise often (if not wearing gloves)
The bigger hook with give a slightly more holely effect, but it will also mean you make them quicker giving your hands a bit of a break!
Crochet Jute Jars
So for the wedding crochet jars, I used the jute twine, bought from any garden centre.
But you can also get from Wilko (UK), Walmart (USA) , Etsy
>>>Get some jute twine on Etsy
I used a 2 ply twine, but with a large hook 6mm.
The jars were made using the a 3DC, ch 1, 3DC method to give the nice 'V' on the sides. and as I used different jar shapes, the initial chain length was all that changed.  So this pattern is written as a "how to make your own" rather than a descriptive pattern.
To make a crochet Jute Jar cover.
Start with a bigger hook than you'd think, and chain enough stitches until the chain will reach around the jam jar – and ideally a multiple of 3 (Note – make it smaller rather than longer – i.e. if 23 chain will fit around the jar, reduce this to 21!) 
Slip stitch to join the chain into a circle.
(Note – for this round – you can do 1DC in each chain to give a solid row – the choice is yours)
Round 1 Chain 3 (to get to the height of the US Double Crochet / UK treble crochet) Skip 2 ch, *3DC in next st, ch1, 3DC in same st, skip 2 ch, DC, skip 2 ch; rep from * to end.
>>>Fancy covering a plant pot – read all about it here
Note – depending on how many you chained to start – you need to make sure you "skip" the last 1, 2 or 3 sts to give a space to work in for the next round.
Slip stitch (ss) to join
Repeat round 1 until you get to the height of the jam/ mason jar.
Fasten off, leaving a long tail.  Place the jar into the crochet jute cover, then using a needle, weave in and out of the "spaces" then pull the cover tight to the jar, and fasten off, and weave in ends.
There you go, one quick and easy way to crochet a cover for a jar – of any size, and make it look really great.
If you'd like to save this for later – please pin in here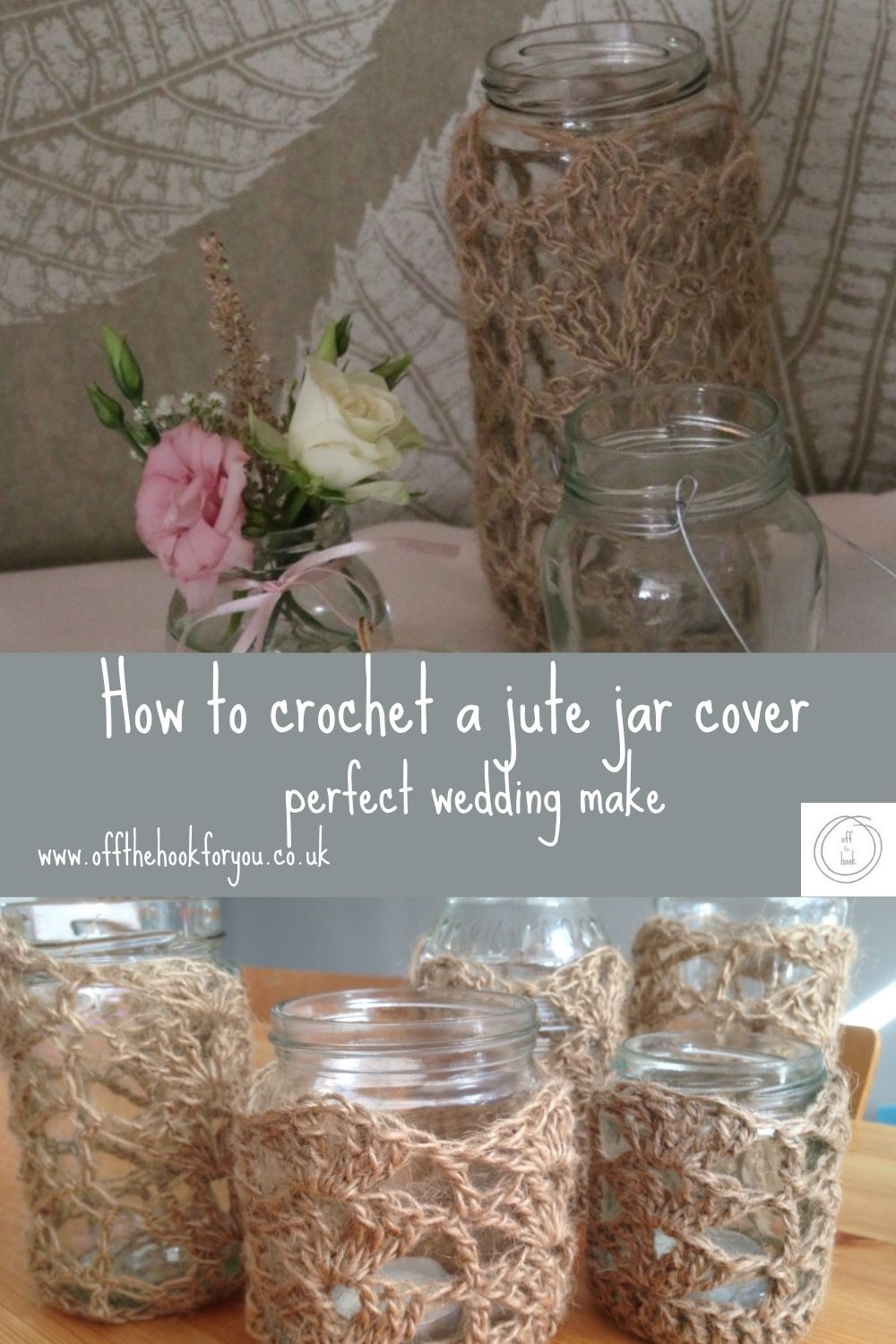 Join me at Off The Hook For You to share your crochet!
Thanks for visiting  – I'd love to stay connected with you so please sign up for my email list where a free PDF pattern is waiting for you (just so you can see what my PDF patterns are like).   
Finished one of my crochet pattern makes?  I'd love to see it and so would the world, so get sharing!  You can find me in the following ways:
Disclaimer 
This post may contain affiliate links which I earn a small commission from if you choose to click and purchase anything from. You pay the same price, I get a very small amount for sending you their way.  It helps me to make my crochet patterns free on the blog.