Hi, Thanks for stopping by. I'm going to tell you the story behind my latest design in Crochet Now magazine – issue 68 – a great Blanket stitch crochet cushion pattern.
If you want to learn about the crochet submission process – read my post here>>>
This cushion cover was a joy to make, so so simple once I got in the swing of it.
It's made using Blanket Stitch – which is one of my "go-to" Stitches it seems looking back over my past designs:
>>>>Check out my over sized blanket scarf pattern here
This crochet cushion has some amazing texture – which isn't actually hard to achieve. So if you are looking for a project with a great look, that easy and gives a great closed texture look no further than here.
My Paris Blossom Cushion in Issue 68 of Crochet Now Magazine
So here it is………. The Paris Blossom Cushion.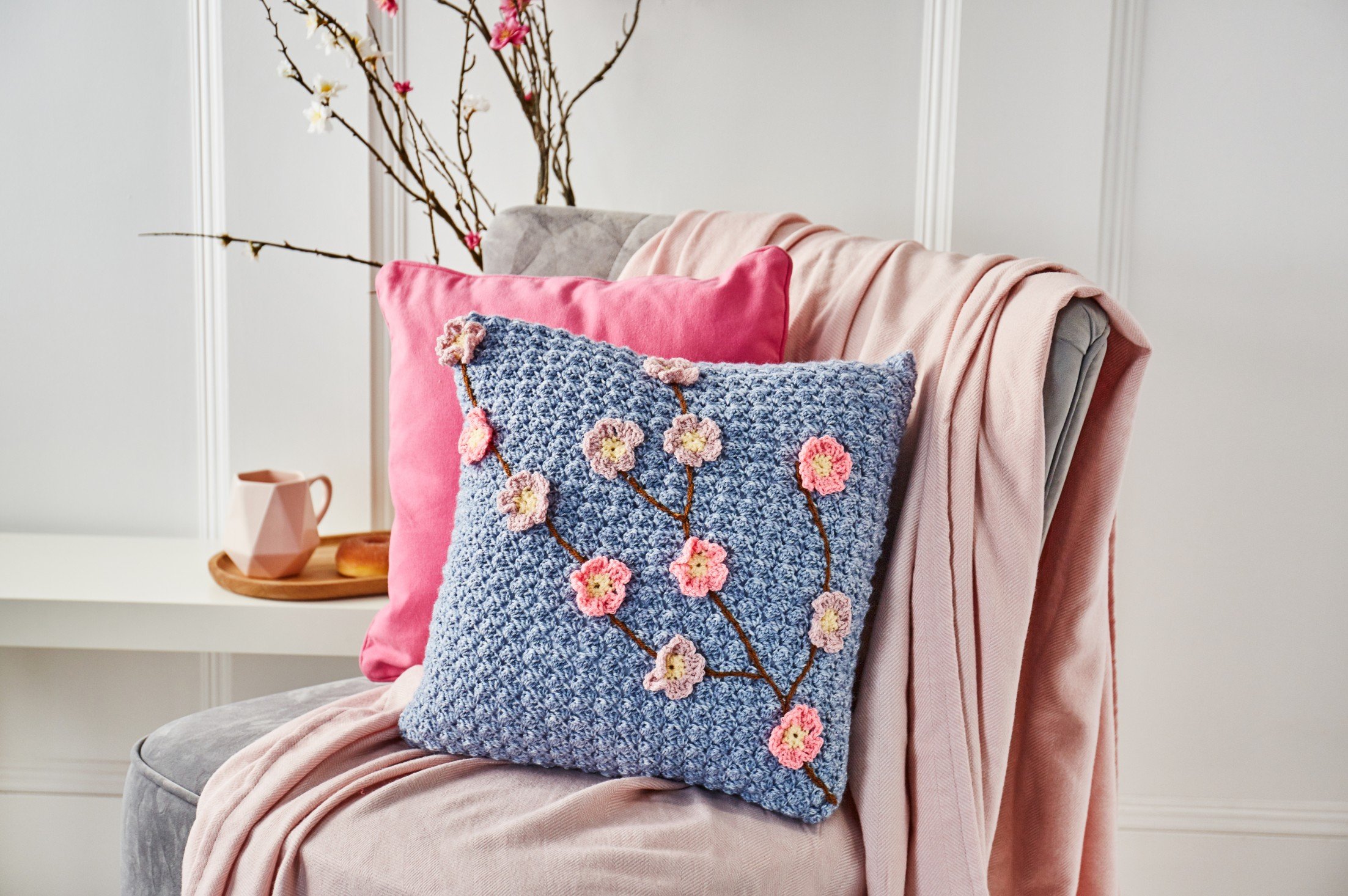 Let's talk styling here, as this can really make or break a crochet photo.
This picture is just stunning, the right mix of light, with pinks, and accessories to show the cushion off to perfection- Great Job Crochet Now. Just look – I want to go and sit there, with a cup of tea, and a good book and relax.
(Now compare the above to what I took before sending the cushion off to the magazine…….. and you'll see exactly what I mean).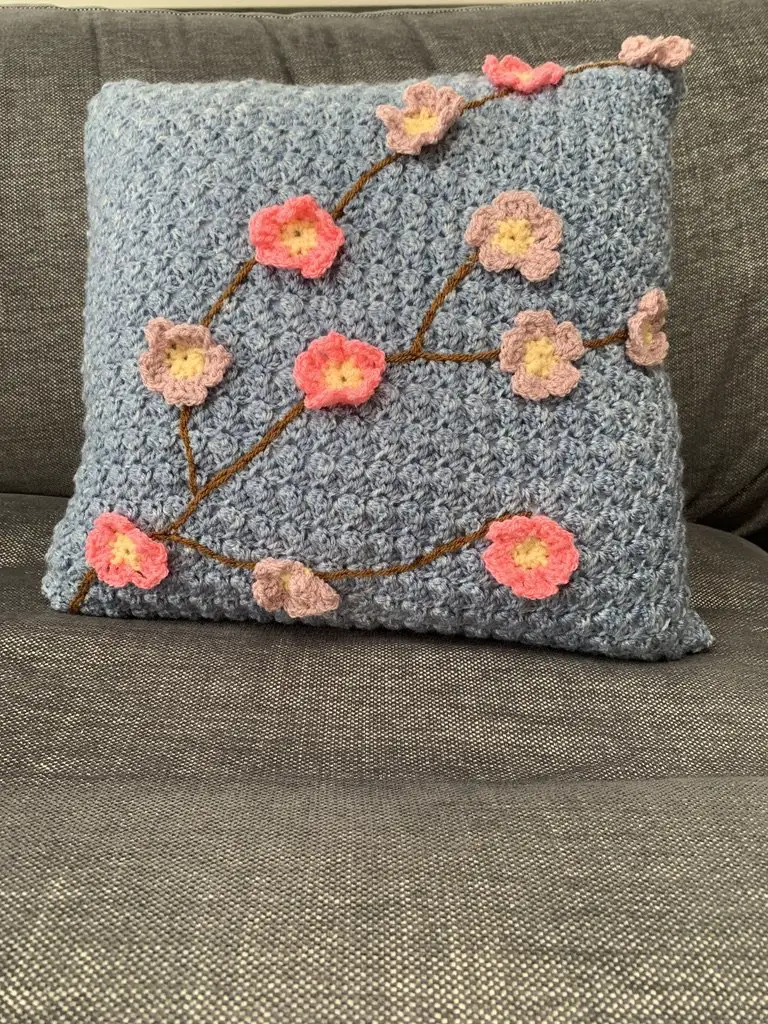 Yarn to make a Blanket Stitch Crochet Cushion
I actually think the yarn choice for the blue of this crochet cushion really really helps set this design off.
It was made with Cygnet Yarns DK Denim, which is a marled effect yarn, giving a great effect of a cloudy sky.
It's the same yarn used for my Grape and Bobbles Cushion cover>>>
Combine this with Pink, Pale rose, and Buttercream for the flowers, and walnut for the tree – and you have a stunning cushion cover.
So why this crochet cushion cover design?
The commission call for this design was all about Paris in the Spring Time.
This was the commission call and mood boards for this design>>>
Having lived in Paris during the Spring, the blossom, and clear blue skies called out to me, that and the film Sabrina that I absolutely adore! (If you haven't watched it – it's well worth 2 hours!)
I'm always fascinated when I see the actual magazine come through – and what other designers have come up with! It's a joy to see where everyones inspiration comes from.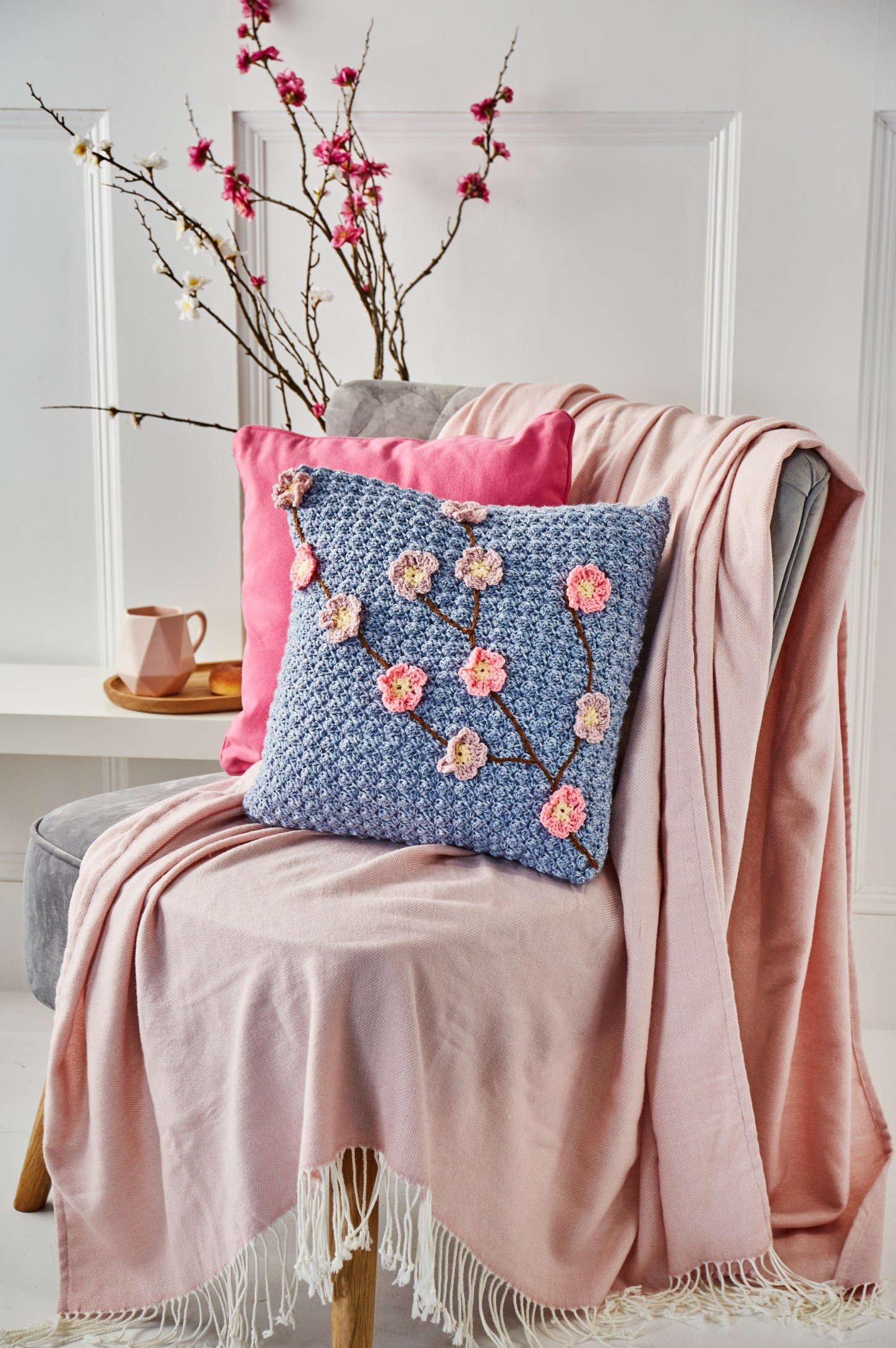 So there you have it – my latest published crochet design.
If you are interested in becoming a crochet designer – check out my blog posts here about the process.
Or drop me an email – I'd love to hear from you.
Join me at Off The Hook For You to share your crochet!
Thanks for visiting  – I'd love to stay connected with you so please sign up for my email list where a free PDF pattern is waiting for you (just so you can see what my PDF patterns are like).   
Finished one of my crochet pattern makes?  I'd love to see it and so would the world, so get sharing!  You can find me in the following ways:
Disclaimer 
This post may contain affiliate links which I earn a small commission from if you choose to click and purchase anything from. You pay the same price, I get a very small amount for sending you their way.  It helps me to make my crochet patterns free on the blog.