Have you ever wanted to get your crochet design in front of thousands of people but you don't know where to start? Here I talk through the Crochet Design Submission Process, and what you need to do to try and get a crochet design published so you can appear as a crochet designer in a magazine!
How to be a Crochet Designer
As a crochet designer with patterns featured in magazines, one of the questions I get asked a lot is "How did you get your design in a crochet magazine?", so I thought I'd write  a post about the whole process here.
There really is no better feeling than getting an email that says they want you to make your design and then when you see in the actual magazine and on their social media it's the amazing!
So here I will explain – the Crochet Design Submission Process, and how I got to be a published Crochet Designer.
Please pin this for later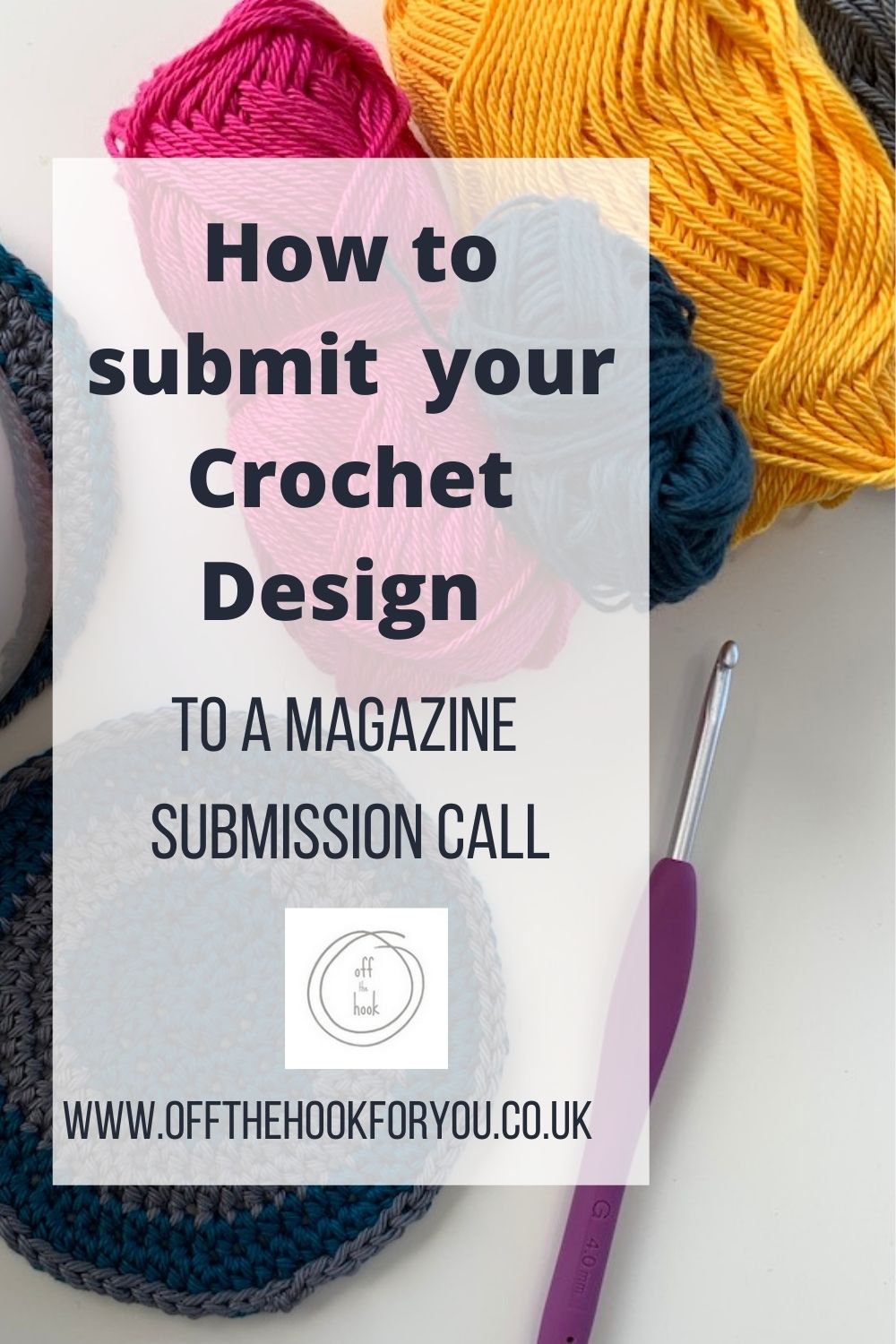 One important thing to note – is that you do not have to have actually made the item before you submit an idea.  In fact – it's usually a good idea not to have, as the yarn choice might change!
In fact in almost all of my designs that I have had published the colours, weights or brand of yarns have changed from what I actually sent in as my idea. 
The post below details my experience of the process and what I did on one occasion.
The process usually starts with a Crochet Design Submission Call.
The Crochet Design Submission Call
A lot of the magazines and yarn companies will prepare a "Submission Call" where they ask designers to think of ideas that will fit a theme and submit ideas for crochet patterns around these. They also ask for designs that may not fit the brief, so don't think just because your idea may not "fit" you shouldn't send it in anyway.
Some magazines have email sign up lists for the Submission Calls, some will ask on their blogs and social media – you can find this out on their websites.
And this is not just the case for "in print" magazines, some yarn companies are now asking for designs too.
So as a guide – two of the UK crochet magazines I have designed for
Simply Crochet – is an email list – usually 6 monthly
Crochet Now is an email list and on their blog – usually asking for 3 months ideas at a time. 
I want to show you how the whole process from the Submission Call, to my Crochet Design Submission to publication for one of my designs.
Note: When you have received the Submission Call, make a note of the Closing Date, and the date they require the items should you be successful.  
There is no point putting in a lot of work, when they ask for samples back in 4 weeks, and you are going on holiday for 3 of them!
How I got a Crochet Design published.
Lets take for example Issue 58 of Crochet Now.  I was lucky enough to have my little lemon pot covers picked for this issue.  So I'll walk you through step by step what I did to get my crochet design published.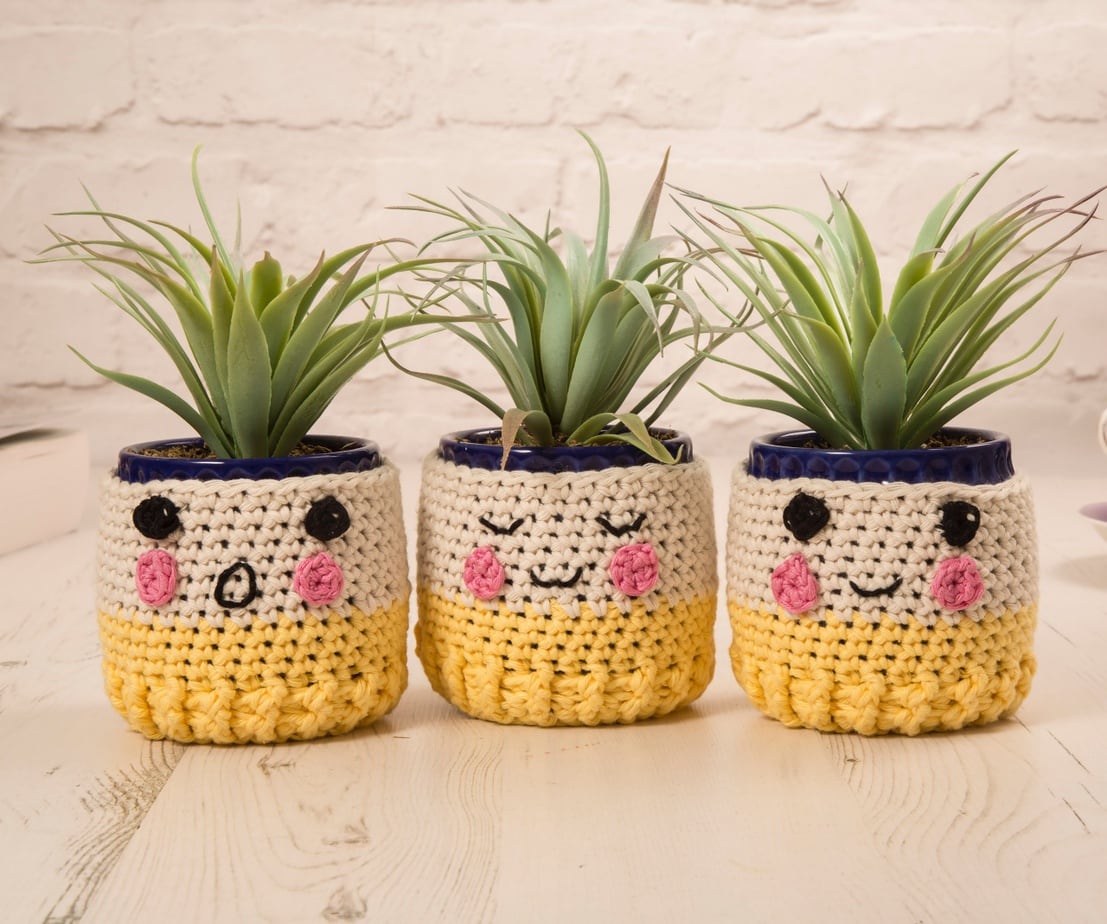 Crochet Now Magazine sent out a Submission Call email, but also added this to their blog.
This call out was sent out in February 2020, but the issues that the designs would be in should you be successful were the Summer and Autumn 2020 editions.
So one thing to bear in mind is you may need a shift in what you think you should be making and what you actually are.
As an example – I was making this jumper in 32 degree heat in the middle of Summer, ready for a December issue!
Design Submission Mood Boards
Here the magazines will give you an idea of what they kind of items there are looking for and really importantly what colours!
So for issue 58 – this was the Pinterest Mood Board.   It's always a good idea to digest the pictures, read the text at the top, and go back and refer to the information on the actual call in terms of what they are looking for!
There is no point working on designs for say 20 garment ideas , when if you actually look at the magazines they only have one garment per issue! 
Take a look at a current magazine too, see what kind of things they like to feature.  They know their readers!
My take on this Mood Board
I noted the lemons, lots of citrus, and lots of crochet tops, and cushions.
So what I actually submitted wasn't a top, wasn't a cushion, but the board did inspire me in a  citrus way, and I noted the other kind of projects they like to feature!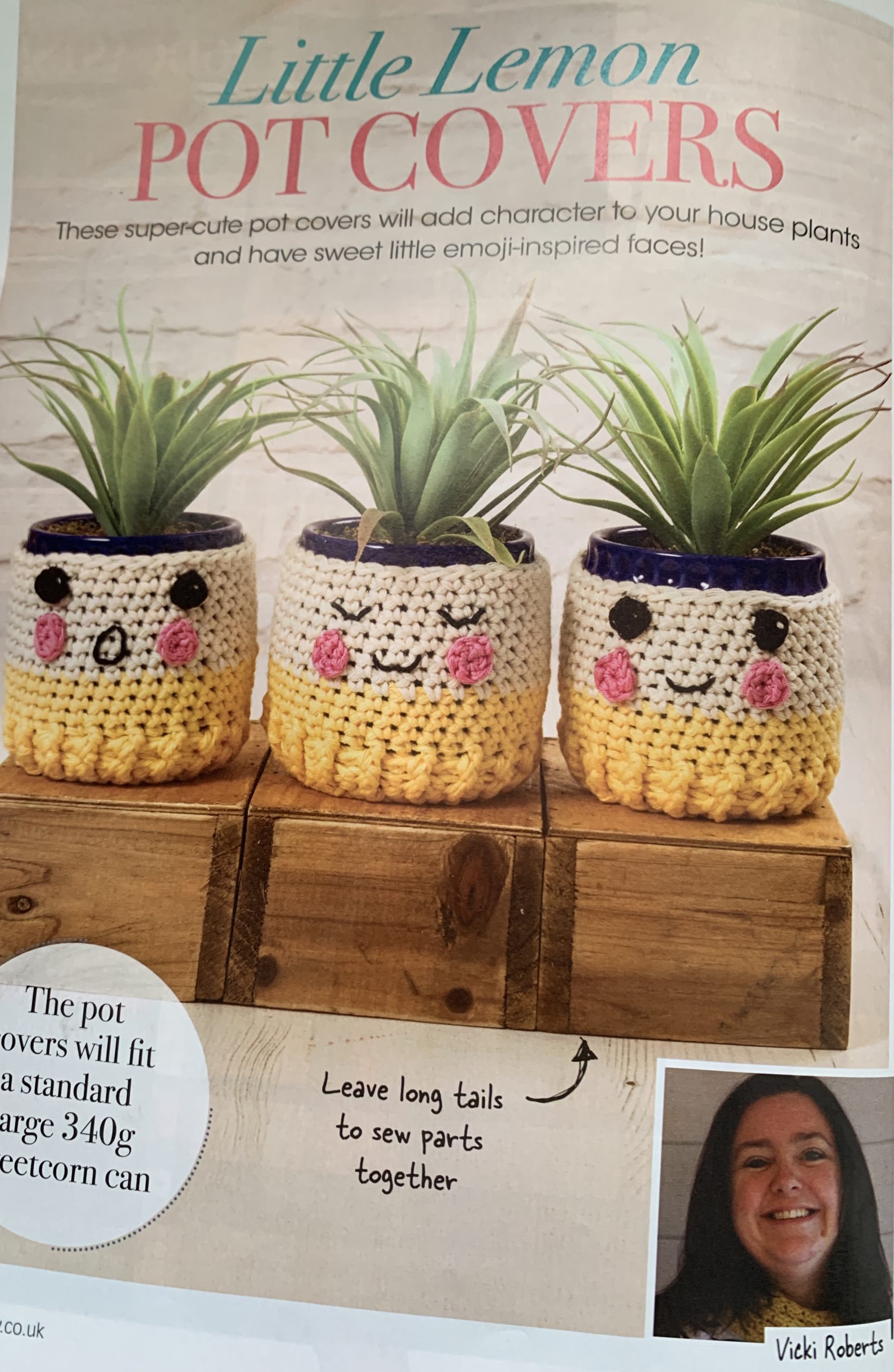 What to include in your Design Submission
All designers do this slightly differently, there is no wrong or right way, but I'll share with you here what I sent in for this one project.
Make a note of what they have actually asked for- in this case:
The magazine has asked for this all to be in one PDF document
They have asked for a specific file naming
They want links to your other work (Raverly at least)
They want a sketch, and some words describing what you propose
A photo or scan of the swatch (Make sure this is blocked and taken in good lighting!)
Give an idea of yarn choices and colours (remember what I said above – your yarn choice and colours may change so be prepared for this)
So one document with all the information, links to other work, pictures, yarn thoughts, a swatch and saved in their naming system!
My Design Submission
This is exactly what I sent in.  My drawing skills are very very limited, so sometimes I will add pictures, or an example, along with a sketch, to help portray the idea I have as I'm not always able to get what's in my head down on a piece of paper!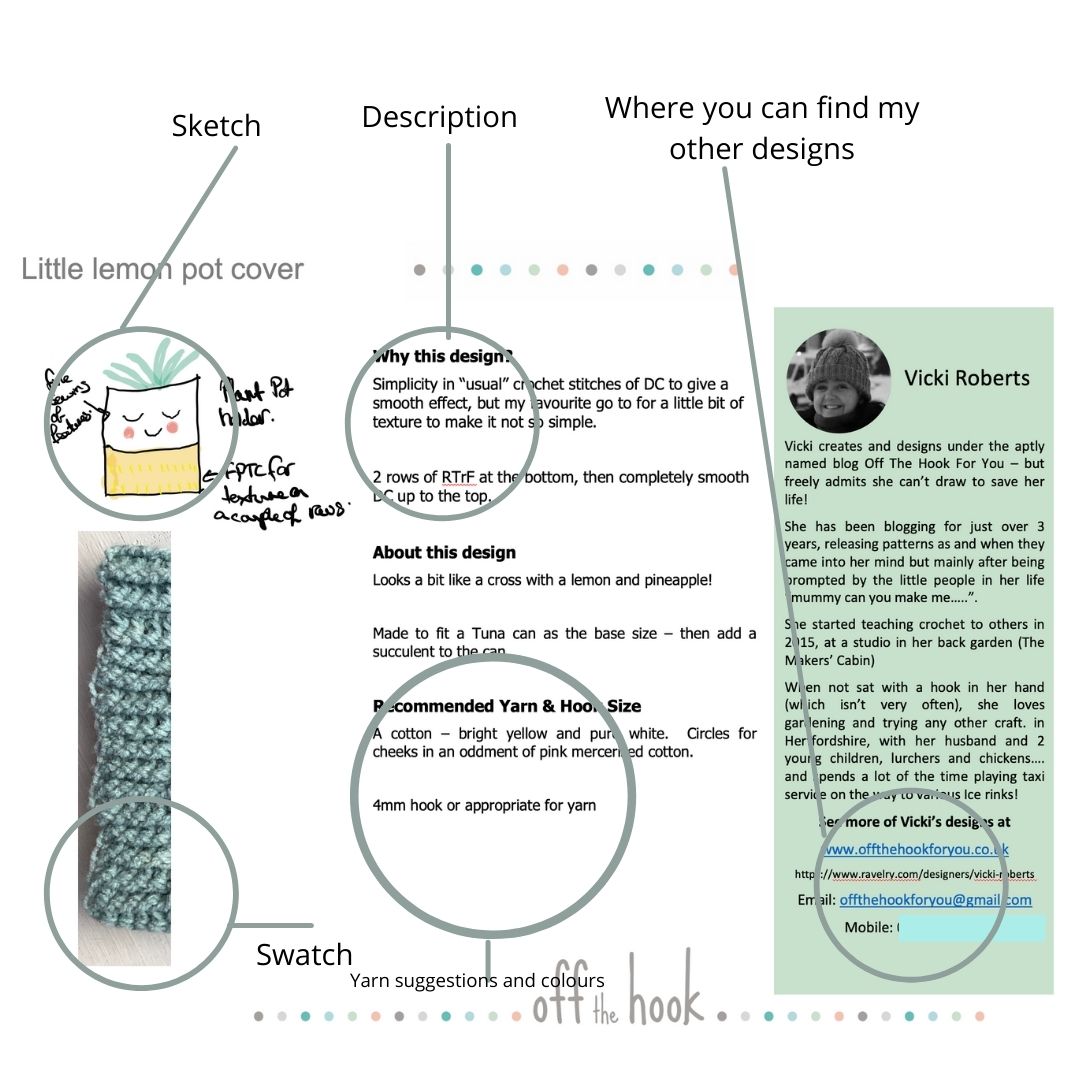 I have included in my Design Submission:
The sketch
The swatch
The links to my blog, and ravelry to show off my other work
A little description
An idea of the yarn and colours – for this one I've been very open minded!
And I've added a bit about who I am, and why I crochet – I think it helps to put a human behind the PDF!
So there we have it, I sent it in on the deadline day.  I personally get my inspiration under pressure, but I may note some initial ideas down beforehand as prompts later on.
Please save this for later here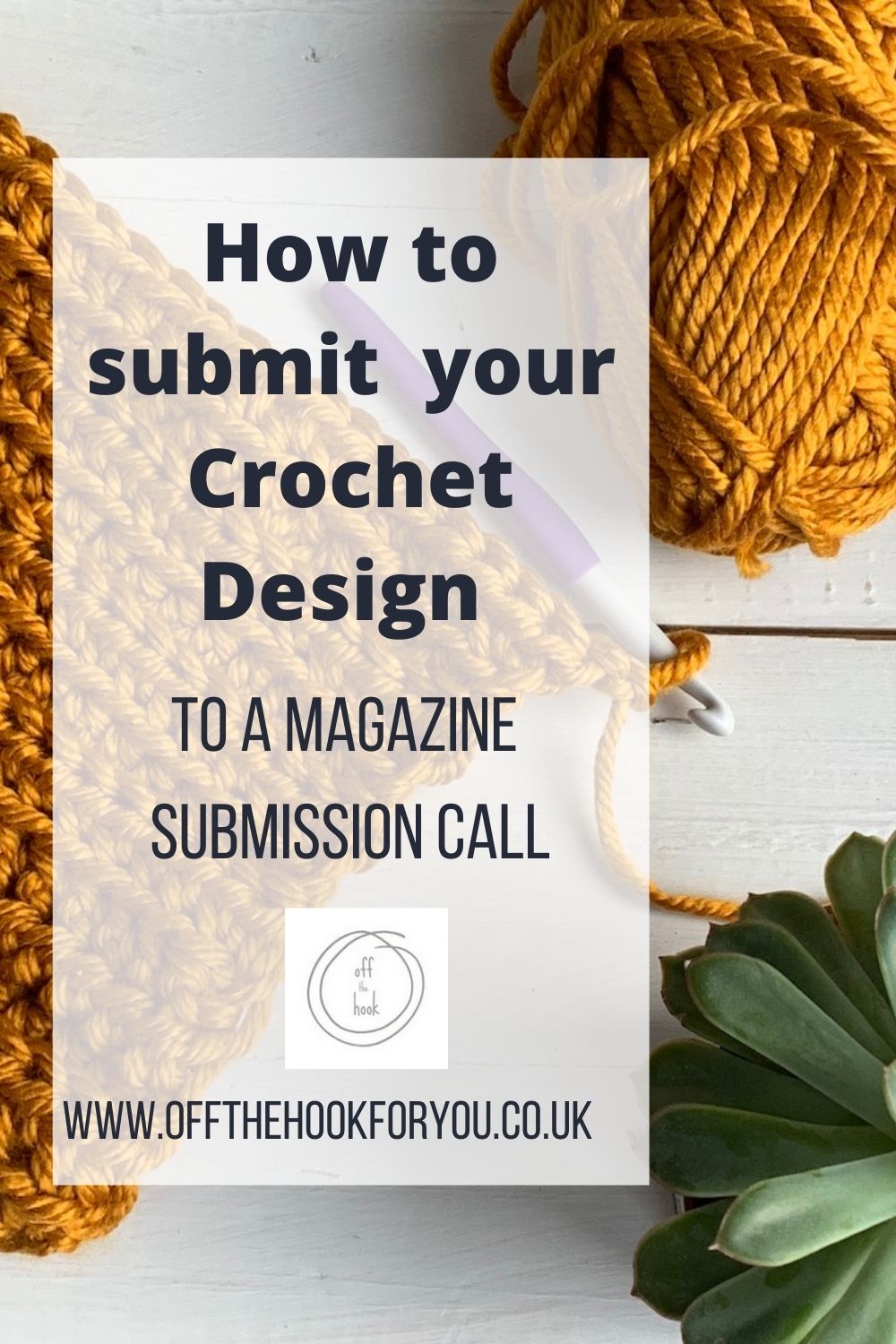 What happens after the Submission?
You wait!  Some magazines will acknowledge your submission (s), others won't, as long as you've sent by email to the correct address – just wait.   
Some are very quick to commission you – within a couple of weeks, others may take over a month or longer – it all depends on how many designers have sent in ideas, and the editors planning out the magazines to make sure the designs are going to be what their readers want. 
You've got to remember some editors are trying to get 6 months worth of content from these submissions, which is a huge amount of work and balance for them to do in a short space of time.
If you get the "happy email" , I'll write another post to let you know what happens!
>>>See what happens after a your design is commissioned here
What if you don't get commissioned?
This was a fear I had, and it probably took me a long time to "pluck up the courage" to actually submit anything as I was worried about rejection, but now I just think of it as a learning experience.  
The great Wayne Gretzky (Ice hockey legend)  said: "You miss 100 percent of the shots you never take"
Just remember if they don't commission your ideas
You might not be on the same lines as them
2. You may have not included all the information they need
3. They may have had lots of submission that were similar
4. You don't have any other published designs – so they can check your work
5. They had too many good submissions
It' doesn't mean it isn't a great idea, and design – it just means it didn't fit with them. You can always make the item, write the pattern up and self publish on Ravelry or on a blog!
Don't worry is the main thing – if you don't submit a design- you will never know! 
The first time I submitted I sent in 2 designs, neither were commissioned for the magazine. I reflected on this, and bought the issues of the magazine to see what they did commission, and my designs weren't in the style for those issues I now see.  
Bizarrely they are now really popular designs here on my blog!
>>>See the first design that wasn't picked up here
One thing you can work on – is to make sure you have other designs already on Ravelry or a blog to "showcase" your skills.
Roll onto the second time I submitted some designs, I think I sent in 5 designs, and amazingly 2 got commissioned!  
You will never know what competition you were up against until you look at the magazine when it's published!
As a note for this Submission Call for the Pot covers
I submitted 6 designs, and 4 were commissioned – my most successful attempt yet – have a look at the mood boards and what I suggested:
>>>Check out my two designs for issue 59 here
>>>Check out my Grape and Bobbles cushion for Issue 60
If you use this and go on to submit a design I'd love to know how you found the process and if you are successful?
Please pin this for later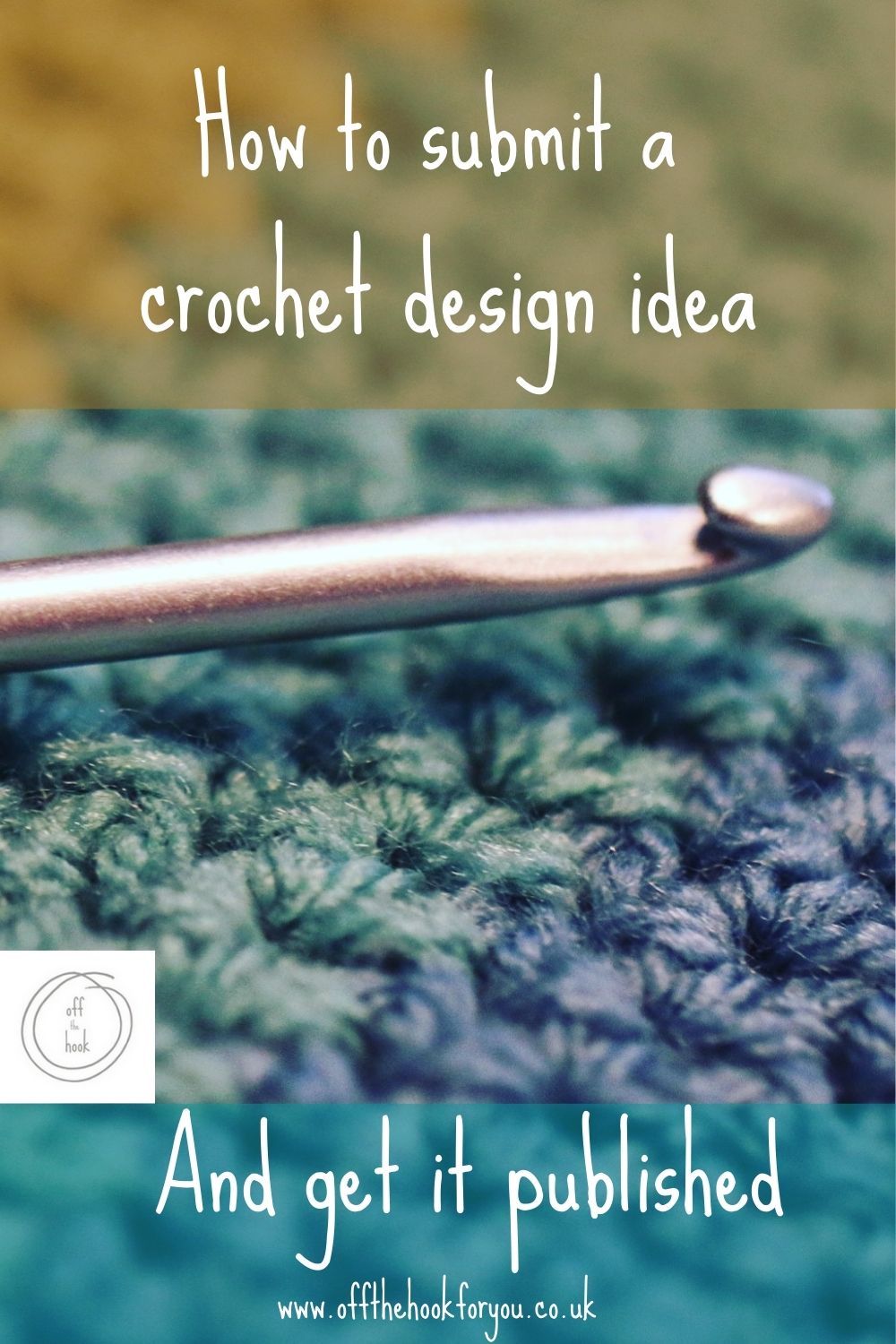 Join me at Off The Hook For You to share your crochet
Thanks for visiting  – I'd love to stay connected with you so please sign up for my email list where a free PDF pattern is waiting for you (just so you can see what my PDF patterns are like).   
Finished one of my crochet pattern makes?  I'd love to see it and so would the world, so get sharing!  You can find me in the following ways:
Disclaimer 
This post may contain affiliate links which I earn a small commission from if you choose to click and purchase anything from. You pay the same price, I get a very small amount for sending you their way.  It helps me to make my crochet patterns free on the blog.