Hi,  today I have the free crochet pattern using the Elizabeth stitch which is also known as the mini bean stitch.  A crochet infinity scarf or cowl –  that is super simple to make, but because it's not your standard "crochet" stitch – it doesn't look like crochet – even though it is!
I seem to have my favourite stitches, then seem to design a lot of things with them and the mini bean stitch (Elizabeth Stitch) is no exception!
Infinity scarf or cowl?
This is pretty controversial, I tend to call them a cowl, but then I asked "google" to see what they thought – and even google couldn't give me a definite answer.  
Some people seem to use infinity scarf when the scarf is large and it can be wrapped around your neck a few times.  
Some people seem to use cowl when it might be quite tight around your neck to begin with.  
I'm still undecided after my research, so will call it both – as depending on who wear it it could be either!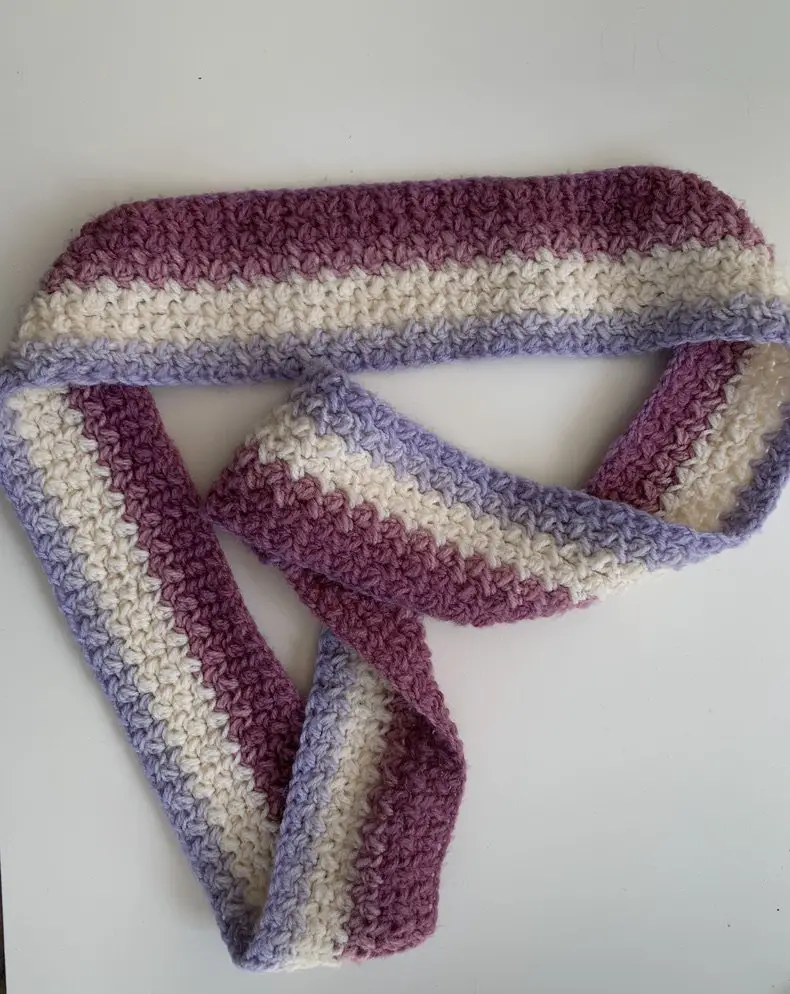 I love a cowl/ infinity scarf that is joined, they are perfect for "not failing" off like a scarf would!  
I have a whole post here with another design on why a joined scarf is better than a traditional scarf.  Do you have a preference – I'd love to know!
>>>Check out my infinity scarf/ cowl design here 
I first discovered this stitch when I designed a scarf for Crochet Now Magazine.  You can find out all about the design here.
I then went back to my lazy crocheter route and Super chunky yarn, but horizontal this time and  The Quirrell Scarf was born – you can get the free pattern here>>>.
And I seem to have stuck with it as my "go to" stitch for this project too as the texture is so so good!
You can pin this for later below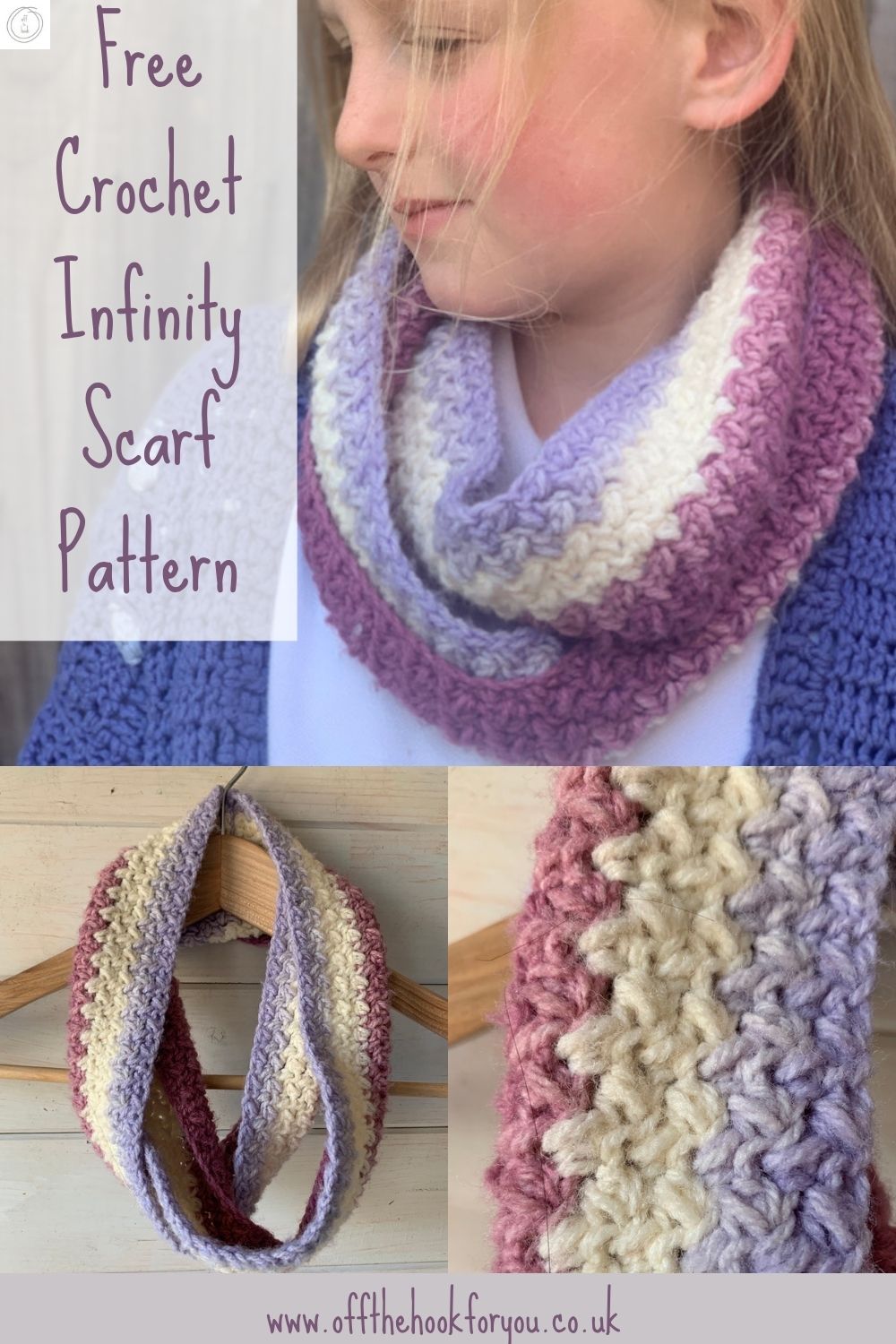 Yarn for a mini bean stitch Infinity scarf
This is one of the best bits of this project.  This was made with the leftover yarn from a previous project!  That project is due to be released soon too and I'll add a link here when I do.
I used a double knit yarn cake, that I was gifted in a yarn exchange on Instagram, but an equivalent is:
For UK Friends  Sirdar Snuggly Pattercake DK which comes in lots of colours, and even better – the yarn changes colour itself meaning only 2 ends to sew in.

How big is a crochet infinity scarf
This scarf measures 130cm when it's finished. You may want to add a few more chains in multiples of 2+1, to make it longer. It fits nicely around a ten year old, and adults head twice. It would also go around a 6-8 year old three times easily giving a "snug" fit as you can see below.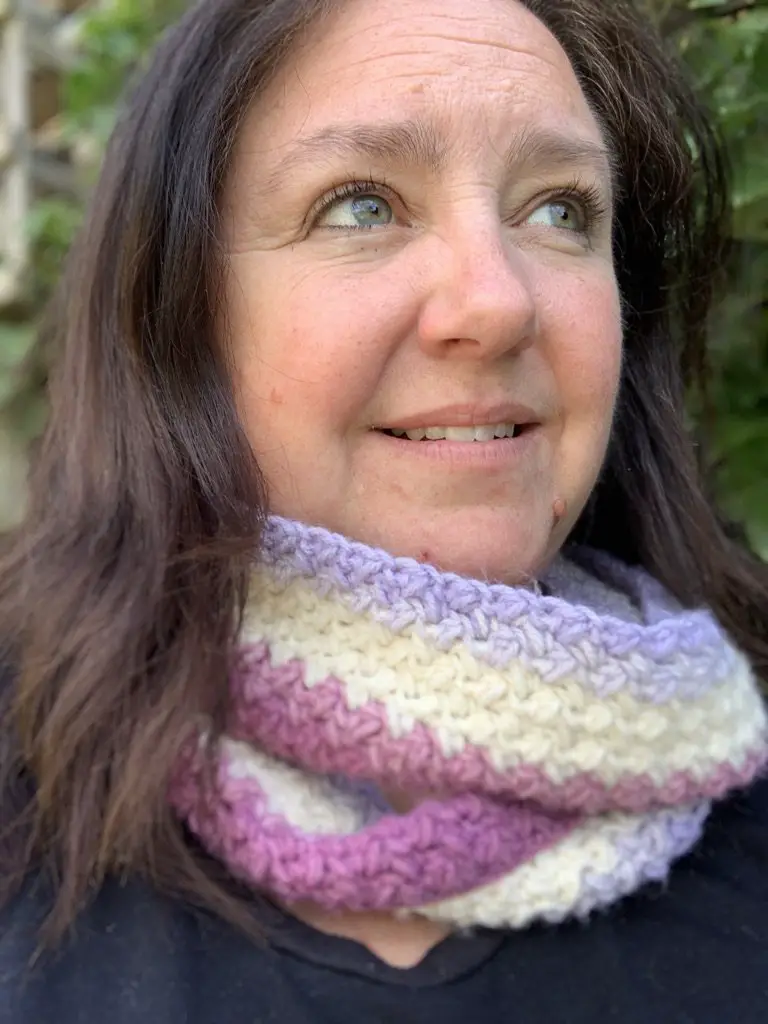 Crochet Pattern Options
There  are a few ways you can get the crochet pattern for my Elizabeth Stitch Infinity Scarf, and enjoy this crochet pattern and help support Off the Hook for You.
You can find and use the Elizabeth Stitch Infinity cowl here on the blog that is supplemented with ads.
You can purchase, print and keep the 2 page advert-free pattern PDF in any of my shops as an instant download below.
You can get the pattern for free as part of the Stashbusting blog hop with @knittingwithchopsticks between 29th June – 5th July 2022.
>>>Get the Ad free pattern on Raverly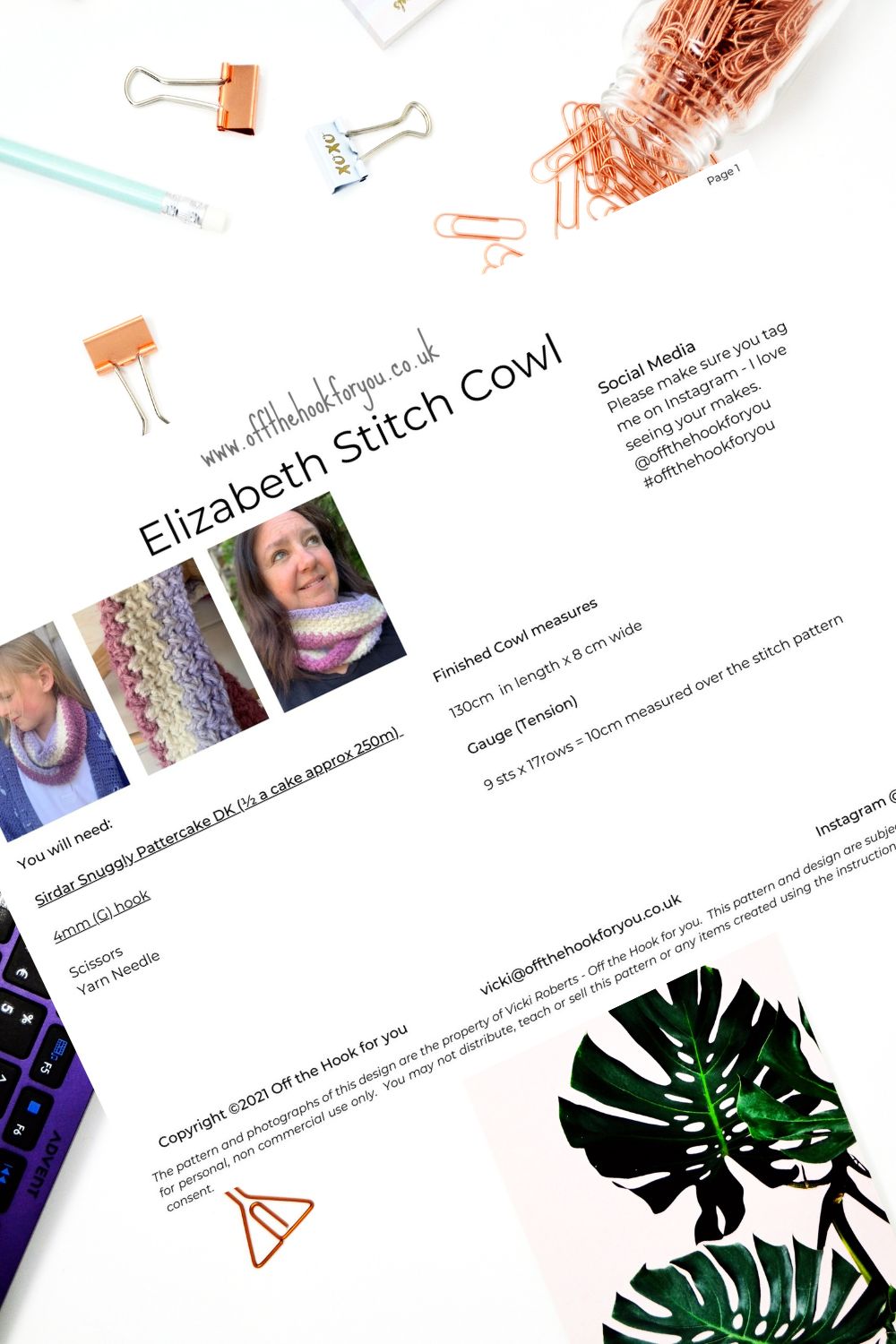 Mini Bean Stitch Infinity Cowl Pattern
Sirdar Snuggly Pattercake DK (½ a cake approx 250m)
Scissors
Tapestry needle
Finished Size
130cm x 8 cm 
Tension
9 sts x 17rows = 10cm measured over the stitch pattern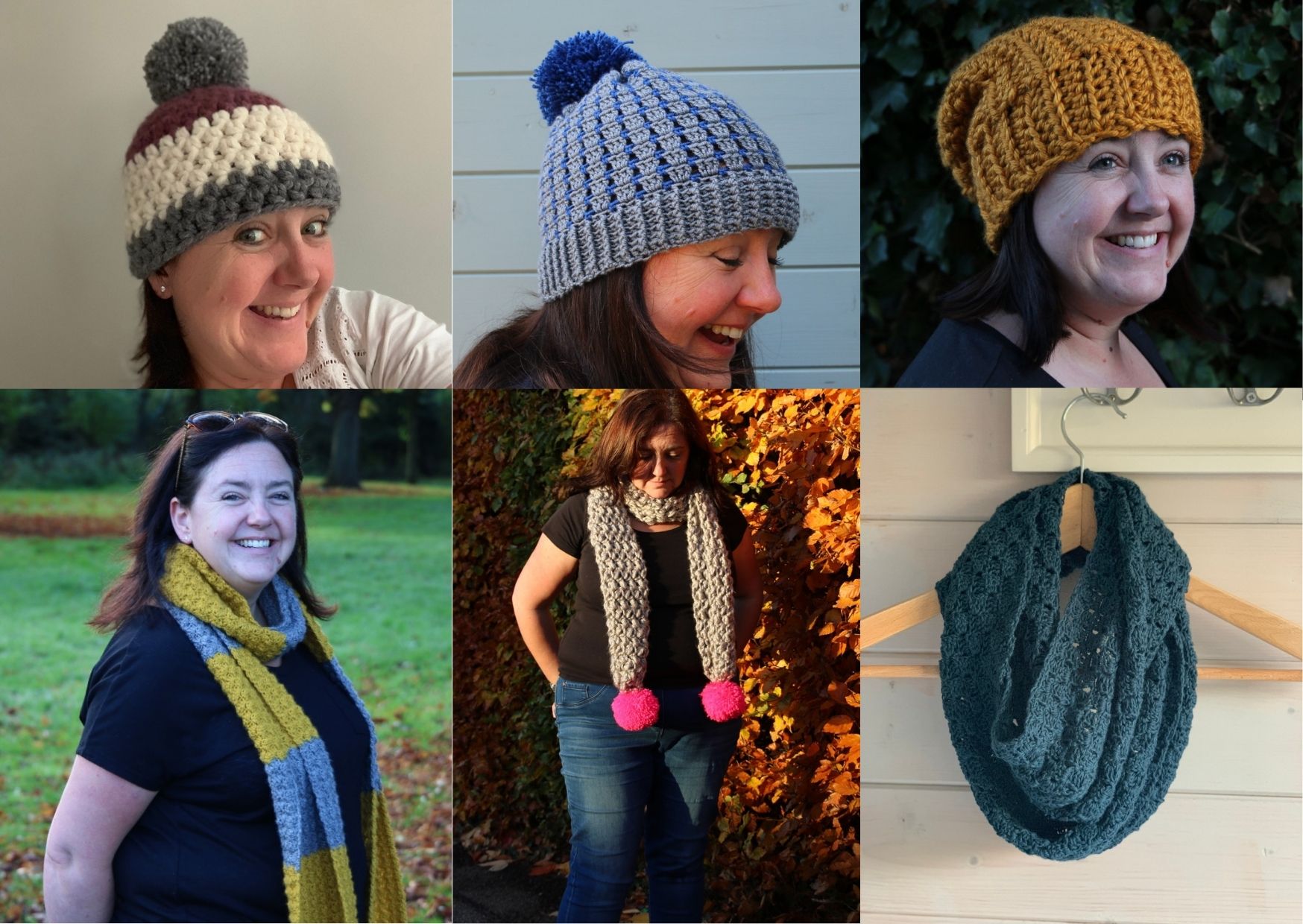 >>> 40 Minute Beanie : >>>Block Stitch Hat : >>>Quick Slouchy Beanie :
>>>Blanket Stitch Scarf : >>> Mini Bean Stitch Scarf : >>>One ball Cowl
Abbreviations – USA Terms
Ch – Chain
Mbs – mini bean stitch
Sk – Skip stitch
Sp – space
SS – Slip Stitch
Mini Bean Stitch (mbs): Insert hook into st or sp indicated, yo, pul, yo, insert hook into the same st or sp, yo, pul, yo, draw through all 4 loops on the hook, 1 ch.
You can watch the video on how to do the mini bean stitch/ Elizabeth stitch here>>>
Hints and tips
This cowl/ scarf is made in one piece, turning at the end of each rows, then sewn together to make a "loop".
The scarf is worked in long  horizontal rows.
When working into the mbs row, make sure you insert your hook in the back of the mbs – NOT the ch sp.
Easy Mini Bean Stitch Cowl/ Scarf Pattern
Row 1: Chain 151,  in the 3rd chain from the hook, Make 1 Mbs,  *Sk ch, mbs.  Repeat from * across.  Turn.
Row 2: Ch 1, 1 Mbs in each st across.
Repeat row 2 a further 12 times (14 rows).  Fasten off leaving a long end for sewing together.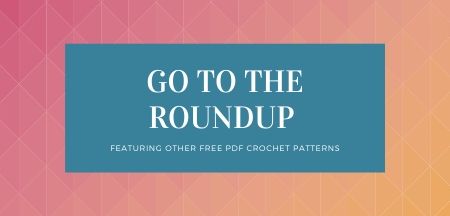 To Finish off
Place the 2 ends together (there is no right or wrong side), just ensure it isn't twisted and sew together with a running stitch.  Fasten off, weave in ends.
There you have it – one really simple crochet cowl or infinity scarf using Elizabeth/ Mini Bean stitch, only half a yarn cake.  Obviously if you want you make it wider – keep crocheting!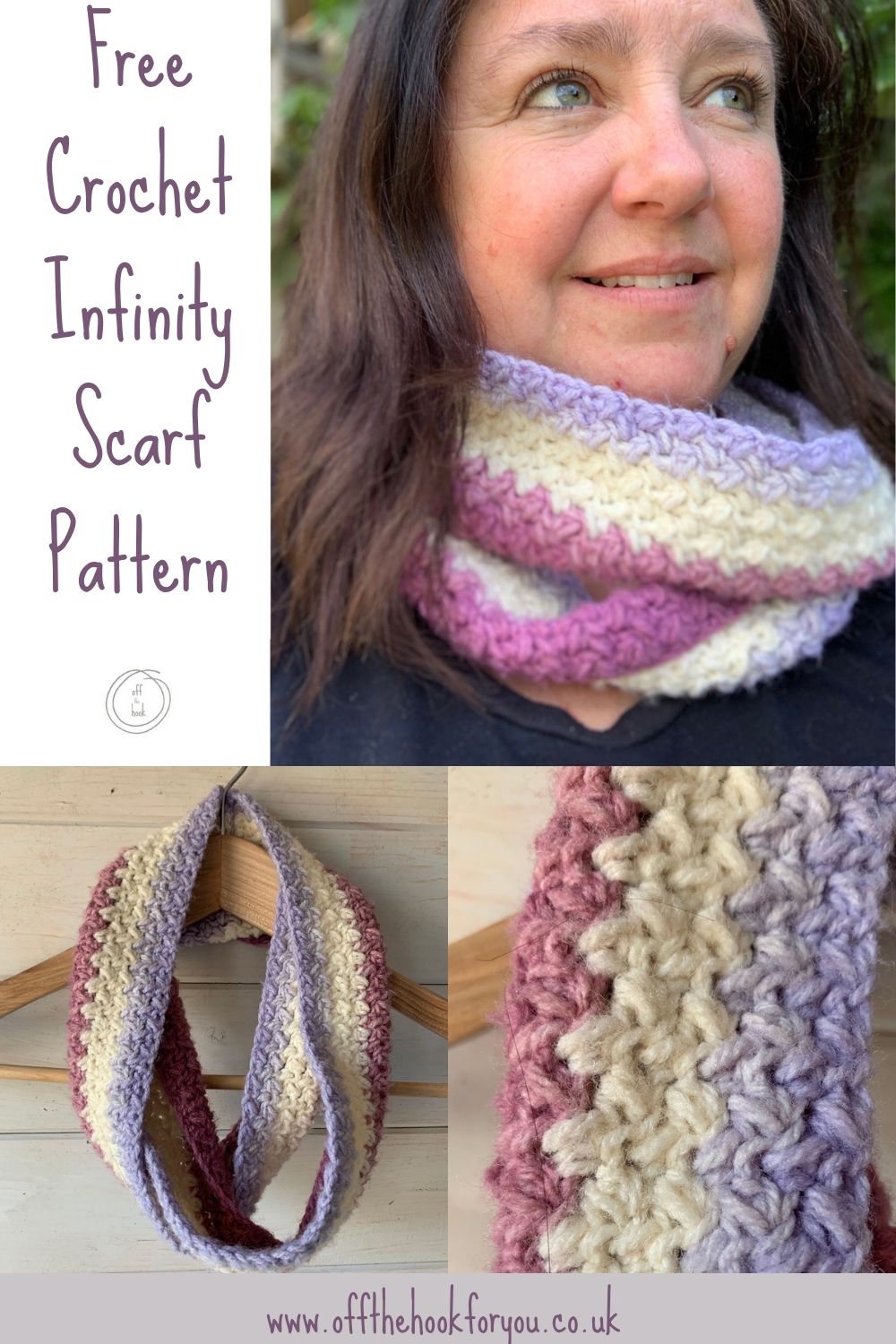 Join me at Off The Hook For You to share your crochet!
Thanks for visiting  – I'd love to stay connected with you so please sign up for my email list where a free PDF pattern is waiting for you (just so you can see what my PDF patterns are like).   
Finished one of my crochet pattern makes?  I'd love to see it and so would the world, so get sharing!  You can find me in the following ways:
Disclaimer 
This post may contain affiliate links which I earn a small commission from if you choose to click and purchase anything from. You pay the same price, I get a very small amount for sending you their way.  It helps me to make my crochet patterns free on the blog.