Hi, Welcome, thanks for stopping by, here you can get the free crochet pattern for a colourful bright rainbow granny square baby blanket…… but only using one ball of the colourful yarn!
Yep – not more going to the shop to buy a lots of balls of yarn when all the colours can be found in ONE BALL/ Skein of Yarn.
This was a great make, quick, easy, methodical and repetitive. This design uses the Continuous Join as You Go Technique for the grey – so the bonus is only TWO ends to sew in when you get to the grey!
>>>Find out about the Continuous Join As You GO technique here with a handy video.
If you want to save this for later – Please Pin it using the picture below
A bit of background on the Rainbow Granny Square Blanket Design
It was pouring with rain, Home schooling was taking a break for the afternoon as we'd just found a brand new series on Prime – Alex Rider!
I asked the pink one to choose a ball of yarn for me to make granny squares with. Little mini granny squares, one round only, and see how many I could make.
I have to give credit here to how I came up with the idea, a lovely lady on Instagram, who did my NoBrainerCAL – and has the most amazing crochet feed.
>>>Find more on the No Brainer Granny Square blanket here
Please head over and check out @Jo_Kill on Instagram. She made a similar blanket – using mini granny squares, but then made it completely different to this one by following the #spinyourgrannyblanket by @stitchedupcrafts.
>>>If you want a different baby blanket using a different technique with only a few ends to sex in – Check out this pattern
The rainbow yarn:
Well this is the magic part of this whole project. Rather than use a whole load of different colours from my every growing stash, one ball that self changes – thats all I needed.
So what did the pink one choose?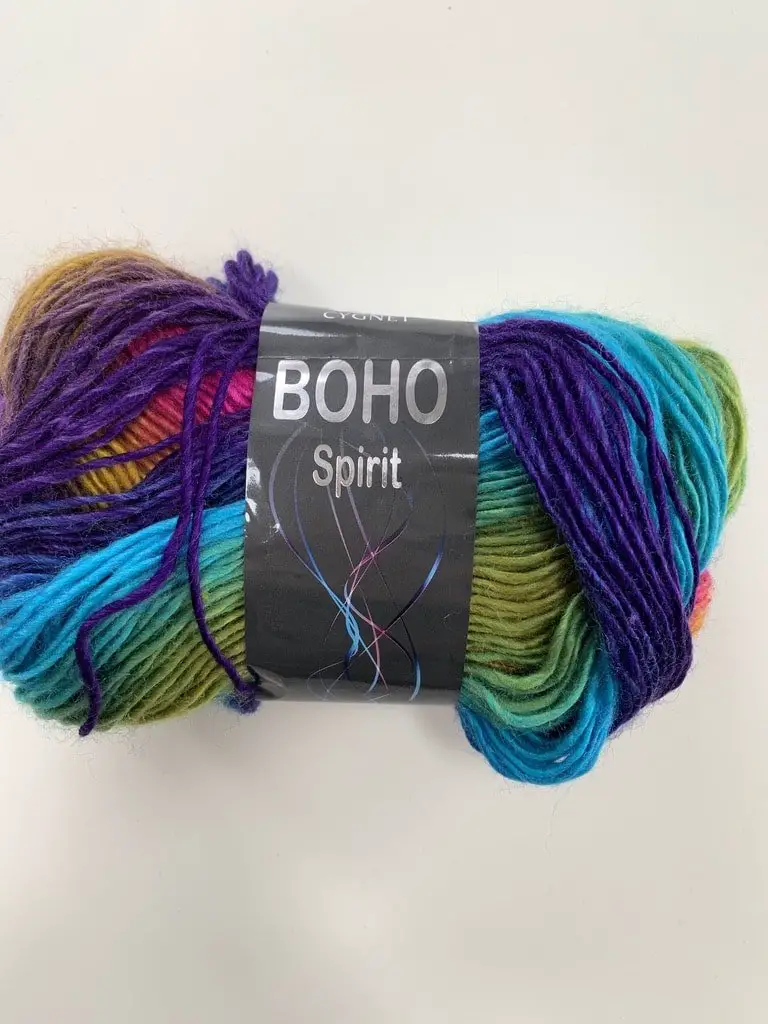 Pretty Pretty…..
I've no idea how I even got this one (it's one of the happy accidents to end up in my yarn stash) – but it sure is colouful.
If you'd like to save this for later – please Pin it – using the picture below ??
So mini granny squares. 1 round each – and they worked up super quickly (probably because I didn't sew my ends in as I went!)
A few hours later and I had crocheted a ball of wool into a colourful rainbow.
To keep all the squares in order, I used a length of t-shirt yarn and added them to the string as I made them.
How pretty is the rainbow snake?
Round 2 – this is where it became interesting. What colour to go around next, and not take away from the colourfulness of the bright squares?
After a bit of deliberation – white was decided. I used Cygnet DK from my stash – but any white yarn will do.
I even started to sew in the ends at this point!
A lot of squares later……..
And a few more…..
It was time to decide on an order. This took a LOT of time, and a lot of reordering!
I tried changing it so the colours went diagonally…….
But there being so many squares, the what looked lovely at the top of the right picture – blues purples, looked a bit weird in the opposite corner, green, yellow and purple……. with no blues in sight!
At this point I got a little frustrated!
I went straight back to the drawing board.
I went with a kind of snake it up – like snakes and ladders, get to the end of one row, and immediately come back the other way.
>>>See more blanket patterns here
Decision made!
Then the outside of the squares for joining?
I started with a parchment colour, but it looked a bit too bland.
Dark grey didn't look right either.
New yarn order needed……
This is an amazing yarn and well worth a look at if you want a premium acrylic baby yarn.
So – Continuous join as you go – this has been a revolution!
So to make this blanket – if you do – please tag me on Instagram – I love seeing what you all make! @offthehookforyou
If you need to learn how to crochet a granny square – read this post for Absolute Beginners
Rainbow Granny Square Pattern
1 ball Boho spirit in Festival
4 balls – Cygnet Pure Baby in grey
4mm crochet hook
Abbreviations – USA Terms
CH – chain
DC – Double crochet
HDC – Half Double Croceht
SC – Single Crochet
Sp – space
SS – slip stitch
Finished Size: 80 x 100 cm
Each 2 round (rainbow and the white) granny square will measure 5cm
Using the Festival yarn, make 130 granny squares as below
Top tip: keep the ends consistent – approx 5cm long to make sure you have enough yarn for the 130 squares.
Round 1: Ch4, ss to join and make a circle. 3 ch (Counts as a DC), 2 DC, *2 ch, 3DC, repeat from * 3 times [ 12 DC, 4 ch 2 spaces). Fasten off
Top tip: Keep them in order! I used T-shirt yarn as holder and threaded them onto it.
Using white yarn, complete round 2 of your granny squares
Round 2: Join yarn in any corner sp. 3 ch (counts as a DC), 2 DC 2 ch 3 DC, 1 ch, (3DC 2 ch 3 DC ch 1 in the next sp), repeat 3 times. Fasten off.
(And rethread to keep them in order).
Using Silver yarn, complete round 3 of the granny squares – joining CJAYG
Rows are made from 13 squares up and 10 squares across.
Border of the Rainbow Granny Square Baby Blanket
Complete 3 rounds SC, then make 1 final round in HDC.
Please tag me (@offthehookforyou) if you make this. I love seeing everyones makes.