Here you can find a beginners crochet hat pattern that is super easy and very quick to make – You can crochet a ladies hat in about 40 minutes.
I hear you – you don't believe me, well I've just recorded a video for the adult ladies size hat, and start to finish including making a pom pom has taken 42 minutes!
This hat is amazing and the perfect beginners crochet project.  I've been teaching how to make this hat as a beginners crochet workshop for about 5 years, and even a beginner can and does make this hat in about 2 hours!!  Then with all crochet projects – the more you practice the quicker you get!
These are perfect craft show projects too – as they are so quick – you can make so many in such a short amount of time.
If you want to save this for later, please do so here.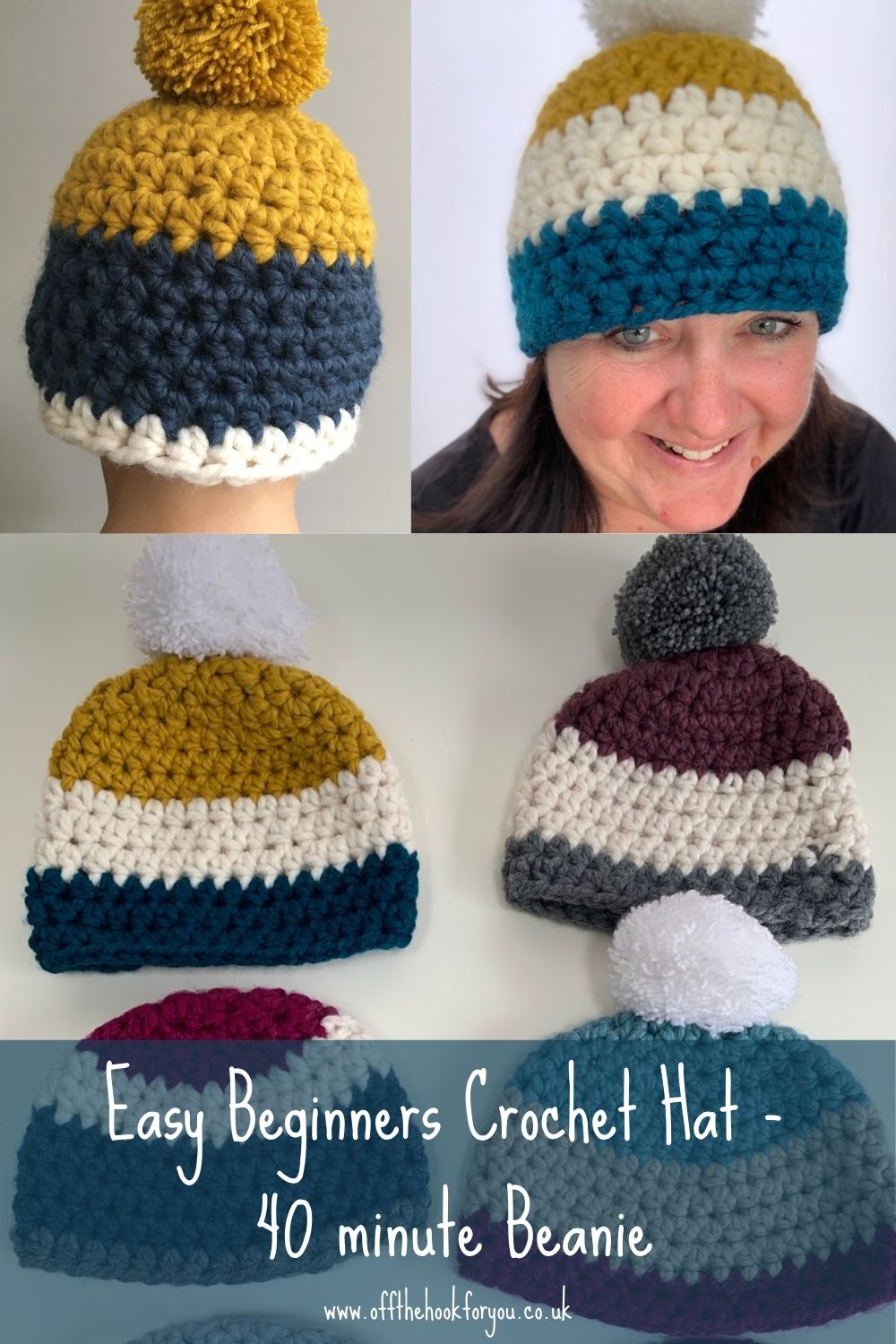 Why this Quick and Easy Crochet hat is perfect for beginners?
I teach this hat as week two of a beginners crochet series, yep – week two, and we make a hat to fit an adult lady!
Just have a look at some of the makes from the workshops I've taught over the last couple of years.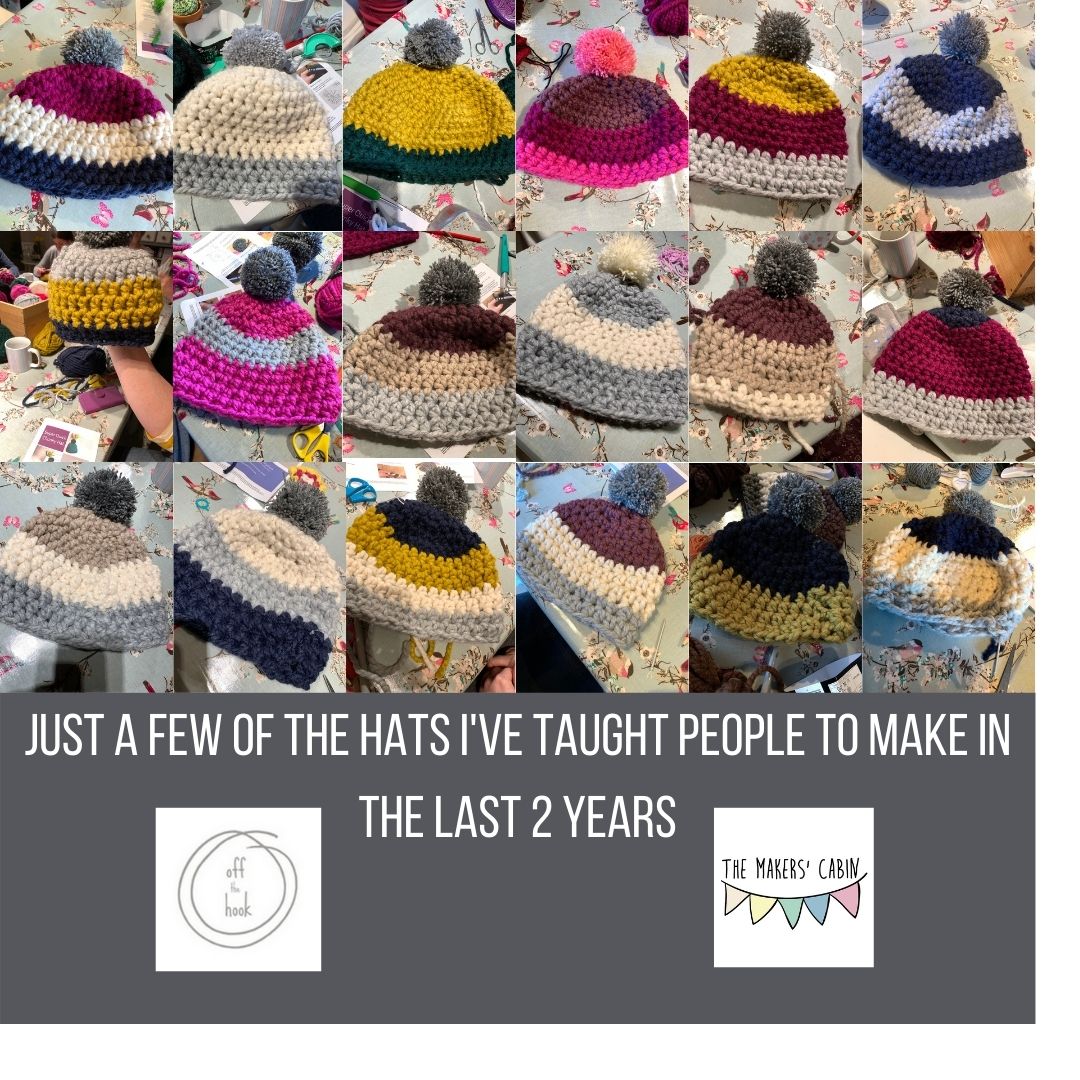 Week one, we've worked on learning granny squares – and I have a whole other post about why these are so good to learn>>>
But today, it's a super quick and easy beginners crochet beanie hat, and as I know some of you are visual learners – I've made a video too.
This easy crochet hat teaches you how to:
The height of the US Half Double Crochet (HDC)
The US half double crochet stitch (HDC) (Half Treble Uk)
How to work in the round (a circle)
How to slip stitch to join
How to increase consistently and evenly
How to change colour neatly
How to fasten off
This quick and easy crochet hat is the perfect way to increase your crochet knowledge, and make a beanie hat!
>>>Check out the Free Easy Square crochet hat here

Quick and Easy Crochet Beanie – Yarn
The yarn used for this project is absolutely key as to why this hat  is such a quick make.  
Thick yarn = quick project and this easy hat is no exception.  
It's made with Cygnet Seriously Chunky yarn, and takes just over a ball to make a ladies sized hat.
I like to explain it, that if you bought 4 balls of yarn, you could make 3 ladies hats – with lots of lovely colourful stripes!
There are so many possibilities with this yarn – it comes in 30 solid colours and 7 "mix prints"
See the Super Chunky Yarn colours>>>
If you bought 8 balls of yarn, you could have 6 totally different looking hats!
This is a premium Acrylic, and is really well priced at about £2.50 a ball ($3.50), so 3 hats for £7.50 ($10) has got to be worth it!  
These would make great craft show makes too, and given they are so quick to make, the little bit of  extra cost of the yarn would far outweigh the time savings on making these hats. Sell a hat for $20, when it's only cost you $4.50 = win win!
For more Quick crochet makes check out:
1 Ball crochet Wrist Warmers – free crochet pattern>>>
Quick and easy crochet cowl Pattern>>>
The super chunky mini bean scarf free pattern with video>>>
When making the PomPom – I use normal DK/ Worsted weight yarn. I've tried making pompoms with super chunky yarn, but I've personally found that I couldn't ever tie them tight enough to keep the big yarn strands in place.
So I use three stands of DK yarn together – so they are still really quick to make, but also don't fall apart if one or two strands come loose!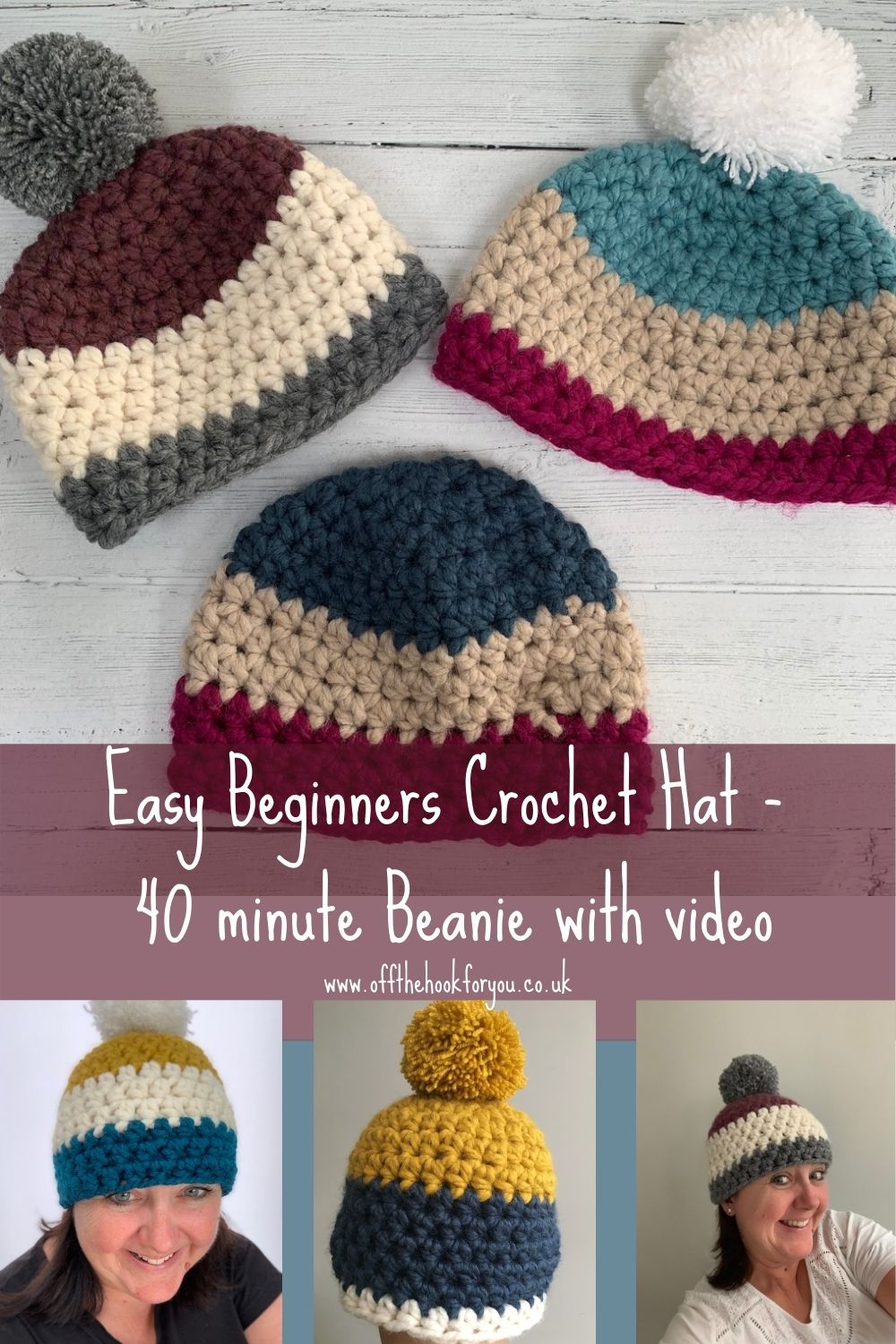 Now a little word of warning – it does take some getting used to crocheting with Super chunky/ Super Bulky Yarn, especially if coming from a DK/ Worsted weight yarn, but honestly it should only take a couple of stitches to get used to it – and the time saving is so so worth it!
Crochet Hooks (and needles) for Super Chunky/ Bulky Yarn
Basically put big yarn = a big hook.
Like all crochet hooks you may have a personal preference.  When I teach this I offer 3 different hooks.
An ergonomic aluminum and plastic handled hook by Knitpro 
 I adore my Clover 10mm hook, and would always pick this – if you are planning on making a few hats – this is well worth the investment.
The Pony hook is a great budget option and perfect for beginners, as it has a really nice "hook" on the end, but it can be tough on your hands if you are crocheting a lot.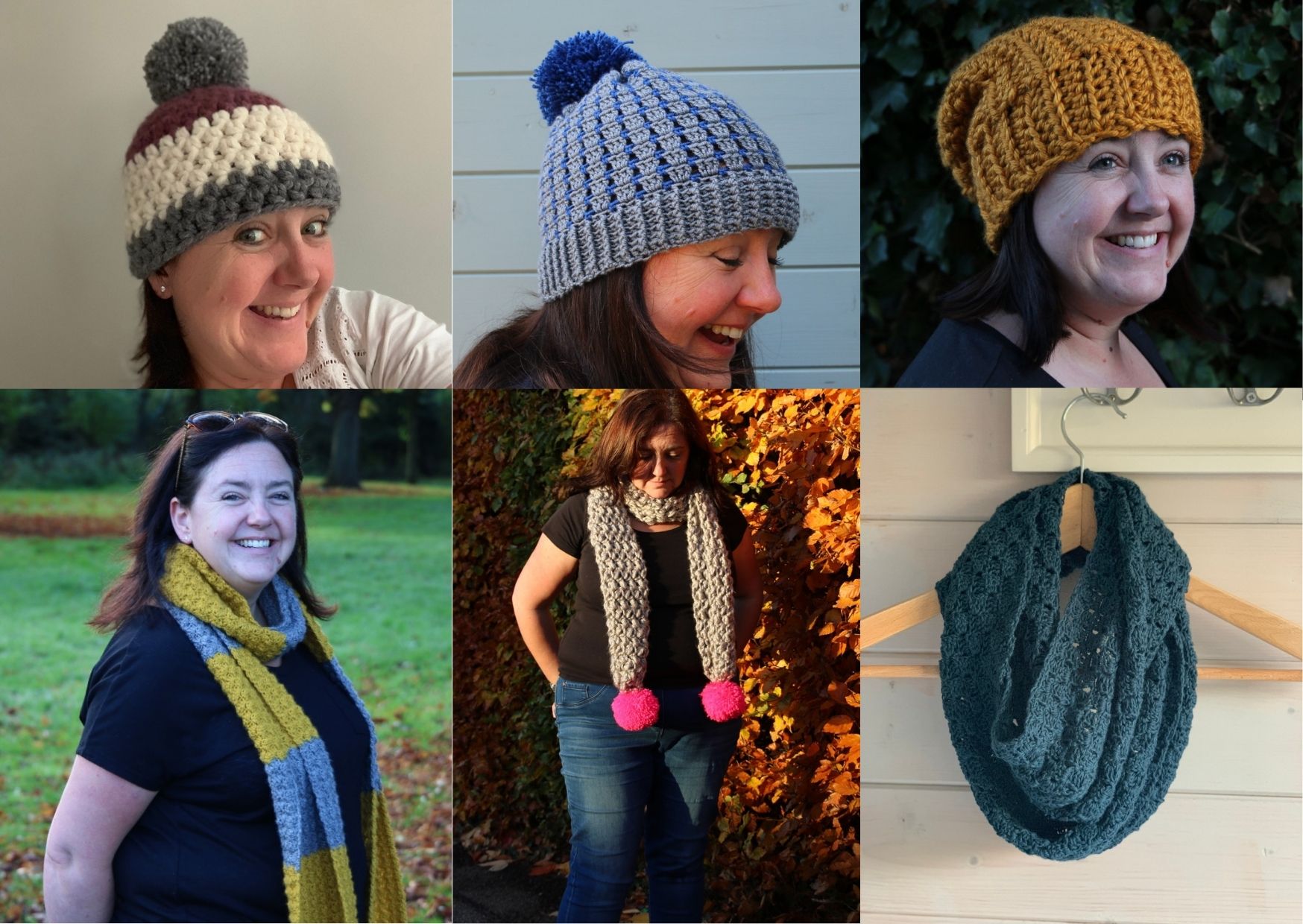 >>> 40 Minute Beanie : >>>Block Stitch Hat : >>>Quick Slouchy Beanie :
>>>Blanket Stitch Scarf : >>> Mini Bean Stitch Scarf : >>>One ball Cowl
The Knitpro, is lovely to hold, and has a nice smooth "hook", but if you are learning you may find the yarn slips off the end easily.
It's all a case of personal preference – go with a hook that you are comfortable with.
Yarn needles – as this yarn is so thick – I can not recommend these needles enough, as the eye of the needle is plastic – so it makes them so easy to thread!
Which Crochet Stitch?
These hats use the Half Double Crochet (HDC) (USA Terms) or Half Treble crochet (UK), and slip stitches to make them.  This is a really good stitch – as it isn't as "holey" as a Double crochet, but it's quicker than a single crochet = win win.  
It's really simple to do – if you've learnt a granny square – think like a double crochet, but once you've pulled the yarn back through the stitch – just yarn over and pull back over all 3 loops on your hook (making it quicker too!).
The other thing to note with the half double crochet is that there is a Wrong side and Right side. For this hat, you will work the pattern then turn the hat inside out.



Easy Beginners Hat Pattern Options
I designed this hat as part of my beginners crochet course and  it is hugely popular.
But now I can share this for free here.
There are a few ways you can access and enjoy this crochet pattern for a Beginners easy hat pattern and help support my blog Off the Hook for You. 
You can find and use the Beginners easy Hat Pattern here on the blog that is supplemented with adverts.
You can purchase, print and keep the 4 page advert-free pattern PDF below in both USA terms
Easy Beginners Crochet Hat Pattern – 40 minute make
You will need for a 3 colour hat:
3 balls of Cygnet Seriously Chunky , 100g, 48m
Stitch marker
Yarn needle (These are brilliant with super chunky yarn!).
8cm Pom Pom maker (if you want a pom pom)
DK Yarn for the PomPom
Cotton yarn to tie the PomPom
Finished hat size
25cm (20 inches) width x 20cm (18 inches) tall
Tension
7 sts x 6 rows = 10 x 10 cm (4 x 4 in) over HDC st pattern.
Abbreviations – USA Terms Used
Ch – chain
HDC – half double crochet
ss – slip stitch
sts – Stitches

Half Double Crochet (HDC) – Yarn over the hook, through the middle of the ring, grab the yarn and pull back through the ring, yarn over the hook again, and pull back over all 3 loops on the hook.  
Pattern notes for an easy beginners beanie
This crochet hat is worked in the round, ss to join at the end of each round.
The beginning Ch2 counts as a stitch throughout. 
You may find it useful to add a stitch marker to the beginning Ch to remind you of where you need to stop the round.  
Tip – when working the rounds with the increased (rounds 2-4), you should finish on the last part of the "repeat" i.e. 2HDC, 1HDC – your last st should be the 1HDC – this is a good way of checking where you are, and that you are counting correctly.
Make the last Yarn over of the last HDC st of the previous round using the new colour.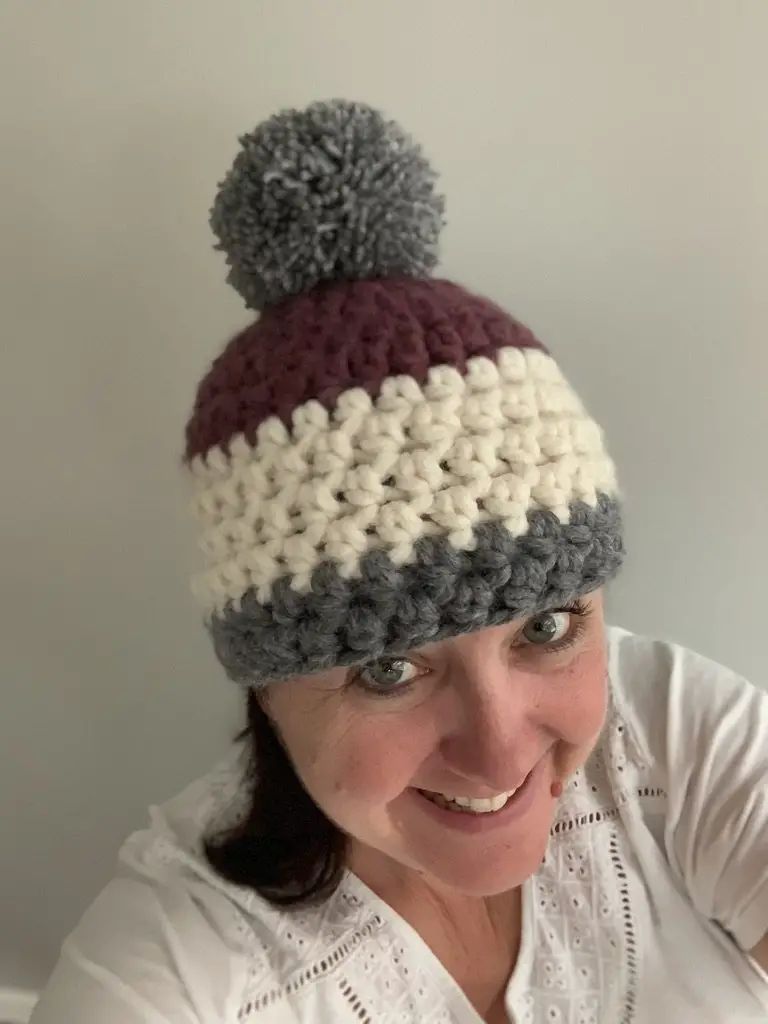 Easy Beginners crochet hat Video
I've recorded a video showing how to make the hat. You can watch it here>>>
Please hit subscribe while you are there.
To crochet an easy beanie hat
Make a magic ring.  (If you need to see how this is done – check out this video here).
Round 1: Ch2 (which is the height of a US Half Double Crochet (HDC) and counts as a stitch throughout), now make 7HDC in the magic ring, ss to join (making a circle). [8HDC]
Round 2: Ch2, 1HDC in the base of the chain, 2HDC in each stitch around, ss to join. [16HDC]
Round 3: Ch2, 1HDC in the base of the chain, 1HDC in the next stitch.  *2HDC, 1HDC, repeat from * around,  ss to join.  [24 HDC]
Round 4: Ch2, 1HDC in the base of the chain.  1HDC in each of the next 2 stitches.  *2HDC, 1 HDC, 1HDC – repeat from * around, ss to join.  [32 HDC]
Round 5: Ch2, 1HDC in the next st, HDC in each st around, ss to join.  [32 HDC]
Rounds 6-12: Ch2, 1HDC in each st around.  [32HDC]
Fasten off, weave in ends – and Turn inside out – the "Right Side" is the inside of the hat when you make it.
If you want to change colour. 
This is how you can get the different looks for the hats (from left to right working from the top down).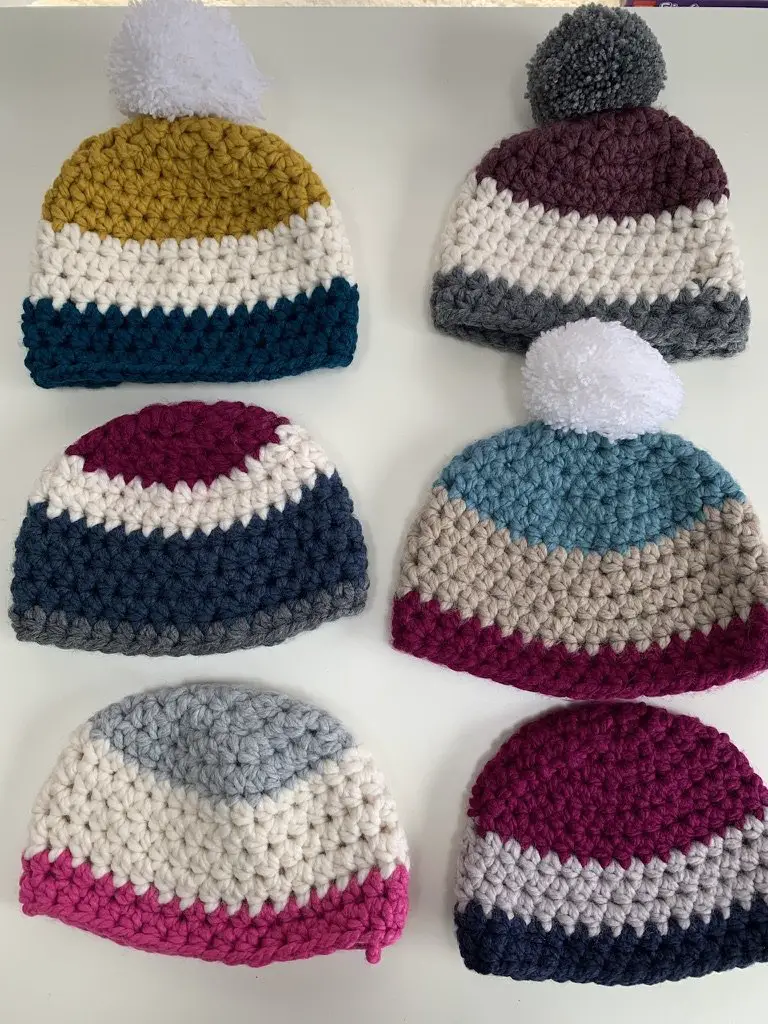 Make the last Yarn over the of the last HDC st using the new colour.  
The hats vary in round – depending on your head size – as a guide 12 rounds tends to fit most ladies heads, but you may find you need to go one or two rounds smaller, or even one more making 13.
To make the designs above – I used:
Check out the Yarn Colours here>>>
Hat A: Rounds 1-6 – Mustard, Rnds 7-9 Cream, Rnds 10-12 Teal
Hat B: Rounds 1-5 – Plum, Rnds 6-9 cream,  Rnds 10-11 Grey
Hat C: Rounds 1-3 Magenta, Rnds 4-5, Rnds 6-9 Navy, Rnd 10 Grey
Hat D: Rounds 1-5 Light green, Rnds 6-9 Biscuit, Rnds 10-11 Magenta
Hat E: Rounds 1-4 Light grey, Rnds 7-9 cream, Rnds 10-11 Pink
Hat F: Rounds 1-6 Magenta, Rnds 7-9 Unicorn, Rnds 10-11 navy
For more hat patterns
>>>check out my Block Stitch crochet hat free pattern
>>>Free slouchy beanie pattern
Make sure you Pin for for later here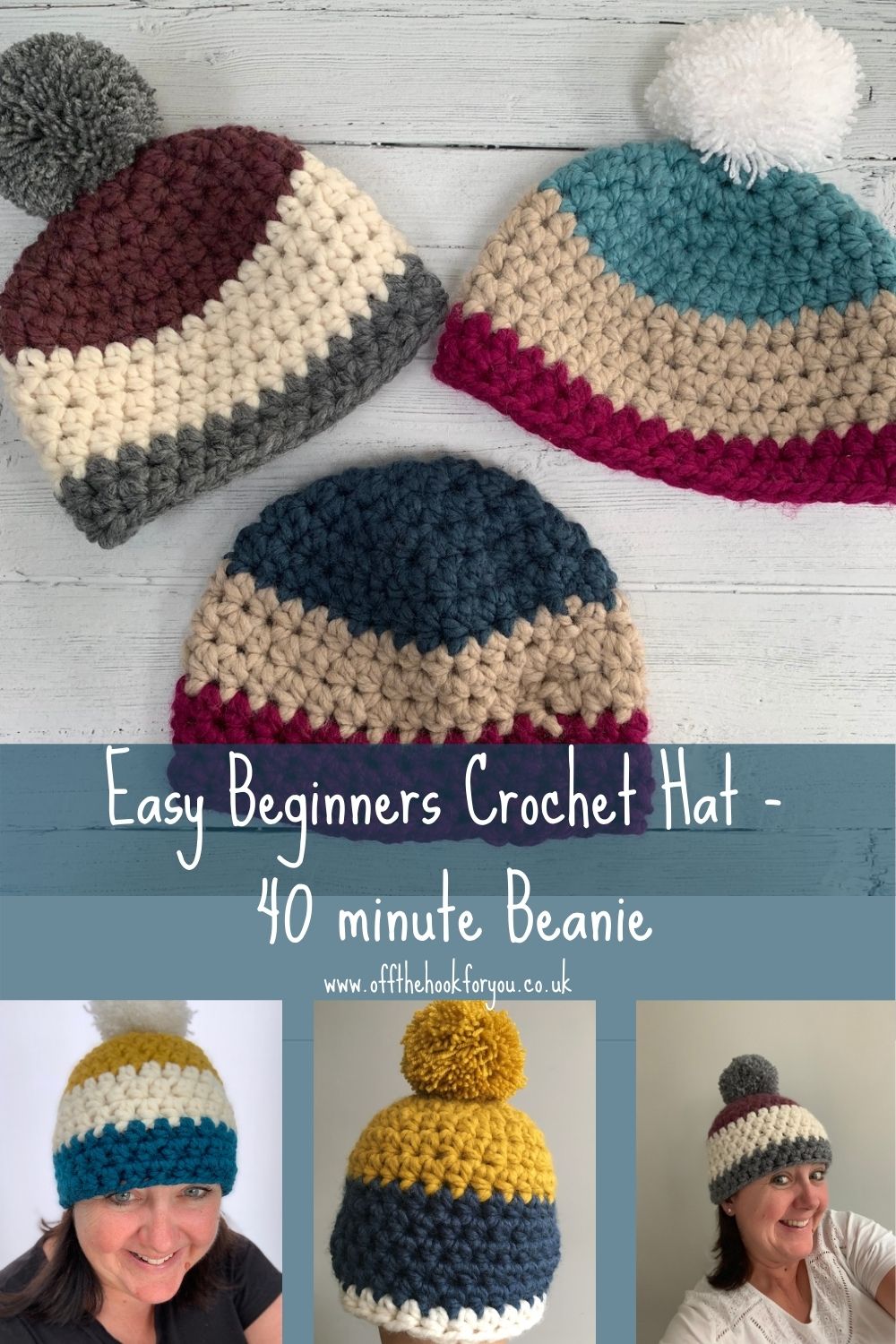 Join me at Off The Hook For You to share your crochet!
Thanks for visiting  – I'd love to stay connected with you so please sign up for my email list where a free PDF pattern is waiting for you (just so you can see what my PDF patterns are like).   
Finished one of my crochet pattern makes?  I'd love to see it and so would the world, so get sharing!  You can find me in the following ways:
Disclaimer 
This post may contain affiliate links which I earn a small commission from if you choose to click and purchase anything from. You pay the same price, I get a very small amount for sending you their way.  It helps me to make my crochet patterns free on the blog.