This Easy Granny Square crochet bag is all about the not so humble Granny Square. In fact, it is only made from Granny squares!
This is a perfect beginners crochet bag, as it'll get you making granny squares and half squares, so you'll an expert at making them!
This is a great project for the you've made a lot of granny squares and have no idea what do with them.
It's also a great stashbuster! You could make these squares in any colour from your stash.
This bag, if made in different colours is very similar to the Not the High Street Bag by Bella Coco – different handles, but the same construction, and I made this one 4 years earlier!
If you want to save this for later, Pin it here.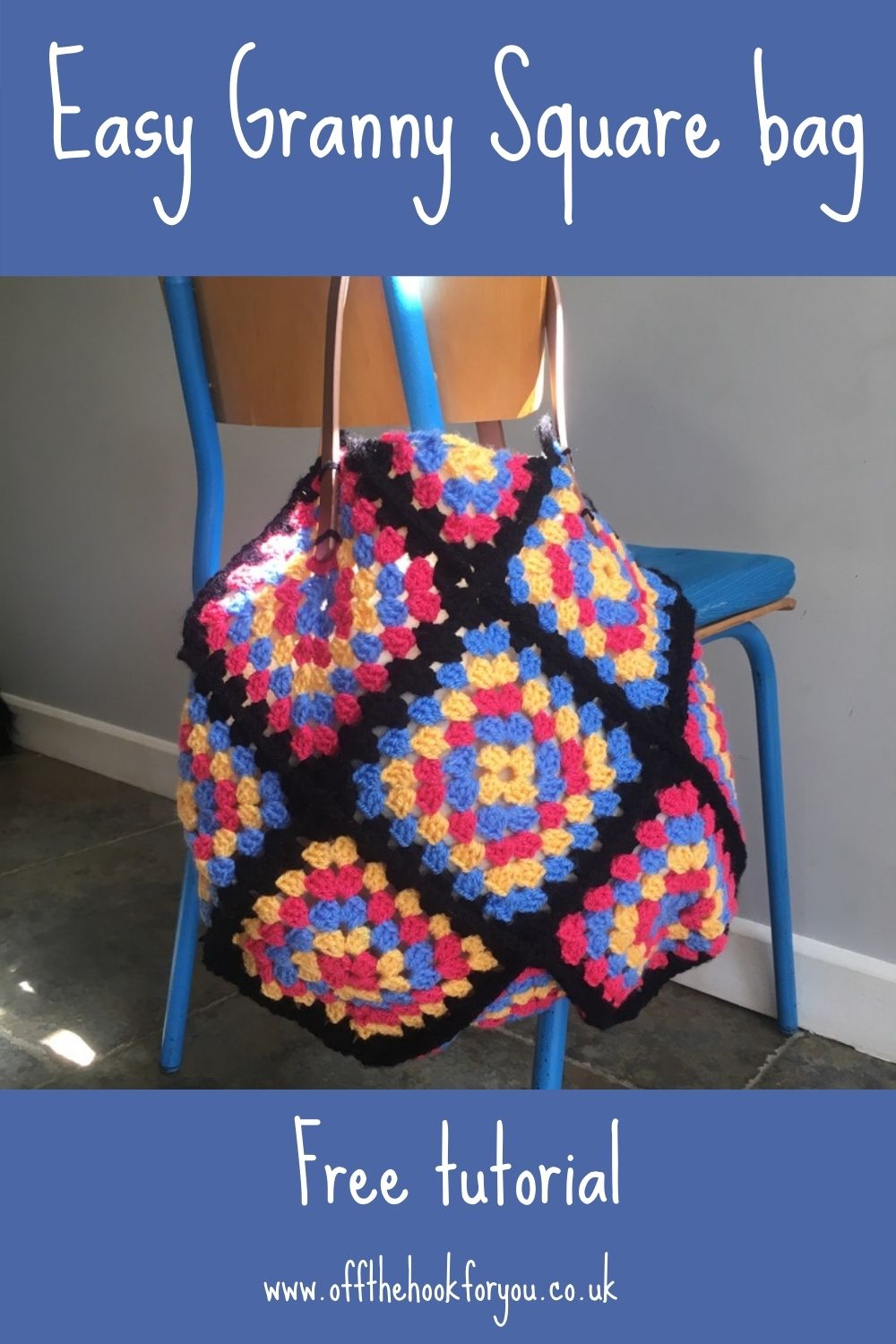 How to make a granny square used in the bag
If you are new to crochet, I have a complete beginners guide to making a granny square, and why they are the perfect beginners project.
>>>How to crochet a granny square for absolute beginners

How many rounds does the granny square need to be?
For this bag pattern, each granny square needs to be 6 rounds.
This will make a bag that measures 38cm x 38 cm, or 15 inches by 15 inches, when using the yarn I've listed below.
Can you use other granny squares to make a crochet bag?
Yes, the brilliant thing about this bag, is you can completely change the look of the bag by changing the colours of the squares, and if you are feeling really adventurous, the actual type of granny square.
You could easily make this bag using the Starburst Granny squares that I love, and used in many a crochet project, like my Starburst Blanket and Starburst cushion.
>>>Learn how to make a starburst granny square here
If using the starburst squares, do up to round 5 in your colours, which turns the circle into a square. The use the continuous join as you go technique to join them together.
>>>Continuous join as you go technique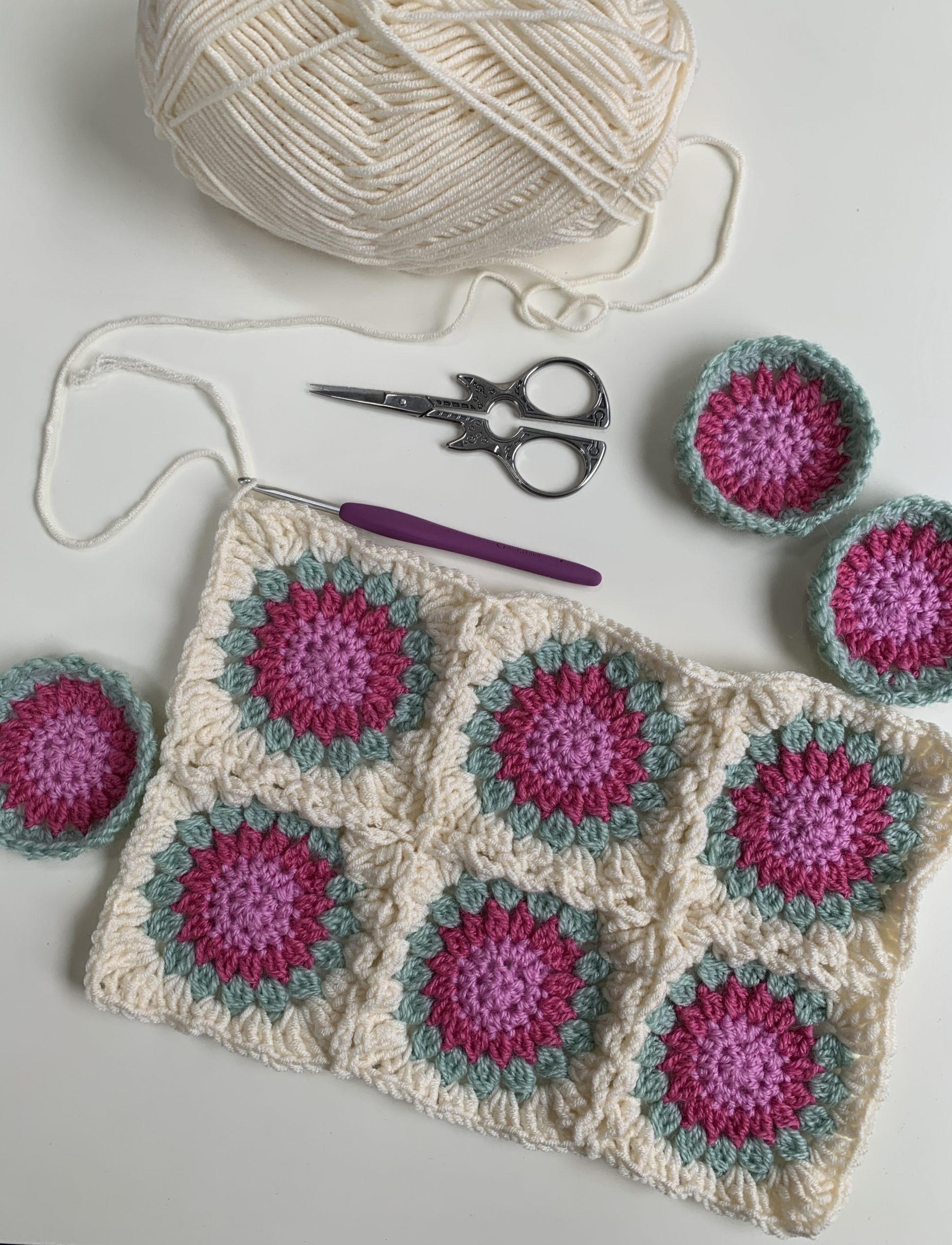 Yarn choice for a crochet bag
I used bulk standard Double knitting yarn. Some I was gifted the Blue and the yellow, and then Stylecraft Special DK for the Pomegranate and black.
>>>Check out the Stylecraft Special DK Here
In hindsight, as I use this bag in the summer a lot, a cotton yarn would have been perfect, like Dishie or Cotlin.
>>>Check out the Dishie colours here
>>>Check out the Cotlin Colours here
As I've used DK yarn, my bag was made with a 4mm hook.
Bear in mind if you use a different yarn and hook , this will change not only the size of the squares, but also the finished size of the Granny Square bag.
Tension/ Gauge
Again, depending on what yarn you will use, your squares may be a different size!
Each granny square of 6 rounds measures 14cm when blocked, using DK yarn and a 4mm hook.
>>>Find out about crochet blocking here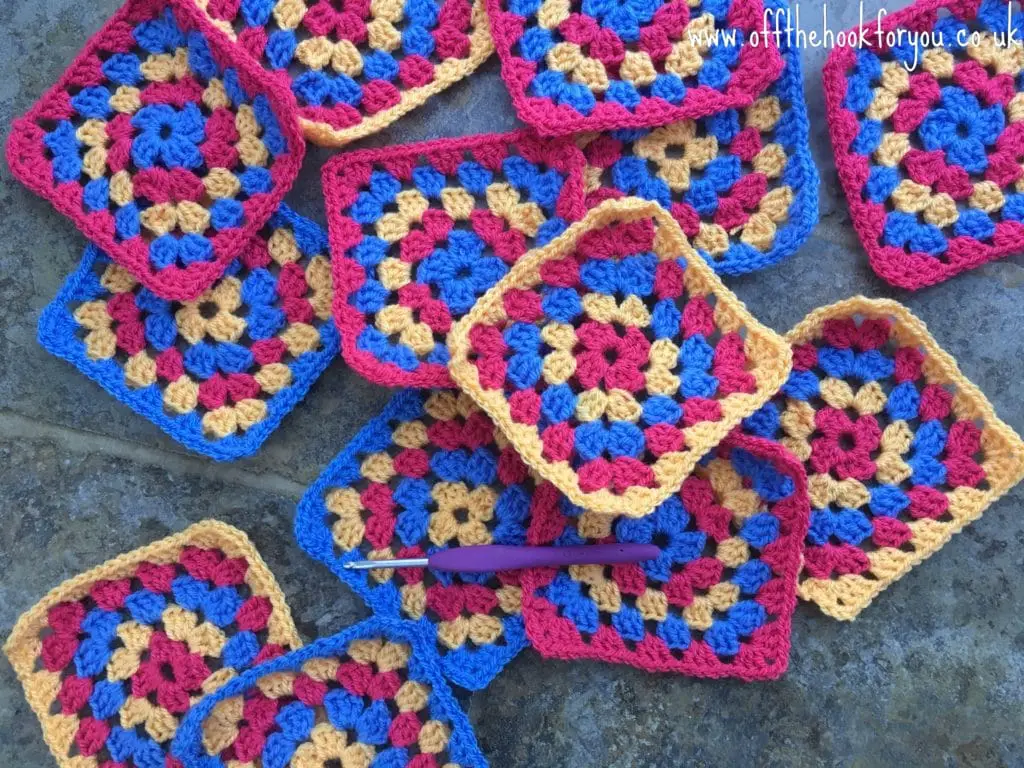 Easy Crochet Bag Pattern
4 colours of DK yarn I used Aster, Saffron, Pomegranate and Black
Scissors
Sewing needle
Pattern
Make 13 granny squares and 2 half granny squares or 6 rounds. I made them with alternating 3 colours.
Lay the granny squares out on the diagonal as per the diagram below.
Sew together using Whip Stitch, or an easier way is to skip round 6 and use the Continuous Join as you go technique
Granny Square Bag Layout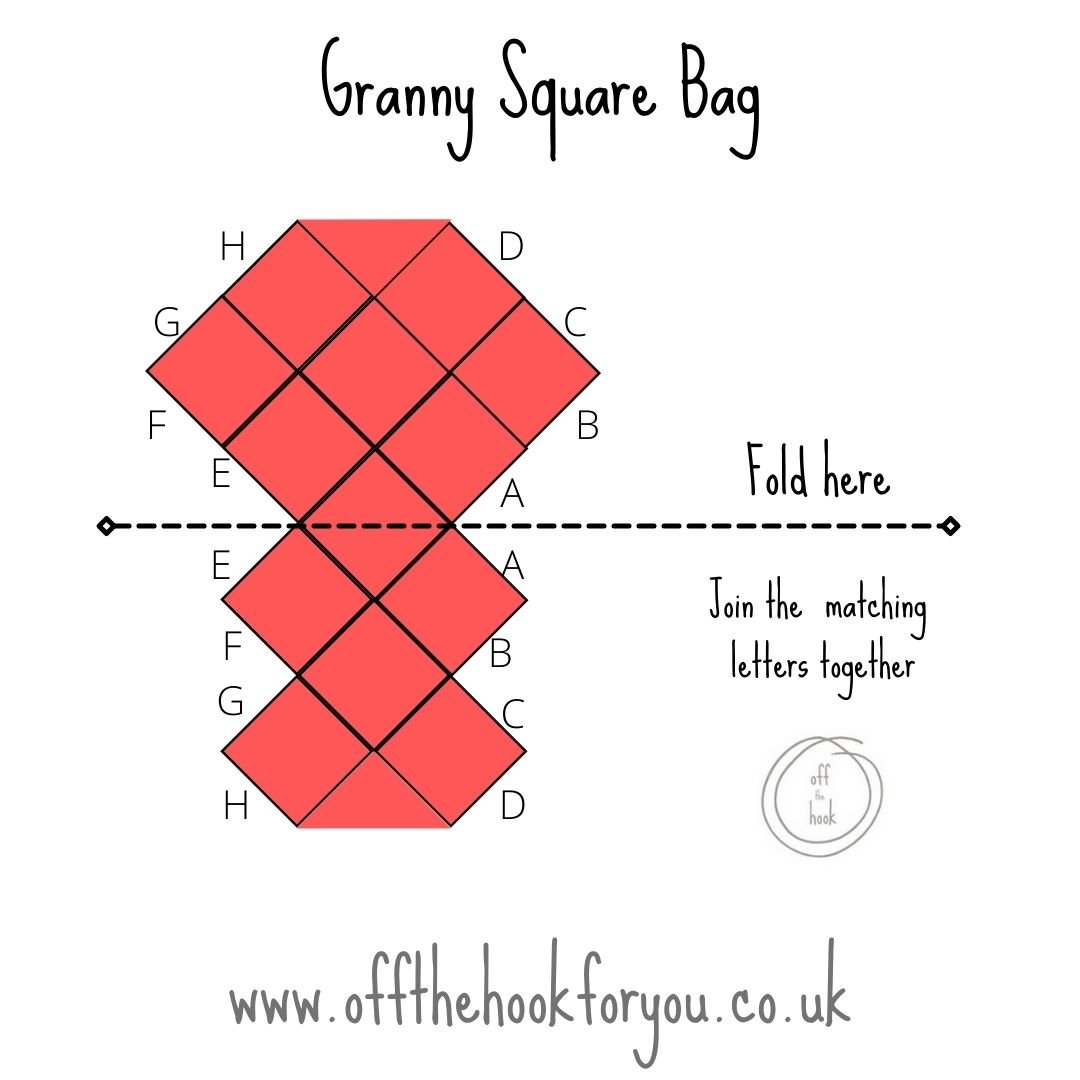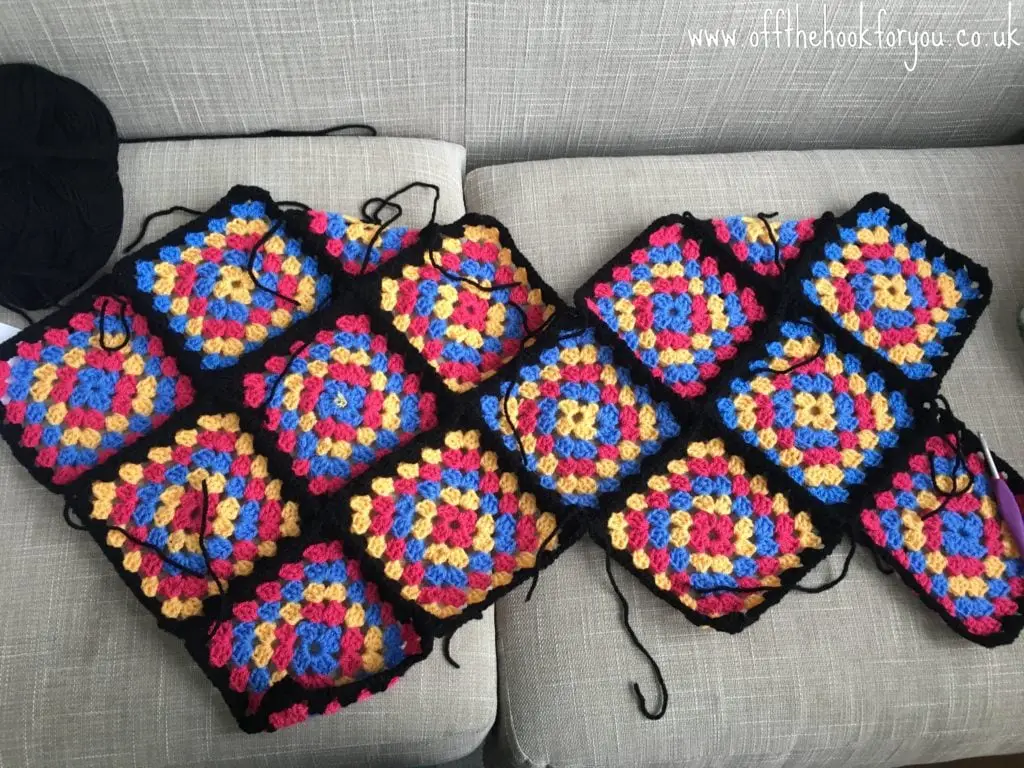 How to Line the Crochet Bag
Cut 2 squares of calico, (I laid the fabric over the top of the bag to gauge the size). 
Seam them together on the sewing machine, 3 sides of the square
Iron the seams flat
Turning the lining inside out
Hand sewing the lining into place, neatly folding the lining ensuring no raw ends are showing.
Sew the handles into place.
Sew handles for the bag at the top of the "whole squares" (Use photo as a guide)



Amazing what can be made from 13 granny squares of 6 rounds each, 2 half granny squares, lining and some handles!
Please Pin it below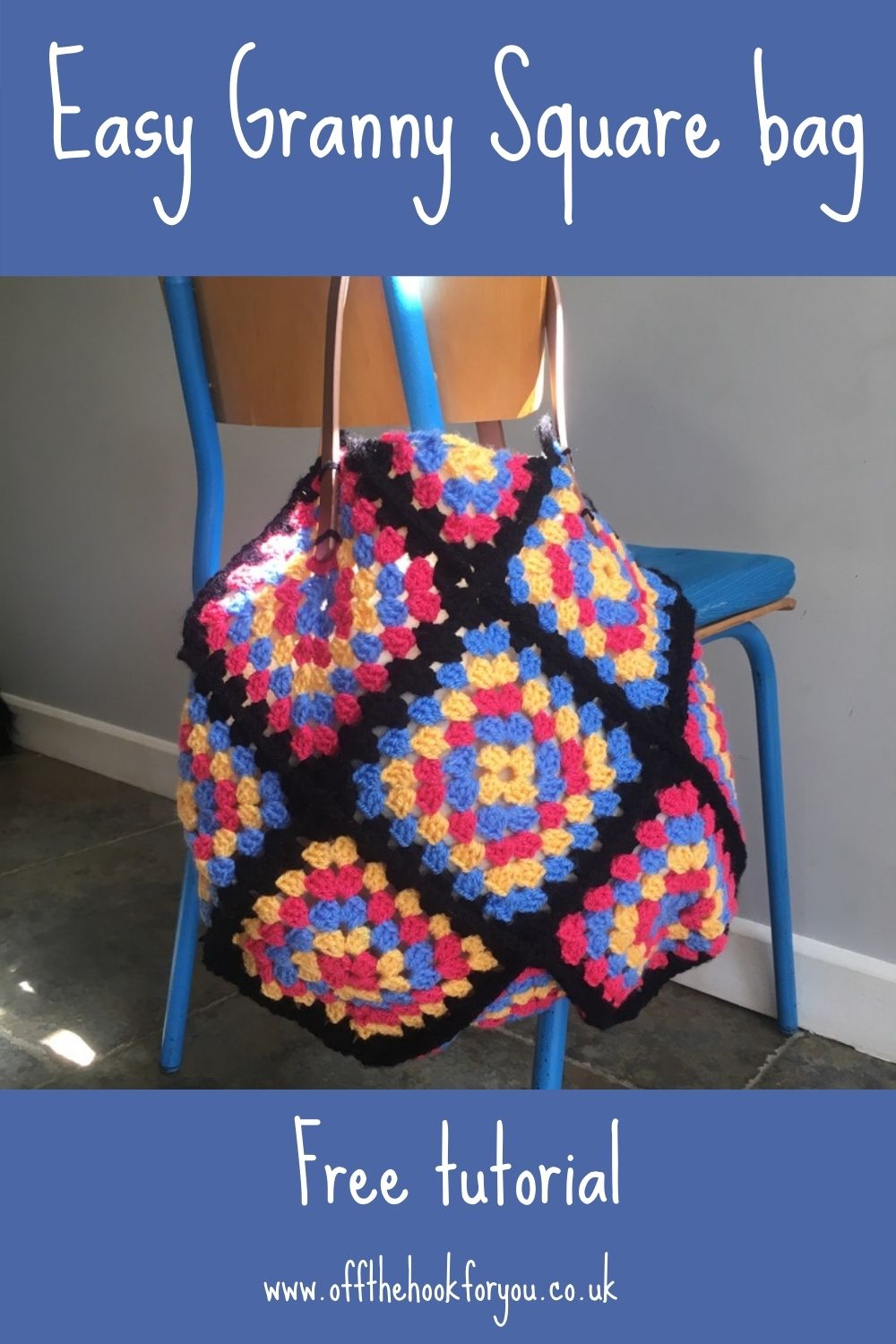 Join me at Off The Hook For You to share your crochet!
Thanks for visiting  – I'd love to stay connected with you so please sign up for my email list where a free PDF pattern is waiting for you (just so you can see what my PDF patterns are like).   
Finished one of my crochet pattern makes?  I'd love to see it and so would the world, so get sharing!  You can find me in the following ways:
Disclaimer 
This post may contain affiliate links which I earn a small commission from if you choose to click and purchase anything from. You pay the same price, I get a very small amount for sending you their way.  It helps me to make my crochet patterns free on the blog.