What a title for a blog post! I'm hoping you are joining me to learn about continuous Join As You Go (CJAYG) or even Joining granny squares continuously
A bit of a mouthful, but it does exactly what it says.
Continuous join as you go or CJAYG
How on earth I've been crocheting for 5 years, and not found out about this until the last few months I do not know!
What does this actually mean?
Well, exactly what it says.
If you've sat and made a lot of squares/ hexagons/ triangles, and you want to join them together with one colour, this was is a great way to do it – continuously………
So only 2 ends to sew in!
If you need to learn how to make a granny square – click here
If you want to save this post for later – pin it using the picture below
Benefits of Continuous Join As You Go method
Crochet not sewing!
Only 2 ends per project to sew in at the joining stage! (Wow – just wow!)
Quick and methodical
Can be done using "granny" technique or Solid join.
Once you learn the Continuous joining method, you can apply this to anything!
>>>Find about Continuously joining Hexagons here
Now I'll be honest, the Starburst Granny blanket I made above, I crocheted together, but using single crochet, and boy do I wish now I'd joined them continuously now after learning this way!
The starburst blanket took ages, and although I adore the blanket I made, I could have saved myself so much time and sewing, by doing CJAYG or Continuous Join As You Go.
>>>Learn how to continuously join Starburst squares here
The negatives of Continuously Joining Granny Squares
Well there aren't actually that many.
You need to have the order of your squares/ hexagons/ triangles decided before you start (which for some of my designs I don't know until I start!)
If you go wrong a few rows back – you will need to "frog" the lot…. back to the error and start again.
You can only join with one colour.
It wouldn't work for my HexiLove Blanket for example
But it's perfect for my No Brainer CAL and exactly why I've written this post today!
Or a rainbow Baby blanket pattern with lots of mini granny squares……..>>>
What you need to know to Join Granny Squares Continuously – (the writing bit)
You start in one corner, and work all the way around in up and downs to the next corner.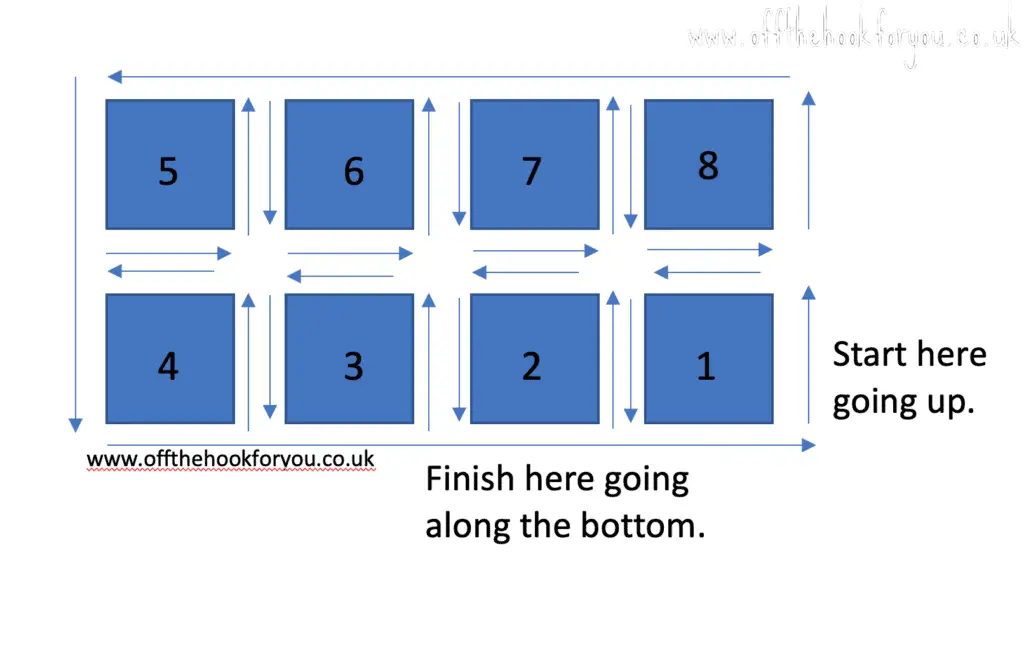 The above picture describes where you are going to go.
The way to think about it is:
You need to complete 3 sides of square 1
2. At this point pick up square 2. This will be joined to the 3rd side you've just finished for square 1.
The way you join you do will depend on the stitch used for the squares. For granny squares, Slip stitch into the next square space.
3. When you reach the top corner, where 2 and 1 join, work around square 2 as normal until 3 sides are complete.
Repeat steps 2 and 3 until ONLY 2 sides are joined on square 4.
4. Pick up Square 5, and join the bottom edge of all the squares in the row to the top of the squares below (So each square of this row is joined on one side and in the middle, so SS from 5 to 3 diagonally, 6 to 2 and 7 to 1).
5. Now work the next 3 edges of Square 8, anticlockwise.
6. When Square 8 is complete join from 8 to 2 diagonally, do the same process for squares 7 (joining 7 to 3), 6 (joining 6 to 4) and 5.
7. Continue working straight down the side of Square 4, turn at the bottom, and continue all along the bottom edge.
Have I completely confused you with Continuous joining of granny squares?
Luckily…… the house was quiet (a very rare occasion with home schooling currently) and I recorded a Video to show you how to do it
Please hit the subscribe button too while you are on YouTube.
If you learnt a lot from this video – lets expand your knowledge with Continuously joining crochet Hexagons now
Any requests for more videos, let me know too!
I can't believe I never learnt this before. I can now say any blanket made with squares/ circles/ hexagons and triangles….. I'll be joining this way.
Please Pin this for later
Join me at Off The Hook For You to share your crochet!
Thanks for visiting  – I?d love to stay connected with you so please sign up for my email list where a free PDF pattern is waiting for you (just so you can see what my PDF patterns are like).   
Finished one of my crochet pattern makes?  I?d love to see it and so would the world, so get sharing!  You can find me in the following ways:
Disclaimer 
This post may contain affiliate links which I earn a small commission from if you choose to click and purchase anything from. You pay the same price, I get a very small amount for sending you their way.  It helps me to make my crochet patterns free on the blog.