What happens after a design has been commissioned by a magazine.
This post will describe How to be a crochet designer in a magazine – specifically what happens from the commissioning email, to the yarn delivery, to seeing your design in the final magazine.
If you want to know about how to get commissioned – the start of the process – read here about the Crochet Design submission Process – and what I submit.
If you want to see all my magazine commissions – read here>>>
Please Pin this below to save it for later.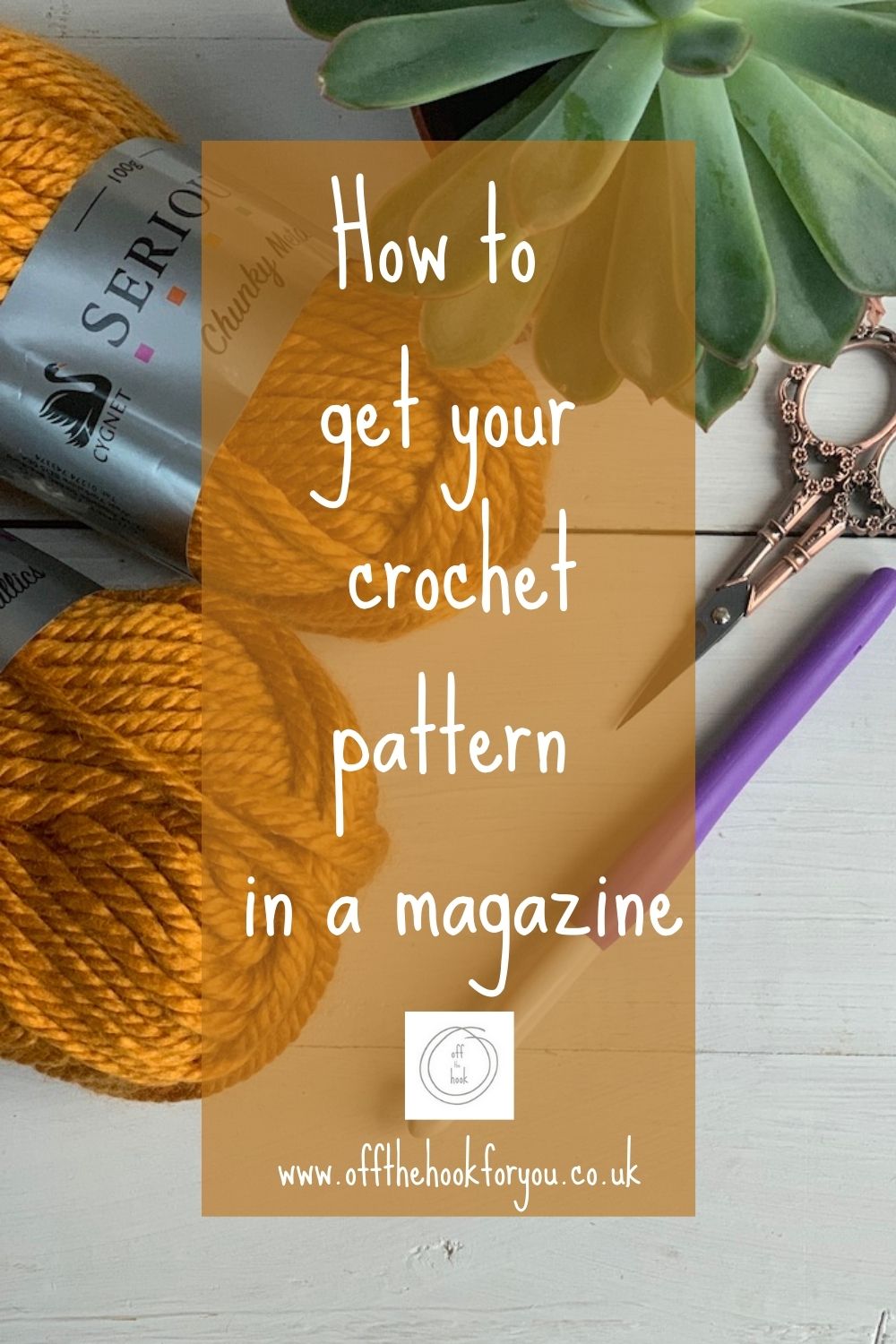 I wrote an article for Simply Crochet back in September 2020 describing the process a little in their "Hooky Treasure" featured on the last page.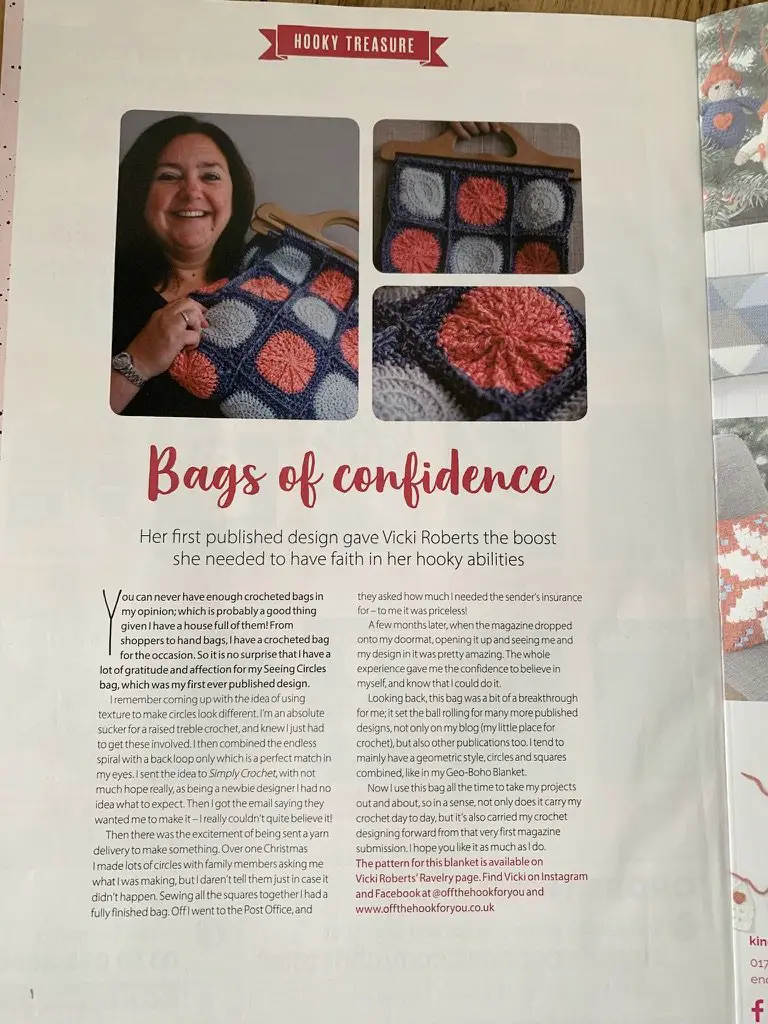 For that piece, I chose my first ever published design as it was so exciting going through the whole process.
In this post I will go through the process of having a design commissioned by a magazine and what happens next to becoming a crochet designer
Note – I've had designs commissioned by two different magazines – Simply Crochet and Crochet Now, and they do work slightly differently.
So you've submitted some ideas, and waited to see if you are successful.
Your Crochet Design is Commissioned
You are well on the way to becoming a crochet designer now.
When you receive the "Happy Email" there honestly is no better feeling.  The Editor usually tells you all the information you need to know:
What Project is being commissioned (as you may have submitted a few). 
What issue of the magazine your design will appear in.
The due date the pattern and the sample are needed by.
The size / sizes you need to write the pattern for (for a garment expect this to be at least 3 sizes for children, and usually 9 sizes for adults).
The commission fee.
If you are new to designing for the magazine, they will also send out a contract, and the terms of how long they have exclusive rights to the design for – this can vary between 4-6 months, then the pattern reverts to you.
They will also send you a style guide.  This is really important as each magazine has a different style, and you need to write your pattern in the correct style.
An example of this is Crochet Now use 3 ch, Simply Crochet use Ch3 – so you need to make sure you are writing the pattern in their style.
Yarn Support for your Commissioned Crochet Design
I still think this is the best part of having a design commissioned, you get sent yarn for free!
Depending on the publication, you will either be asked to suggest your yarn choices again (and then a further follow up for how much you need), or you may just get sent the yarn for the project. 
The yarn you get to make the item with may or maynot be the one you suggested.  I love this part of the process, as I get to try some yarns I would never have thought of using.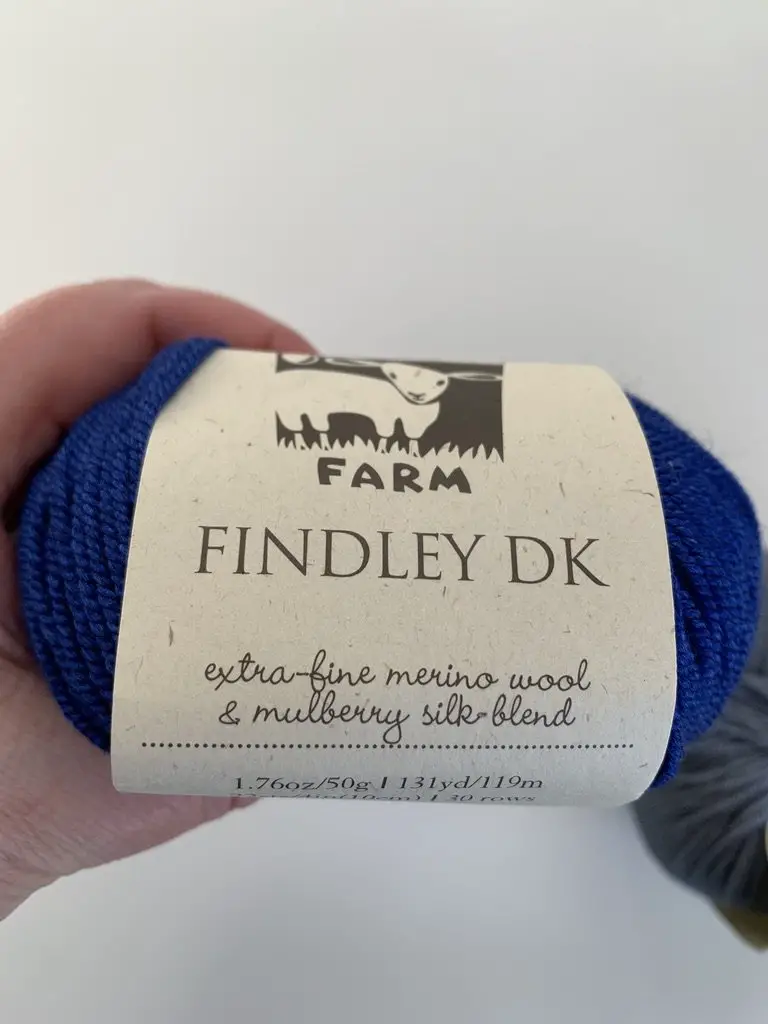 Like the Juniper Moon Findley for the Block it Hats.
Or the Debbie Bliss Cotton DK, for the Seeing Circles bag.
Oh – and not forgetting the colour choices for the horizontal hearts cushion – I so didn't choose these – but I love it!
(Yes, did I mention – you get sent free yarn to make your design!)
Making and writing the pattern for your Crochet Design
You need to crochet your design – to the brief you sent in, and write the pattern in the style they use. Remember the Ch3, vs 3 ch – it could also be things like 1Tr in each st rather than Tr across. All of this information will be in the Style Guide so don't worry.
You'll know how long you have as the Editor will have told you in the commissioning email.
You'll be asked to send any written patterns, sometimes a headshot, and any schematics – these might be size diagrams or stitch charts to them by email.
Remember to send the crocheted item in plenty of time – and by Registered/ Signed for post!
I tend to send the email with the tracking number to the Editor, along with the pattern, schematics and headshot in one go – that way they can look out for the item arriving with them.
(oh, and any extra yarn you have – you get to keep!)
After you've sent off your design and pattern.
Depending on the magazine, you may or may not have any further contact with them before the magazine lands on your doorstep – and you are in it!
The excitement of finding your crochet design in print definitely can't be beaten.
Both magazines will have your pattern technically edited to check it, for style, maths, and sizing – to make sure it actually makes sense.  You may get some questions after this, this is totally normal, and part of the process.
These can be things like you've listed 2 hook sizes, but not said when to use each one.
Or one I've had – I tend to do most "ribbing" for a project as a Ch3, FPDC, BPDC…….. but depending one what you starting chain length is, this may actually need to be written Ch3, FPDC *BPDC, FPDC* Rep from * to end, to make sure you finish on the right stitch.
The Magazine Publication Date
Make sure you make a note of the publish date of the magazine, as this will determine when you have the rights to the pattern revert back to you.  When you sign the agreement with the magazine they will let you know how long they "own" the rights" to the pattern for.
This means you can't sell or reproduce the pattern until after this time. This is something to bear in mind if you want to sell you pattern on Etsy and Lovecrafts. You need to wait until after this time period has passed.
The publication date may also determine when you get paid for the design (by bank transfer or sometimes Paypal if not UK based), and some magazines will pay our a certain number of days after the magazine is available.
Oh – and this is also the important date of when you can go to the shops and shout out loud that "it's my design" in the magazine!
Want to Save this for later – please Pin in here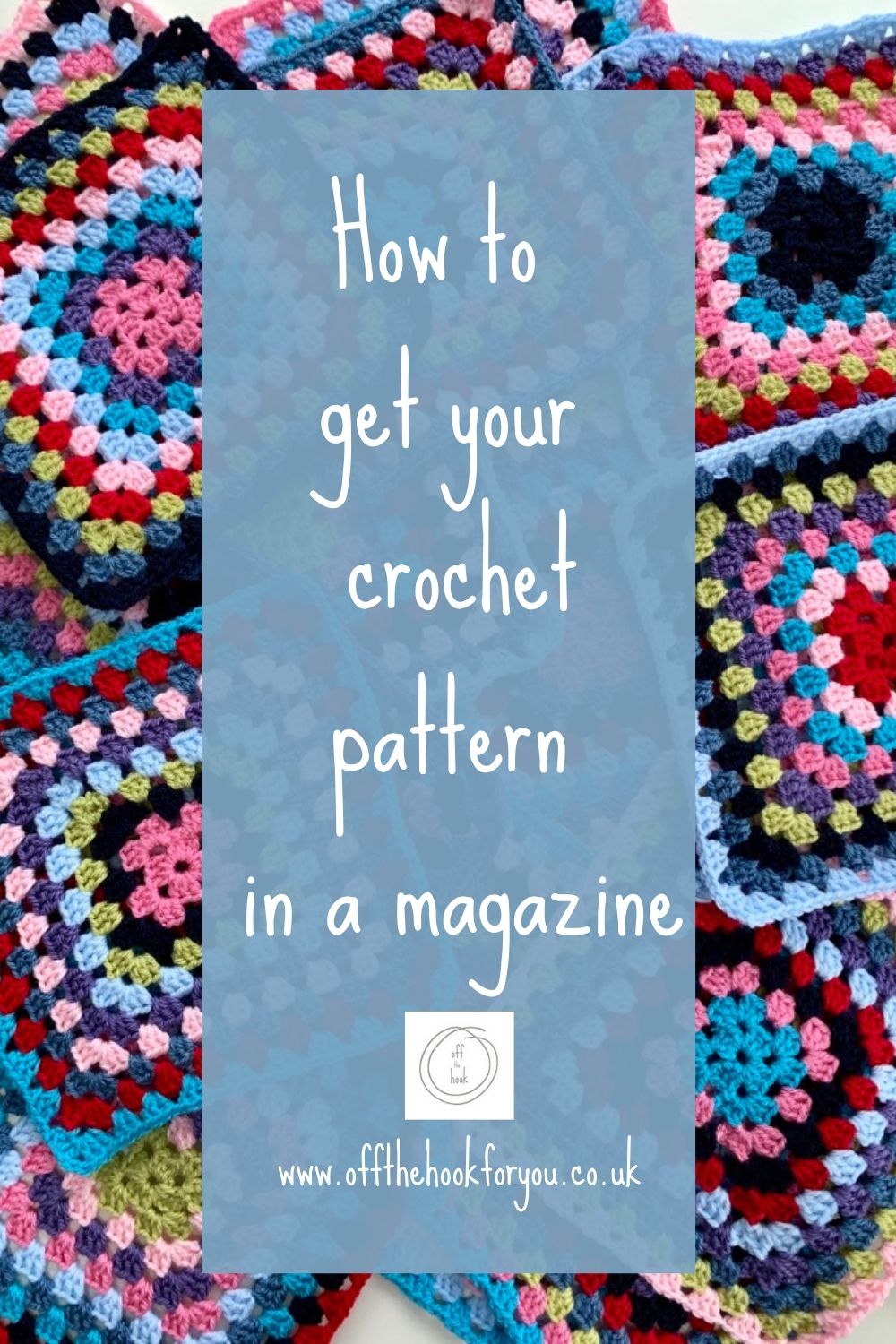 Join me at Off The Hook For You to share your crochet!
Thanks for visiting  – I'd love to stay connected with you so please sign up for my email list where a free PDF pattern is waiting for you (just so you can see what my PDF patterns are like).   
Finished one of my crochet pattern makes?  I'd love to see it and so would the world, so get sharing!  You can find me in the following ways:
Disclaimer 
This post may contain affiliate links which I earn a small commission from if you choose to click and purchase anything from. You pay the same price, I get a very small amount for sending you their way.  It helps me to make my crochet patterns free on the blog.