Hi,  Thanks for stopping by, here you can the pattern for a quick and easy crochet cowl that will only take you about an hour to make.
Yep, a super cosy warm crochet cowl that is quick to make and looks amazing!
And even better, there is a pair of Fingerless Gloves to go with it as a matching set.
I'm a huge fan of a cowl rather than a scarf, as they don't fall off, and keep you neck super warm. My inspiration for this design came from the "lazycrocheter" in me. I like my crochet to be quick, to be easy, and do exactly what it's supposed to do!
>>>Check out all my super quick crochet patterns here
Please Pin this here to save it for later.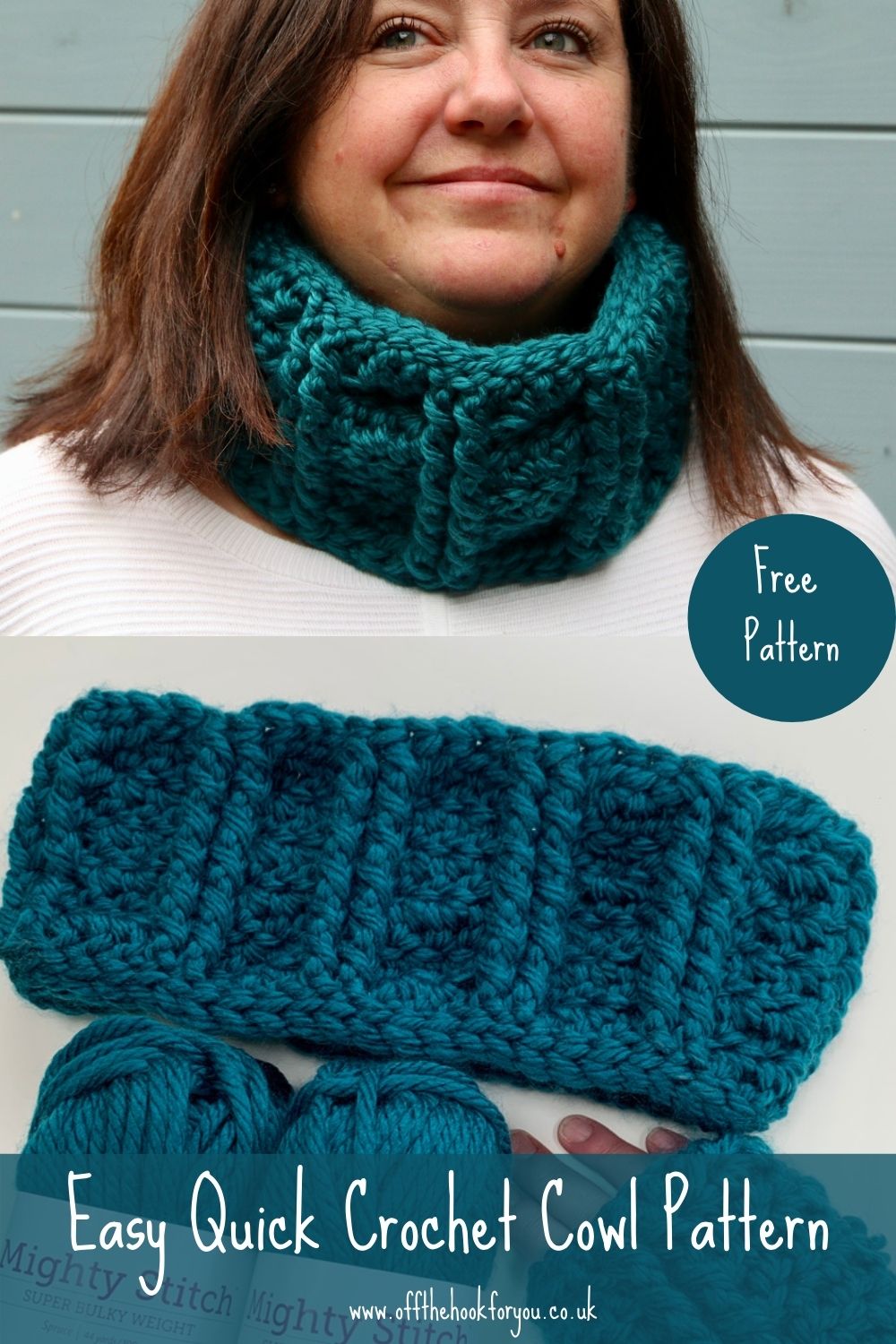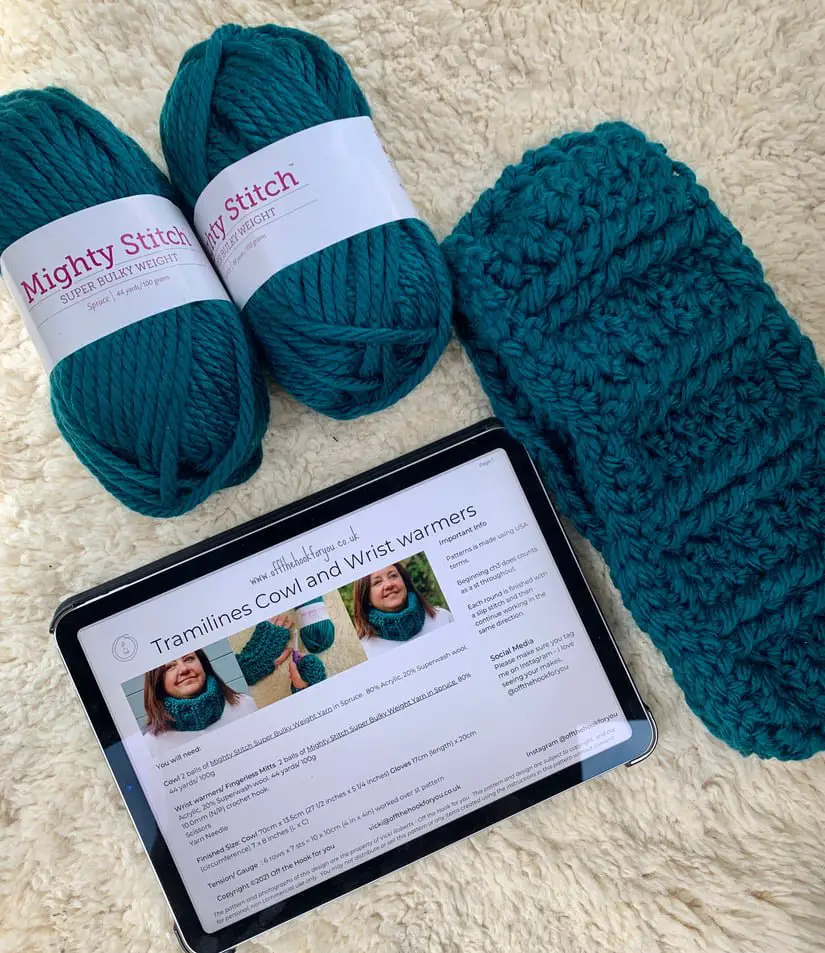 Pattern Options
This cowl was designed as part of the Fall Blog hop with RaeLynn (Itchin for some Stitchin) and Sarah (Ned and Mimi).  You can get the individual pdf pattern from:  
>>>Get the pattern on Lovecrafts
>>>Get the Ad Free Pattern on Etsy 
>>>Get the Bundle here for 32 patterns in one easy download.
About the Tramlines Easy Crochet Cowl
In this case it was all about the yarn!  I was gifted as part of the blog hop Some Mighty Stitch yarn from Wecrochet.com, and this yarn is just wonderful, so so soft.
I'm a big fan of super bulky yarn as it works up so quickly, and this cowl is no exception!
>>>Check out all my super bulky yarn patterns here
My plan for this design was easy, quick, and a statement cowl, and I think I achieved it!
This cowl only uses a few stitches and most are classed as beginners or improvers.
This pattern is absolutely perfect for beginners looking to improve their crochet skills a little and luckily for you I have videos for most of these steps.
You need to know how to (US terms):
Double Crochet (DC)
This is a really easy pattern, and only just above a beginners level.
Other patterns you might like
I love a crochet cowl, no issues with them falling off your neck, and they keep you so warm.
How long does it take to crochet a cowl?
Well I've said it was quick, and it is! From start to finish, this takes about an hour to crochet.
I can imagine this being a really good last minute teacher gift, along with the wrist warmers, as standing on a cold playground, these would keep you lovely and warm!
Yarn for a crochet cowl
The yarn for this project was key.  
I needed a high quality, super bulky yarn, and Wecrochet had just the yarn.
This is a 20% superwash wool, 80% acrylic mix.  Each 100g ball is 44 yards and it comes in 24 different colour combinations.
It was so hard to choose what colour I wanted to use as 24 colours is a lot of colours to choose from, but I went for "Spruce", as it's such a deep full green colour.
I used 2 balls for the Cowl, and a further 2 balls for the Fingerless Gloves
Other projects that use Super Bulky Yarn are:
Beginners Beanie Hat – Quick and easy 40 minute make
Or have a browse here for all my super bulky yarn patterns (there are a lot!)
Gauge/ Tension
6 rows x 7 sts = 10 x 10cm (4 in x 4in) worked over st pattern
Size
70cm x 13.5cm (27 1/2 inches x 5 1/4 inches)
Materials
2 balls of Mighty Stitch Super Bulky Weight Yarn in Spruce. 80% Acrylic, 20% Superwash wool. 44 yards/ 100g
Scissors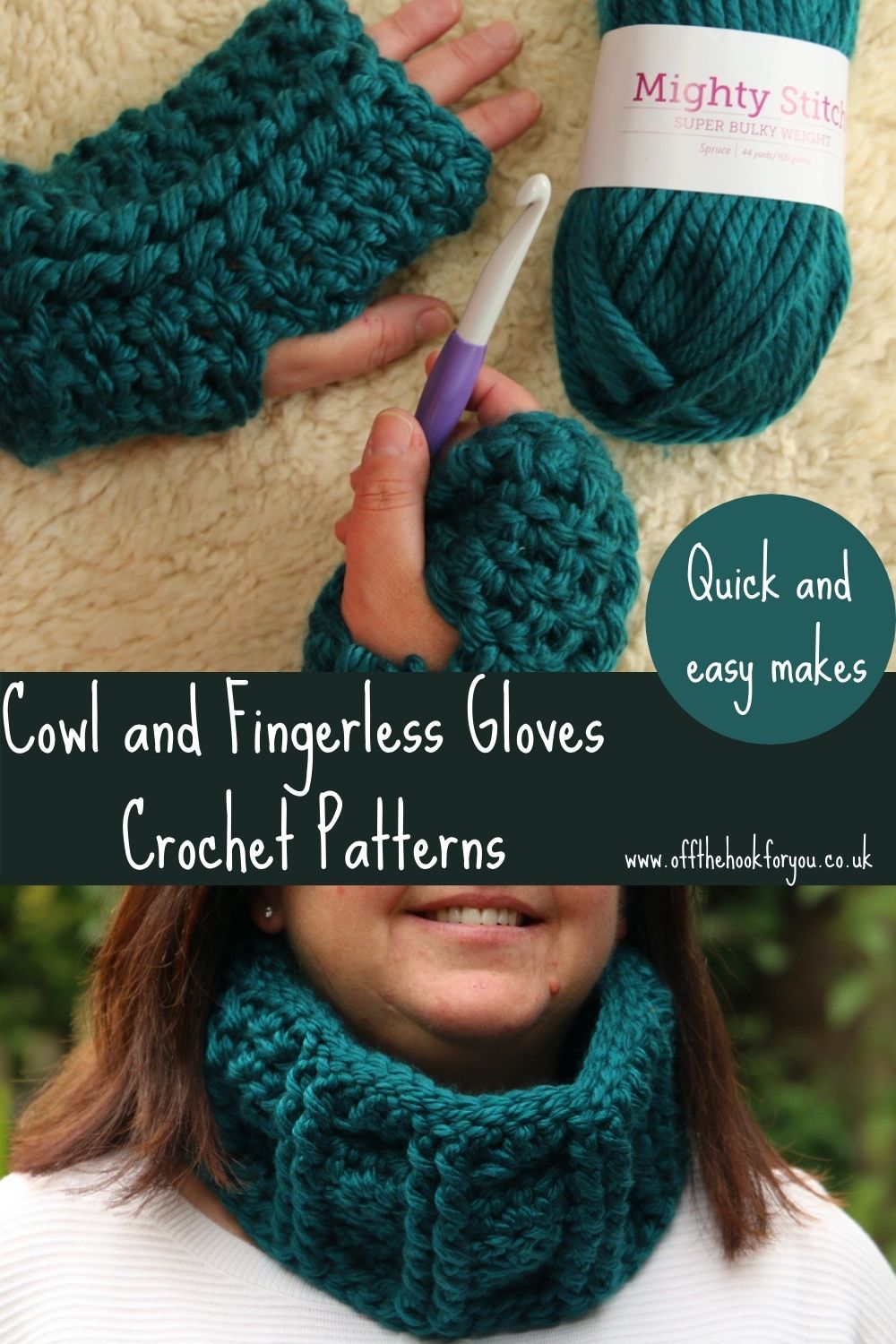 Abbreviations
This pattern is written in USA terms
BPDC – Back Post Double Crochet
Ch- chain
Ch-sp – chain space
DC- Double crochet
FHDC – Foundation half Double crochet
HDC – Half Double crochet
pul – pull through st/ sp
sp – space
SS – slip stitch
St – stitch
YO – Yarn Over
Special Stitches
BPDC – Make as per a normal DC, but instead of inserting hook into the top two loops of the stitch, insert hook around the "post" of the stitch from the back around the front, and out the back.
FHDC – Ch2 (counts as first 1HDC), YO, insert hook in 2nd Ch from hook, [YO, pul, YO, draw through 1 loop on hook (Ch made), YO, draw through 3 loops. (HDC made)], insert hook in last Ch made; rep [ ] for number of sts required.
Pattern Notes
Patterns is made using USA terms.
Beginning Ch3 does counts as a st throughout.
Each round is finished with a slip stitch and then continue working in the same direction.
The Tramlines Easy Crochet Cowl Pattern
Round 1: With 10mm hook, FHDC 50. SS to top of Ch3 to join. [50 sts]
Round 2: Ch3 2DC, 2BPDC, [3DC, 2BPDC] Repeat [ ] around.
SS to the top of the Ch3 to join. [20BPDC]
Round 3-8: Repeat Round 2.
Round 9 : SS into each st around. Fasten off, weave in ends.
There you have it, one super quick and easy crochet cowl, now head over and get the fingerless gloves pattern too
You might also like: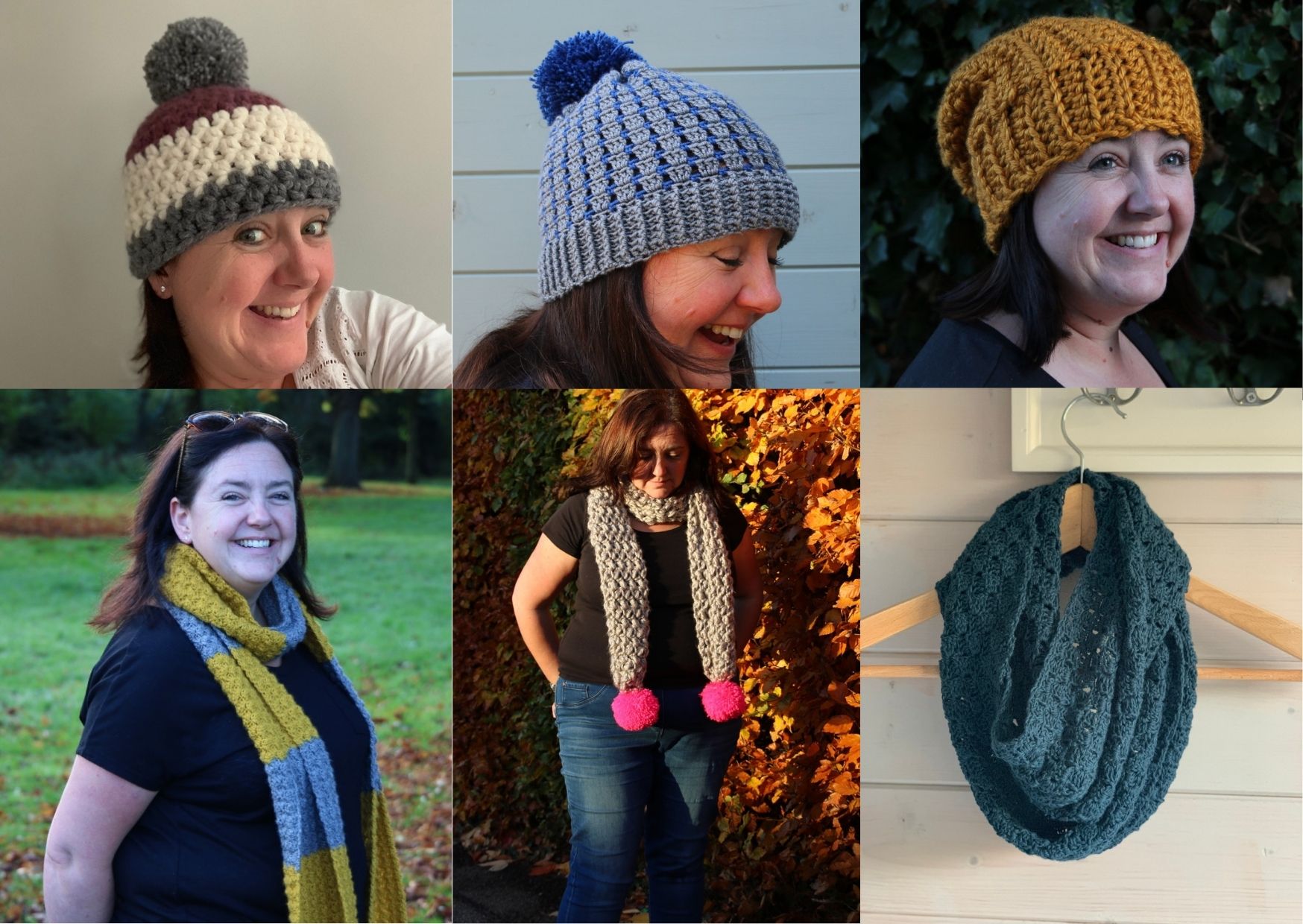 40 minute easy beanie hat >>> Block Stitch hat>>> Easy slouchy beanie>>>
Blanket Stitch Scarf>>> Quirrel Scarf>>> Whirlette cowl >>>
Please Pin this for later here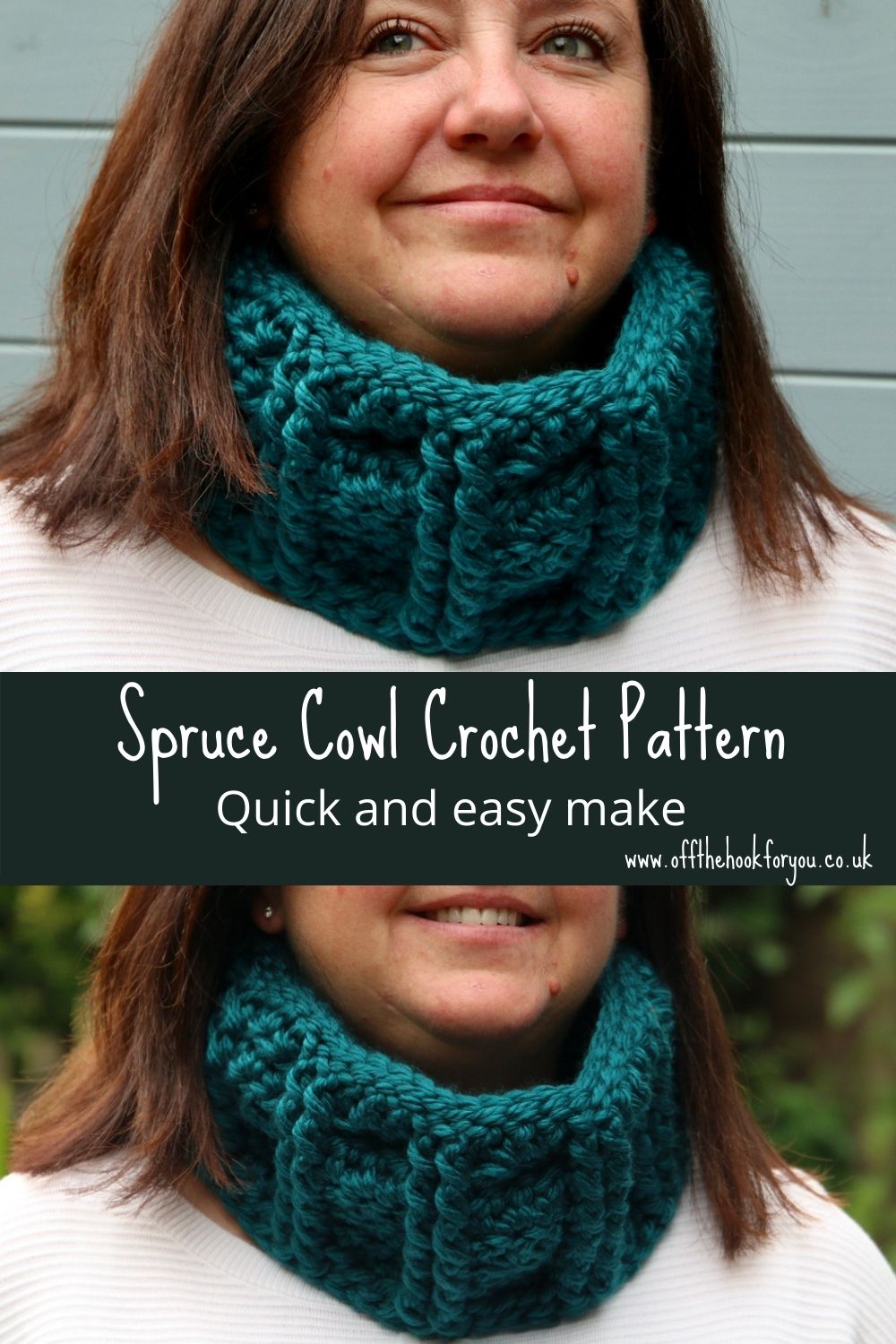 Join me at Off The Hook For You to share your crochet!
Thanks for visiting  – I'd love to stay connected with you so please sign up for my email list where a free PDF pattern is waiting for you (just so you can see what my PDF patterns are like).   
Finished one of my crochet pattern makes?  I'd love to see it and so would the world, so get sharing!  You can find me in the following ways:
Disclaimer 
This post may contain affiliate links which I earn a small commission from if you choose to click and purchase anything from. You pay the same price, I get a very small amount for sending you their way.  It helps me to make my crochet patterns free on the blog.