Hi,  today I'm sharing a small crochet bee pattern which is really cute.  This really is a little amigurumi bumble bee, it only measures 2.5 cm x 1.5 cm, or about an inch x ¾ inch.
These are really tiny and so quick to make, keep reading for the free crochet pattern. They would make the perfect keychain too.
Please pin it below to save it for later.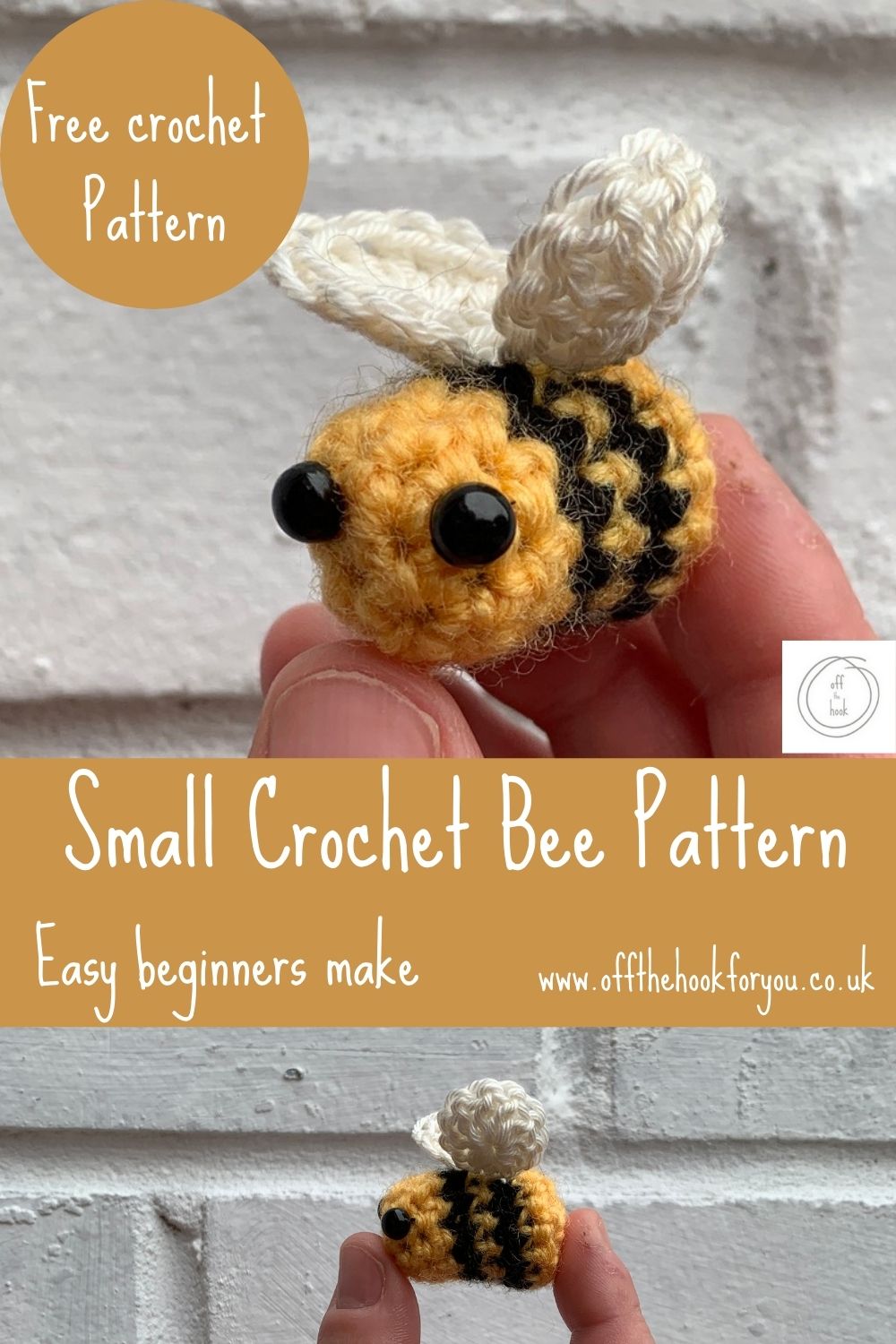 You are probably wondering why I've made such a tiny bee?  Well, it's because they are part of the summer crochet wreath, and anything larger wouldn't look right! Can you spot the two bees in the photo below?

Crochet Pattern Options
There are a number of options to get this cute little crochet bee pattern.
>>>Get the advert free Instant PDF download from Etsy
>>>Get the advert free Instant PDF download from Lovecrafts
Or keep reading to get the pattern below.
How do you make a small crochet bee?
If you want a more "cartoony" bee pattern click here
These are really easy to make, and use the basics of Amigurumi.  If you are new to amigurumi, I'll go into it briefly here.
The Amigurumi method uses US single crochet (UK double crochet).  It almost always starts with a magic ring, to give a nice closed "top"
>>>Learn how to make a magic ring every time here
After you have your magic ring, you'll make your stitches directly into the ring before closing it.
Unlike "Normal" crochet, you don't Slip Stitch to join, you work in a continuous spiral – Stitch markers are your best friends in Amigurumi!
As the stitches are small, the smallest you have height wise, you'll need to mark your first stitch of the round to keep track of where you are.
An amigurumi pattern is written slightly differently too, but luckily for this small crochet bee, we don't actually increase that many times, so it's pretty simple for this pattern.
>>>Find out more about how to read an Amigurumi pattern here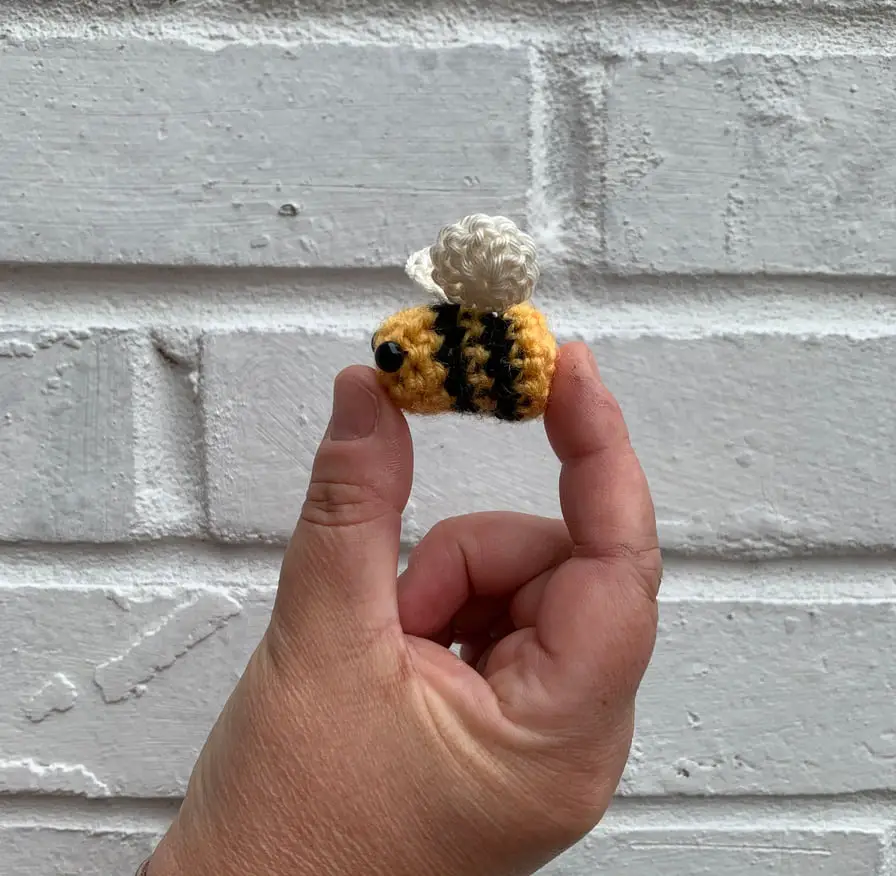 Is this Crochet Bee Good for Beginners?
This is a great place to start with Amigurumi as there is only 1 row in increasing before working a few rows, then 1 row of decreasing.
You'll need to know how to:
US single crochet, UK Double crochet
Count stitches
Increase stitches (Make more than one stitch in each stitch of the previous round)
Change colour
Decrease (2 SC together)
These are actually a great way to get to grips with aminuguri on a small scale.
How do you make a Bee Bigger?
You can use more stitches to start, you can increase more, you can use thicker yarn.
>>>Get the larger easy crochet bee pattern here using super chunky yarn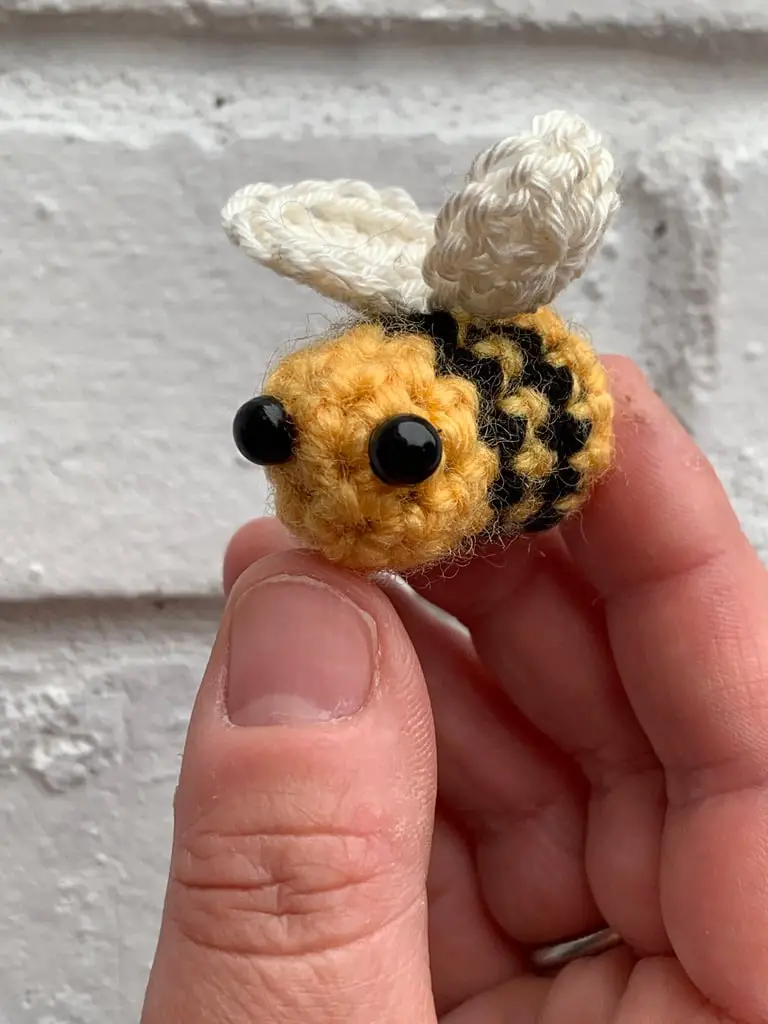 How long does it take to Crochet a Bee?
These small crochet bees are really quick to make, as they have only a few stitches!
If you are an experienced crocheter, this crochet bee can be made in about 10 minutes.
If you are an experienced beginner, i.e. can make a granny square, this little bee should take about 30 minutes to make. 
If you are an absolute beginner, and new to amigurumi, and crochet completely  I'd expect the bee to take between 1-2 hours to make.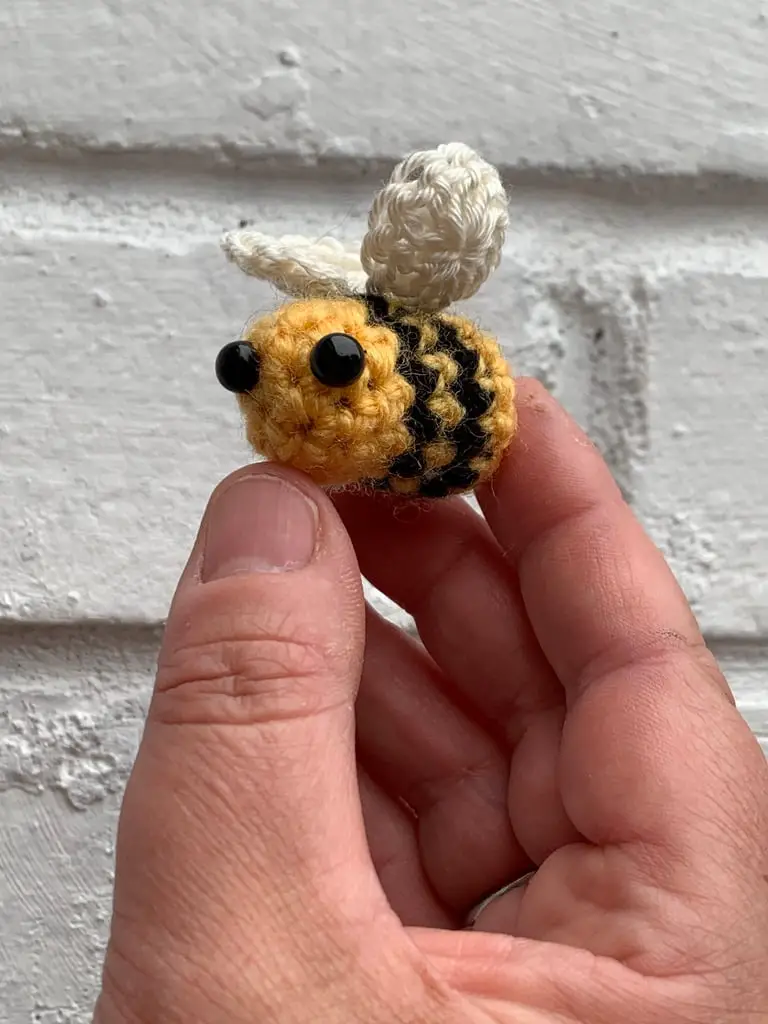 How big is the Crochet Bee
These are really small.  They are made using a Double knit weight yarn and a 3.25mm hook.
They will measure when finished:  3 cm x 3 cm, or about an 1 1/4 x 1 1/4 inch (including wings)
If using worsted weight yarn and a 4.5mm hook, expect your bees to be slightly larger.
TOP TIP: Use a smaller hook than your yarn band says to ensure a tight stitch.
If you like this little bee you might also like:
Beginners Small Crochet Bee – Easy Pattern
>>>Get the advert free Instant PDF download from Etsy
>>>Get the advert free Instant PDF download from Lovecrafts
You will need
Oddments of DK yarn in black and yellow
Oddments of a 4 ply/ sport weight yarn in white – I used this mercerised cotton
Small amount of stuffing (or yarn)
3mm safety eyes
Abbreviations – Pattern is written in USA terms
sc Single Crochet
St stitch
2sctog 2 Single Crochet together
The bee is made using the amigurumi technique, no need to SS and chain.  Just complete each round and move straight onto the next moving your stitch marker each time.
To change colour, make the last Yarn Over of the Single crochet stitch in the new colour.  
Tip – as the bee is so small you can easily "carry the yarn" in the middle of the bee.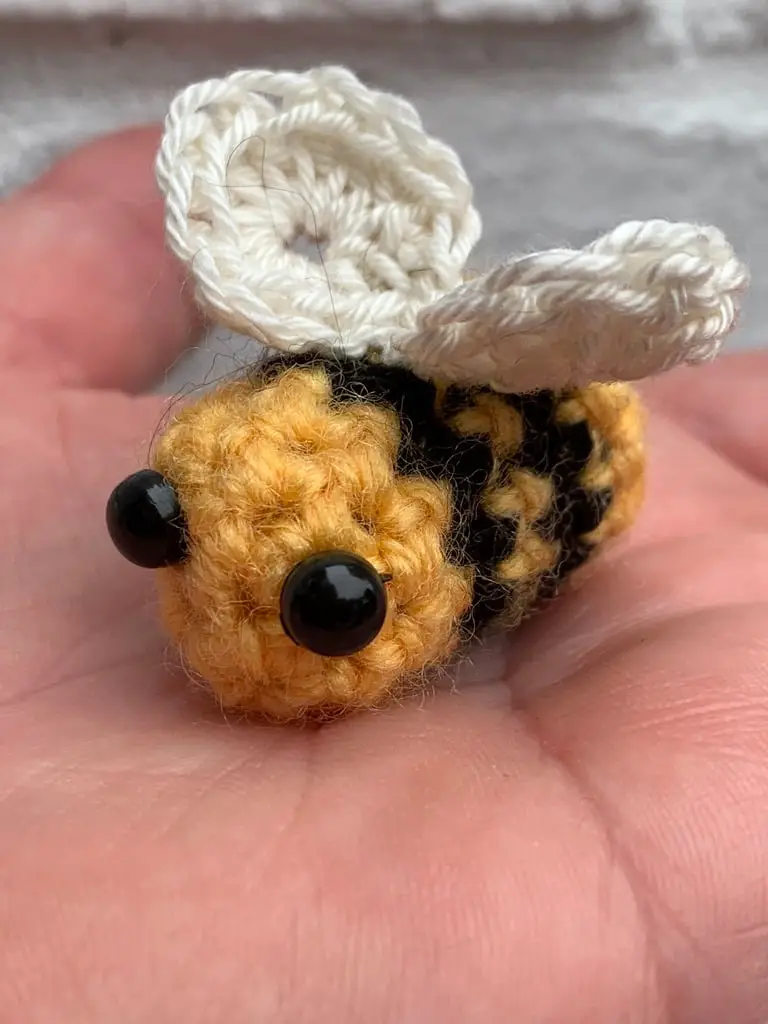 Small crochet Bee Pattern
Round 1: Using the 3.25mm hook, and yellow yarn, 5sc in the MR
R2: 2sc in each sc around. [10sc]
R3: 1sc in each sc around. [10sc].  Change to black yarn
R4: 1sc in each sc around. [10sc].  Change to yellow yarn
Insert safety eyes, on round 2, 4 stitches apart.
R5: 1sc in each sc around. [10sc].  Change to black yarn
R6: 1sc in each sc around. [10sc].  Change to yellow yarn and stuff lightly.
R7: 2sctog around. [5sc]. 
R8: 2sctog to close. Fasten off, weave in ends.
Wings
Using the 2.5mm hook and thin white yarn, make a magic ring.
Round 1: Chain 3, 11DC in the ring, slip stitch to the top of the ring. Fasten off, weave in ends. Leave one end to sew the wings to the bee.
To make up
Sew the wings to the body on the top on the middle yellow stripe. Sew with the right side facing inwards, and sew together only at the chain stitch.
If you want to save this for later, please pin it below.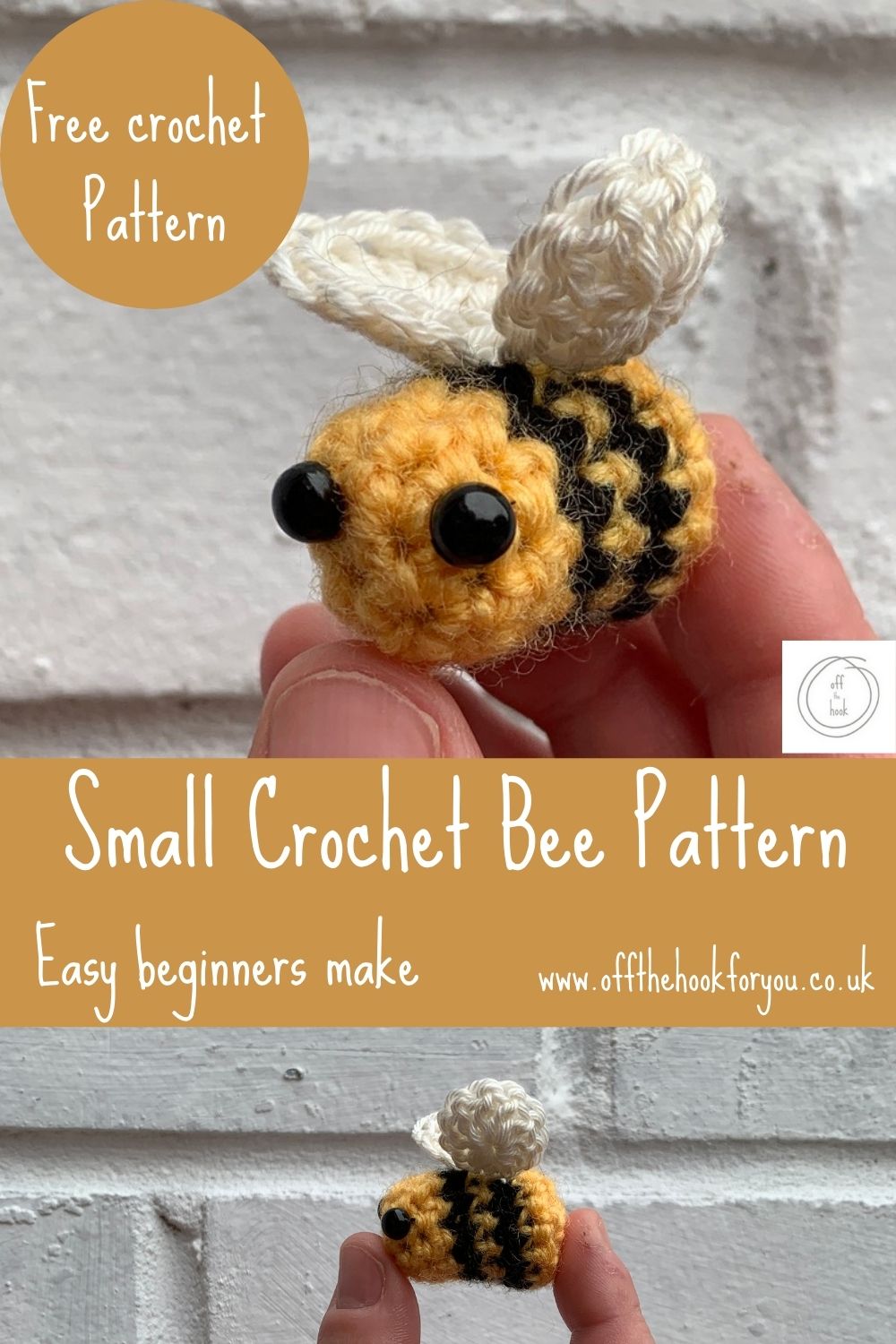 Join me at Off The Hook For You to share your crochet!
Thanks for visiting  – I'd love to stay connected with you so please sign up for my email list where a free PDF pattern is waiting for you (just so you can see what my PDF patterns are like).   
Finished one of my crochet pattern makes?  I'd love to see it and so would the world, so get sharing!  You can find me in the following ways:
Disclaimer 
This post may contain affiliate links which I earn a small commission from if you choose to click and purchase anything from. You pay the same price, I get a very small amount for sending you their way.  It helps me to make my crochet patterns free on the blog.