Reflective yarn is brilliant, but why more people do not use this "reflective thread" to make their own reflective yarn I do not know.
Reflective thread is amazing stuff, and I firmly believe that if we used this more in our crochet and knitting projects it could help people to be seen at night.
Here I'm going to talk through some different reflective yarns on the market, and how to make your own reflective yarn using thread and yarn, so you can make anything "super safe and Reflective"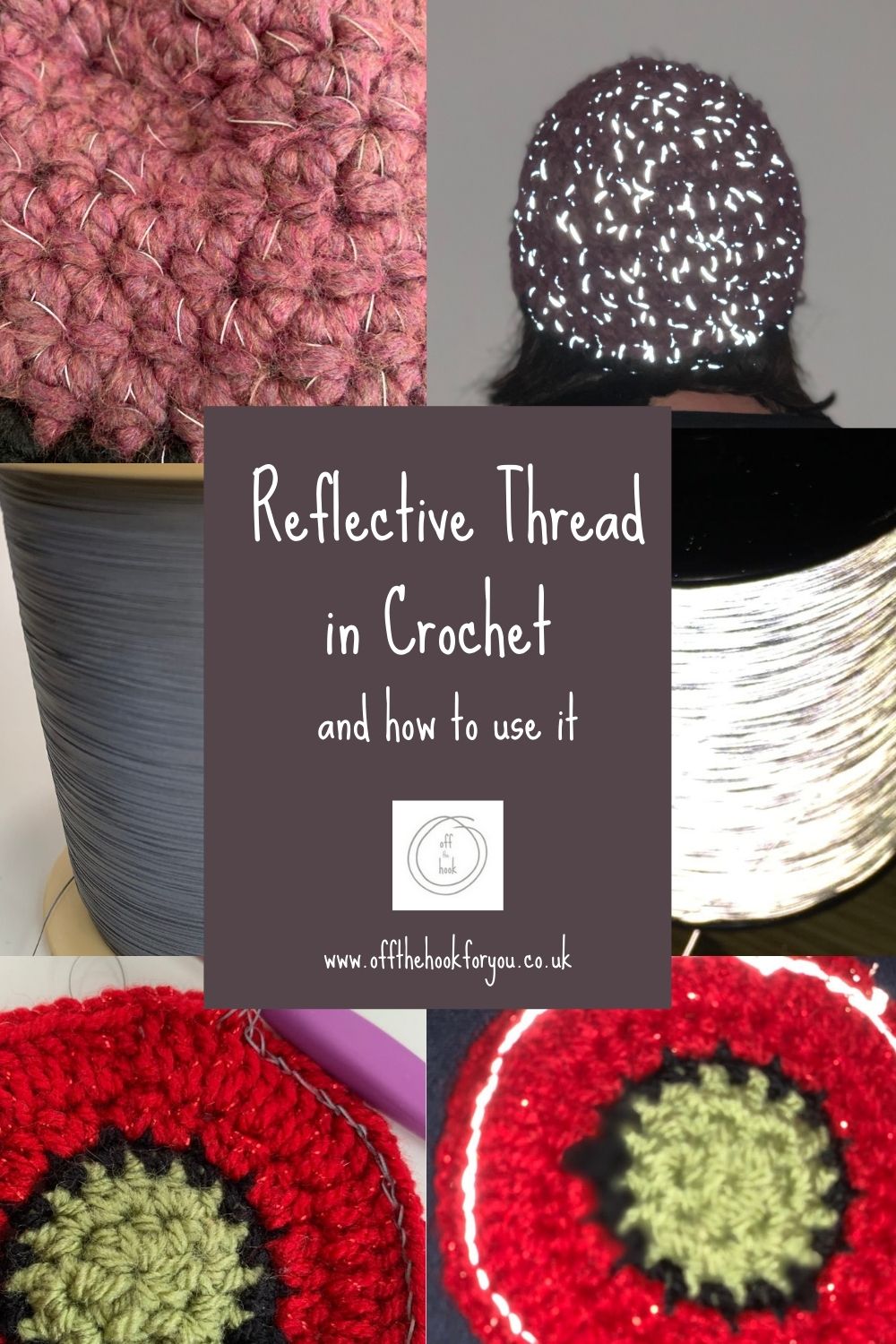 Why use reflective yarn?
I'm a firm believer in kids being safe when outside, when its dark, so adding a little bit of a reflective "something" to their coats seems like a simple win!
Lots of coats now come with added "reflective" bits, to make sure kids can be seen when dar, and the super reflective running jackets now on the market are a great invention!
But sometimes we all want something homemade, and crochet hits the bill every time. So combine safety with homemade, and you have the perfect item!
You can also only make a little bit of the item reflective, or the whole thing! The choice is yours.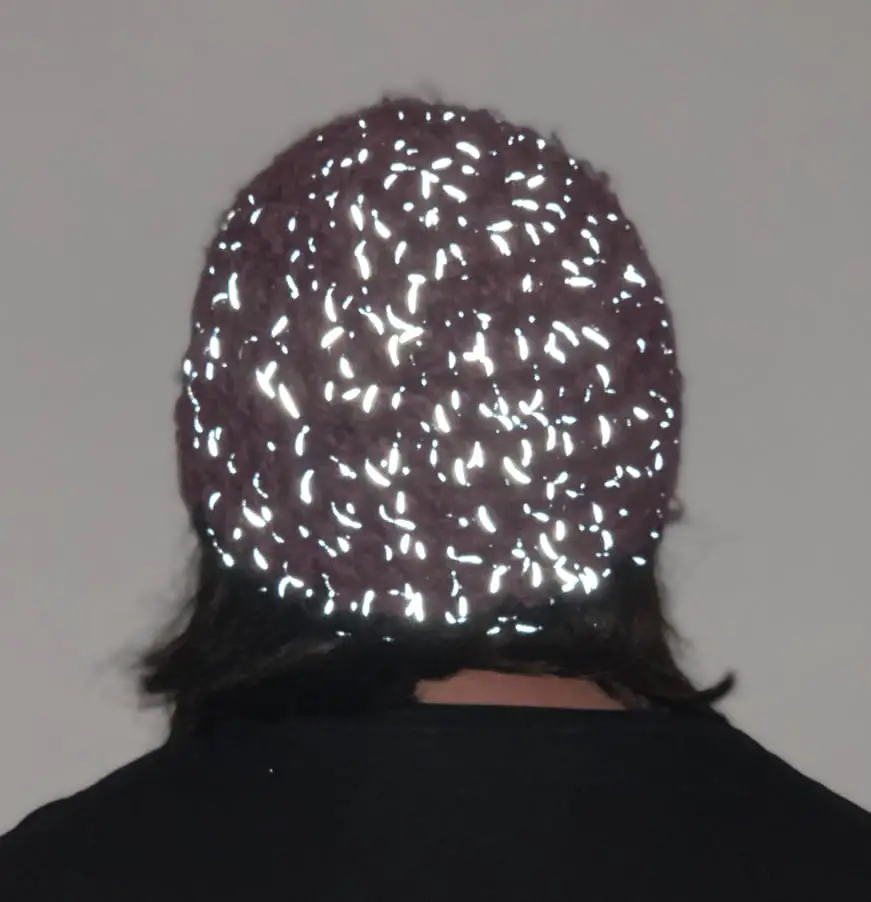 What you need to know about reflective yarn?
Apart from this being an amazing invention for safety, they are usually the "main yarn", combined with a reflective thread element, meaning the whole ball/ skein is reflective.
There are a few "ready made brands" of reflective yarn on the market in the UK and USA.
Cygnet Chunky Glow
When researching this post, I thought reflective yarn pretty popular, with a few brands out there, but they all seem to have gone.
This I don't understand, as anything thats makes people be seen at night is surely a good thing for safety?
Not having the right yarn for me to use in a project with the added reflective element meant I made my own!
Now I can use any yarn weight, yarn colour or amount of yarn- and it's reflective – which gives endless possibilities!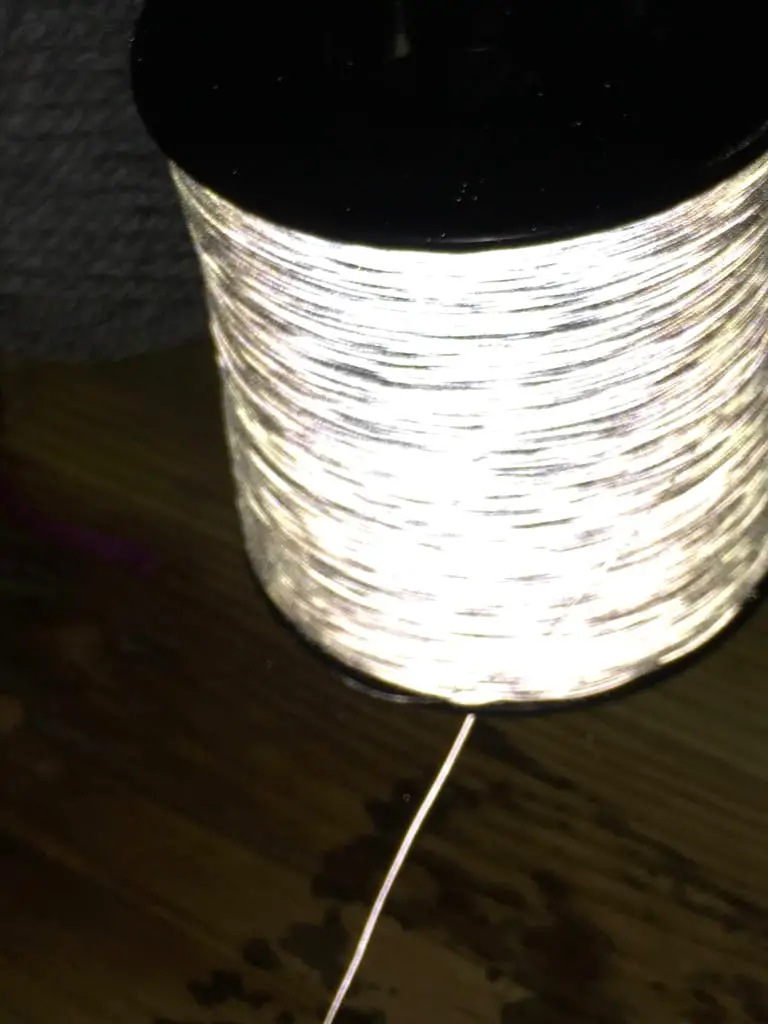 What is reflective thread?
"Reflective thread" rather than yarn, is a great way to add "little" details to projects rather than have a whole reflective project.
The thread reflects the light, making you seen!  It's as simple as that!
This super shiny reflective thread, is grey in normal daylight, but if you turn so it catches the light, it reflectives all the light and turns a bright white, making you seen.
It's the same material that is used on 'High Vis" vests, to make you visible, and it works in the same way!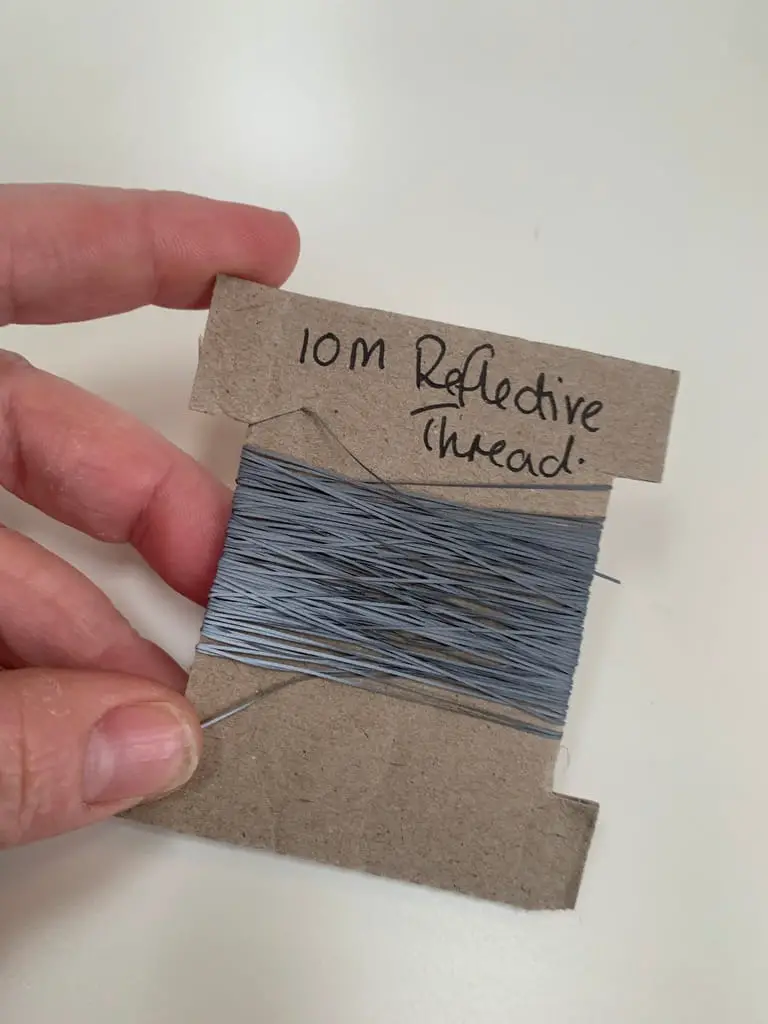 Where can you buy reflective thread in the UK?
Easy – from Etsy!
Sold in 10M (11 yard) lengths, up to as long as you like, just order in quantities 1=10M, 2=20M 3=30M etc.
>>>Get your Reflective Yarn here
Any of the designs below could have the whole item, or a part of the item crocheted with reflective thread to give an added safety detail.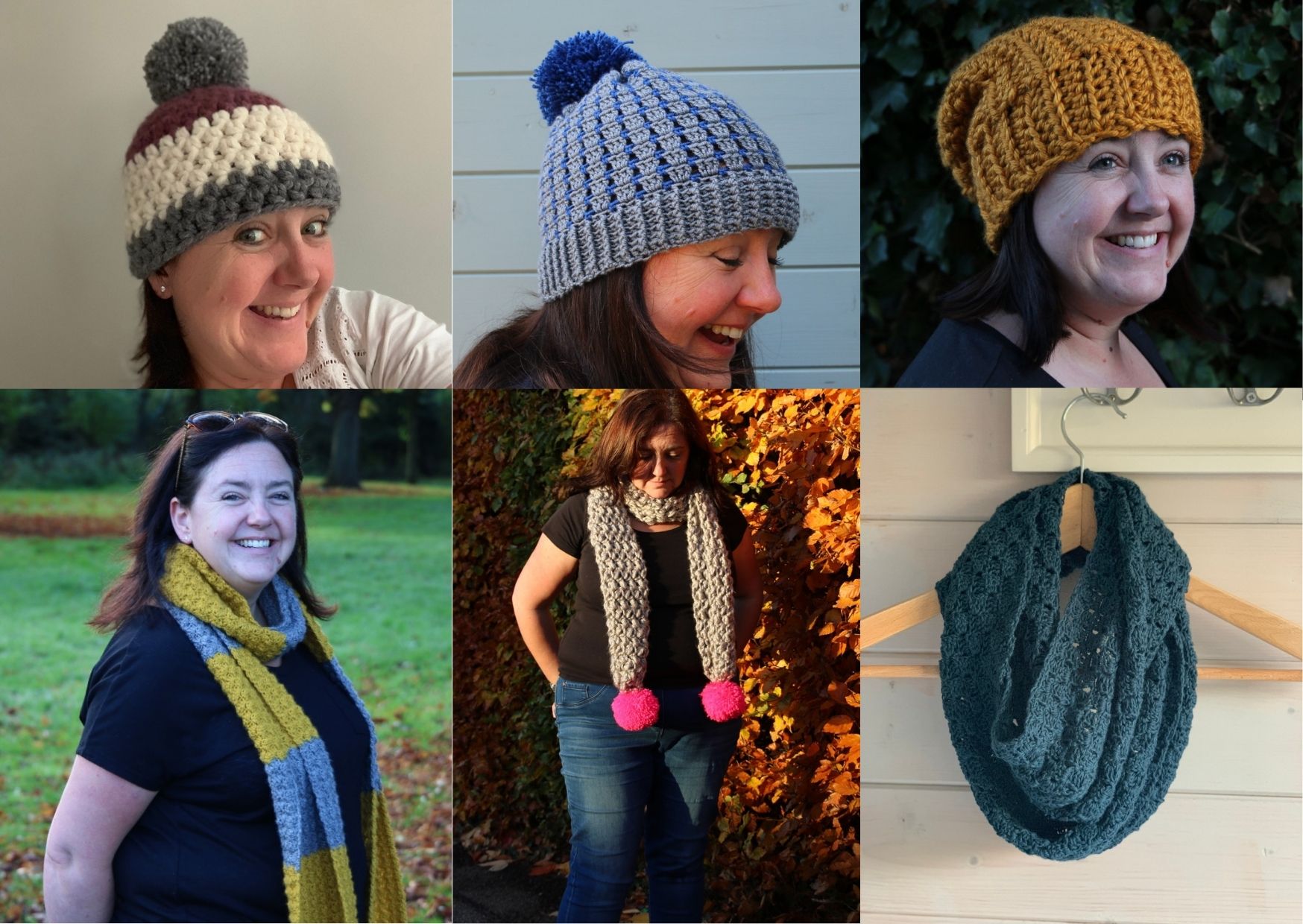 >>> 40 Minute Beanie : >>>Block Stitch Hat : >>>Quick Slouchy Beanie :
>>>Blanket Stitch Scarf : >>> Mini Bean Stitch Scarf : >>>One ball Cowl
How to use reflective thread with yarn?
This is the best bit, adding a high visibility feature is super quick and easy! You can add as much or as little reflective thread as you want!
There are a couple of ways to add a bit of safety reflective details to your crochet and knitting project.
How to crochet holding the threads together
If you have a large area to make reflective, the easiest way to to hold the yarn you are working with, and the reflect thread together.
Just lay one on top of the other, and crochet / knit with the 2 strands at once.
This will weave the reflective thread in with your yarn, so it is secure – just make sure you weave the ends in when you've finished your project.
>>>Get the 40 minute beanie quick easy crochet pattern here
To make the whole hat reflective this took about 60 Metres of reflective yarn, but you could easily make a band at the bottom, using only 20 Metres .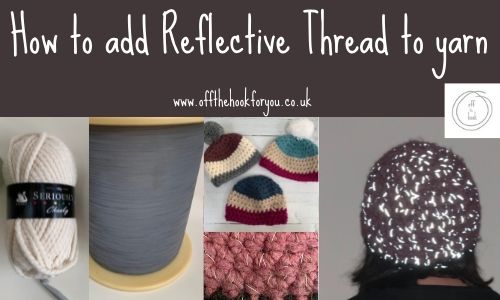 Surface Crochet with Reflective Thread
Another way, it to Surface Crochet a detail onto a finished item.
Here, finish the crochet item as per the pattern you've been following.  Next, using the reflective thread and about a 4/ G size hook.
Insert the hook through the crochet item, and slip stitch around.  
In the poppy below, I've slip stitched around the last round to give a big circle that will reflect.
>>>Get the crochet Poppy Pattern here
To crochet around the whole of the outside only took about 2 metres/ 2.5 yards!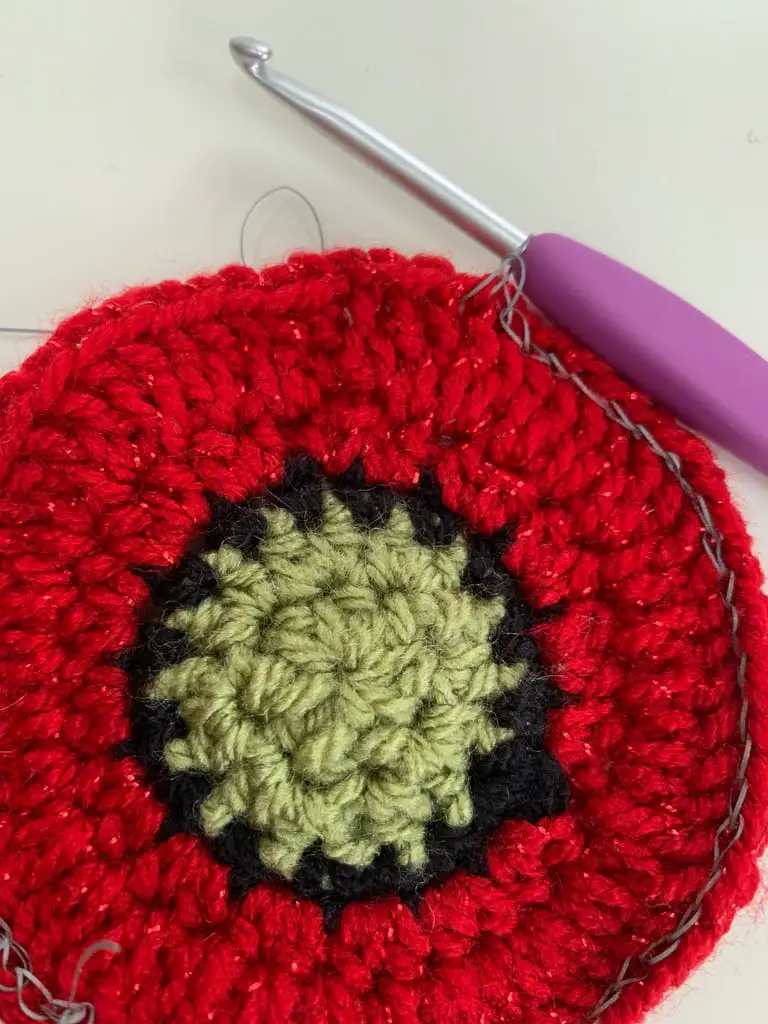 Actually, you can add the reflective yarn to anything – as much or as little as you want!
Flowers check out my flower patterns here
Hats all my free hat patterns here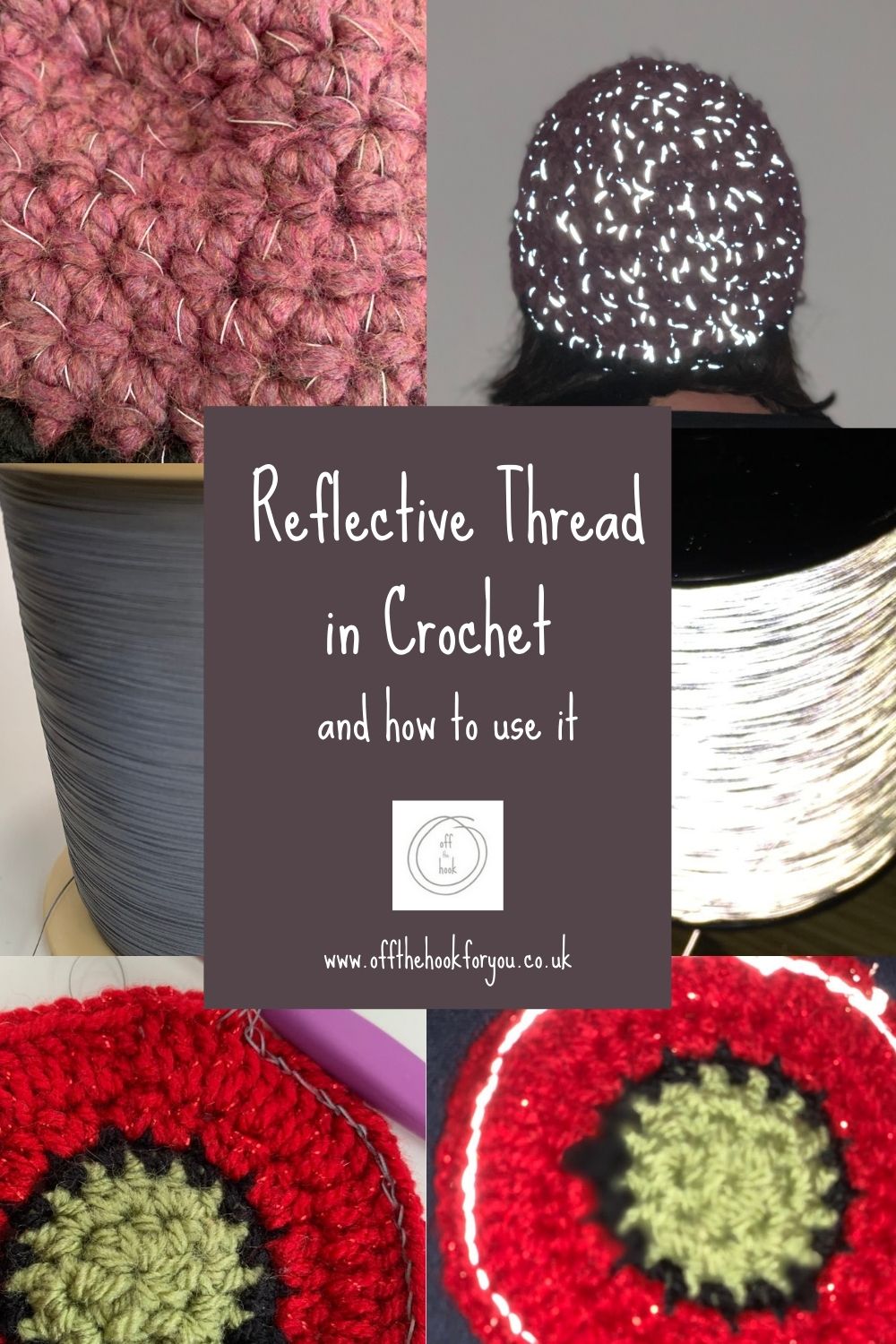 Join me at Off The Hook For You to share your crochet!
Thanks for visiting  – I'd love to stay connected with you so please sign up for my email list where a free PDF pattern is waiting for you (just so you can see what my PDF patterns are like).   
Finished one of my crochet pattern makes?  I'd love to see it and so would the world, so get sharing!  You can find me in the following ways:
Disclaimer 
This post may contain affiliate links which I earn a small commission from if you choose to click and purchase anything from. You pay the same price, I get a very small amount for sending you their way.  It helps me to make my crochet patterns free on the blog.