Here you can find the free crochet pattern for a mesh crochet top, that is perfect for wearing over a vest top.
This top has a distinct mesh like look, and vertical stripes, making it unique.
This crochet top is designed for women, and young girls. I've included 2 different lengths to make sure it will fit everyone as well as being size inclusive for XS-5XL.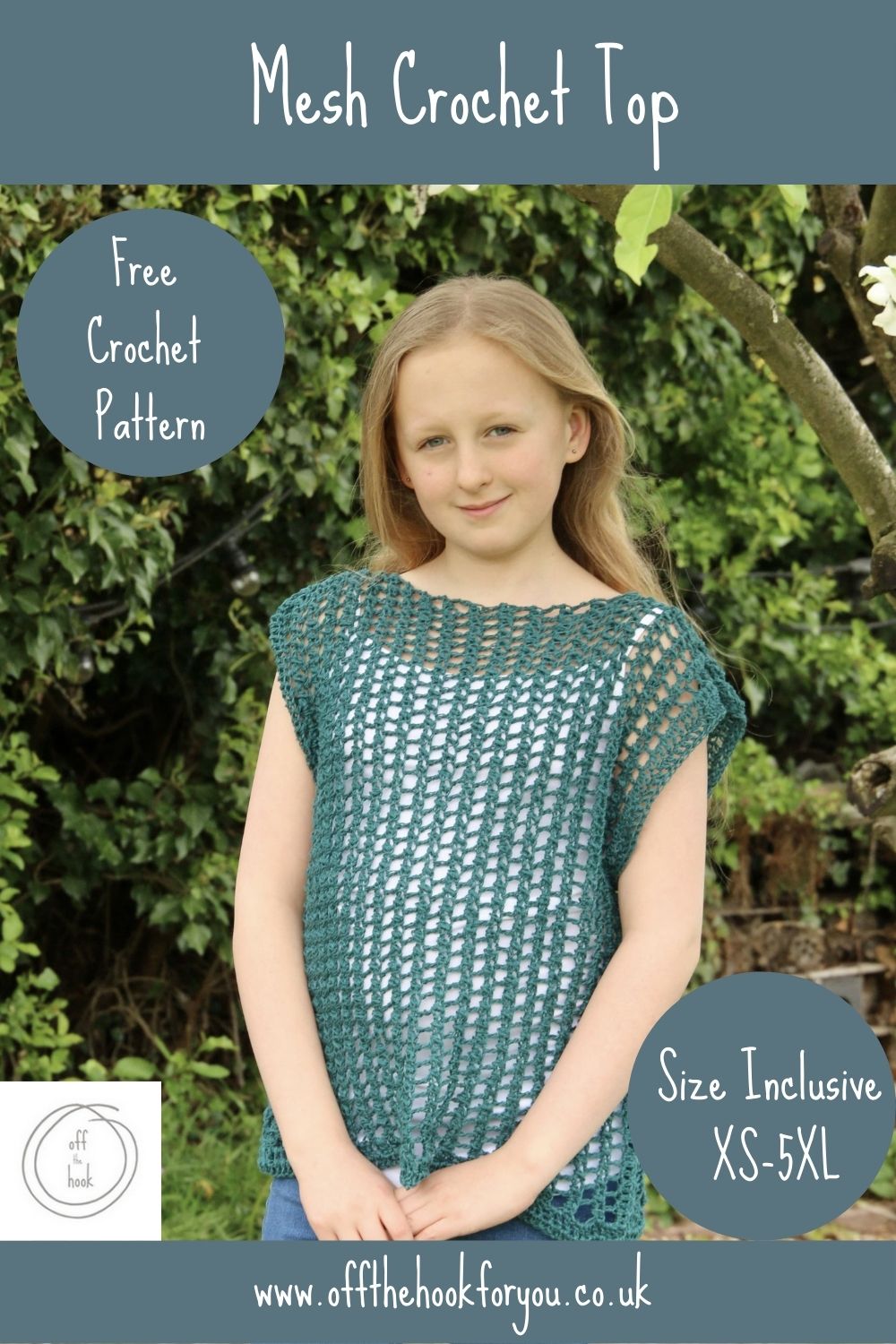 Why a Mesh Crochet Top?
I designed this top to be something a little different and special, that can be worn over a vest top/ bikini.
This top has an airy crochet mesh, which is acheives really really easily!
Combine this with changing the "usual" way it would be crocheted so rather than working stripes across from left to right – you still crochet it the same, but turn the crochet panels by 90 degrees to give vertical stripes.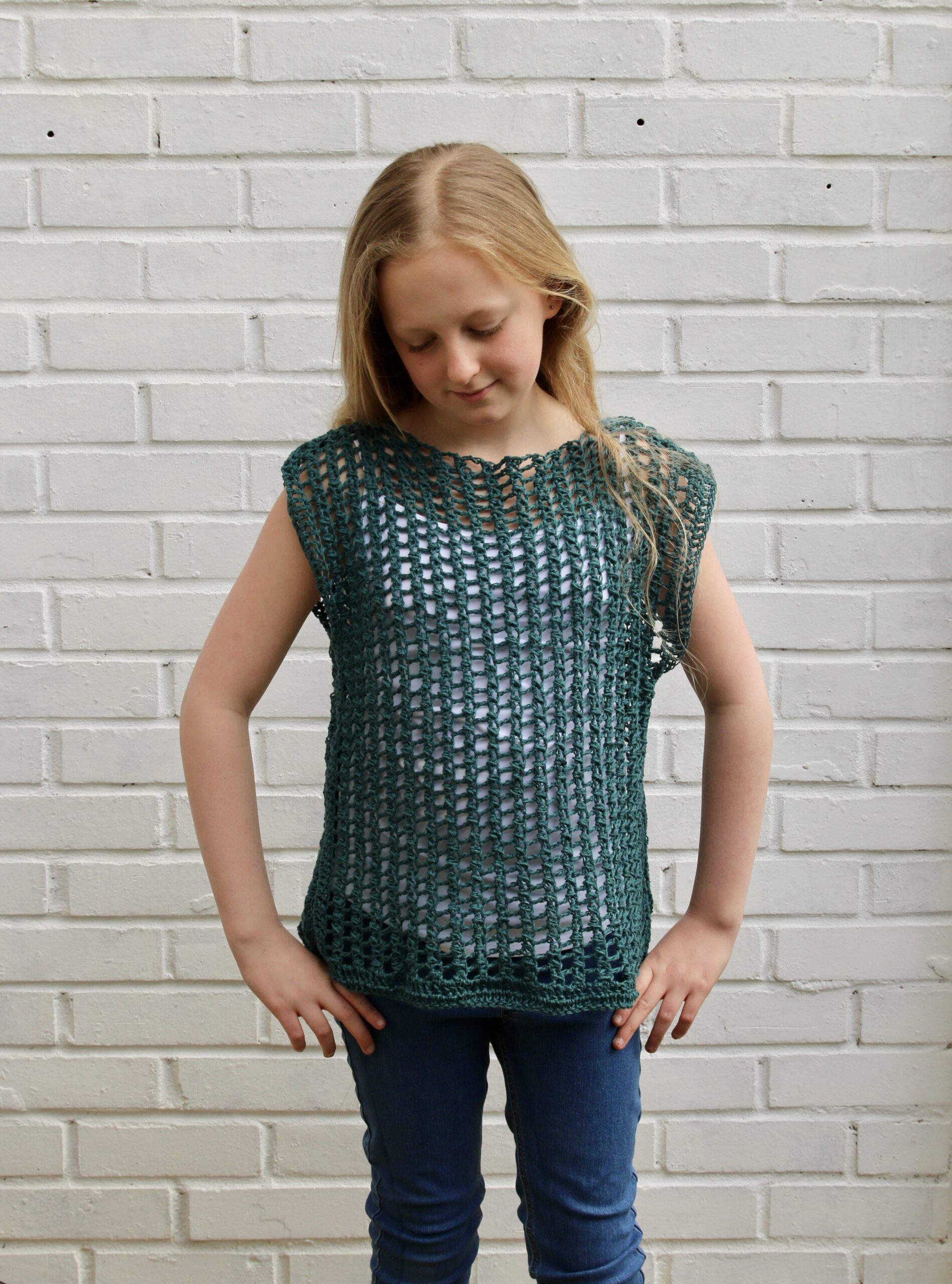 Vertical Stripes Crochet Top
As I said before, vertical stripes are the key to this design, which are really easy to make, by simply turning the fabric!
Vertical stripes make the body shape appear longer, and are more flattering, so this was a kew design point of this top.
My lazy crocheter gene rearer it's head too, making this so simple to make with minimal sewing once you've made two crochet panels the same!
What do you need to know to crochet a mesh top?
This design I've called an advanced beginner. It's incredible simple, and a great way to stay crocheting clothing if you haven't before.
With all my designs this mesh crochet top, starts with Foundation Double crochet, then uses chains, double crochet and Mini Bean Stitch to give the effect.
You will need to know how to:
Make a slip knot
Double crochet
Chain
Some really basic crochet techniques, with the addition of Foundation Double Crochet and Mini bean stitch.
Other patterns that use Mini Bean Stitch that you might like:
Quirrell Scarf – Super chunk Quick scarf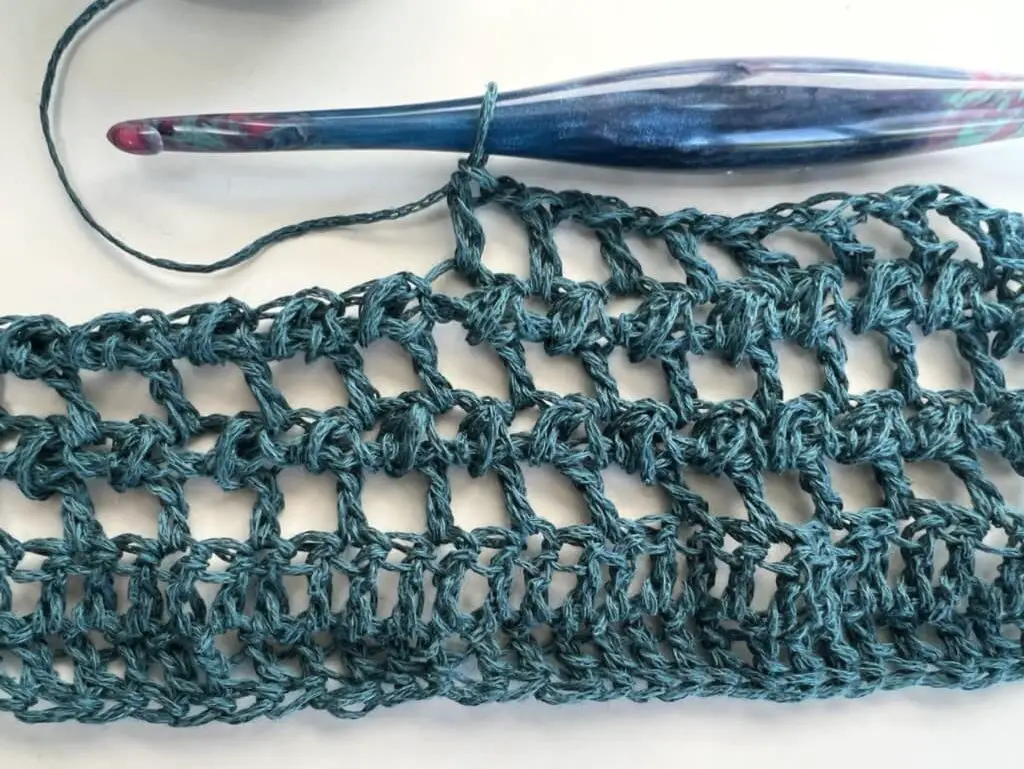 How do you crochet mesh?
The mesh is really easy to make. An easy mesh would be double crochet, chain 1, skip a stitch, and this repeated over the Tee.
In my crochet mesh, I use the Double crochet chain 1, skip a stitch every other row.
To make it slight more "interesting" I've combined every alternate row with Mini Bean Stitch.
Other mesh crochet patterns you might like: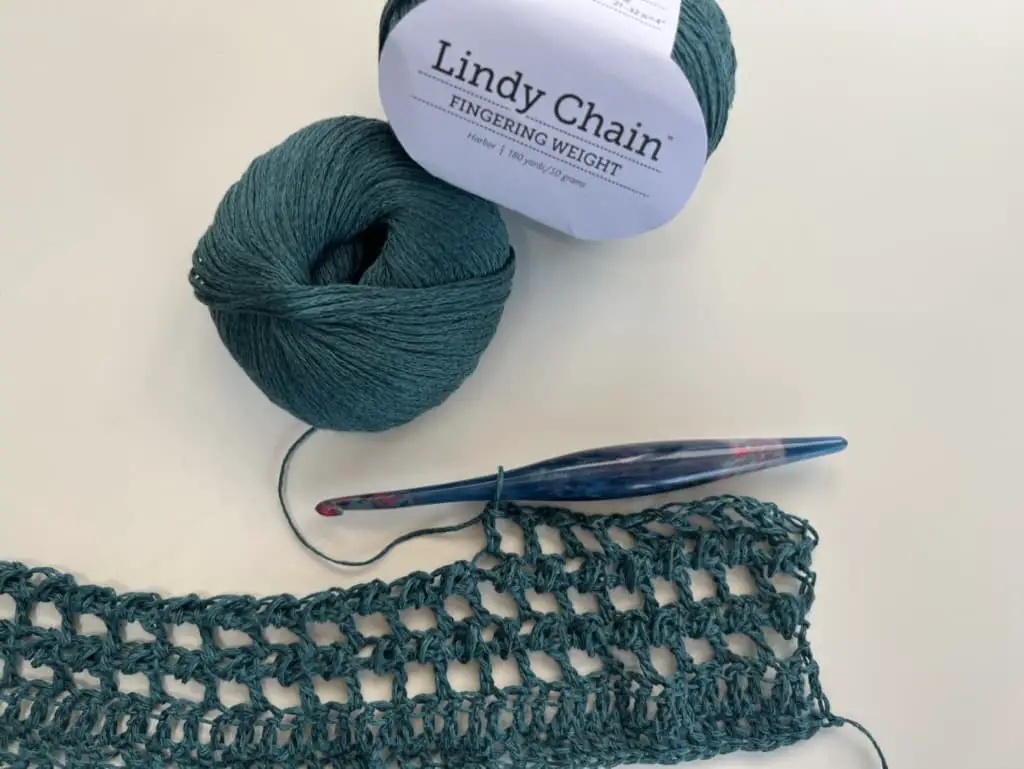 Yarn choice for a Mesh Crochet Top
Yarn choice here is actually the key to this design.
It's a summer top, so a Linen/ Cotton blend was going to be perfect.
The lovely people over a Wecrochet gifted me some balls of "Lindy Chain", with is a 70% linen, 30% Pima cotton blend.
It comes in 50g balls, which although little have 180 yards of yarn per ball!
I just adore this colour, it's called Harbor, and is a deep teal colour, perfect for matching with denim.
This top takes only 3 balls in the smallest size.
The hooks size plays a huge part in how this design looks. For this Fingering weight yarn, usually a 2.5-3.5mm hook is used.
I've gone for a proper airy look, using a 5.5mm hook.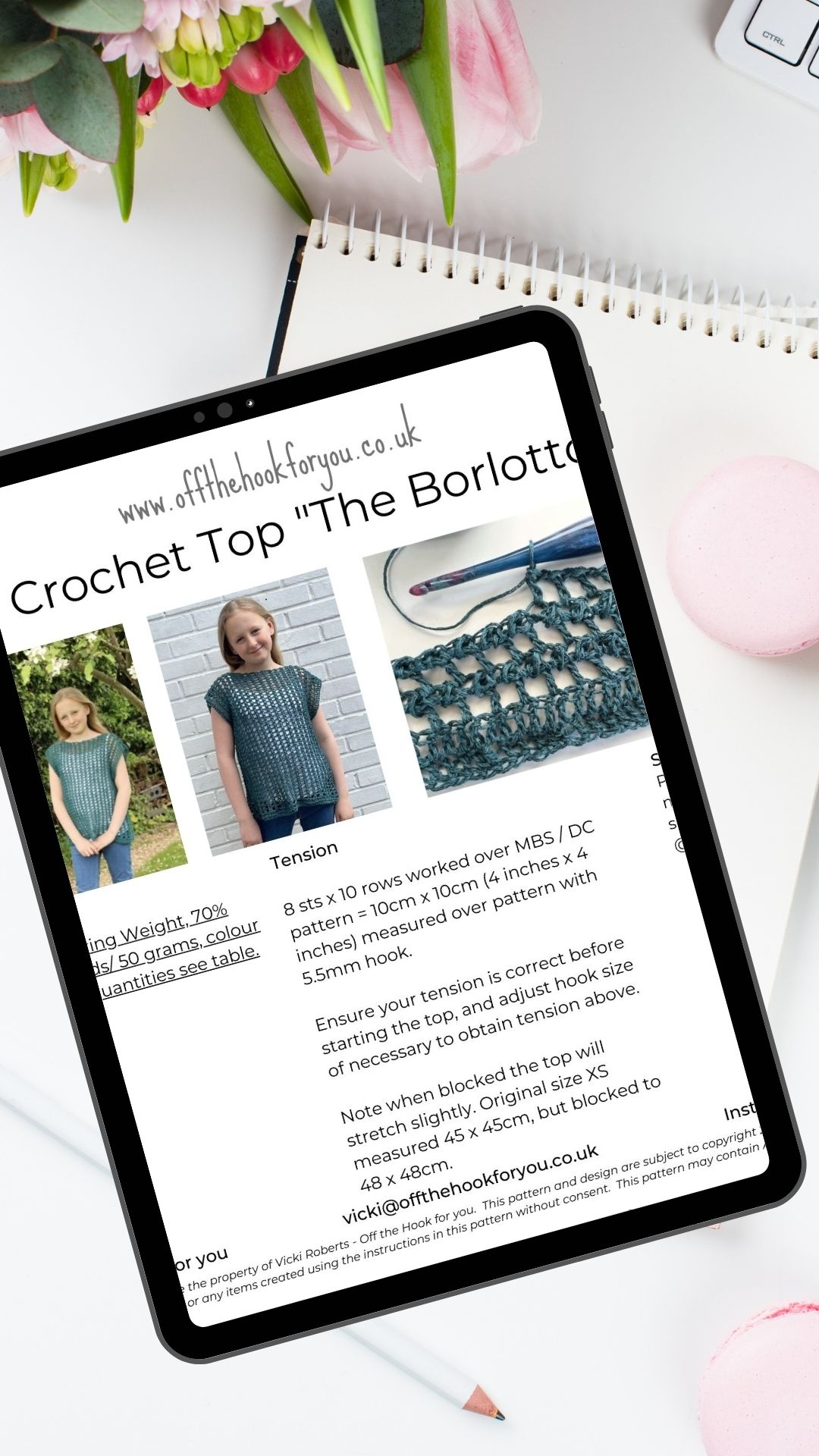 Crochet Pattern Options
There  are a few ways you can get the crochet pattern for my Borlotto Top – easy Mesh crochet top, and enjoy this crochet pattern and help support Off the Hook for You.
You can find and use the crochet mesh top pattern here on the blog that is supplemented with ads.
You can purchase, print and keep the 5 page advert-free pattern PDF in any of my shops as an instant download below.
You can purchase the pattern bundle for the Summer Blog Hop at the discounted price of $12.99, thats less than 0.40 cents a pattern!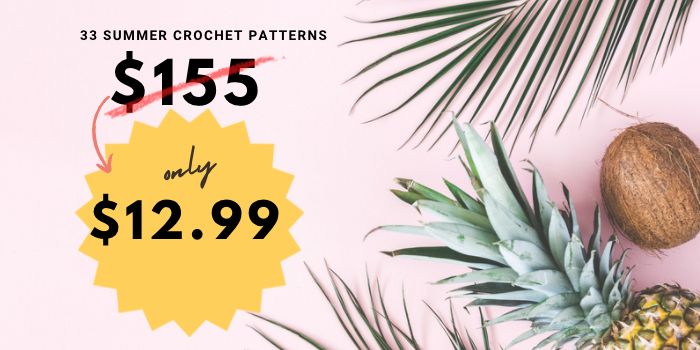 >>>Get the Advert Free Pattern on Etsy
>>>Get the Advert Free Pattern on Lovecrafts
>>>Get the Advert Free Pattern on Ravelry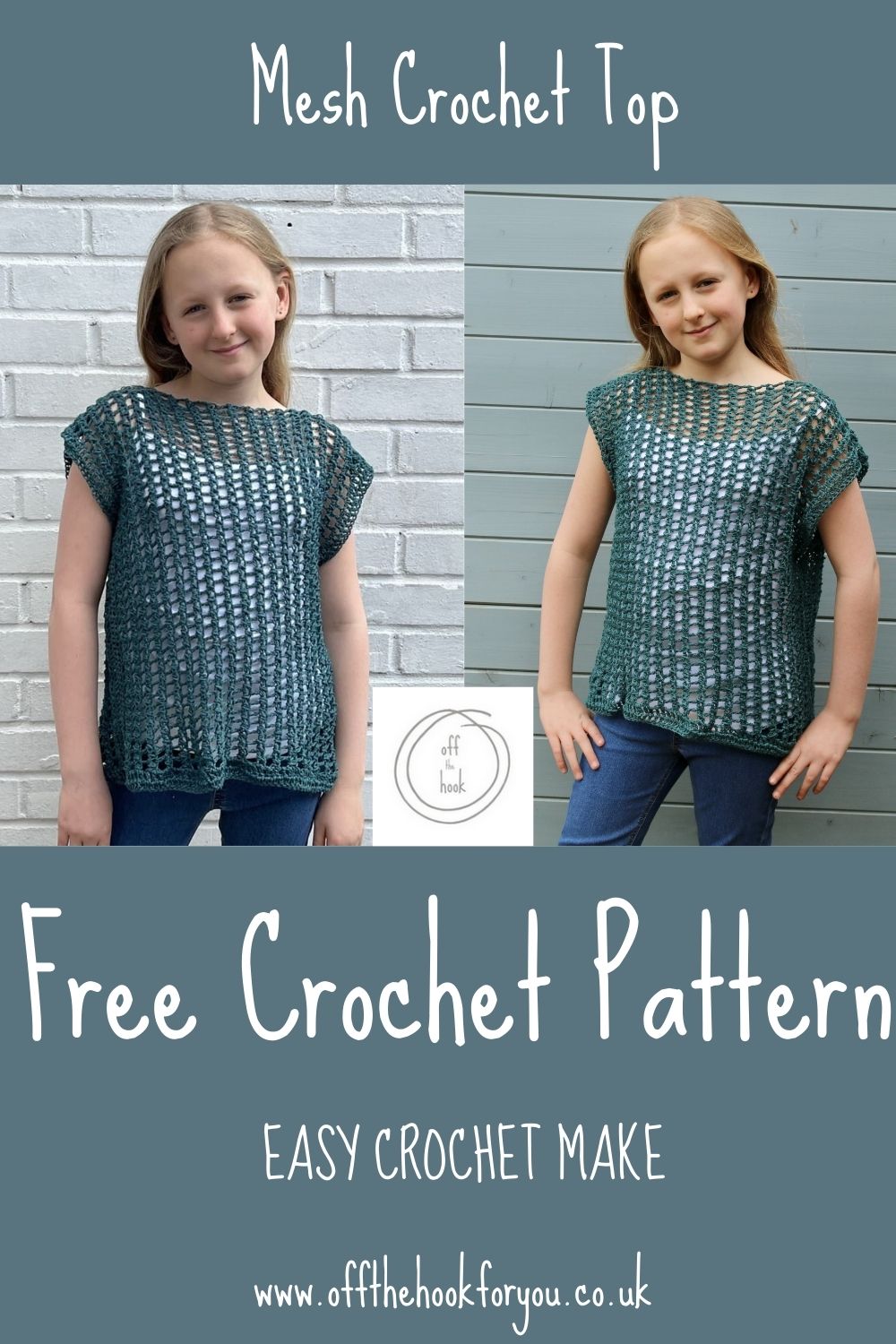 Other Crochet cardigan patterns
>>>Easy Textured short Sleeved Crochet Cardigan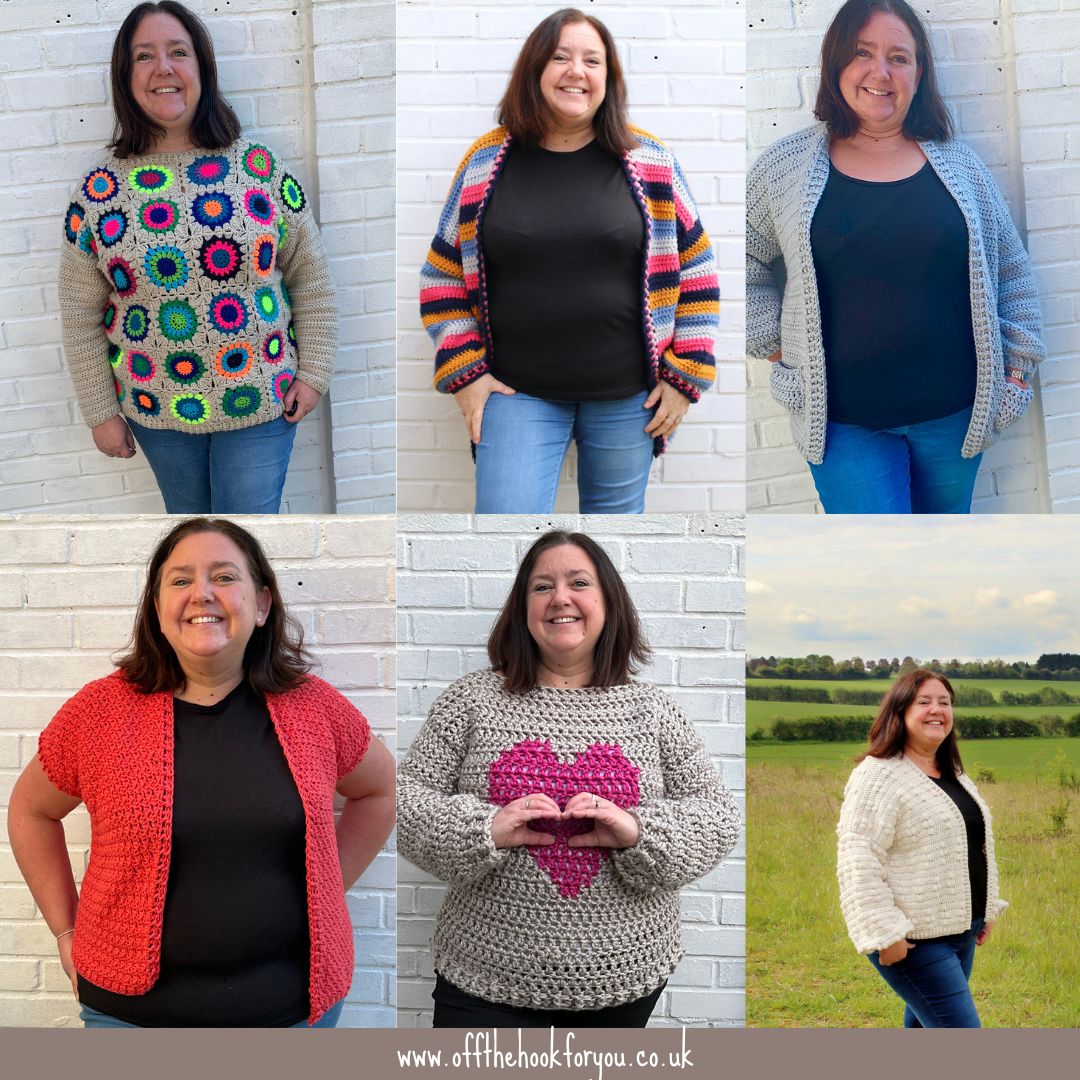 Mesh Crochet Top Free Pattern
You will need
We Crochet, Lindy CHain Fingering Weight, 70% Linen  30% Pima Cotton, 180 yards/ 50 grams, colour U536 Harbor (26457).  For yarn quantities see table.
Abbreviations – USA Terms used
ch – chain stitch
DC – double crochet
FDC – foundation double crochet
MBS – Mini Bean Stitch
pul – pull up loop
RS – Right Side
SC – Single Crochet
sp – space
ss – slip stitch
st(s) – stitch (es)
WS – Wrong Side
yo – yarn over
Foundation Double Crochet (FDC): ch3 (counts as first 1DC), yo, insert hook in 3rd ch from hook, [yo, pul, yo, draw through 1 loop on hook (Ch made), yo, draw through 2 loops] twice (DC made)], insert hook in last ch made; rep [ ] for number of sts required.
Mini Bean Stitch (MBS): Insert hook into st or sp indicated, yo, pul, yo, insert hook into the same st or sp, yo, pul, yo, draw through all 4 loops on the hook, ch1.
Tension 
8 sts x 10 rows worked over MBS / DC pattern = 10cm x 10cm (4 inches x 4 inches) measured over pattern with 5.5mm hook.
Ensure your tension is correct before starting the top, and adjust hook size of necessary to obtain tension above.
Note when blocked the top will stretch slightly.  Original size XS measured 45 x 45cm, but blocked to 48 x 48cm.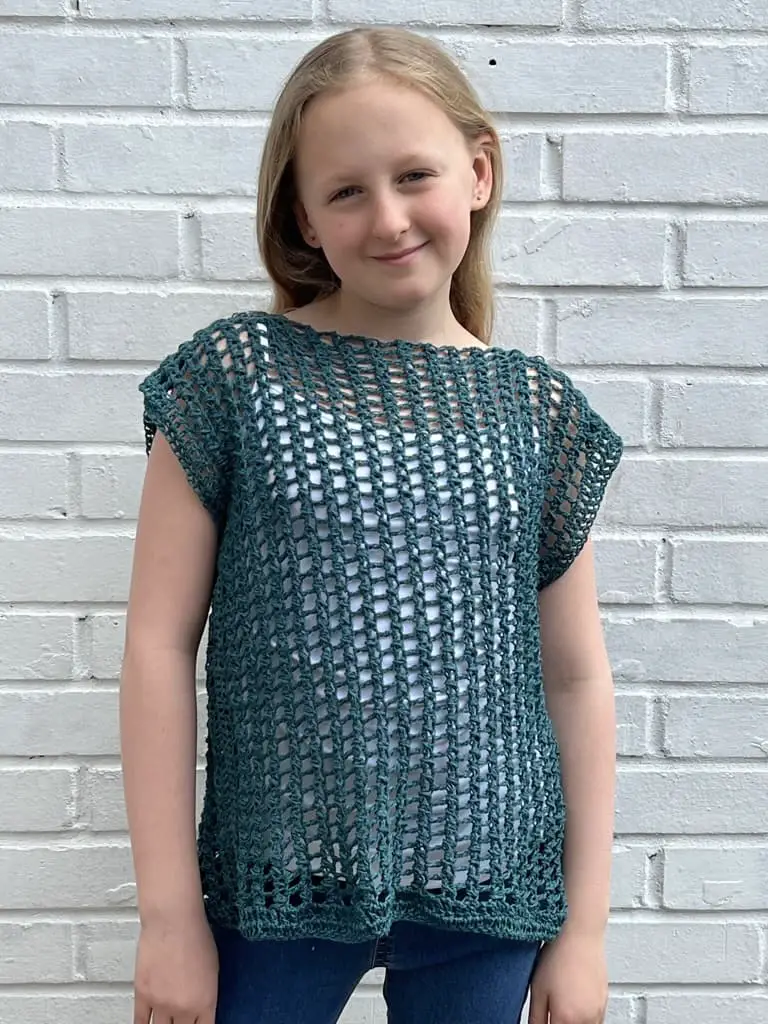 Pattern Notes
The top is intended to have a very generous fit and to be worn over a vest top.
The front and back are made by making 2 rectangles and sewing/ crocheting them together at the shoulders and the side seams.
The top is made by working in rows, the resulting crochet fabric is then turned 90 degrees to give vertical stripes.
The bottom band is made once the top is joined together.  
The sleeves are made by crocheting around the front and back once they are sewn together.  
See Schematic for finished measurements. 
All pieces except sleeves are worked in rows, turning at the end of each row.
The sleeves are 2 rows of crochet,  worked in the round, slip stitch (ss)  to join and turning at the end of each row which are made crocheting onto the finished garment.  
The Ch3 at the beginning of the ch rows counts as a stitch throughout.
The Ch1 on the MBS rows does NOT count as a stitch.
The texture pattern of the cardigan starts on Row 3.   
Row 4 and 5 give the striped pattern and are repeated for a given number of rows to give the correct width. 
The Right Side (RS) of the Stitch pattern has the MBS stitches leaning towards the left (if right handed)
The length of the top can be changed by reducing or increasing the number of FDC stitches used initially, make the same changes on the fronts and the back, to make them the same.  
As a guide,  the model is I am 5ft, and I wears a UK 4/6, USA 8/10 and wears an XS size.  
I have been featured in the Summer Designer's Pick Blog Hop
Front and back – make 2
Side – ALL SIZES
Row 1: FDC 75 working first FDC  into 3rd Ch from hook. Turn.  75 sts.
Row 2 (RS): ch3 (counts as DC throughout), DC across.   Turn.  75 sts
Row 3 (WS): ch4, *Skp st, *[DC next st, skip 1 st]  rep from * to last ch, DC in the last ch. Turn.  38 DC, 37 ch1-sps.
Row 4: ch1, *[MBS] in each ch1-sp across in each ch1-sp across,  SC in the ch3 from beginning of row 3. Turn. 37MBS, 1SC, ch1.
Row 5: ch4, *[DC in back on MBS next st, ch1]  rep from * to last st, DC in the last MBS. Turn.  38 DC, 37 ch1-sps.
Rows 6-39 (43, 49, 55, 59, 64, 69, 74, 79): Repeat rows 4-5.  
All sizes: 
Final 2 Rows: Repeat row 2.  Fasten off, weave in ends. Block to size.
>>>Learn how to crochet block here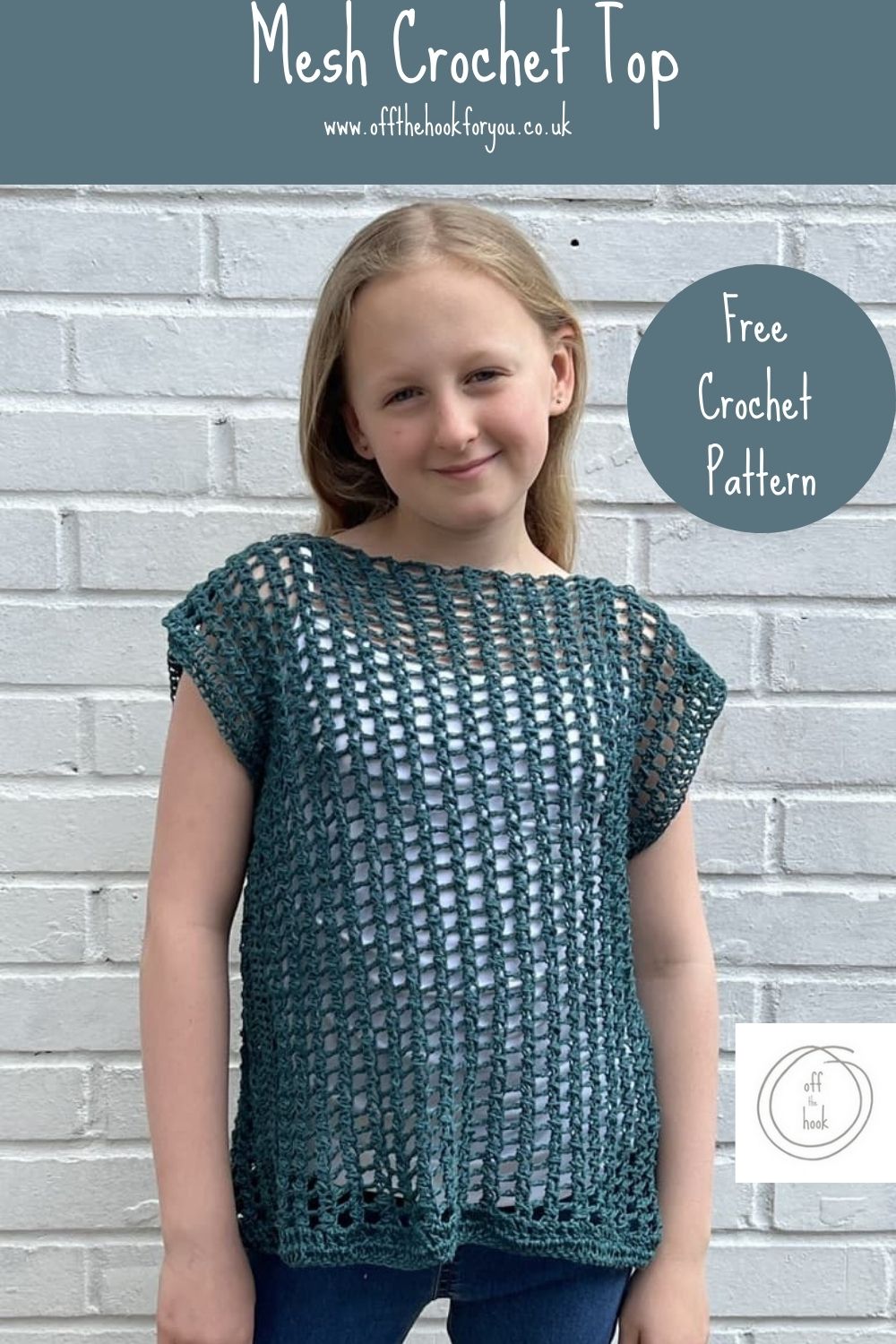 To join the top
Place fronts on the back with the RS facing inwards and each other. Join at shoulders, matching Fronts and Back stitch for stitch.  
Sew the side seams from the bottom of the cardigan hem, up towards the shoulders leaving a 17, 18, 19, 21, 22, 23, 24, 26, 27cm gap (7, 7, 7, 8, 9, 9, 9, 10, 11 inches) for the sleeves.    Fasten off weave in all ends.  
Sleeves 
There is no further crochet to the sleeves as these are made from the 2 rows of Double crochet at the beginning and end of the rows.
Bottom Edging 
With RS facing , join yarn at the bottom of the right front.  Working evenly around the front opening.
Row 1: Ch3 and work 2DC in each Ch1 sp and 1 DC in the side of the MBS.   Turn.
Row 2: Ch3 1DC in each DC around.
Fasten off, weave in ends.   
Turn right side out.  
Shoulders
With WS together, sew / crochet shoulders together leaving a 30cm gap for your head in the middle. 
For the XS small, this is joining 13 cm each side.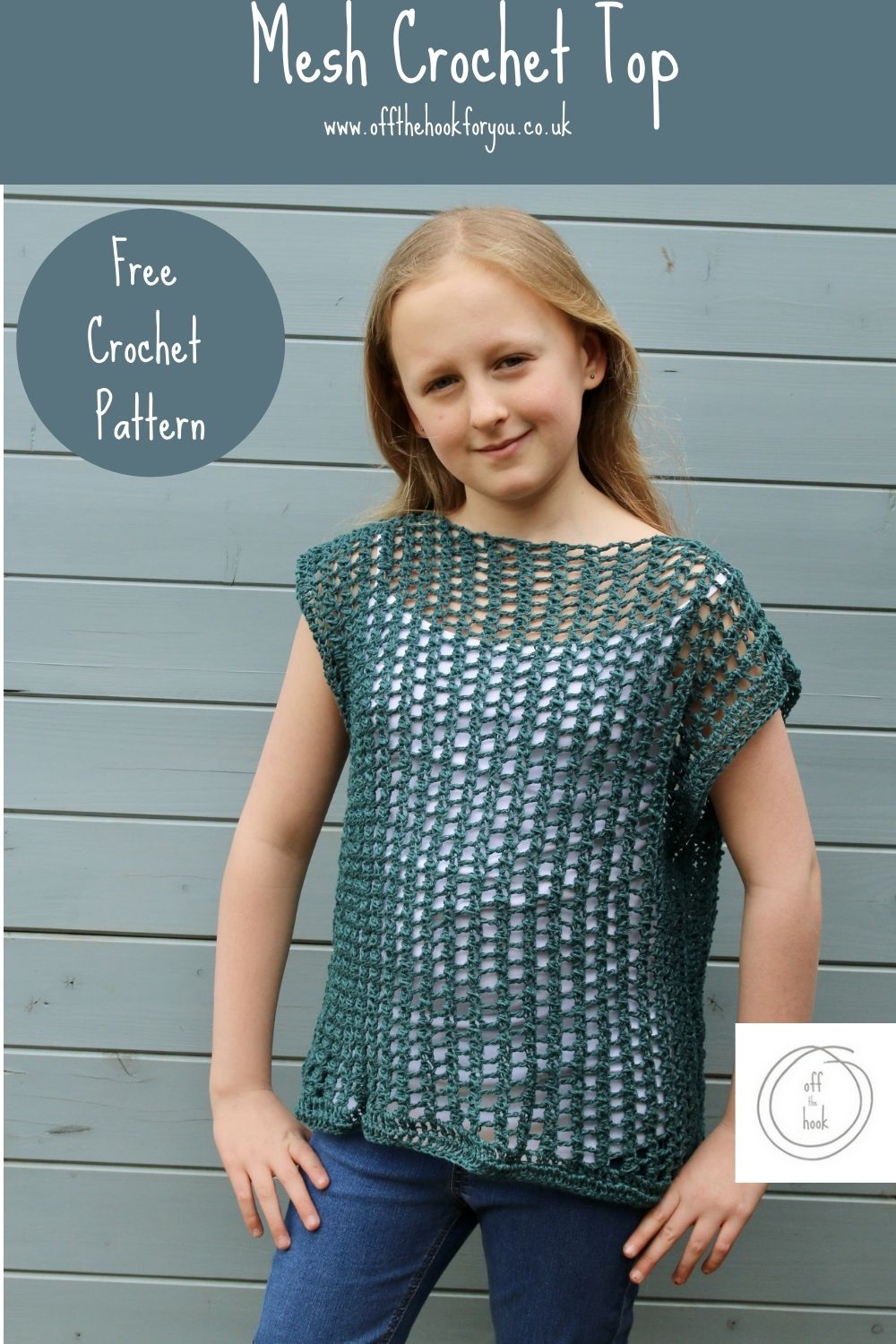 Join me at Off The Hook For You to share your crochet!
Thanks for visiting  – I'd love to stay connected with you so please sign up for my email list where a free PDF pattern is waiting for you (just so you can see what my PDF patterns are like).   
Finished one of my crochet pattern makes?  I'd love to see it and so would the world, so get sharing!  You can find me in the following ways:
Disclaimer 
This post may contain affiliate links which I earn a small commission from if you choose to click and purchase anything from. You pay the same price, I get a very small amount for sending you their way.  It helps me to make my crochet patterns free on the blog.