Here you can find out how to crochet mini bean stitch.
Mini Bean Stitch is surprisingly easy to do, using techniques learnt with Single crochet to get a stitch that looks totally different.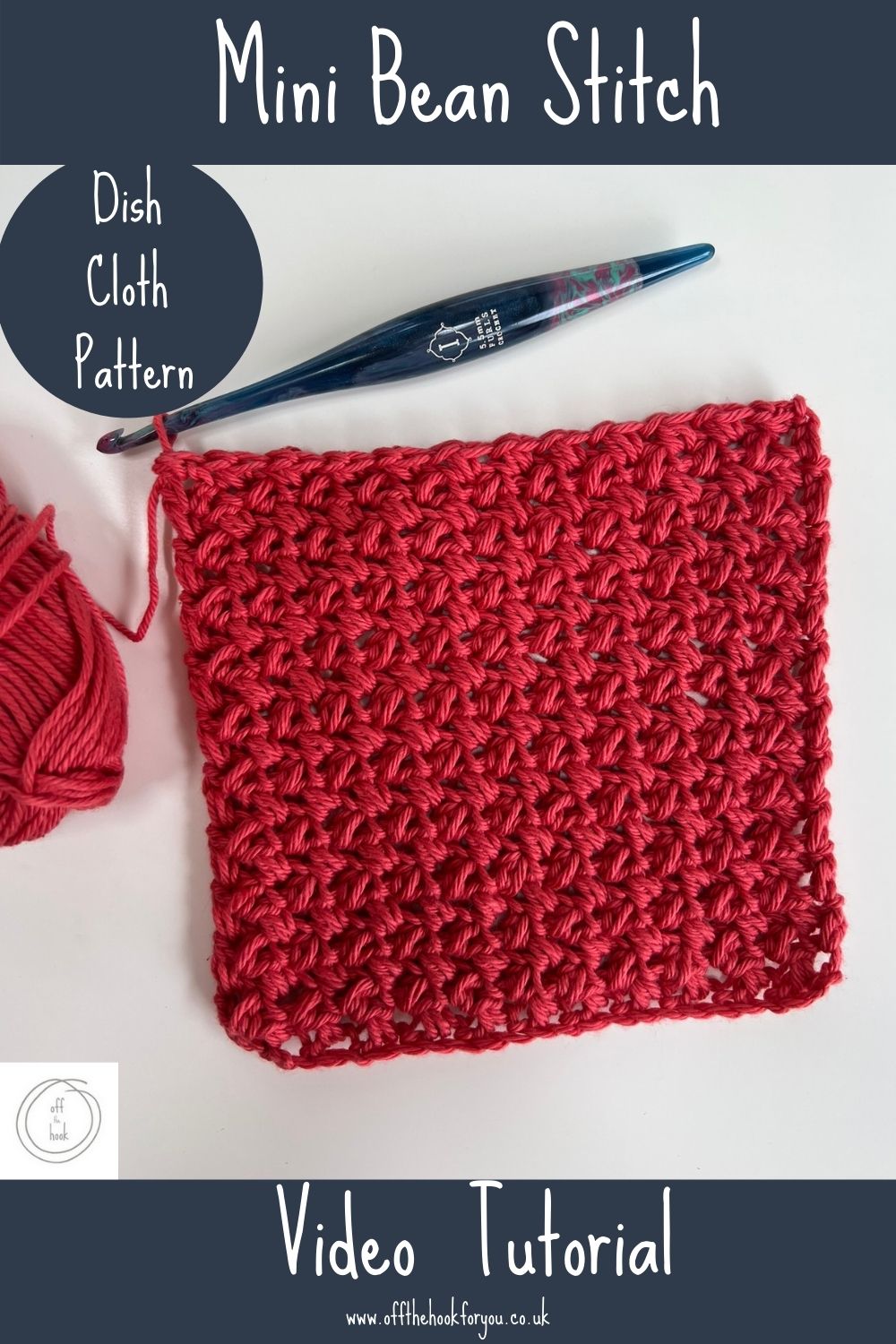 Other names for Mini Bean Stitch
Mini Bean Stitch is how I learnt this stitch (and I love the name), but doing some research, it's also called the Elizabeth Stitch.
What can you use Mini Bean Stitch for?
Mini Bean Stitch is perfect for anything that needs a little bit of texture.
It's gives a nice thick crochet cloth, but it is a bit of a yarn eater.
But if you are looking something totally different to single crochet, this could be the stitch for you.
I have also Mini Bean stitch in these free crochet patterns:
Happy Horizontal Scarf (Originally featured in issue 37 of Crochet Now Magazine)
The Quirrell Scarf – super chunky quick scarf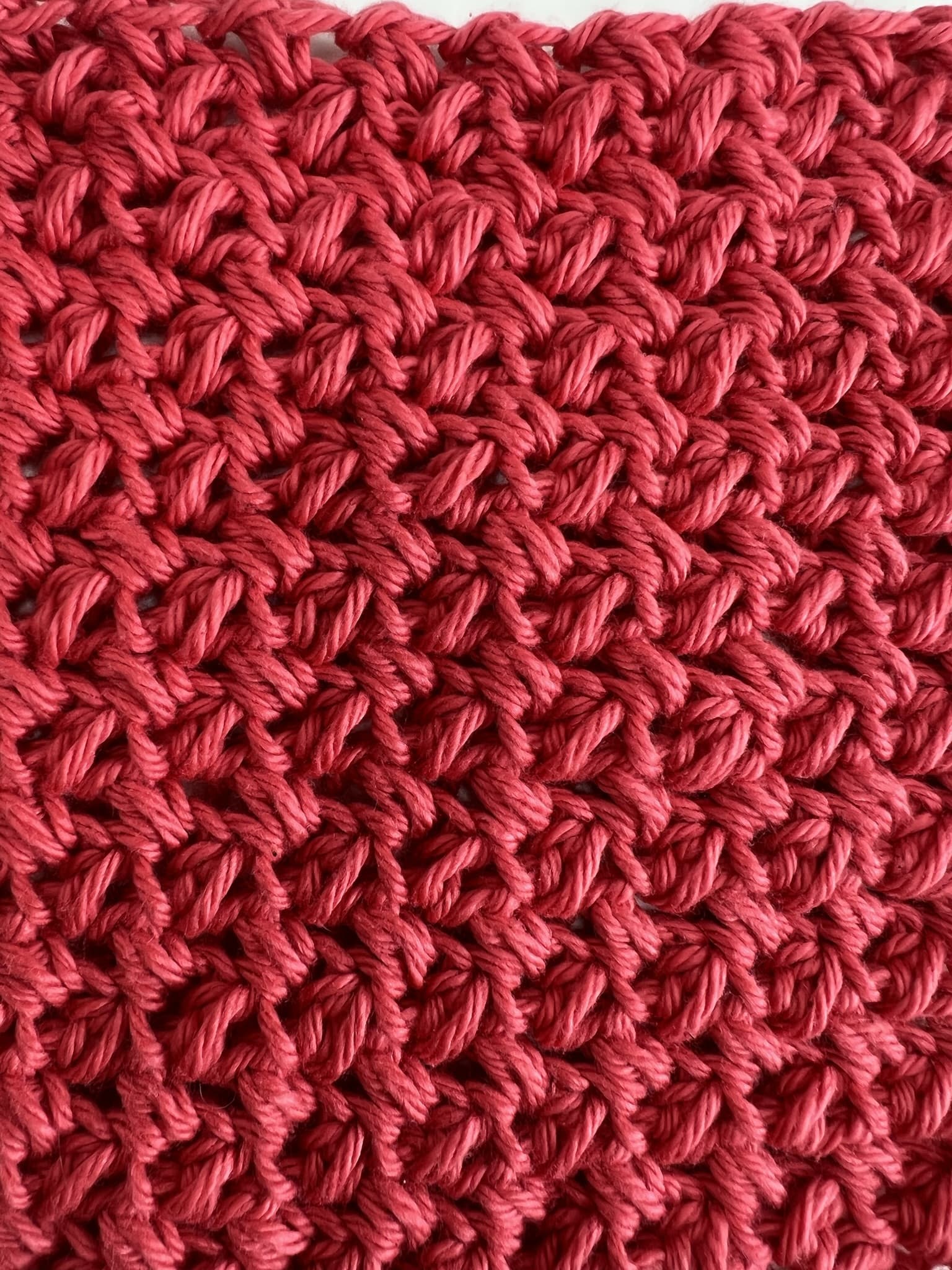 What stitches do you need to know to make the Mini Bean Stitch
Mini Bean Stitch uses the way you "yarn over" for crochet stitches to get the effect.
As it's not a combination of stitches, it would be handy to know how to:
Chain
Single crochet
Double Crochet
Notes
Make a multiple of 2+4 chains to start
If changing colour, do the last Yarn Over in the new colour.
Crochet Pattern Options
There  are a few ways you can get the crochet pattern for this Easy Dish Cloth, and enjoy this crochet pattern and help support Off the Hook for You.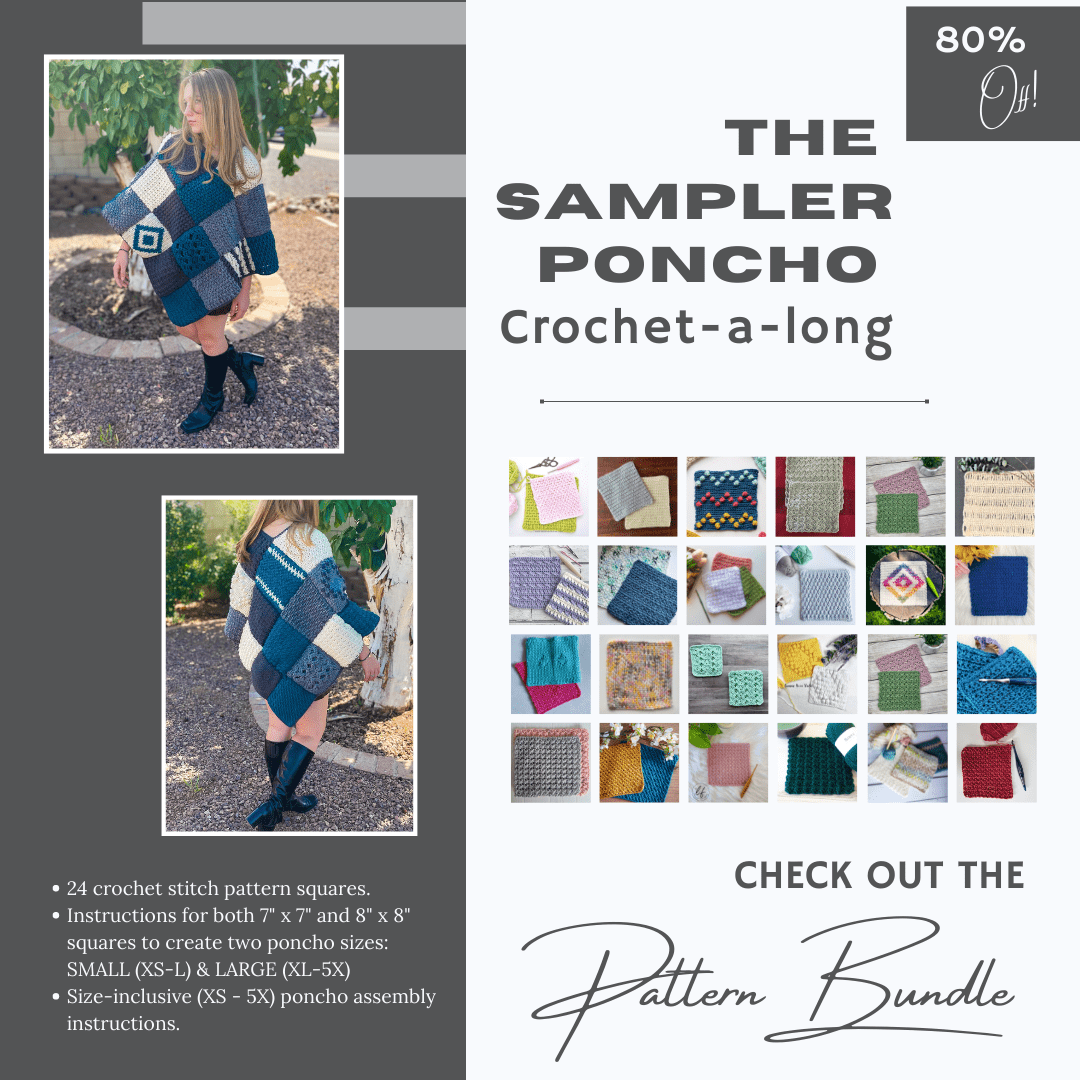 >>>Get the Advert free Pattern on Raverly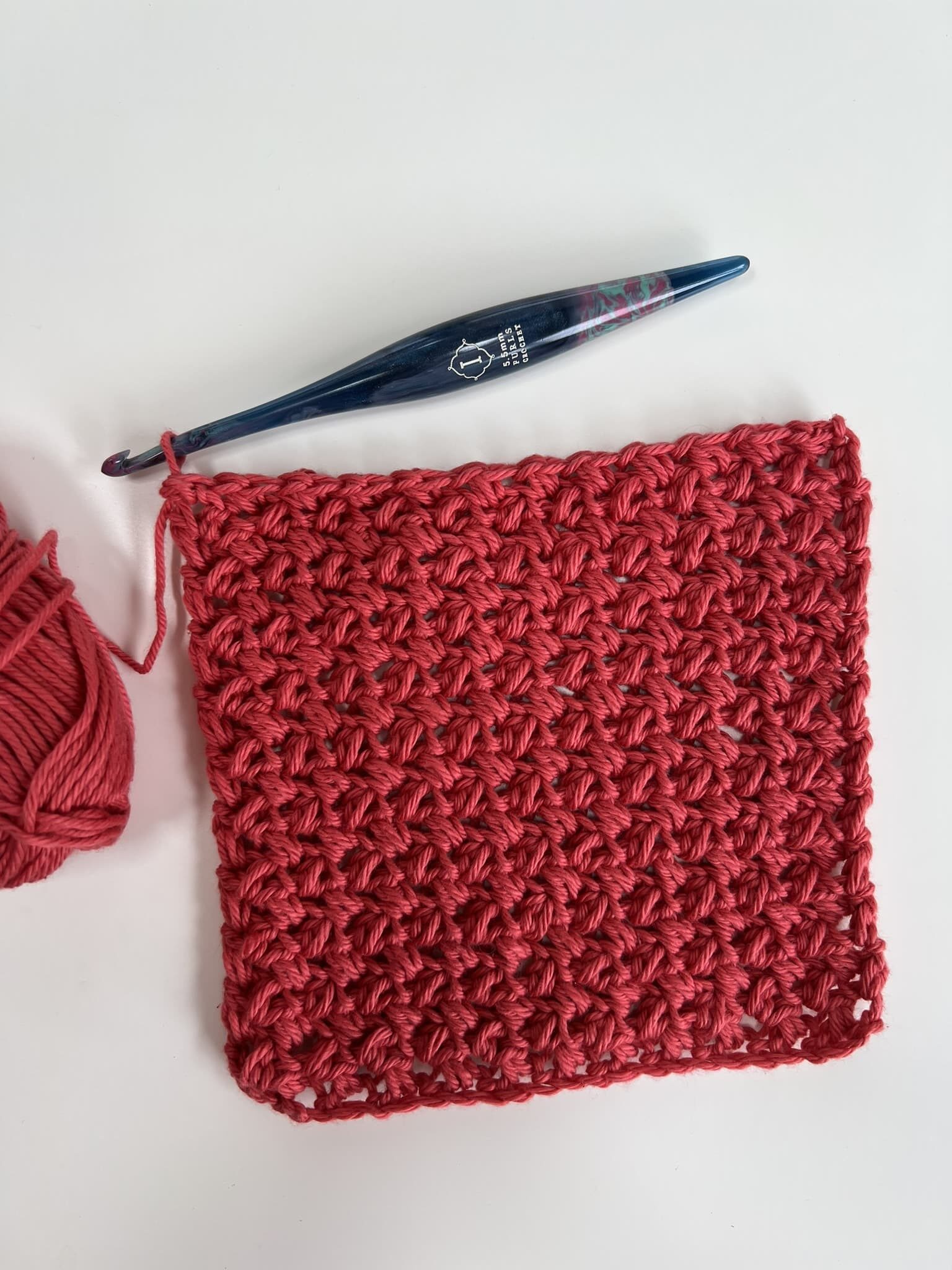 Mini Bean Stitch Dish Cloth Pattern
Mini Bean Stitch Square
Materials
Comfy Worsted Weight, 109 yards/ 50 grams in Rosehip.  
Scissors
Tapestry Needle
Finished size
There are 2 different sizes of square you can make:
Small = 7 x 7 inches (18 x 18 cm)
Large =  8 x 8 inches (20.5 x 20.5cm)
Tension/ Gauge
7 sts x 13 rows = 4 x 4 Inches (10 x 10cm)
Abbreviations
ch – chain
mbs – mini bean stitch
Pul – pull up a loop
Sp – space
st  – stitch
YO – yarn over
Special Stitches
Mini bean stitch (mbs): insert hook into st or sp indicated, YO, pul, YO, insert hook into same st or sp, YO, pul, YO, draw through all 4 loops on the hook.  Ch 1.
Pattern Notes
The square is sized in 2 sizes small (large).
Beginning chain on the mbs rows does not count as a st.  
Block square to size after making. 
Square
Row 1: With 5.5mm hook, chain 25 (29)
Row 2:  In 3rd ch from hook, 1 mbs, * miss 1 ch, 1 mbs; repeat from * to end.  Turn.  12 (14) sts
Row 3: ch 1, work 1 mbs into back of mbs st across, miss last mbs, work last mbs into ch2-sp at the edge. Turn.  12 (14) sts
Row 4: Repeat row 3 19 (23) more times.  22 (26) rows total
Fasten off, weave in ends.  
Block to size.
Mini Bean Stitch Video
Watch below, or head over to YouTube, I'd love for you to subscribe
If you like this stitch, also have a look at:
Herringbone Half Double Crochet
Corner to Corner crochet for Absolute Beginners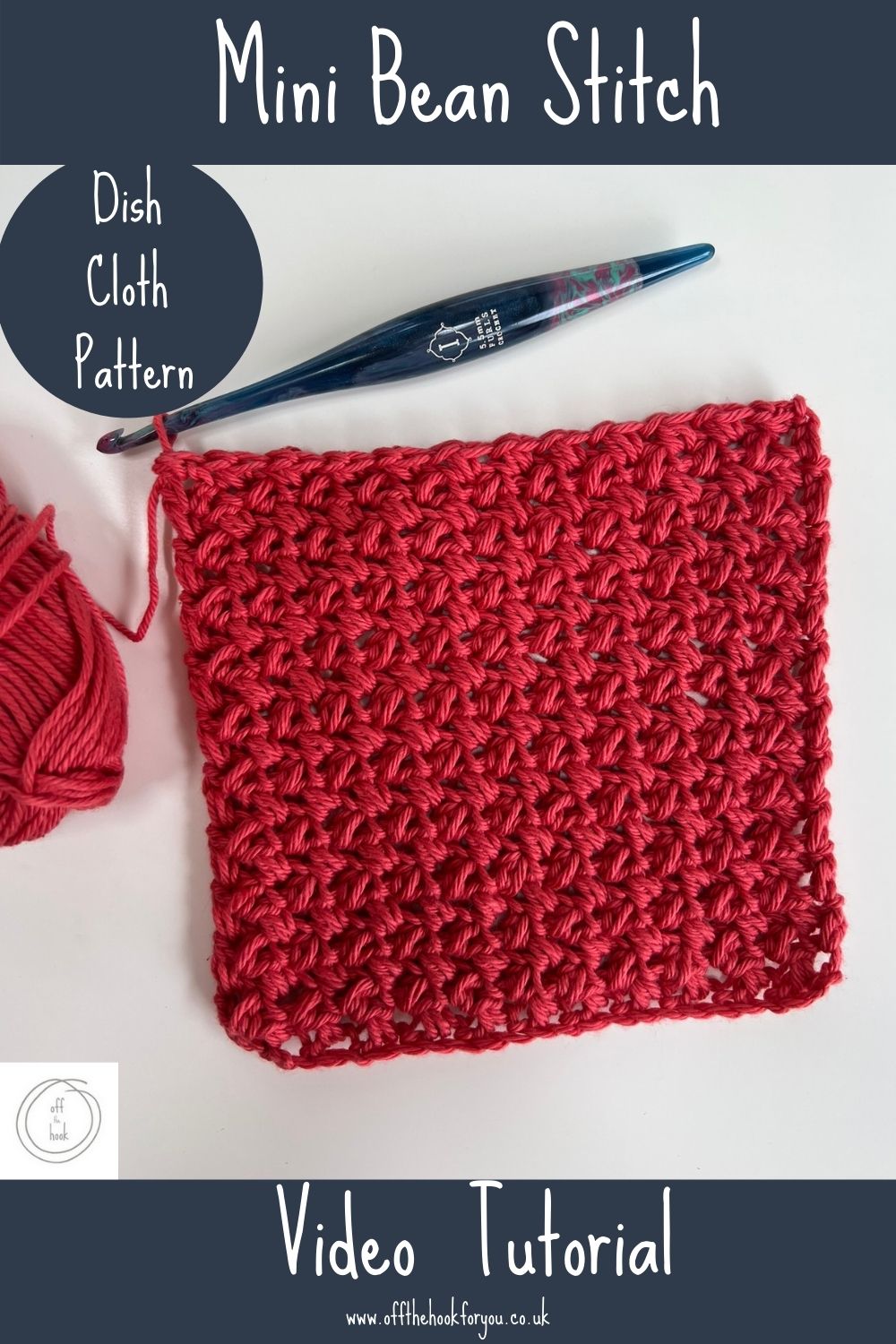 Join me at Off The Hook For You to share your crochet!
Thanks for visiting  – I'd love to stay connected with you so please sign up for my email list where a free PDF pattern is waiting for you (just so you can see what my PDF patterns are like).   
Finished one of my crochet pattern makes?  I'd love to see it and so would the world, so get sharing!  You can find me in the following ways:
Disclaimer 
This post may contain affiliate links which I earn a small commission from if you choose to click and purchase anything from. You pay the same price, I get a very small amount for sending you their way.  It helps me to make my crochet patterns free on the blog.