As I said in my last post, I'm a little bit obsessed by pumpkins currently. It the most autumnal thing, along with the leaves turning and the berries appearing in the hedgerows that mean the end of summer (Although we're having a super hot day of 25 degrees C today, and the sun is shining).
So, back to pumpkins. I thought I'd have a little experiment with some yarn, nothing new here, but a great way to demonstrate the yarn and hook size, can give you some different results.
Percy the pumpkin was designed to be made using Stylecraft DK yarn, and a 4.5mm hook, and he's a good size, but what happens when you reduce or increase the yarn and hooks sizes.
I started playing with the super chunky yarn, and the maths wouldn't work.
There were simply too many stitches, and it went all curly, hence the arrival of a new pattern for Pete , which makes a lot more sense being rounder, and fatter, and higher!
But what if I changed to a slightly more chunky than DK yarn?
Well the good news is the Percy Pattern works absolutely fine!
5mm hook, and he comes in at a lovely 9cm diameter.
The stalk, use two strands of green DK, and some slightly bigger eyes (I think a 5mm)
What about smaller?
Again, Absolutely perfect.
This time I used Stylecraft Life, that I have left over from a blanket, and a 3.5mm hook. This little one is lovely, only about 5cm in diameter.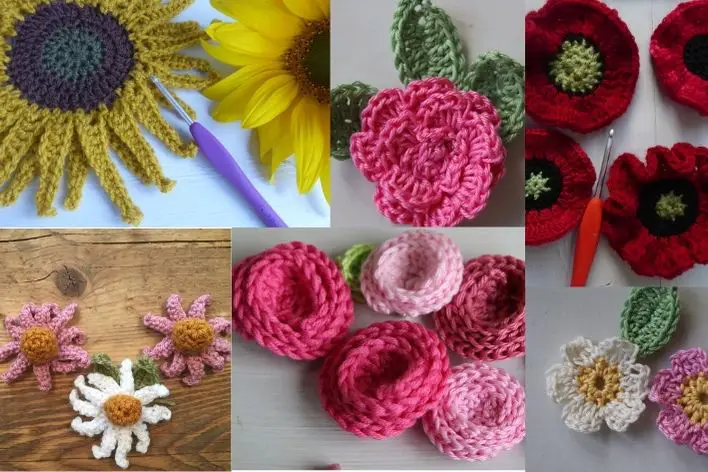 >>>Crochet Sunflower Pattern : >>>Easy Crochet Rose : >>> Crochet Poppy Patterns
>>>Crochet Echinaeca Pattern : >>>Spiral Rose Pattern : >>>Easy Quick Crochet Daisy
What about all of them together?
?
Join me at Off The Hook For You to share your crochet!
Thanks for visiting  – I'd love to stay connected with you so please sign up for my email list where a free PDF pattern is waiting for you (just so you can see what my PDF patterns are like).   
Finished one of my crochet pattern makes?  I'd love to see it and so would the world, so get sharing!  You can find me in the following ways:
Disclaimer 
This post may contain affiliate links which I earn a small commission from if you choose to click and purchase anything from. You pay the same price, I get a very small amount for sending you their way.  It helps me to make my crochet patterns free on the blog.