Hello, Thanks for joining me. Here you can find my free crochet pattern for a sunflower that would be a perfect Applique for shopping bag or a garment – this would look great on a sweater.
Sunflowers really shout the end of summer to me, hot temperatures, and flowers just starting to turn……. they are also HUGE and colourful, and this crochet applique is no exception.
This crochet sunflower pattern is great, and super simple and easy to make.
I'd call this a improving beginners project, but it really is straight forward to crochet when you break it down into simple parts and stitches.
You'll need to know how to make a magic ring, Single crochet, Half Double Crochet and Double crochet.
If you'd like to save this for later – please Pin it using the picture below.
What do you need to crochet a sunflower applique?
Not much! Stash yarn, an appropriate sized crochet hook, some scissors and a needle for sewing in the ends – or attaching it to the item you want.
Yarn wise – this was I inspected the sunflowers I'd just picked – to actually see what they looked like.
I did noticed on close up inspection of the particular breed of sunflower my sunflower sommielier had picked for me, was that the middle of the sunflower is actually green!
I had a quick look on pinterest to see what other crochet sunflowers there were, but all seemed a little small for what I was after, and they all had brown middles – which didn't match with the sunflower I was actually looking at.
A green centre, a brown outside, and lots of double layer yellow petals.
So I duly sat down, whilst the little people watched some telly, and had a little play with some yarn.
It wasn't long at all before I had my middle sorted, and then the petals needed some attention.
>>>See all my crochet flower patterns here
How do you crochet a sunflower for beginners?
As a I mentioned before, this pattern is suitable for "Improving Beginners". What I mean by this is that should know:
How to do a Half Double crochet (Half treble UK)
How to do a Double Crochet (Treble UK)
How to do a Single crochet (DC)
How to do a slip stitch
How to crochet in the top of both loops
How to crochet in the front and back loops only
If you can do all of these – you will find this pattern easy, and have a crochet sunflower in no time.
If you are Brand New to crochet – I can not recommend enough learning a granny square as your first project – and luckily for you – I have an absolute beginners Granny Square tutorial here with a video – that goes super slowly!
Free pattern for a crochet sunflower
As with most of my patterns, you can get the advert free, nicely formatted downloadable PDF here at
>>>Get the Ad free PDF from Etsy
>>> Get the Ad free PDF from Lovecrafts
>>> Get the Ad Free pattern on Ravelry
How do you crochet a
sunflower

?

Well the good news – I have a free crochet sunflower pattern below:

3.5mm hook

Stylecraft special DK in Walnut, Khaki (But any stash yarn will do)

Cygnet DK in Barley

Scissors

Tapestry needle

Abbreviations – USA Terms used.

Ch – Chain

DC – Double crochet

HDC – Half double crochet

SC – Single Crochet

SS – Slip Stitch

Tension – tension is not important in this project, but a consistent stitch tension would aid your project.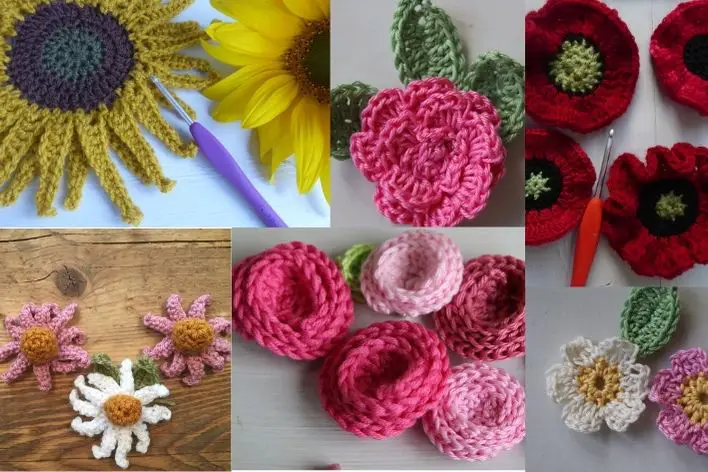 >>>Crochet Sunflower Pattern : >>>Easy Crochet Rose : >>> Crochet Poppy Patterns
>>>Crochet Echinaeca Pattern : >>>Spiral Rose Pattern : >>>Easy Quick Crochet Daisy
To make a crochet sunflower:
Using Khaki, and 3.5mm hook, make a magic loop and chain 2 (counts as a st throughout).
Round 1: 9 HDC in the ring SS to join (continue to SS to join). [10 sts]
Round 2: Ch2, 1HDC in the base of the chain.  2HDC in each st all the way around. [20 sts] Fasten off.
Round 3: Join Walnut in the top of one of the sts. Ch2, 1HDC in the base of the chain. 1 HDC in the next st, (2HDC in the next st, 1HDC in the next st) repeat 8 times. [30 sts]
Round 4: Ch3, 1DC in next st, 1DC in next 2 sts, (2DC in next st, 1DC in next 2 sts) repeat 8 times.  Fasten off. [40 sts]
Round 5:  Join Barley, (Ch13, in the 3rd chain from the hook, ss, SC in the next 3 sts, HDC in the next 3 sts, DC in the next 3 sts, 2DC in the last chain, join the petal to the brown using a SC, skipping 1SC).  Repeat 18 times, turn. [19 petals]
Round 6: (Ch10, ss in the 2nd ch from the hook, SC in the next 2 sts, HDC in the next 2 sts, DC in the next 3 sts, Double DC in the last sts SC to the brown ensuring you attach the previous petal by SS around the the Double DC of the previous round.)? Repeat 18 more times [19 petals]
>>>Get the Free Echinacea Pattern here
It will look like this after round 5, but this doesn't have enough petals.
So add round 6, and it looks even more curly!
>>>Now time for the all important crochet blocking, where you can see the benefits of a mat vs a board.
Then I used some Starch spray, the same type you'd use for collars of shirts, that can be bought here at Amazon (UK). There was no way this acrylic yarn was going to stay put after being unpinned without it!
So here you go, two sunflowers, one crochet, one real, both beautiful.
If you want to save this for later – please pin it below.
Join me at Off The Hook For You to share your crochet!
Thanks for visiting  – I?d love to stay connected with you so please sign up for my email list where a free PDF pattern is waiting for you (just so you can see what my PDF patterns are like).   
Finished one of my crochet pattern makes?  I?d love to see it and so would the world, so get sharing!  You can find me in the following ways:
Disclaimer 
This post may contain affiliate links which I earn a small commission from if you choose to click and purchase anything from. You pay the same price, I get a very small amount for sending you their way.  It helps me to make my crochet patterns free on the blog.