Hopefully you are joining me today as you are here to learn all about making a crochet corkscrew, or a curly cue, or spiral crochet.  Having researched the names for curly crochet, I'm amazed how many names we use for the same things!
You might be wondering why on earth you'd want curly crochet?  Surely you are thinking crochet should be straight. You may have even come here because you've googled "why is my crochet curling". 
Well there are a number of reasons you might actually want your crochet to curl rather than be straight.  Think of the spirals of a unicorns mane (hair), or how about jellyfish legs,  or a crochet catkin?  For things like this – you want curly crochet!
>>> Get my free crochet Festival headband / hair garland here
If you want to save this for later – please pin it below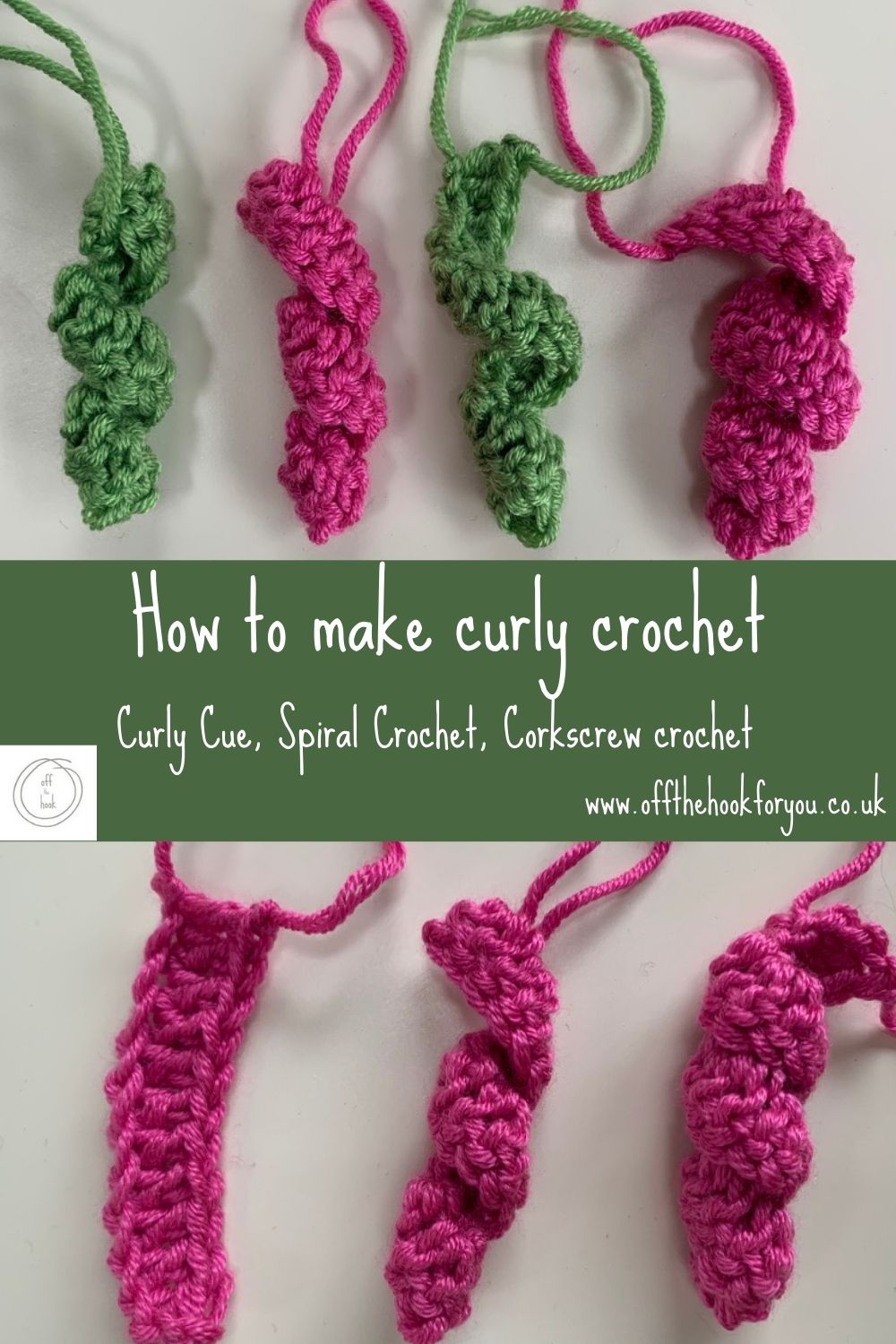 I'm going to go through the basics here of why crochet curls, and then how you can use this your advantage in crochet patterns and designs. I also have a video tutorial below too.
What you do need to know is that they are really easy to make, in fact I teach these week 3 of my "learn to crochet course", as they are a lot simpler and easier to crochet than you think. 
>>>For more crochet tutorials – clicks here
Yarn choice for curly crochet
You can make curly crochet with any yarn, as long as you use the right hook size for the yarn.
So I'm using a standard UK Double knit yarn with a 4mm hook.  USA friends think Worsted weight with a 5-5.5mm hook.
Just follow the instructions that are on the ball band of the yarn.
If your blanket edge is curly
If you are here because you've started a blanket and the edge is starting to curl – this is almost certainly for a different reason than what I'm about to explain below.  
If your blanket edge isn't "sitting straight" this is usually because your initial (starting) chain is too tight.  The thing to do here, is start the item with one/ two sizes bigger hook than than what the pattern says.  So if the pattern said 4mm hook, I'd do my starting chain with a 4.5 or a 5mm hook, then on row 2, start with the hook the pattern said.)
Why does my crochet curl?
I'm going to break this down like I would in my workshops –  really really simply and for beginners.
If you want a straight line of crochet – like for a blanket or a sweater, when you do your initial chain, and start working your way back you make one stitch in each chain. 
So for a row of Double Crochet for example, you'd chain 13, then work 1DC in 3rd (for the height of the DC) chain from the hook, and 1DC in each chain back to the beginning (see top of photo)
This will give you a lovely straight crochet (if you remember to work a DC in the top of the chain 3 – beginners tip!)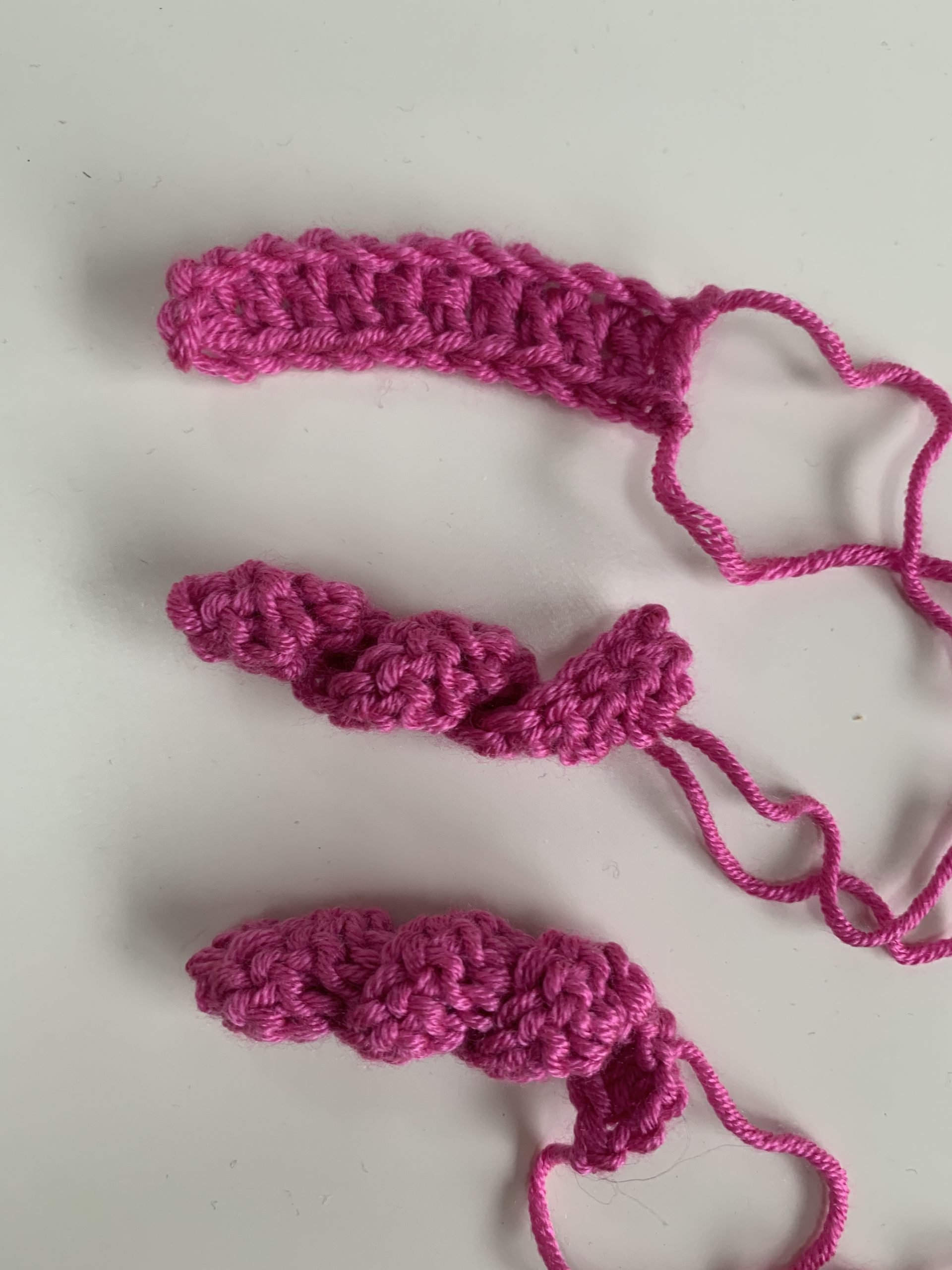 If you want you crochet to curl – it's as easy as doing more stitches per chain than the "usual" 1DC (or HDC or SC).
It really is that simple!  Do more stitches per chain than the standard 1!
You can watch my beginners video here to show you how to do it>>>
Now you do have a choice though
How curly you want to make you or spiral crochet Curly Cue?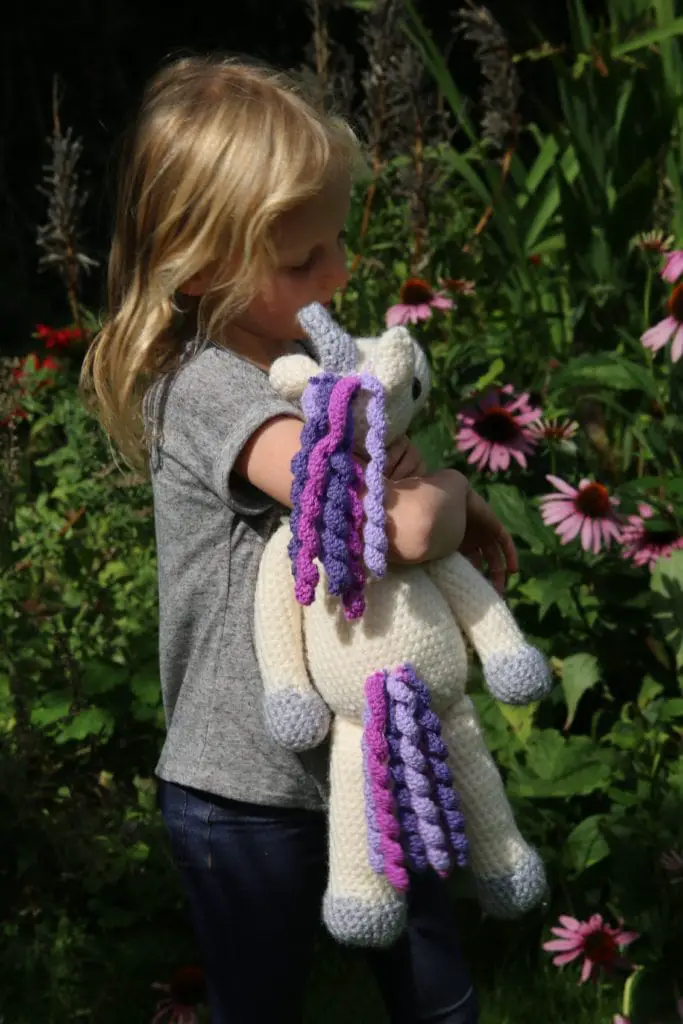 For unicorn hair, you can have enough of a twist – just by making 2DC in each chain (see middle of photo).
>>>Get the Unicorn pattern here
For some things you want them even more curly, so do 3DC per chain (bottom of photo). 
Note you can do too many stitches per chain though!
I wouldn't do more than 3DC (or whatever stitch you are using) in each, as the crochet can curl to much.
If you need you crochet corkscrew to be wider, and curlier there is a trick here.
You need to do more rows!  
So say you want a superduper curly crochet item, do 2DC in the first row of the chain, and then either 2 or 3DC on the next row, (after you've turned at the end).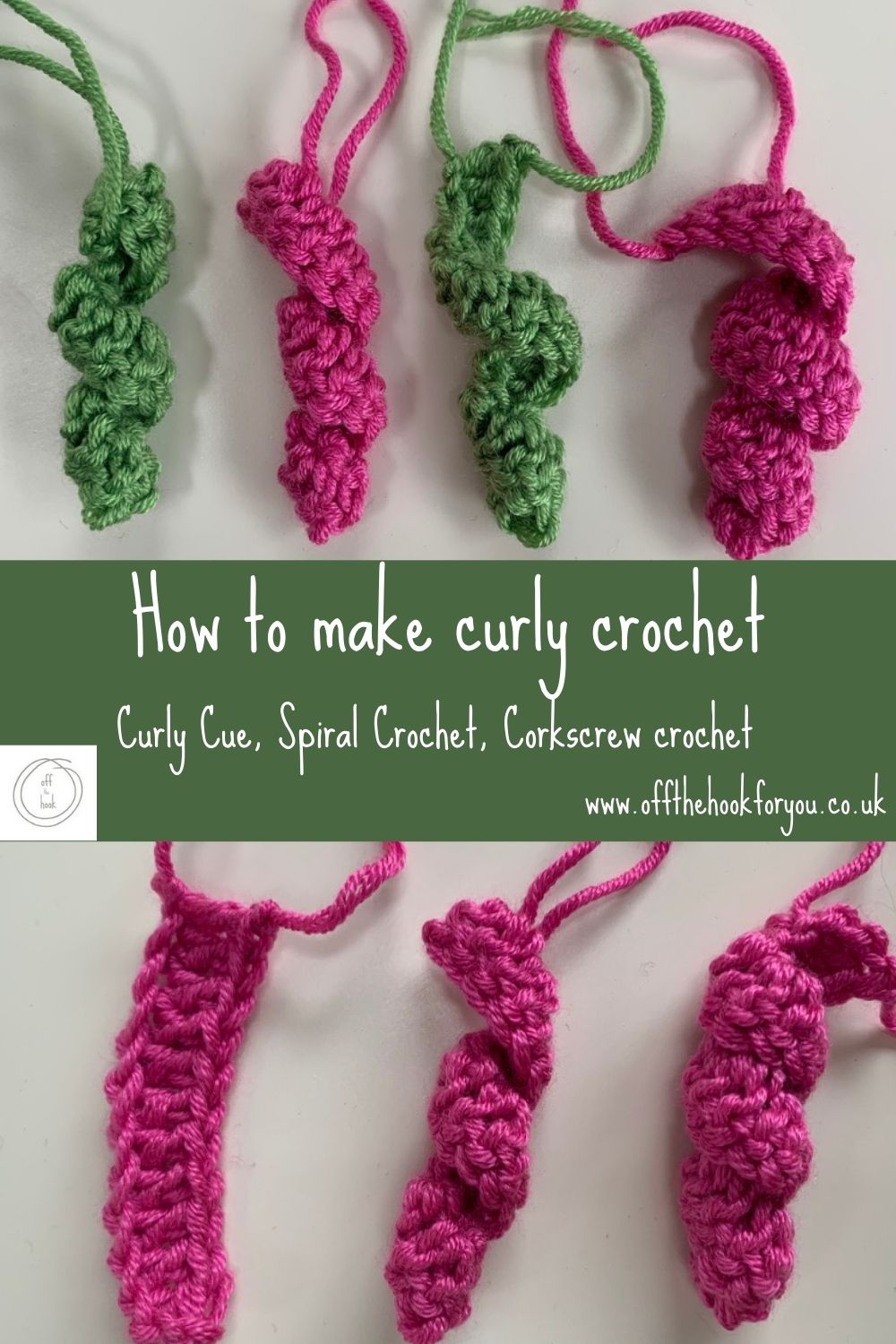 Join me at Off The Hook For You to share your crochet!
Thanks for visiting  – I'd love to stay connected with you so please sign up for my email list where a free PDF pattern is waiting for you (just so you can see what my PDF patterns are like).   
Finished one of my crochet pattern makes?  I'd love to see it and so would the world, so get sharing!  You can find me in the following ways:
Disclaimer 
This post may contain affiliate links which I earn a small commission from if you choose to click and purchase anything from. You pay the same price, I get a very small amount for sending you their way.  It helps me to make my crochet patterns free on the blog.