The Hexiranbow Blanket
Hello, Thanks for joining me – here I'm going to show you how I made a great stashbusting Crochet Hexagon blanket.
My new blanket design that I absolutely LOVE!
Hexagons and Rainbows – what more could you want? I made this to be a smaller blanket size, if you made this as a half size it would be a perfect Baby blanket for a pram or pushchair/ stroller.
Well how about a STASHBUSTER too?
Click here you want to learn how to crochet a hexagon >>>
If you want to save this later – please Pin it below
Yep
A stash buster! This was my stash of Stylecraft Special DK – accumulated over many years, that sits in a draw.
I swore after my Hexilove blanket – I would never make anything with hexagons again, but i have.

But their shape is just too appealing – and so so different to squares.
Rainbows.
Well these were pretty significant during lockdown for the clap for the NHS – I even designed a no sew rainbow.
So a rainbow blanket made from hexagons.
Here it is!
I adore it!
It's so colourful and so warm.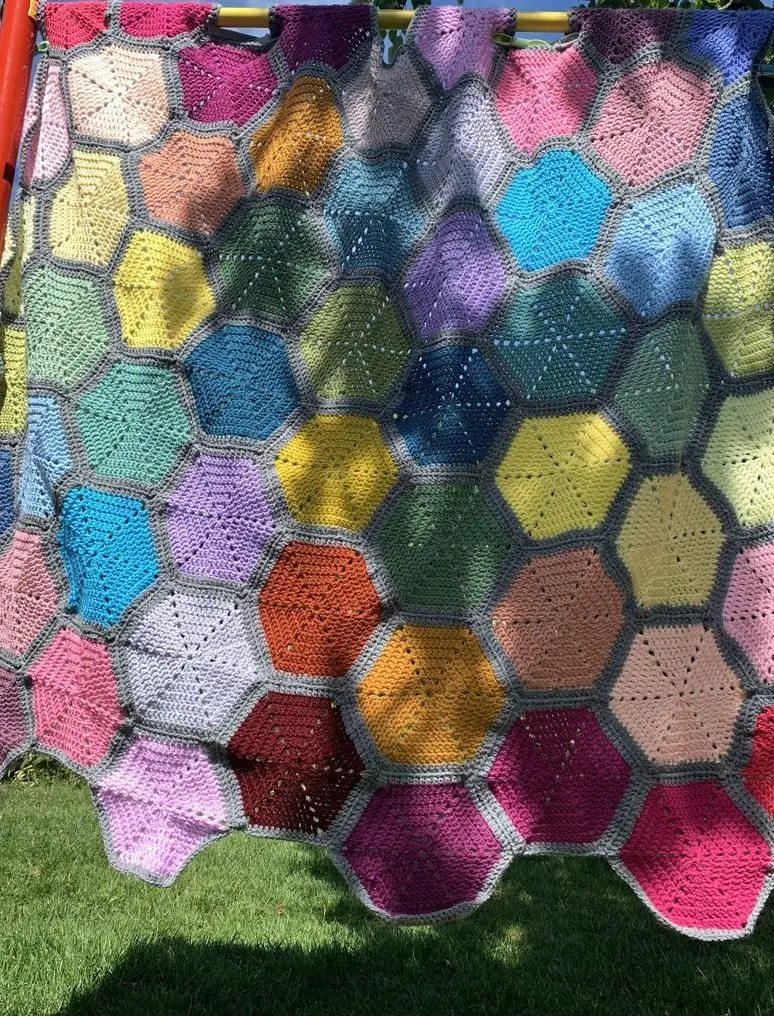 If you want to save this for later – please Pin the picture below.
So what do you need to know?
>>>If you want to the inexpensive PDF (No adverts) you can get it from Etsy here
>>>Inexpensive Advert free PDF From Raverly Here
>>>Inexpensive Advert free PDF From Lovecrafts Here

How to make the Hexagon Blanket
Well it's made using a lot of my stash – all Stylecraft Special DK (which comes in 98 colours).
Apart from 2 hexagons – made with Cygnet DK – any guesses which ones?
Well it's the buttercream hexagon (Just above the peach and the pink in the photo above).

Crochet Hexagon Blanket Pattern
4mm hook and DK yarn – I used The Stylecraft below.
Finished size: 132 x 106 cm
Tension – each crochet hexagon measures 17.5cm (7 inches)
Colours of yarn:
1: Bluebell
2: Denim
3: Pistachio
4: Lemon
5: Candyfloss
6: Pomegranate
7: Fuchsia Purple
8:  Apricot
9: Cygnet ? Buttercream
10: Lincoln
>>>Check out my other blanket patterns here
11: Cloud Blue
12: Blush
13: Raspberry
14: Magenta
15: Vintage Peach
16: Citron
17: Sage

18: Turquoise
19: Fondant
20: Plum
21: Gold
22: Cypress
23: Petrol
24: Wisteria
>>>More baby blankets here>>>>
25: Parma Violet
26: Clematis
27: Burgundy
28: Copper
29: Mustard
30: Meadow
31: Teal
32: Antique Rose
33: 2 balls of Grey for joining
What do you need to know – well – I'm not one for being a great at sewing – so this is a minimal ends project!
Like the sound of it – well carry on reading.
The blanket is made up from 58 hexagons, in 32 colours.
I used from my stash, as the hexagons only needed a small amount of yarn each – but if you want to recreate mine exactly – the colours are listed above and are available from The Wool Warehouse.
Each Hexagon is made as a solid hexagon of 6 rounds.
If you need to know how to do this – head to the post below for the whole written pattern and a YouTube link showing exactly how its done.
So you've now got 58 hexagons made, time to join them.
This is the absolutely beauty of this blanket – it's only as 2 ends to sew in!!!!!
I changed my mind from the original design when I laid them all out.

When I made the blanket – I joined the hexagons I had made, then realised it needed to be a lot bigger!
So I made some more!
Positioning of the colours was the key here.
Joining – using the continuous join method – you start joining in the top right of the blanket – listed as yarn 1.
Then continue down that row, before joining the right hand sides of the hexgagons.
The yarn numbers above – show what order the hexagons need to be joined to make the hexagon blanket like I did.
I love seeing everyones project – so if you do decide to make this – please tag me on Instagram @offthehookforyou
Join me at Off The Hook For You to share your crochet!
Thanks for visiting  – I?d love to stay connected with you so please sign up for my email list where a free PDF pattern is waiting for you (just so you can see what my PDF patterns are like).   
Finished one of my crochet pattern makes?  I?d love to see it and so would the world, so get sharing!  You can find me in the following ways:
Disclaimer 
This post may contain affiliate links which I earn a small commission from if you choose to click and purchase anything from. You pay the same price, I get a very small amount for sending you their way.  It helps me to make my crochet patterns free on the blog.