So you want to learn how to crochet a flower – but don't know where to start? Yep, I've been there too! This will show "How to crochet an easy flower for beginners" with a slow video explaining everything step by step.
The very first ever project that I tried to crochet was a flower. I'd decided one day that I was going to learn to crochet, and a crochet flower was the project I picked. I'd looked – it was supposed to easy!
I grabbed a hook, and some yarn, and then I sat in front of YouTube for the whole day!!!!!
Yep, pausing, rewinding, you name it, I was there for hours, with nothing that resembled a flower. Then suddenly……. The Eureka moment!
Now I will say – I couldn't crochet at all, I'd never picked up a hook before. I couldn't make a slip knot, I didn't know any stitches, and it took hours, but I did have a flower at the end- and I was so so pleased!
This post is to show you the tips I now use when teaching crochet to people, and you'll have a flower in no time!
These crochet flowers are absolutely perfect to go on a festival crochet headband or hair garland – you can my free pattern here>>>
Or if you are looking for a bigger project, what about a crochet wreath>>>
I have a new post on teaching crochet to children – you can find out more here>>>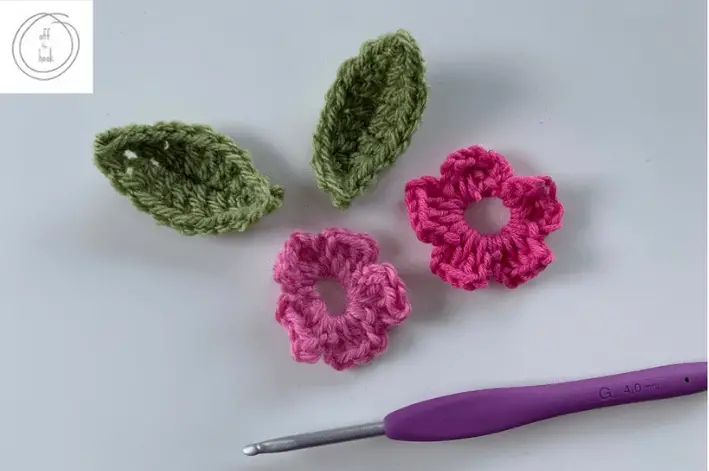 >>>If you want to have a go at the leaf – click here for all the info
You'll need
yarn and a hook
Scissors and a yarn needle
A stitch marker (Or a hairclip / paperclip – if you don't have one!).
If you've mastered a flower and fancy a different flower – Check out my Spiral Roses here
If you want to save this for later – please Pin it using the picture below.
Making a Easy Crochet Flower
(A link to a handy video is at the bottom of this post)
To start: Make a slip knot.
Chain 6. Slip stitch to make a circle.
Using your stitch marker (Or paperclip/ hairclip) – loop this in the circle.
This is show you exactly where you need to make your stitches into the circle.
If you look at the picture above – each Petal is made up of what looks like 4 long stitches (and you do this 5 times to get 5 petals).
Chain 3 (this will get you to the "height" of the USA Double crochet).
2 Double crochet
To make a double crochet
Wrap the yarn around the hook, put the hook through the centre of the circle (going front to back), grab the yarn, and pull it back through the circle (3 loops on you hook), Wrap the yarn around the hook again (4 loop), and pull back through the top 2 loops on you hook (2 loops on your hook), wrap the yarn around your hook again – and pull back through all loops on you hook – leaving you with 1 loop on you hook.
Phew – thats 1 USA Double crochet made.
Now do it again, to give you 2 Double crochet.
Chain 3 (To bring you back down to the beginning height, and Slip Stitch to the circle.
That is one petal made.
Do you want to put you skills you've learnt to the test – same stitches you've already mastered here? Find out more with this great tutorial
You are going to repeat this 4 more times.
This would be written as:
[ch 3, 2 DC, ch 3 SS to ring] 4 times. Fasten off, weave in ends.
Have you got a flower yet?
Hopefully!
If you want the pattern written "properly" Here is it.
Easy Beginners Crochet Flower Pattern
Ch 6, ss to join, ( ch 3 2 dc ch 3 in the ring, ss to join) repeat 5 times.
How about a simple poppy pattern too? You can get the free pattern here>>>
If you need the video – watch below (And I'd love you to subscribe if you can!)
How to Crochet a Flower – complete beginners easy video
There you have it, one simple easy flower.
I'd love to see how you get on, please tag me on Instagram @offthehookforyou to show me your makes.
Do you want to put you skills you've learnt to the test – same stitches you've already mastered here? Find out more with this great tutorial
As an idea – I made matching pairs flowers, used a small button as the centre and stuck them onto hair clips.
More free flower patterns
Don?t miss a thing!
Follow me on Instagram and Facebook. Or why not subscribe to Off the Hook For You and get crochet patterns and techniques straight to your inbox every week?