Here you can find out how to get the free crochet pattern for a gorgeous easy chenille baby blanket, made with 3 colours of yarn.  
This was a lovely blanket to crochet, using methodical easy or beginner stitches to give a great texture effect.
What's better than an easy baby blanket?  One that is quick to crochet too!
I huge thank you to Cygnet yarns for gifting me the yarn to have a play with.  
If you want to save this for later, please pin it here.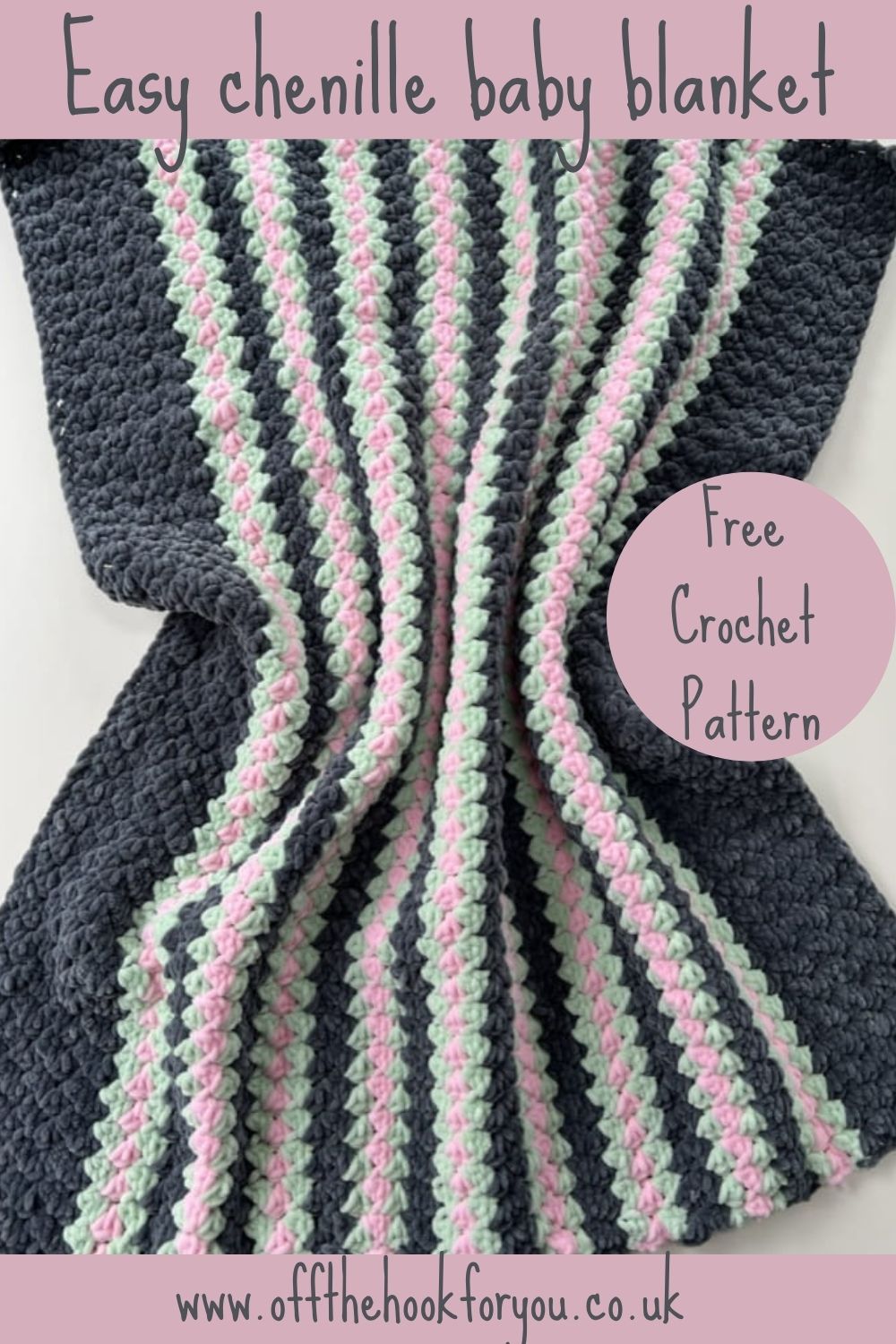 What do you need to know to crochet an easy baby blanket?
This blanket is really easy to make, using beginner stitches, that are repeated over and over, making this a great learning project.
You'll need to know how to (USA Terms):
Foundation Half Double crochet
Double Crochet
Single Crochet
Chain
Or in UK Terms
Foundation Half Treble crochet
Double crochet
Single crochet
Chain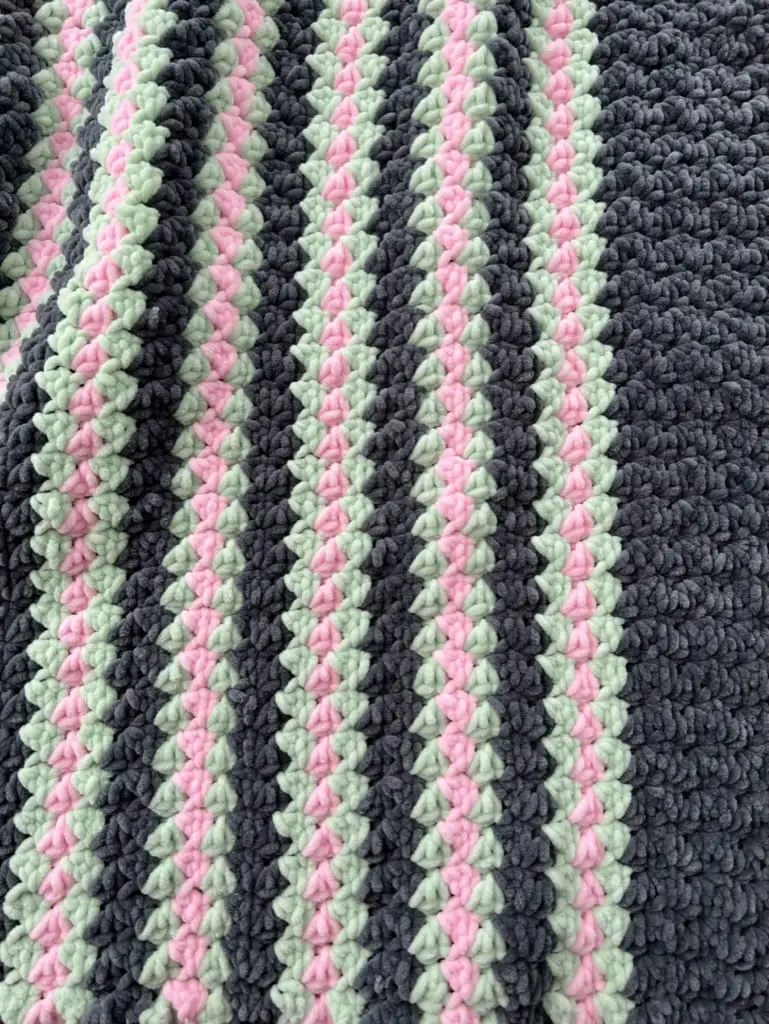 Yarn Choice for an Easy Chenille Baby Blanket 
I was very lucky to be gifted the yarn for this project by Cygnet Yarns.
They asked me if I'd like a quick play with some of the new range they were about to launch.
JellyBaby Chunky Chenille.
For the Jellybaby Glitter Chenille blanket pattern click here
I love chenille yarn, and have designed a few projects using it like:
Scrumpalicious blanket and lovely
Bobble stitch chenille cushion cover
And even a crochet rose hair bobble
So even before I saw the yarn I knew I was going to like it.

Jellybaby Chunky Chenille
This new yarn is great, it's branded with leopard print labels.
It's a 100% super-soft Polyester yarn, which comes in 100gballg for about £3.80 ($4.50 USA).
Each ball has about 120 metres, or 131 yards of yarn.
This yarn is soft, so soft, and as its a chunky yarn it works up so quickly.
It comes in 12 great new colours,  I love a grey, and when I was asked what colours I wanted for this project the 2 different greys instantly stood out to me, the Smokey grey in particular.
That coupled with the thoughts of a baby blanket the pink and green were going to be just perfect.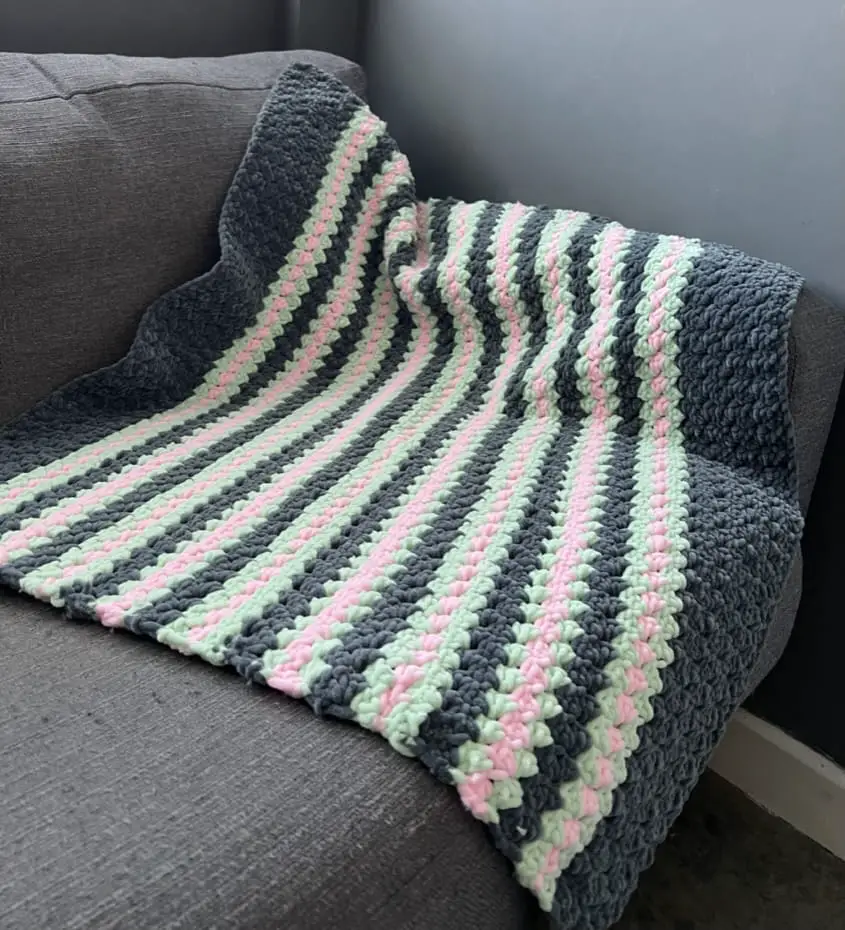 Stitch Choice for an Easy Chenille Baby Blanket
Stitch choice here was easy.  If you've been following me for a while, I tend to find a stitch I love, then make a few different things with that stitch.  
This blanket is no expectation.  It's made with the Suzette stitch which is what I used in my Parisenne cardigan too.
Suzette Stitch 
This stitch is made in a similar way to Blanket Stitch, using repeating single and double crochets.
And it really is as simple as that.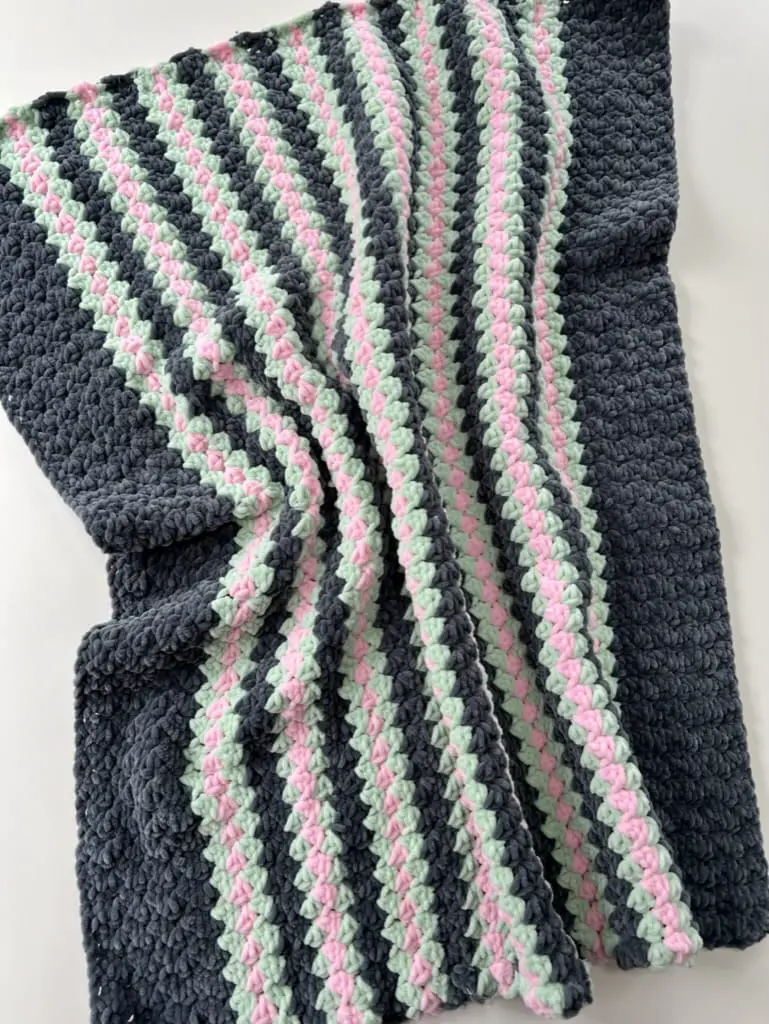 How long does it take to crochet a baby blanket?
This blanket took about 8-10 hours to make.   
What do you need to make an easy chenille baby blanket?
This blanket is made using a 7.0mm hook for the foundation row, then switches to a 6.5mm hook.   
You could use a 6.5mm for both of these rows if needed.
Scissors
Yarn needle (These are brilliant for chenille yarn)
Crochet Pattern Options
You can download the free crochet pattern for this blanket by clicking the button below, as a PDF from Cygnet Yarns.
>>>Get the free Pattern from Cygnet Yarns
Join me at Off The Hook For You to share your crochet!
Thanks for visiting  – I'd love to stay connected with you so please sign up for my email list where a free PDF pattern is waiting for you (just so you can see what my PDF patterns are like).   
Finished one of my crochet pattern makes?  I'd love to see it and so would the world, so get sharing!  You can find me in the following ways:
Disclaimer 
This post may contain affiliate links which I earn a small commission from if you choose to click and purchase anything from. You pay the same price, I get a very small amount for sending you their way.  It helps me to make my crochet patterns free on the blog.