Here you can get the free pattern for a crochet rose, that can be added to a hair bobble or hair tie.
I had a bit of left over chenille yarn from when I made the bobble cushion cover, so I sat down and had a little play for 10 minutes.
Yep, this is a super quick make, and great for jazzing up some bobbles, or a hairband.
>>>More free flower and leaf patterns here
The crochet rose is made already attached to the hair bobble, so you've got no worries about it falling off – but you can make this as a stand alone rose too – I'll explain how below.
These are perfect for selling at craft fairs – why? Well they are super quick to make, and use up the left overs of yarn.
If you wanted to buy a ball of yarn to make these, I think you'd probably get about 20-30 roses from one ball of this yarn, which at £3.99 (about $5) a ball is a great return.
Say you make 25 from a ball, sell them for £2 each. That would be a clear £45 profit! (I might just make some more myself!)
If you want to Pin this for later – please do so below.
Crochet Roses
You could do with some other of my flower designs too.
The spiral rose makes a great hair bobble/ hair tie.
The quick and easy rose, would also make a great addition to the hair tie. You'd need to single crochet about 5-8 stitches to the hair tie first, but then carry on the crochet pattern as normal.
How long does it take to make a Rose Hair Tie?
These are a really quick make. About 10 minutes each as the yarn is so chunky.
If you used one of the my other patterns, they'd take about 30-60 minutes to crochet.
How do you join the crochet to the hair bobble/ tie?
It's easier than you think!
Make a slip knot.
Insert the hook through the centre of the hair bobble/ tie.
Make a single crochet around the ring.
Make at least 4 more single crochet around the hair bobble / tie.
Crochet Pattern options
There  are a few ways you can get the crochet pattern for my Crochet Rose Hair Bobble/ Tie and enjoy this crochet pattern and help support Off the Hook for You.
You can find and use the rose hair tie pattern here on the blog that is supplemented with ads.
You can purchase, print and keep the 2 page advert-free pattern PDF on Raverly.
Yarn Choice for a Crochet Rose Hair Bobble
Yarn choice was key here to make these:
Easy
Quick to make
Large
I had some oddments of Chenille Chunky yarn left over from some projects.
These only take about 8 yards/ metres to make.
Other patterns using this yarn include:
Crochet Rose Pattern
Oddment of chenille yarn – Cygnet
Hair bobble/ Tie
Row 1: Make a slip knot, make 5 SC around the bobble, then chain 11 [16sts]
(If you are making this with out the Hair bobble – chain 16 to start.
>>>Like the idea – but want a smaller more dainty pattern – check out this one here
Row 2: In the 3rd chain from the hook, make a DC, * chain 1, skip a stitch, DC – repeat from * across (This will make a ladder effect).
Row 3: chain 3, 3dc in the gap of the ladder, * ss to the next rung over. 4dc in the next gap. Repeat from * across. Fasten off leaving a long end for sewing.
Wind the rose up starting where it is joined to the bobble, and finishing with the last petal in the middle. Sew together with the long end, then weave in the ends.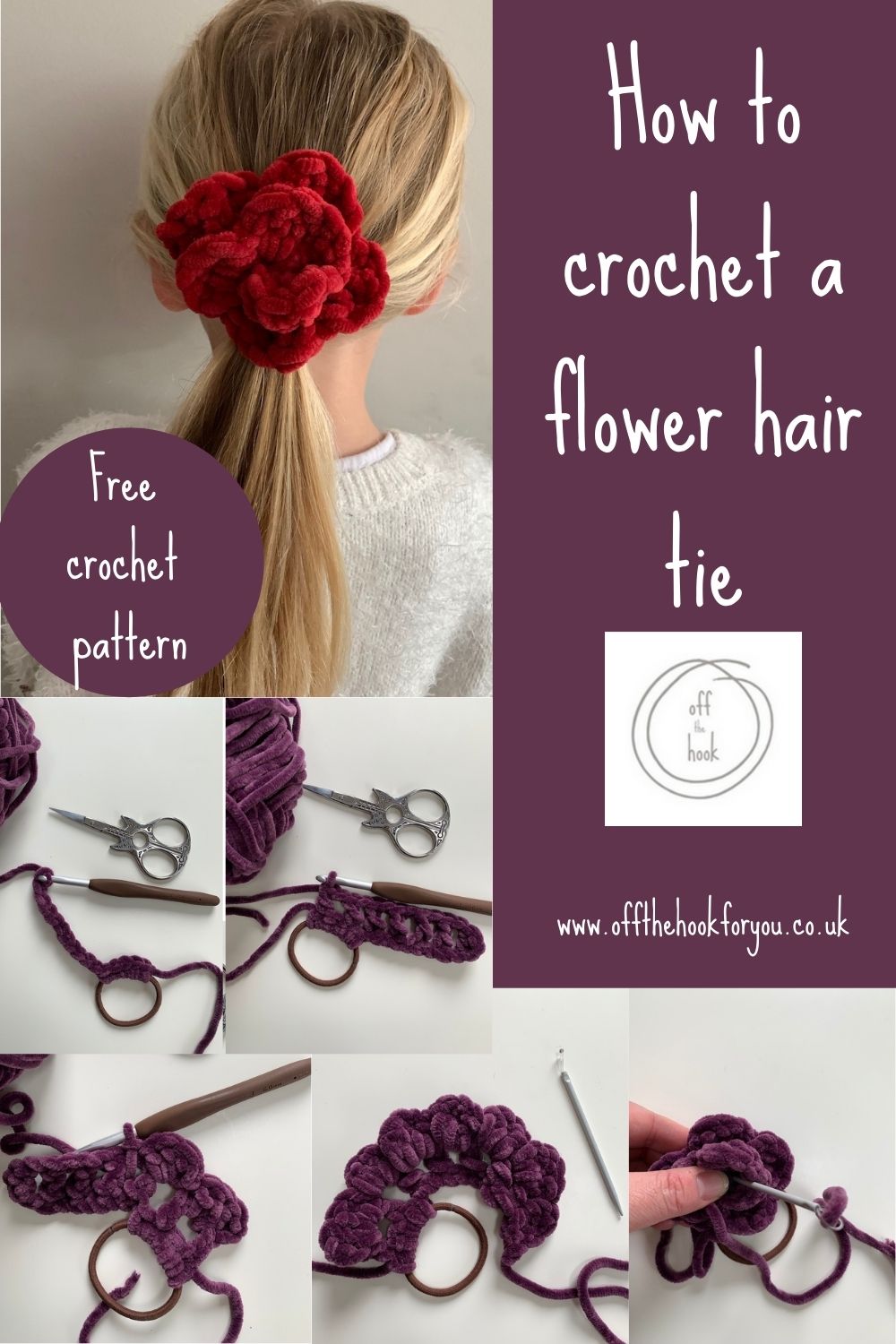 Here you go….. a few hair roses.
>>>For another quick pattern check out my Crochet necklace pattern here
Join me at Off The Hook For You to share your crochet!
Thanks for visiting  – I'd love to stay connected with you so please sign up for my email list where a free PDF pattern is waiting for you (just so you can see what my PDF patterns are like).   
Finished one of my crochet pattern makes?  I'd love to see it and so would the world, so get sharing!  You can find me in the following ways:
Disclaimer 
This post may contain affiliate links which I earn a small commission from if you choose to click and purchase anything from. You pay the same price, I get a very small amount for sending you their way.  It helps me to make my crochet patterns free on the blog.