Harry Potter Crochet Blanket
So you want to want a Harry Potter crochet Blanket – and are looking inspiration?
Welcome!  This was the blanket I made my Son a good few years ago now, and here are some Tips, Links, and Information on yarn choice which will hopefully make your blanket go smoother and  quicker than mine!
This was a beast of project.
I started it in July, and finished it Christmas eve (I think we've all been there haven't we!)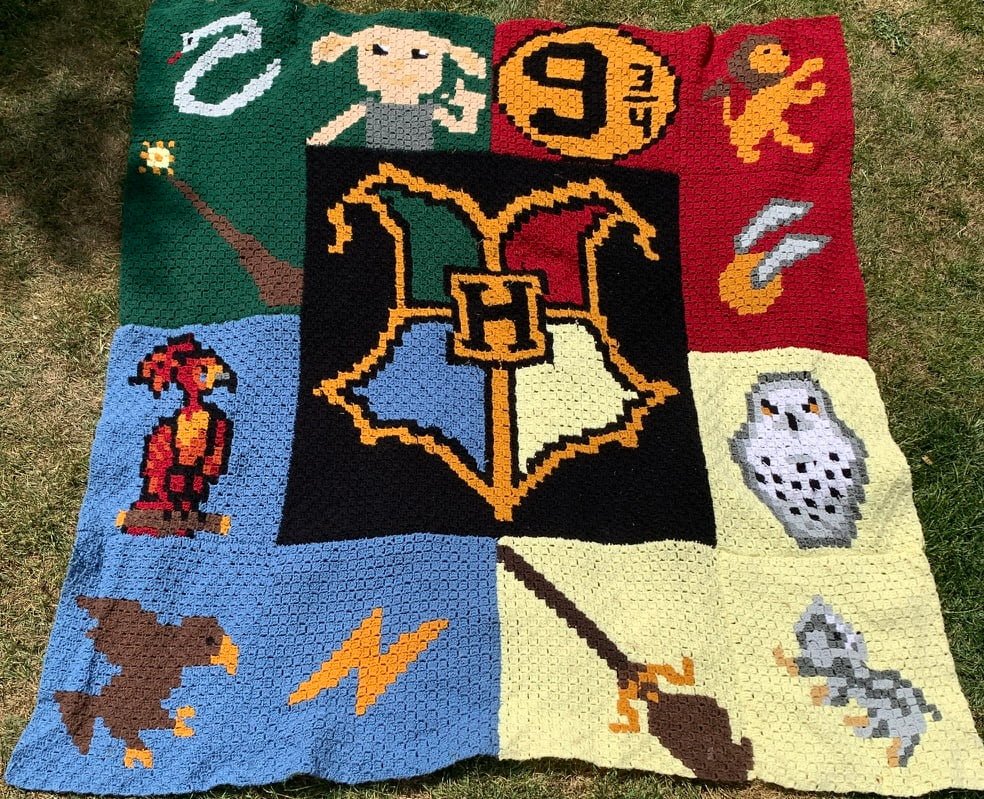 If you want to save this for later – please Pin it using the picture below to make sure you can find out how I made it.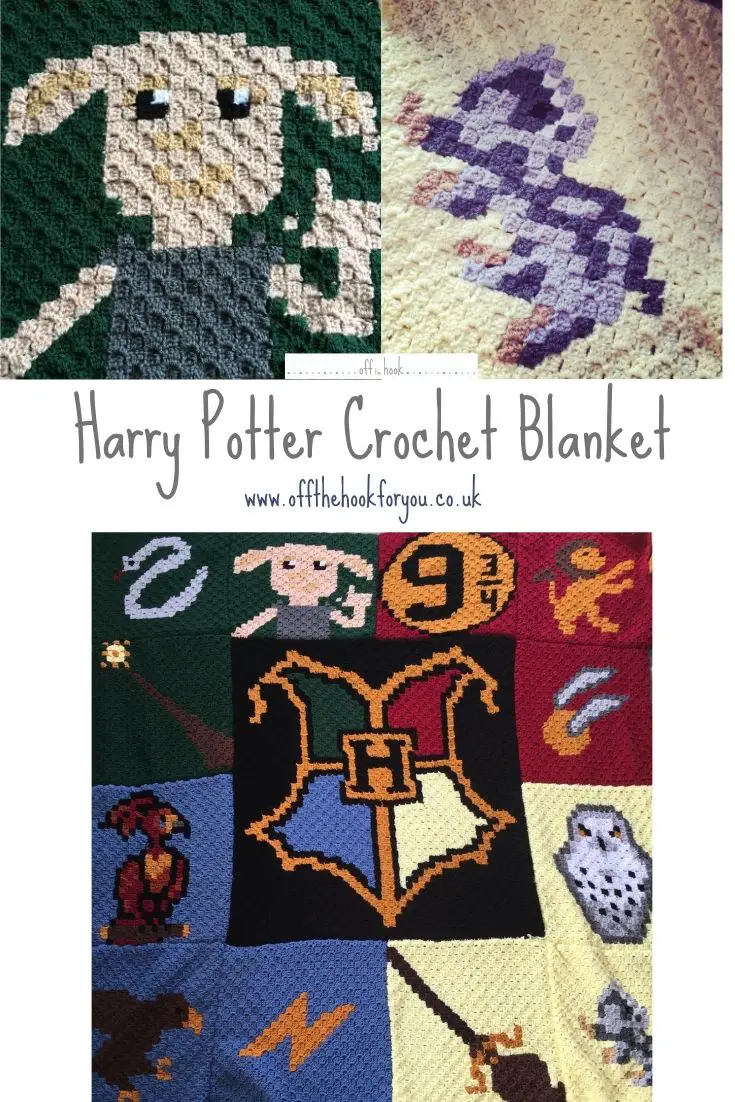 Harry Potter Crochet Blanket Design
Blanket Size
I knew this design was going to be Corner to Corner crochet.  I love this technique to give a great texture that isn't too "Holely"
>>>If you want to learn about Corner to Corner Crochet I have a great beginners crochet video here. 
I used a 4 mm (G) hook, USA Double crochets as the stitches, and the squares turned out 40 x 40cm (16×16 inches)? for the individual squares.
Now doing the math – 4 squares across x 4 squares up = 160 cm x 160 cm.  This blanket is pretty big!
If this will be too large for you – you could always try HDC as the stitch to make it smaller.
>>>You can read here about the different sizes for the Squares for one of my designs 
Yarn
For this I chose an inexpensive Double Knit (Light Worsted Weight Yarn).  Stylecraft Special DK. 
This is a 100% acrylic yarn, that is very hardwearing, and can be put in the washing machine (so plus points there!)
You could also go for Deramores own brand – as another alternative.  Again 100% acrylic and machine washable.
Colours – I had a few plays here, I thought I was going to go very bright, then started the 9 squares – and ended up with a Claret Red Instead!
I tried to use the same main colours throughout – one for the cost of the yarn, but also to keep the blanket consistent. 
Double Knit (Light Worsted Weight Yarn).  Stylecraft Special DK. 
Black – 3 balls
Claret  (Gryffindor) – 3 balls
Lemon (Hufflepuff) – 3 balls
Green (Slytherin) – 3 balls
Denim (or Aster) (Ravenclaw) – 3 balls
Gold
Walnut
Silver
Grey
Copper
White
Toy
For the Main Central Harry Potter Crest crochet  Square – please click here for the details
If you are new to C2C, and not sure about what will seem like a million colour changes- I suggest you make the squares in this order.  This isn't what I did – I finished on the easy ones as I was running out of time!
Lightning Bolt:
>>>If you want to try something C2C to get to grips with it first – this is a great project using the diagonal lines to their best effect.  
Wand
Green, Walnut, Lemon and Gold.
Broomstick
Snitch
The Hogwarts houses charts
Note here – I followed the main chart – but after spending what seemed like an age – I decided not to do the black lines on the charts.  Follow the chart at the end of this page, but omit all the Black lines if you want yours to look like mine.
Gryffindor 
Hufflepuff
Lemon, grey, silver, white, black, gold
Slytheryn
Green, Silver, black and Claret
Ravenclaw
9 3/4 Sign
Dobby
Toy, Green, Grey, Black, white
Hedwig (Warning – she was really hard, with so many ends!)
Lemon, Black, White, Grey, Silver
Fawkes (Another warning – really hard square – so many ends to sew in !)
Denim, Claret, Copper, black, walnut
The main square – you can read all about here and how I made it.  I attempted it first, in hindsight – Imay have been better waiting a little later on in the project.  You live and learn!
>>>You can get all the charts here to make this project.
I still haven't done a border for this blanket – I might, black and gold I think….. if I get around to it at some point.
Join me at Off The Hook For You to share your crochet!
Thanks for visiting  – I'd love to stay connected with you so please sign up for my email list where a free PDF pattern is waiting for you (just so you can see what my PDF patterns are like).   
Finished one of my crochet pattern makes?  I'd love to see it and so would the world, so get sharing!  You can find me in the following ways:
Disclaimer 
This post may contain affiliate links which I earn a small commission from if you choose to click and purchase anything from. You pay the same price, I get a very small amount for sending you their way.  It helps me to make my crochet patterns free on the blog.
The absolute joy of seeing him open his blanket…….. it can't be beaten. Luckily 4 years on – he still loves – and has finally grown into it!