Here you can find the free crochet pattern for an easy string market bag.
It's actually crochet, but looks like string, and is the perfect shopping bag for all occasions!  
I always think of French markets, and fresh produce when I think of a market bag, and this a proper retro design that is super easy to make.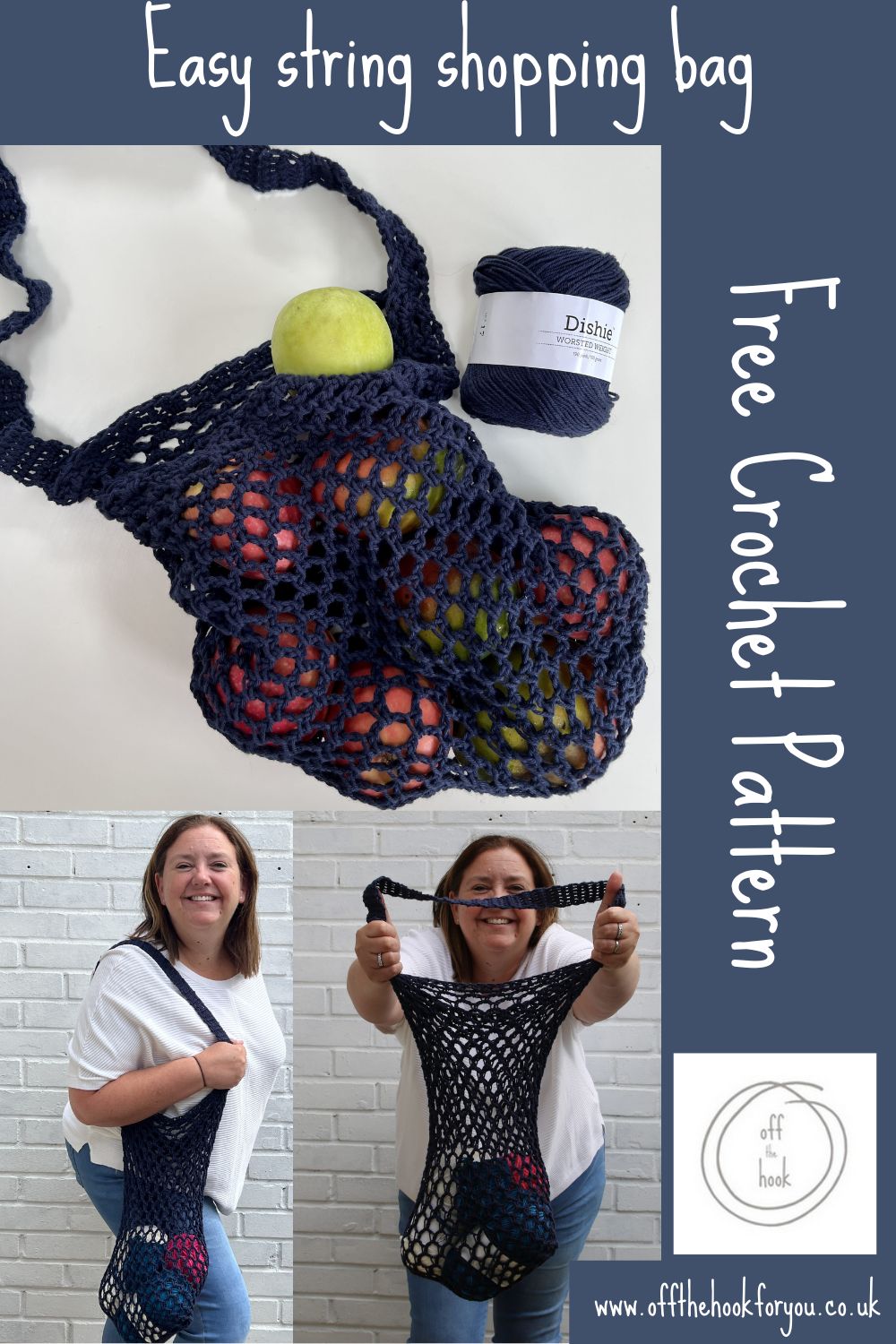 What do you need to know to crochet an easy string market bag?
This bag is really easy, perfect for beginner crocheters to make.
It uses the following:
Don't let the Foundation Double crochet put you off, this is really easy when you know how, and gives a lovely straight edge.  
You could chain 80 and add 3 more chains, then work one double crochet in each stitch if you prefer – make sure you don't twist that chain.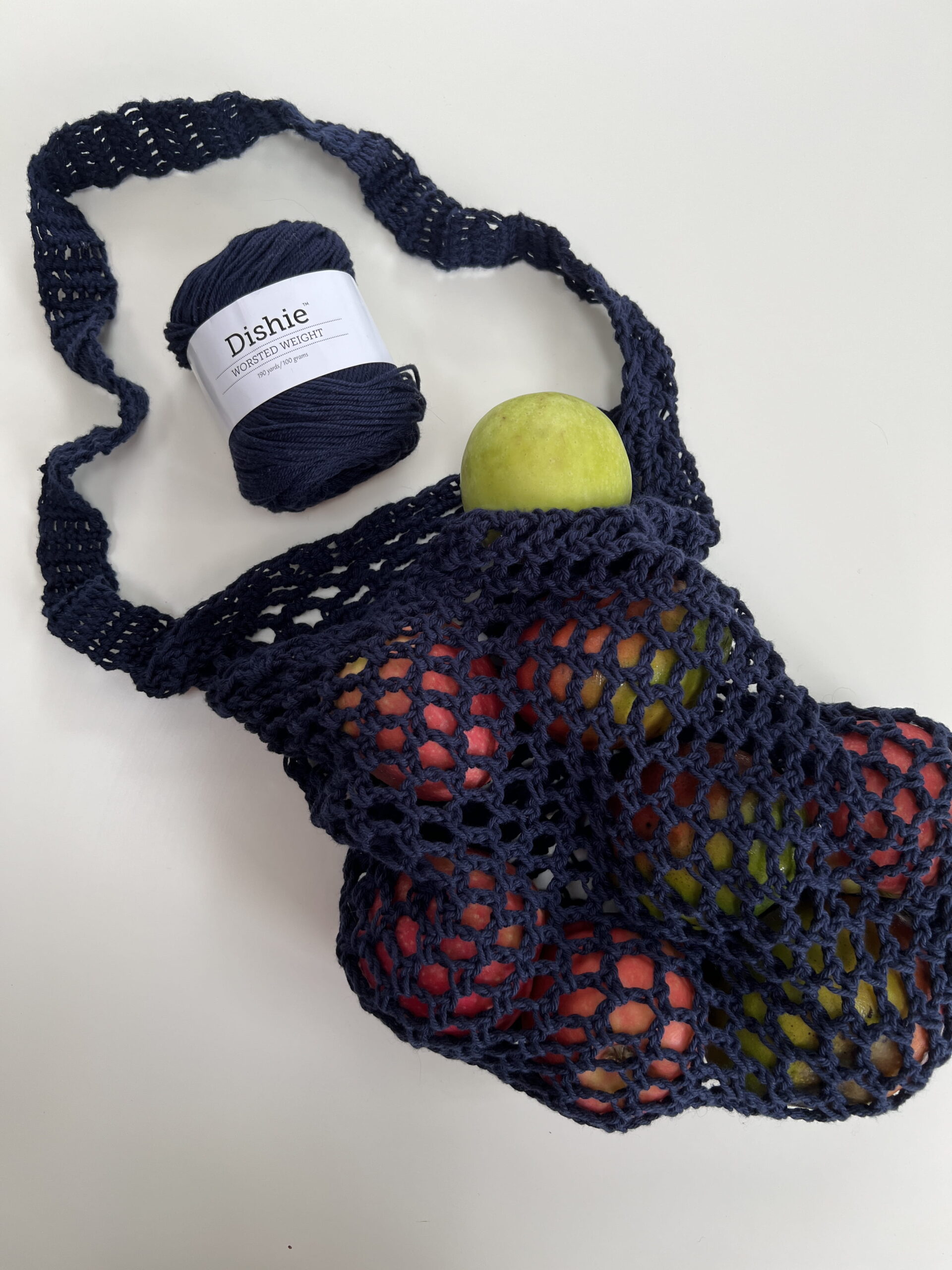 Yarn choice for a string market bag
I've used a 100% cotton for this bag that was kindly gifted by Wecrochet.
It's Dishie, and comes in Worsted Weight.
You'll need 1 ball/ skein to make a bag, weighing 100g, which is 190 yards.
This yarn comes in 36 colours too!
This yarn is great, you'll notice that I've chosen dark colours for this bag – this is completely intentional!
Lighter creams, pinks and blues look amazing, but as soon as you start using the bag it will become really dirty really quickly.
Another alternative for this yarn is Cotlin – this is a more premium yarn, as its a cotton and linen blend.  
If you like this bag – you should also have a look at my other market bag patterns: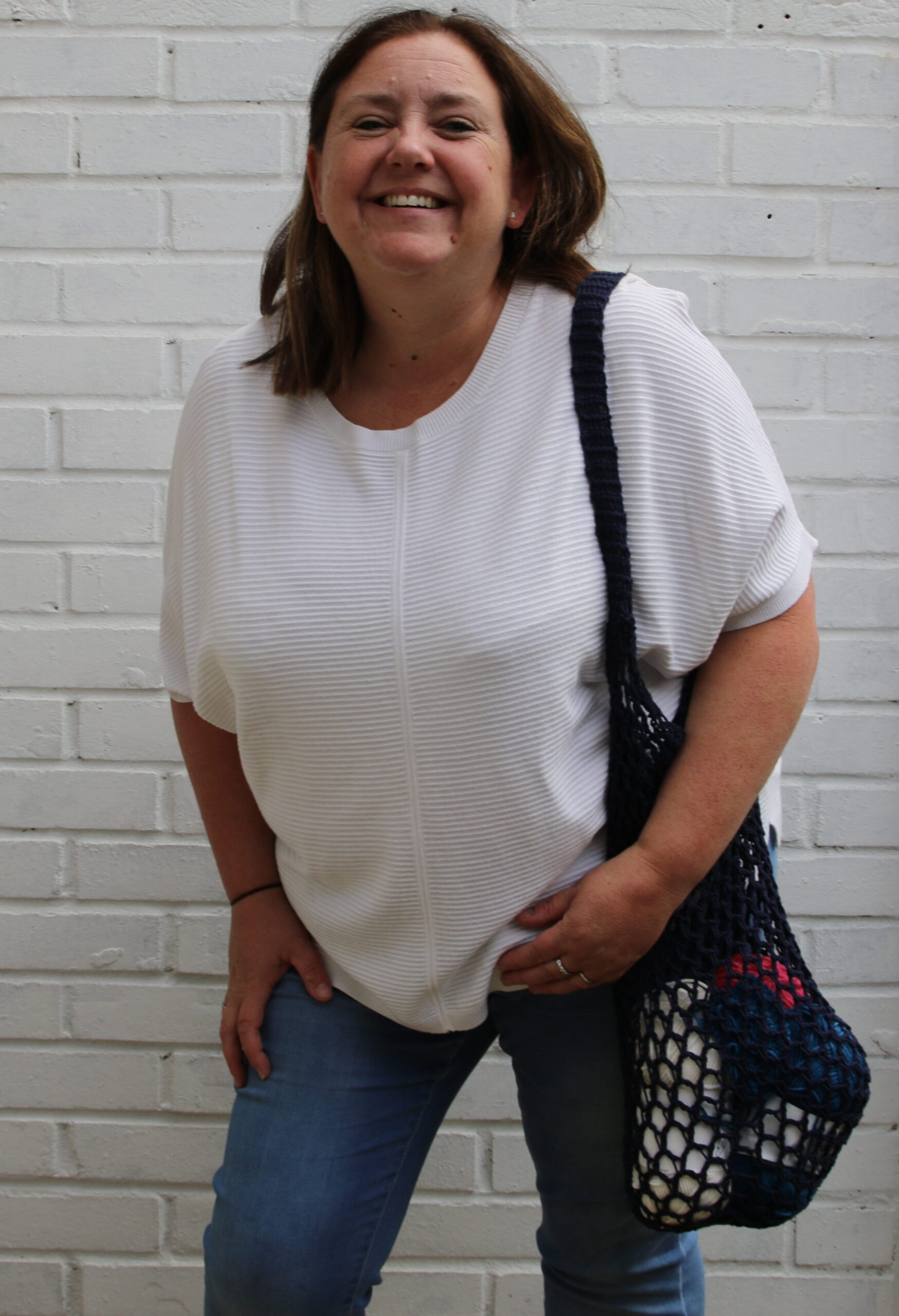 How long does it take to make a market bag?
This bag is surprisingly quick. The main body of the bag will work up in a couple of hours.
The handle will take about 30 minutes as single crochet to make sure it doesn't stretch too much.
Crochet Pattern Options
There  are a few ways you can get the crochet pattern for my Easy String market bag, and enjoy this crochet pattern and help support Off the Hook for You.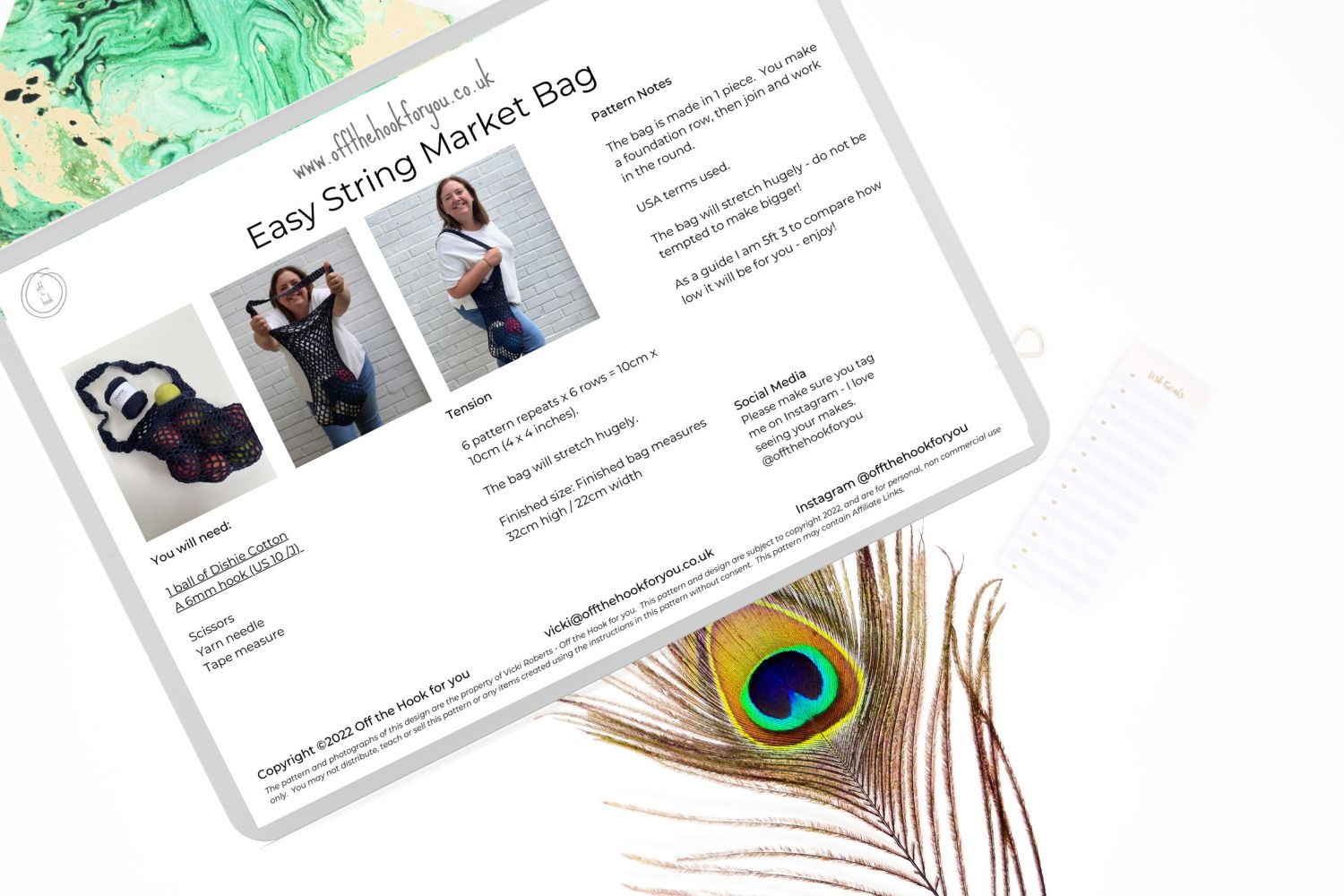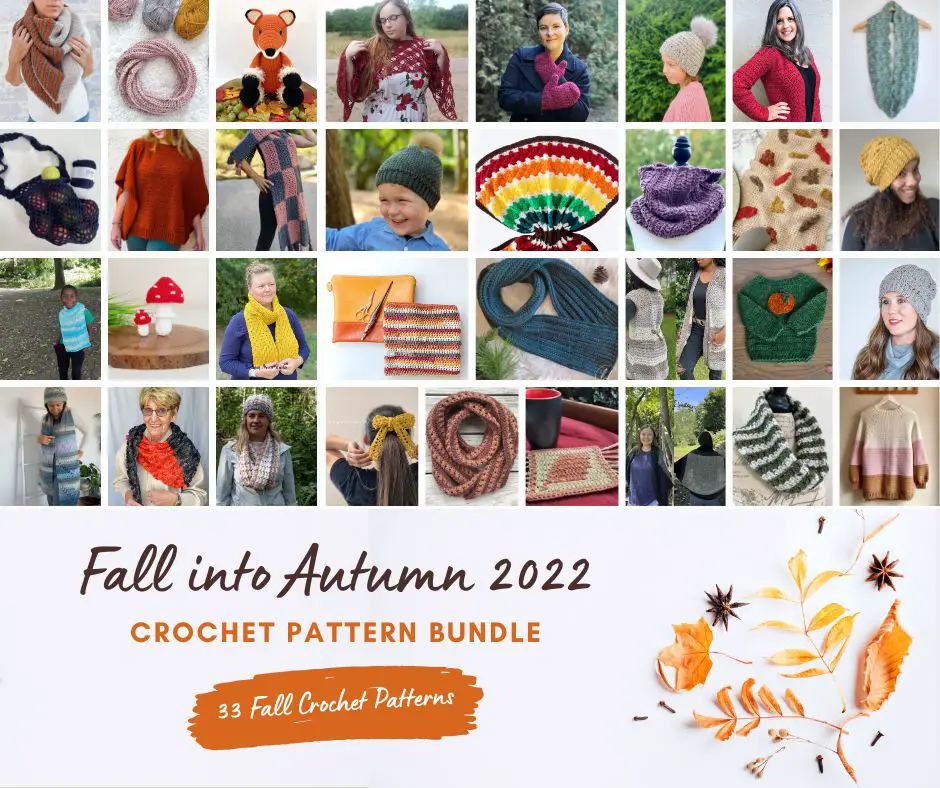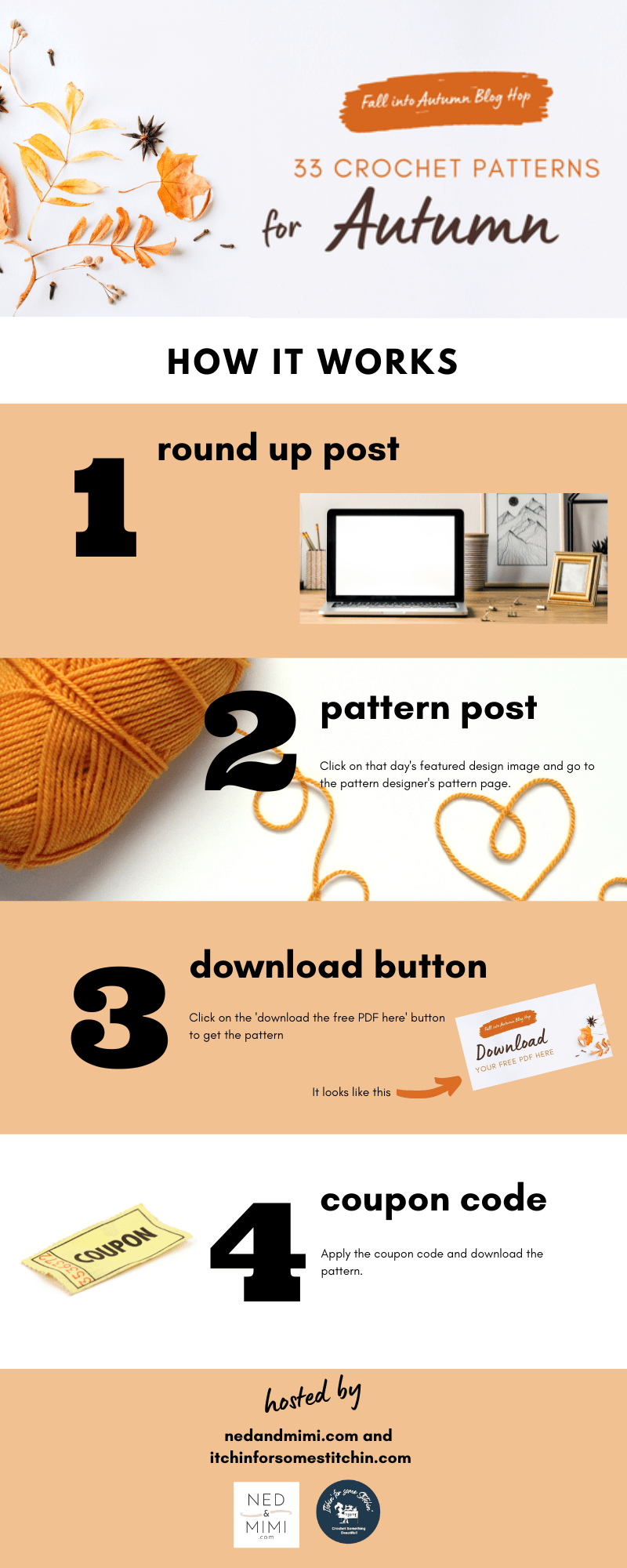 >>>Get the Ad free Pattern on Etsy
>>>Get the Ad free pattern Lovecrafts
>>>Get the Ad Free Pattern Ravelry
Easy String Market Bag Pattern
Dishie worsted weight 190 yard/100g 100% cotton, 1 ball.
Tapestry needle
Scissors
Abbreviations
SC Single crochet
ch chain
pul pull through st or sp
sp space
SS Slip Stitch
st (s) stitch (es)
YO Yarn over
Special Stitches
Foundation Double Crochet (FDC): ch3 (counts as first 1DC), YO, insert hook in 3rd ch from hook, [YO, pul, YO, draw through 1 loop on hook (ch made), YO, draw through 2 loops] twice (DC made)], insert hook in last ch made; rep [ ] for number of sts required.
Tension  6 pattern repeats x 6 rows = 10cm x 10cm (4 x 4 inches).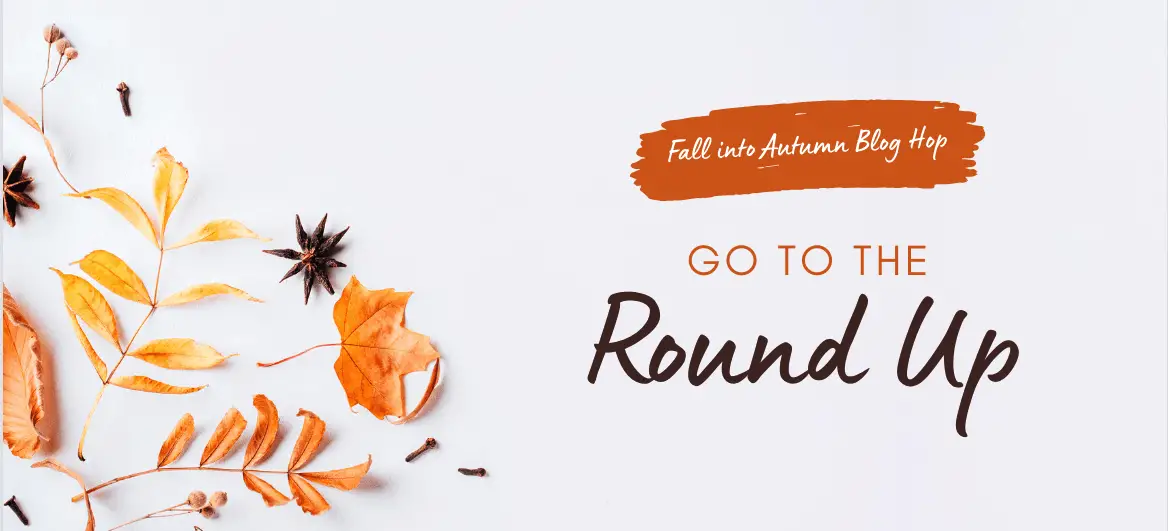 Size
Finished bag measures 32cm high / 22cm width (empty- it will stretch massively – do not be tempted to make bigger!).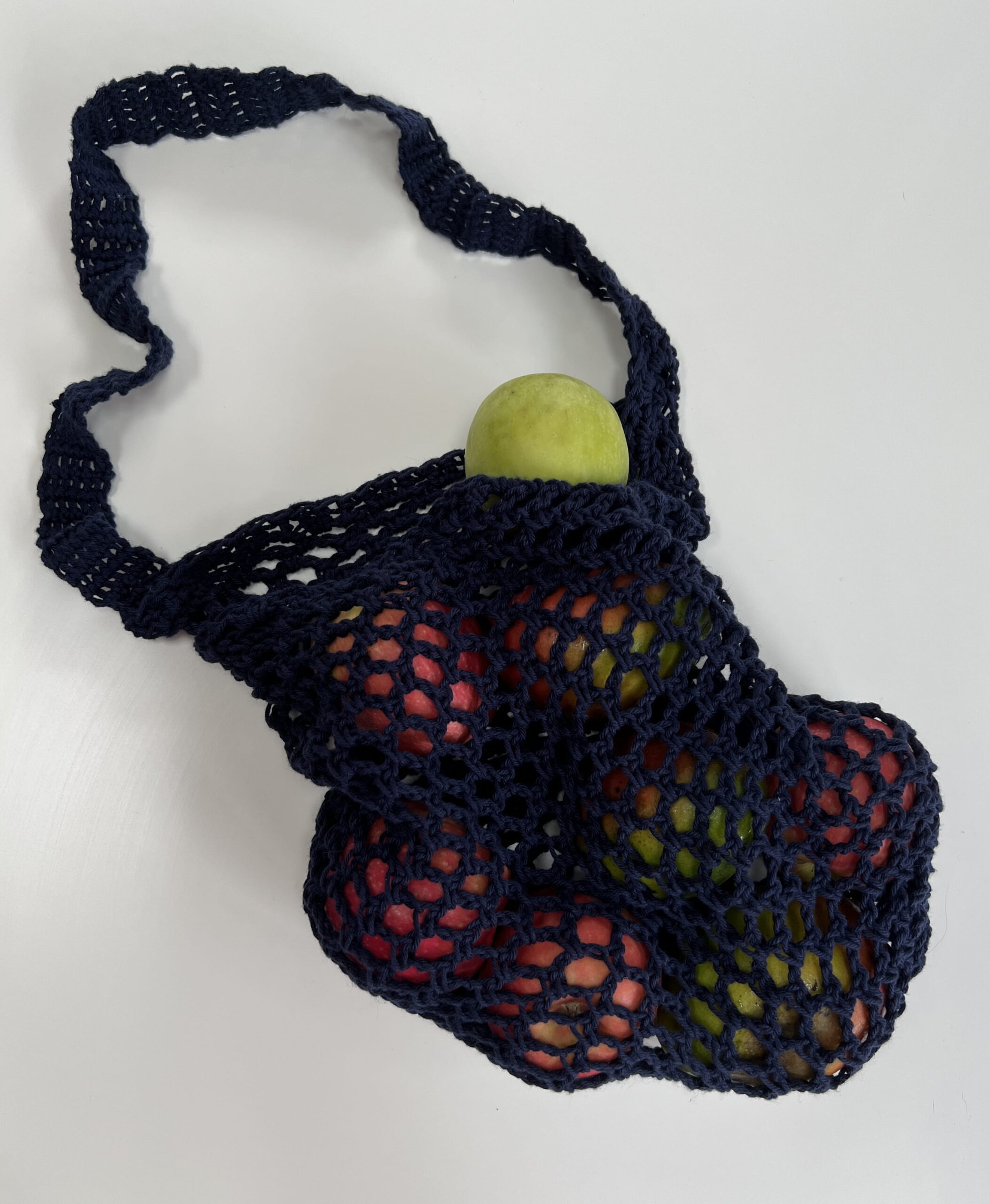 Pattern
Round 1: With 6.0mm hook and yarn, leave a long tail of about 2ft/ 60cm and FDC 80.  SS to join together ensuring your crochet is not twisted.
Round 2:  Working in continuous rounds,  * ch3, skip 2 sts, SC to the next st.  Repeat from * all the way around.  The final SC will join to the first ch3 sp.
Round 3: starts with SC of Round 2, continue working in spiral, ch3, SC in the next ch3 space for a total of 25 rounds in total.
Round 26: Ch3, 2DC in the first ch3 sp.  3DC in each ch3 space around.  SS to top of ch3 to join.  
Handle:
SS the yarn over 3 sts to the left, ch1 (does not count as a st), 1SC in each of the next 6 sts.  Turn.
Row 2: ch1, 6 SC, Turn. 
Repeat row 2 a further 46 times (47 rows).
Fold the bag in half, and join the handle directly opposite where the other end meets the bag.  SC together, then use the tail to secure  in place.
Fold the bottom of the bag so the seam is flat, use the long tail left at the beginning to sew the bottom seam together using whip stitch.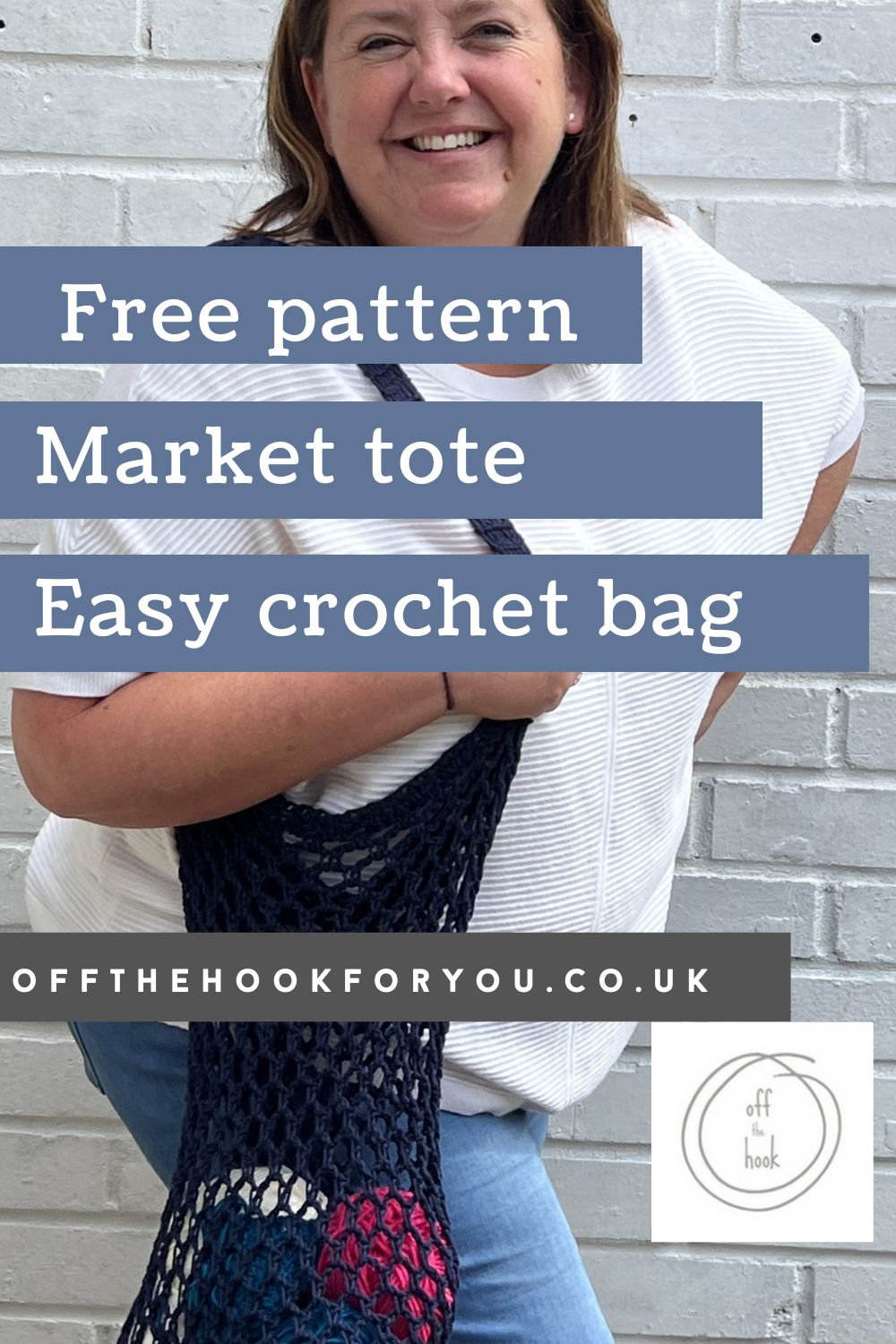 Join me at Off The Hook For You to share your crochet!
Thanks for visiting  – I'd love to stay connected with you so please sign up for my email list where a free PDF pattern is waiting for you (just so you can see what my PDF patterns are like).   
Finished one of my crochet pattern makes?  I'd love to see it and so would the world, so get sharing!  You can find me in the following ways:
Disclaimer 
This post may contain affiliate links which I earn a small commission from if you choose to click and purchase anything from. You pay the same price, I get a very small amount for sending you their way.  It helps me to make my crochet patterns free on the blog.