Here you can find the free pattern for a crochet monster hat, a tiny little hat that can be used as part of the Big Knit.
If you are new to this whole phenomenon, volunteers crochet or knit little hats, that get put on the Innocent Smoothie bottles, and for every hat they donate 25p to Age UK, and a couple of years ago I designed and wrote the crochet patterns for little hats for the Big Knit, a charity campaign with Innocent Drinks and Age UK.
These little hats are a great way to use up scrap stash yarn, keep you hands busy and also do a good deed for charity!
I have lots of free crochet patterns for the Big Knit Hats for Innocent Smoothies – this post is the simple easy basic hat pattern. Click below for my novelty hats.
Check out all my Big Knit Crochet hat designs here>>>>
But today we have a Monster hat design – that there is a knitting pattern for already.
If you want to save this for later – please pin it below.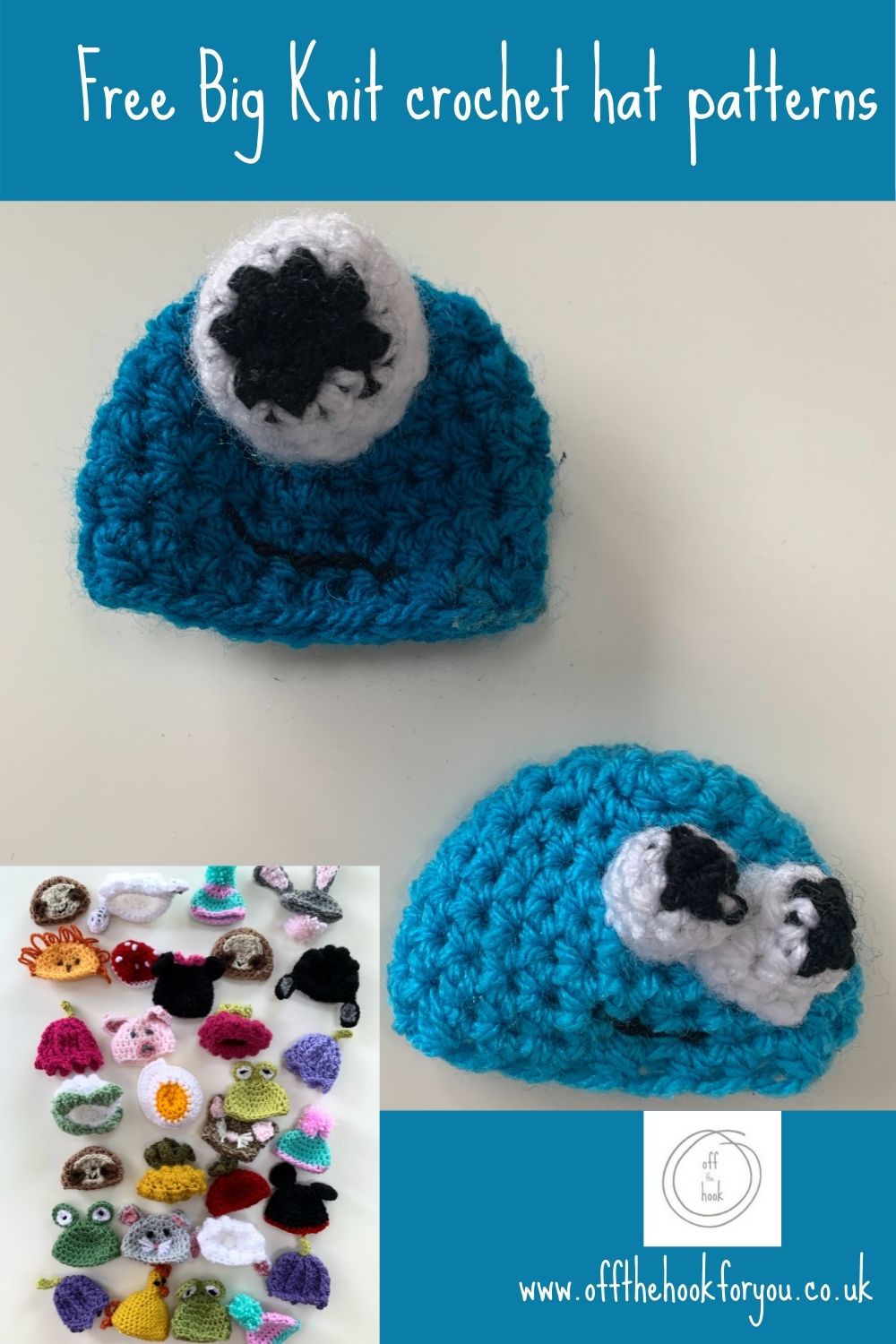 What do you need to make a Big Knit Crochet hat?
Honestly – not very much.  These hats are super easy to make, and are just one step up from a complete beginners project.
You'll need a crochet hook – about a 3-4mm
Some DK yarn – leftover stash is fine
Scissors
Needle (for sewing in ends)
As I've said before these little hats are one step up from an absolute beginners project. I say this as you are working in the top if the stitches, which makes it slightly trickier than a granny square, but only slightly!
The crochet stitches you'll use for my little hats patterns – are the Half Double Crochet (USA Terms) stitch, and for these monster hats – the Single crochet (again USA terms).
Why use these crochet stitches for a Big Knit hat? 
Well honestly – the thought of making an Innocent Smoothie hat with single crochet did not appeal, so I've designed a pattern with half double crochet.
I'm a  lazy crocheter at heart – and whatever I can do to get crochet to be quicker – I'm right there.
So this Big Knit hat,  the main body of the hat, is a half double crochet hat.
It is the exact pattern I have as my Easy Beginners Big Knit Hat – which you can get the pattern for here.
Crochet Monster Hat – The Big Knit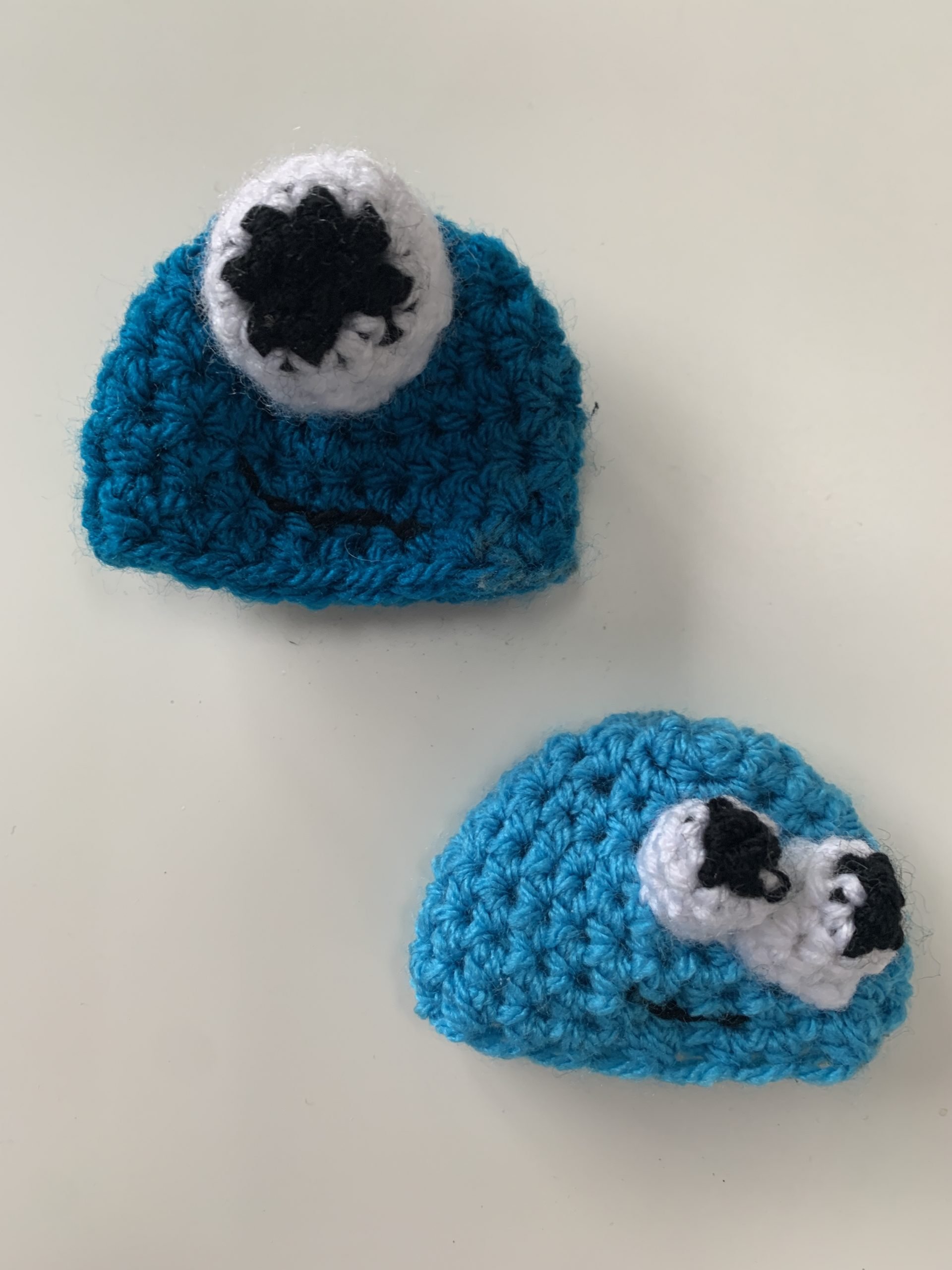 To make the monsters – pick any colour, but make the little hat in one solid colour (even better – not so many ends to sew in – if you need to know why we needs to sew in ends rather than cut them – check this out here>>>>
Abbreviations – USA Terms
SC – Single Crochet
HDC – Half Double Crochet
MR – Magic Ring
YO – Yarn Over
The Monster Eyes
Now this is where the little monsters really come alive.
For these – we are going back to US single crochet.
The eyes are tiny, and they need the proper closed texture, but they are super quick – so I'll take the smaller stitches here, to get the look I want rather than speed!
They are made using the Amigurumi method, so no slip stitching to join, we are going to work in spirals.
To change colour, make sure you do the last Yarn Over of the stitch in the new colour.
One Eyed Monster Hat
Using black yarn, and an appropriate sized hook, make a magic ring.
Round 1: 4SC in the ring [4SC]
Round 2: 2SC in each st around, last YO in white [8SC]
Round 3: [2SC in first st, 1 SC] 4 times, [12SC]
Round 4: 1SC in each st around [12SC]
Rounds 5-6: 1SC in each st around [12SC]
Fasten off, you can thread the ends through to  the centre of the eye and use them to stuff the eye – you may need slightly more stuffing.
Sew the eye at a "jaunty" angle to the hat, and using black thread.  Using the picture as a guide, sew with black stitch a wonky smile.
Two Eyed Monster
Round 1: 3SC in the ring, last YO in white [4SC]
Round 2: 2SC in each st around [6SC]
Round 3: 1SC in each st around [6SC]
Round 4: 1SC in each st around [6SC]
If you want to save this quick easy pattern for later – please pin it below.