Hi, Here you can learn how to change colour in Corner to Corner crochet (C2C) at the end of a row neatly.
I love making Corner to Corner blankets, as they give such a great effect with minimal effort really, especially if you change colour at the end of a row to make full use the diagonals.
>>>Check out my Beginners C2C crochet blanket here
This design was perfect, as it not only teaches corner to corner crochet, but it also shows how to change colour neatly, and at the end of rows.
If you are completely new to C2C Corner to Corner crochet – this post explains it all>>>
When I teach this at my "in person workshops", we make a small square with no colour changes – to get to grips with increasing and decreasing.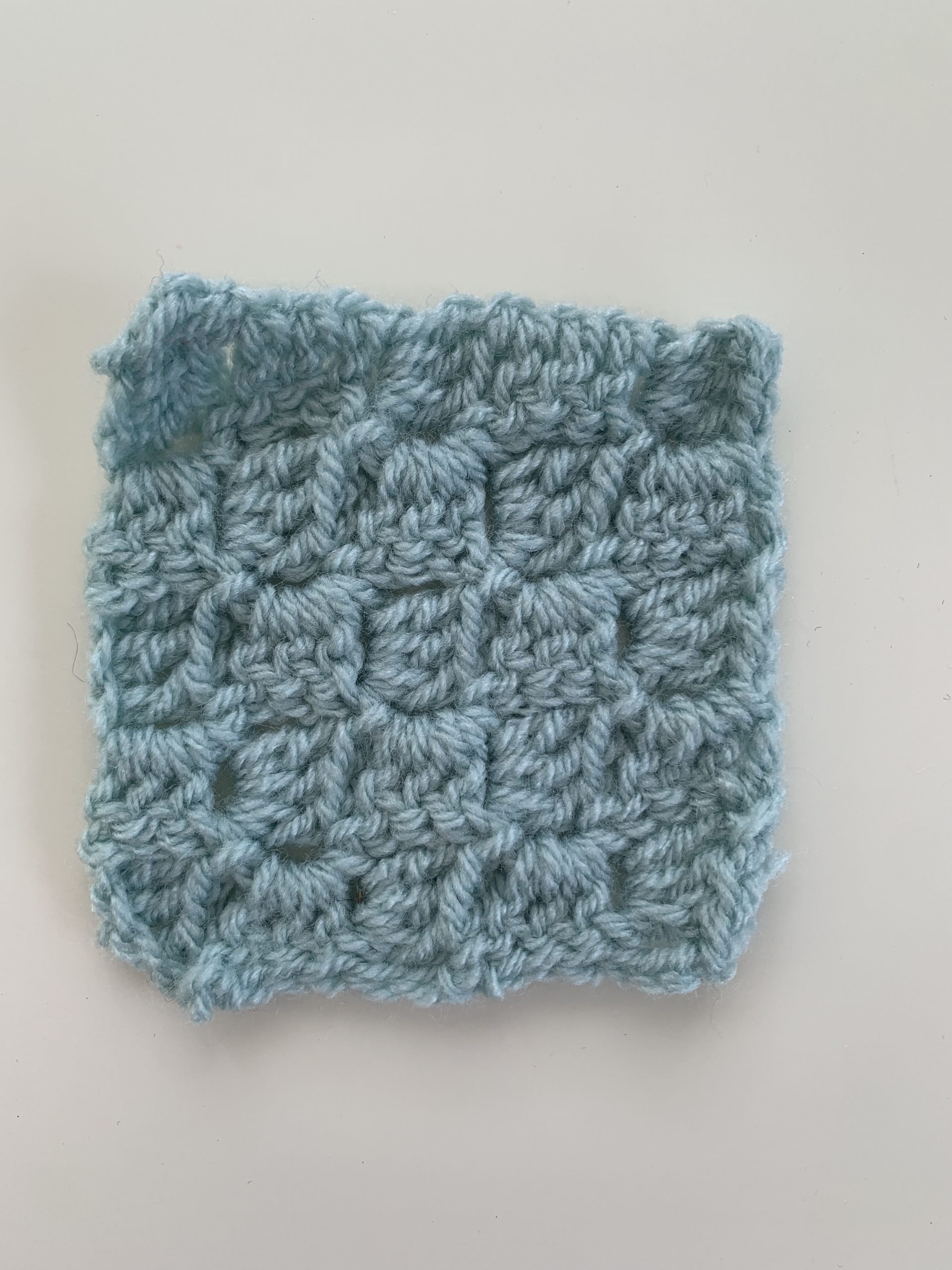 The we move onto a little square with a one colour change at the last increasing row.
Then after this has been perfected, we move onto a simple graphgan design.
So this post will follow the same tried and tested methods, as I know they work.
If you want to pin this for later – please do so here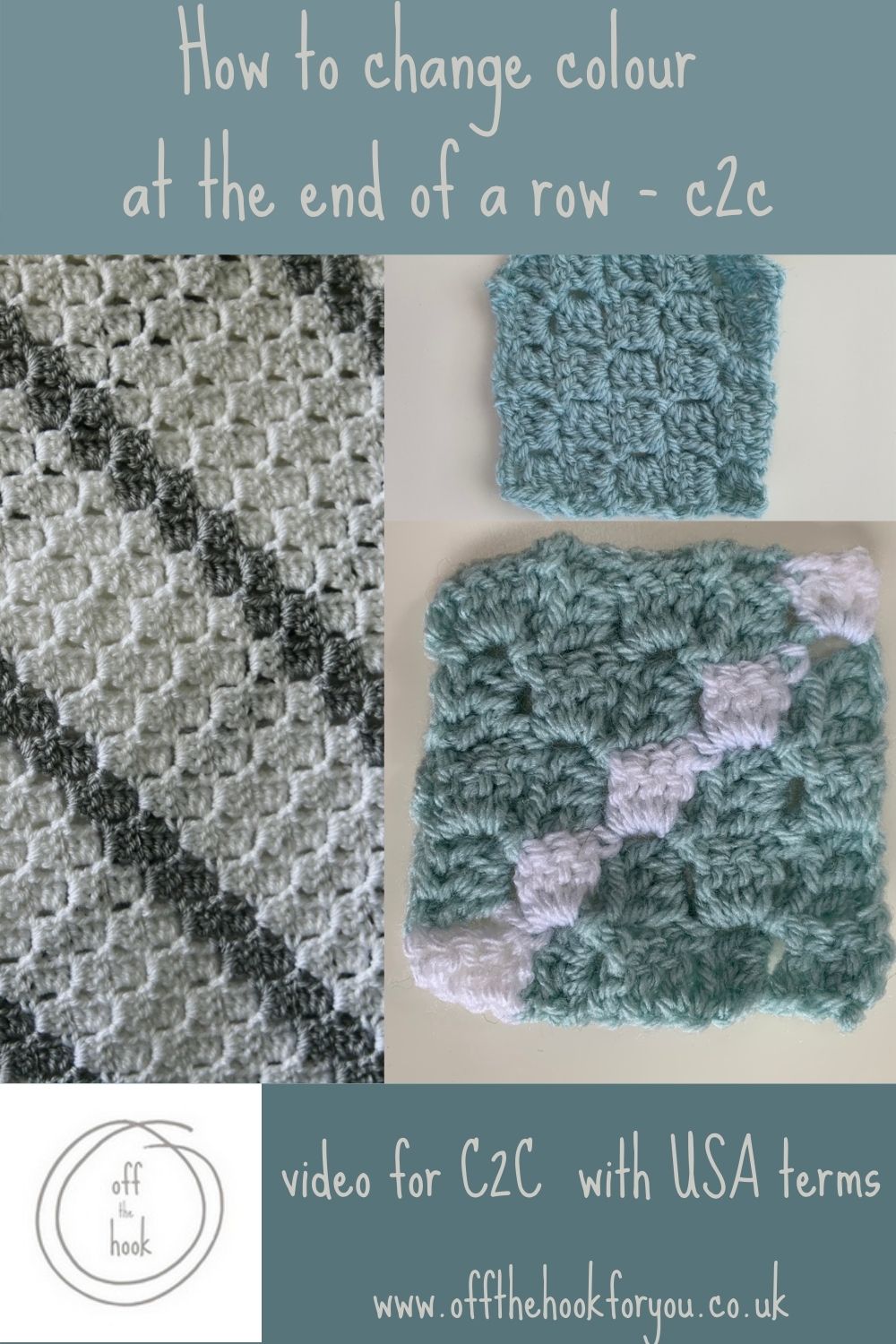 What you need to know about effective colour changing in corner to corner crochet
The most important thing to note about colour changing –  and this applies to any type of crochet – is that you need to do the last "Yarn Over" of the stitch in the new colour.
Whether this be end of a row, or the a colour changing mid row
>>>See colour changing mid row in my Animal Blanket
>>>see colour changing mid row in my Harry potter Blanket
Most Graphgans will colour change mid row, so it's good to know this technique too, which I'll explain more about later.
>>>Click here for the basics of C2C crochet for absolute beginners (I have a video below too) 
Colour changing in C2C Crochet – increasing
We'll change colour at the end of  row 3 as an example – block 3 to give the new row a new coloured stripe
Work the next block as usual –  chain 3 (to get to the height of the DC), make 3 dc in the same gap BUT as changing colour here, you need to make the last Yarn Over of the 3rd DC with the new colour. (Block made and row 2 completed).
Colour changing when reducing the block
To reduce and CHANGE COLOUR, make the block as usual, then rather than chaining 6, you need to slip stitch back to the ch 3 space. When here you need to  Yarn Over on the last Slip Stitch with the new colour,  then chain 3, 3 DC – complete the row as normal.
>>> Watch the video here on how to change colour at the end of a row.
There you have it – how to change colour at the end of a row in C2C crochet.
If you've mastered this, you could easily make:
>>>The easy baby crochet blanket
>>>Super Quick Lanzarote Dreams Blanket
>>>The rainbow crochet baby blanket
Please Pin this for later, using the photo below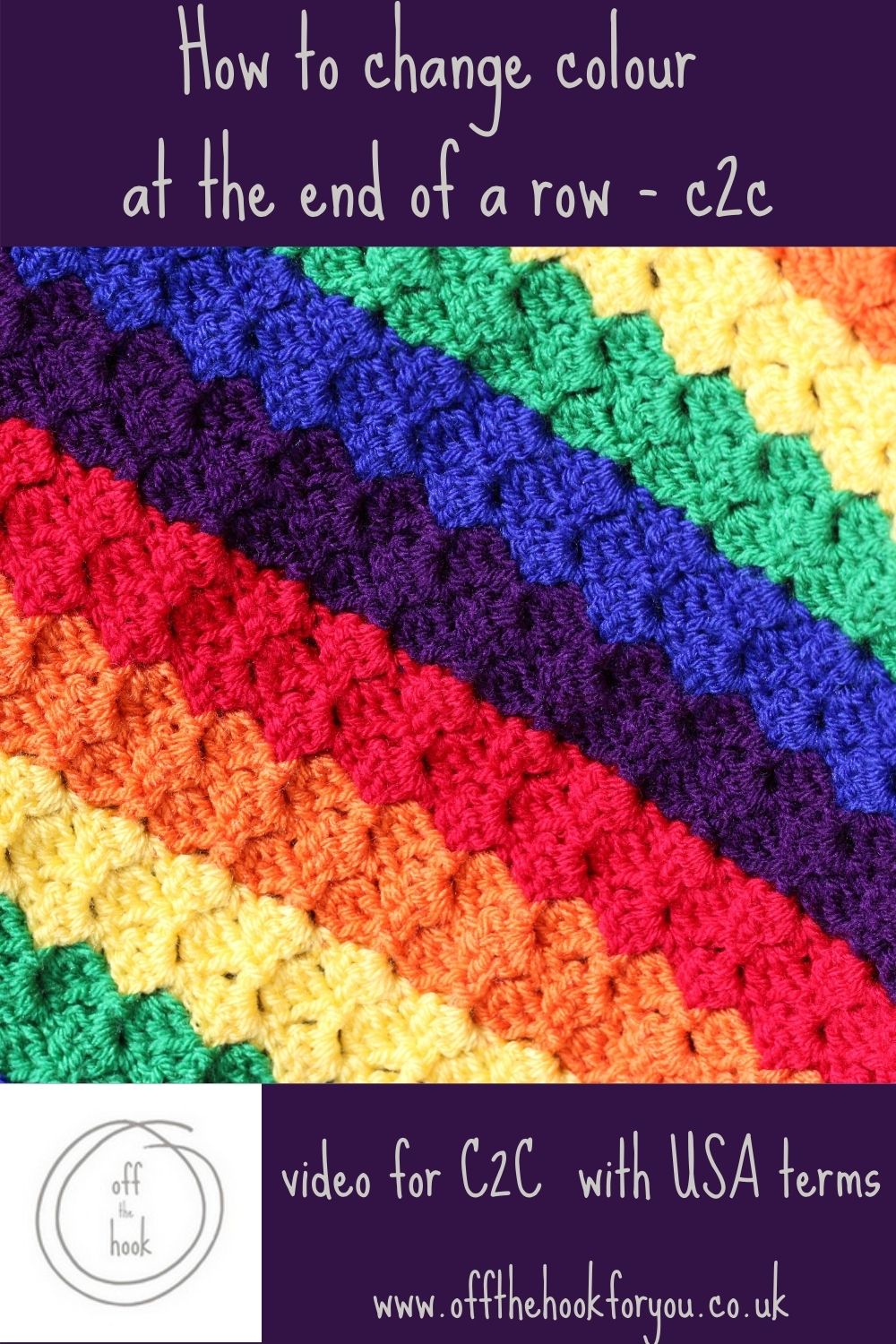 Join me at Off The Hook For You to share your crochet!
Thanks for visiting  – I'd love to stay connected with you so please sign up for my email list where a free PDF pattern is waiting for you (just so you can see what my PDF patterns are like).   
Finished one of my crochet pattern makes?  I'd love to see it and so would the world, so get sharing!  You can find me in the following ways:
Disclaimer 
This post may contain affiliate links which I earn a small commission from if you choose to click and purchase anything from. You pay the same price, I get a very small amount for sending you their way.  It helps me to make my crochet patterns free on the blog.