Here you can find some great Christmas crochet tapestry squares, that make a great festive cushion!
I've teamed up with 8 other designers, the initial idea came from Veronika over at Bluestar crochet, and she's worked her magic from our ideas of 9 individual tapestry crochet squares, to give you the pattern for the Christmas cushion.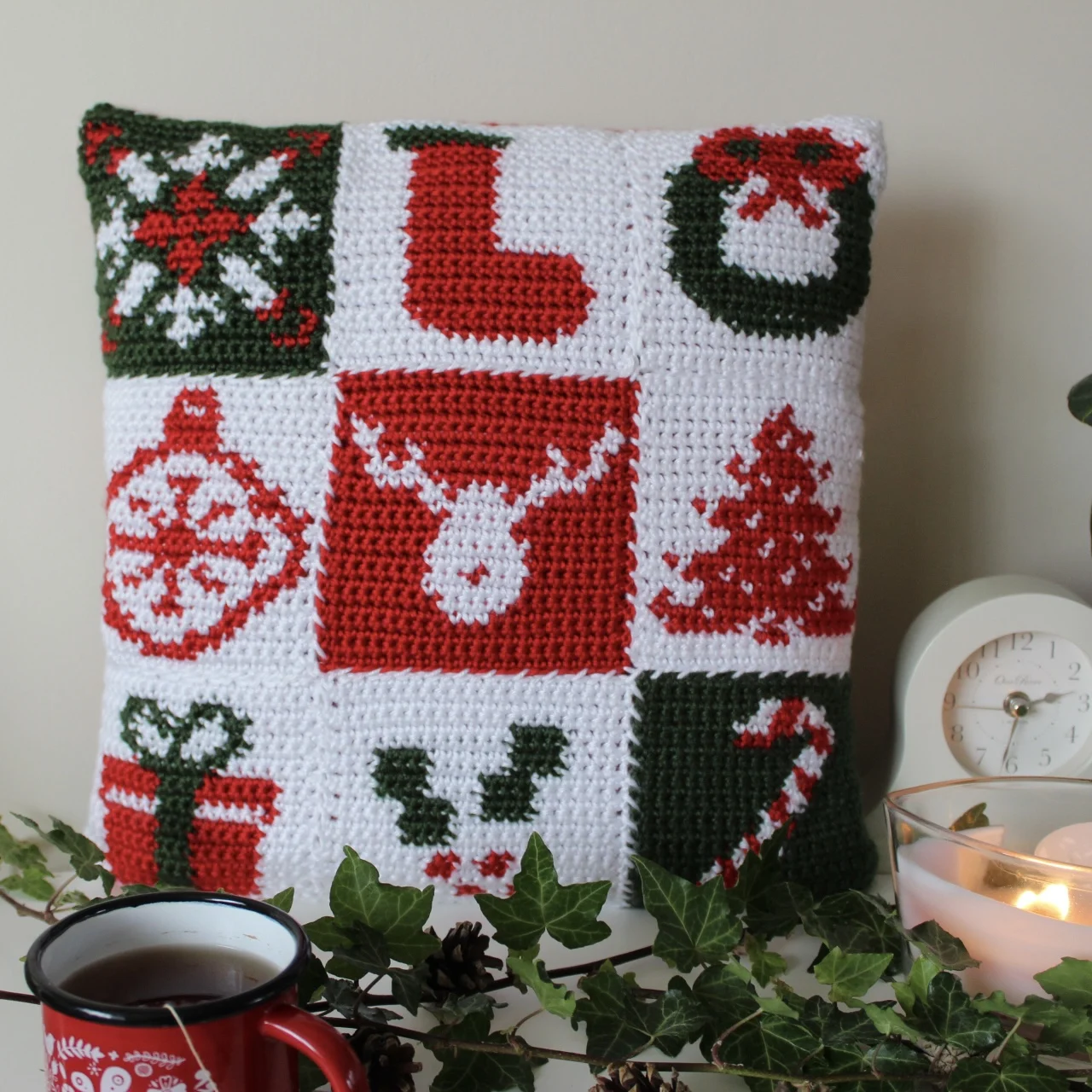 The Christmas Crochet Tapestry Cushion
The idea for this came from Veronika over at Bluestar crochet. She put a call out to her crochet friends, and we all came together to make a square each.
The criteria were very simple:
The squares needs to be
tapestry crochet
use worsted weight yarn in 3 colours (Yarn used was Red heart Super Saver in  Cherry Red, Paddy Green and White)
Single crochet (USA term)
Square should measure 21 sts by 23 rows
measure 13.25cm ( 5 1/5 inches or 5.2 inches)
5mm hook, or one that will give this tension
So we all got on Stitch Fiddle in the middle of the summer, and had no idea apart from a one word description on what we were all making!
Roll on to October, as we got to see the final design!
I love a bit of virtual teamwork, and this is the perfect example of it!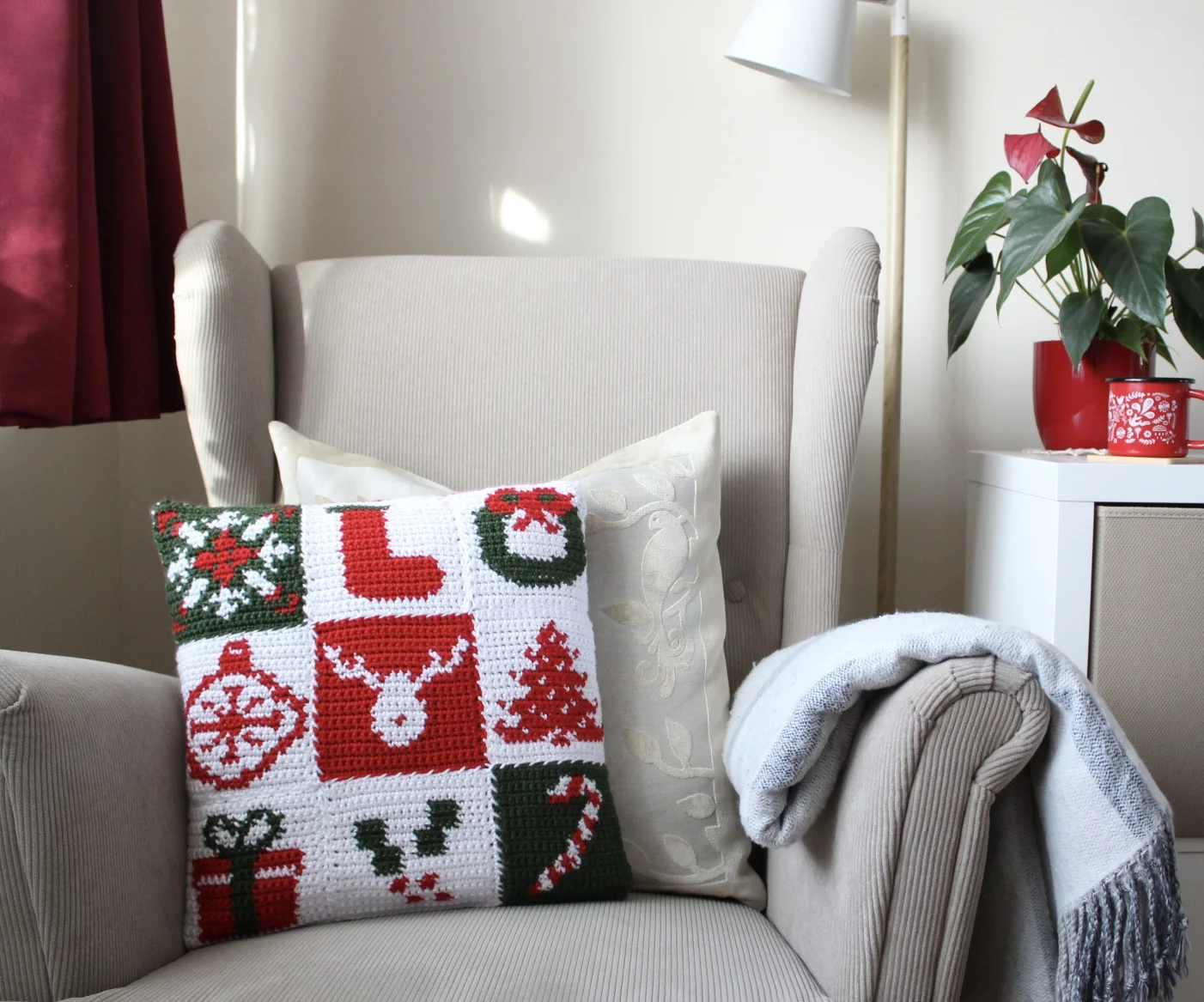 We have to thank for this great cushion: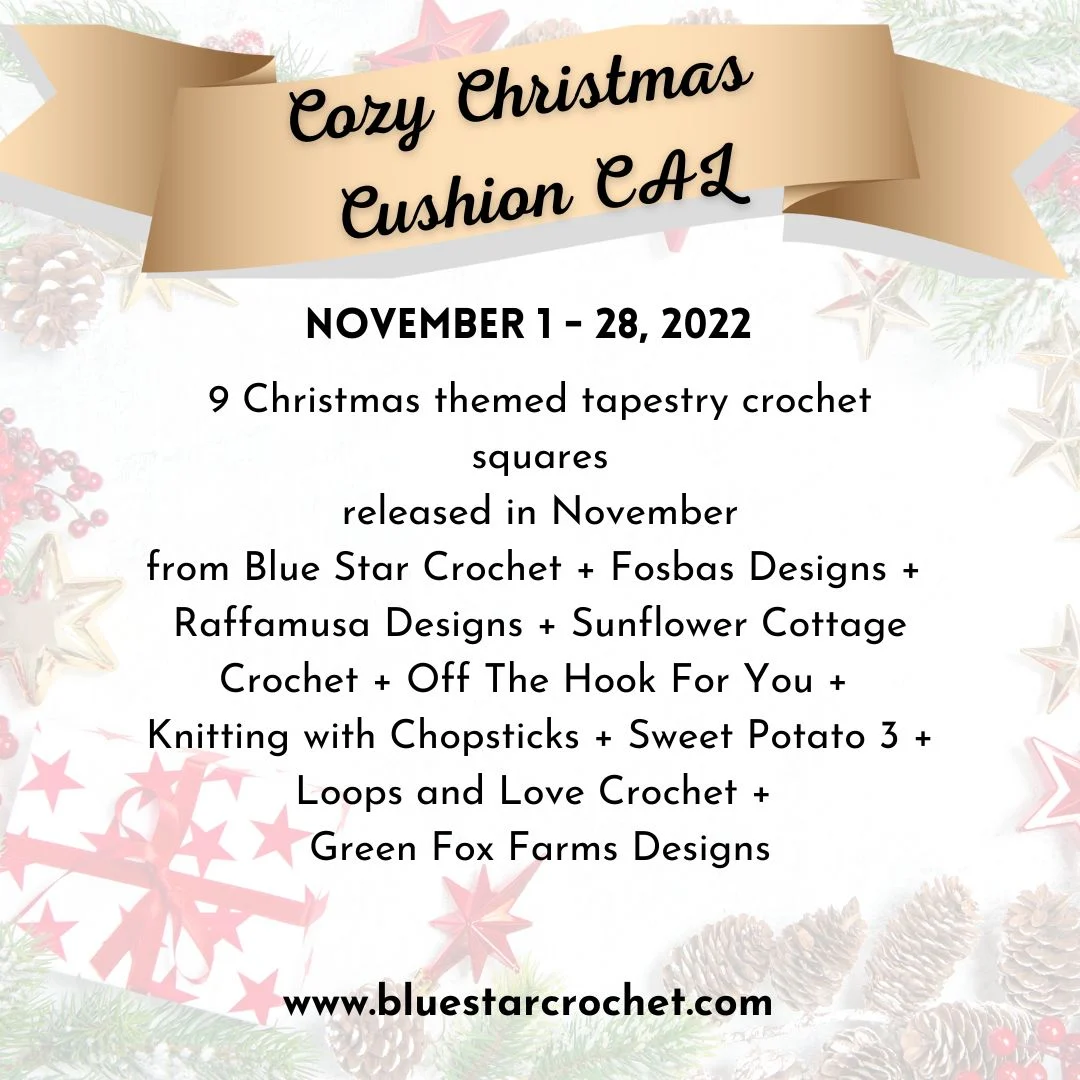 Crochet CAL
This cushion is being released as a crochet CAL too!
And my festive crochet patterns here
1 Square will be released every Monday and Thursday throughout November.
How to get the tapestry crochet Square patterns
You can get the patterns from the designers blogs (links will be given below)
You can get the eBook, and get all 9 graphs now, including left and right handed instructions in a handy IMMEDIATE download.
Part 1 – Bluestar Crochet
Veronika kicks off the CAL with a great Gift Box design (or Christmas Present)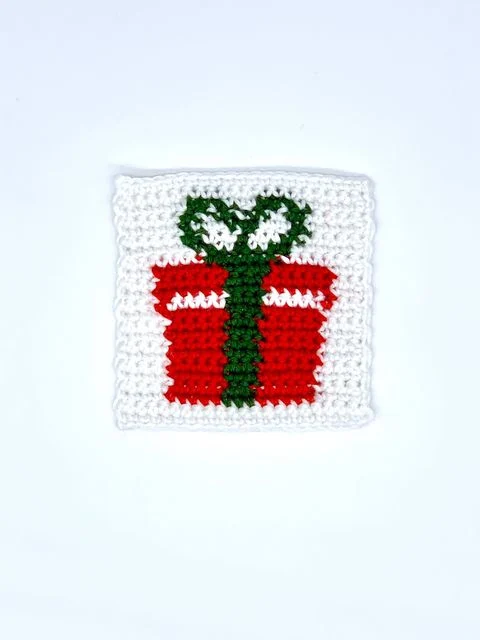 Part 2 from Crochet Fosbas
A cute christmas stocking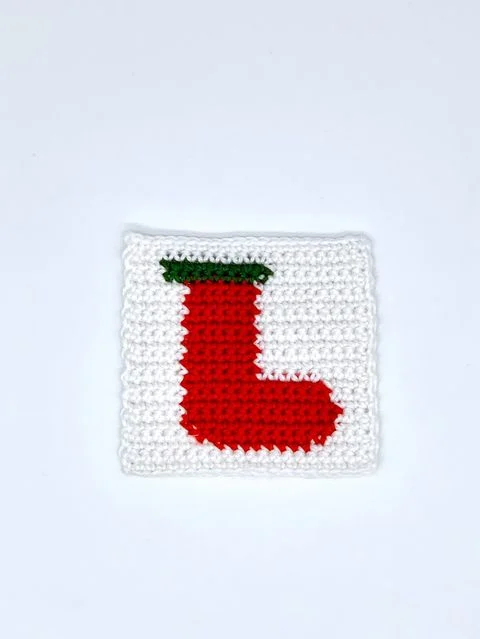 Part 3 – From Rassamufassa Designs
A Christmas tree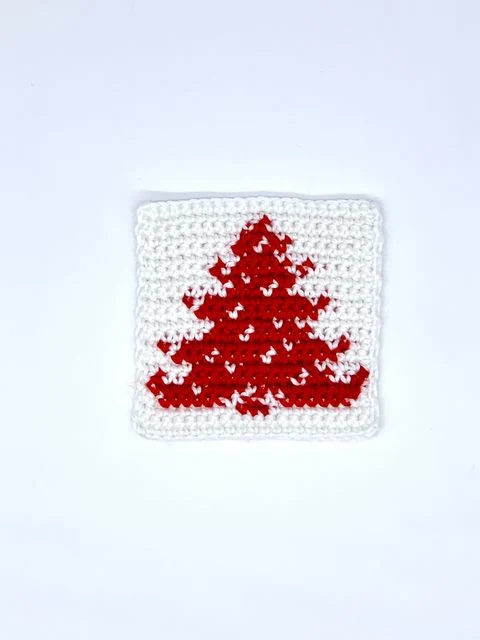 Part 4 – Sunflower Cottage Crochet
A Christmas Bauble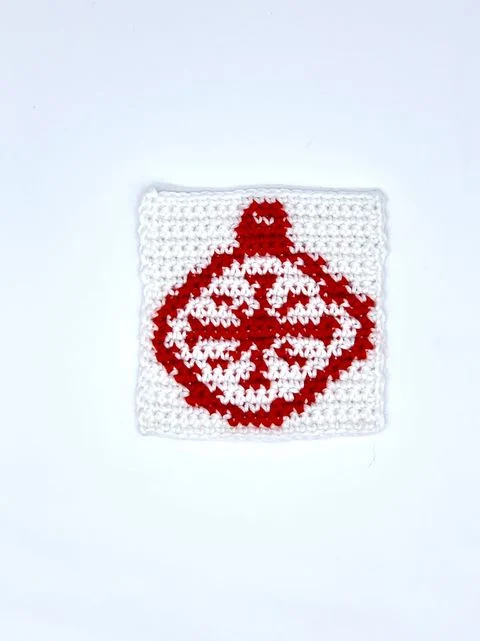 If you don't want to wait, get the ebook now below
Part 5 – Me – Vicki at Off the Hook For You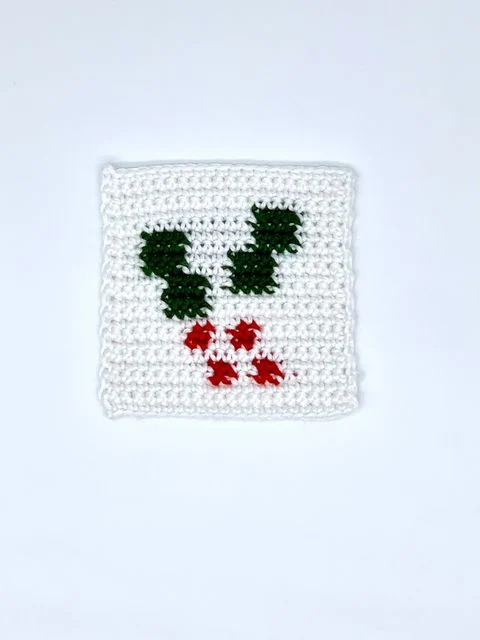 Part 6 Knitting with Chopsticks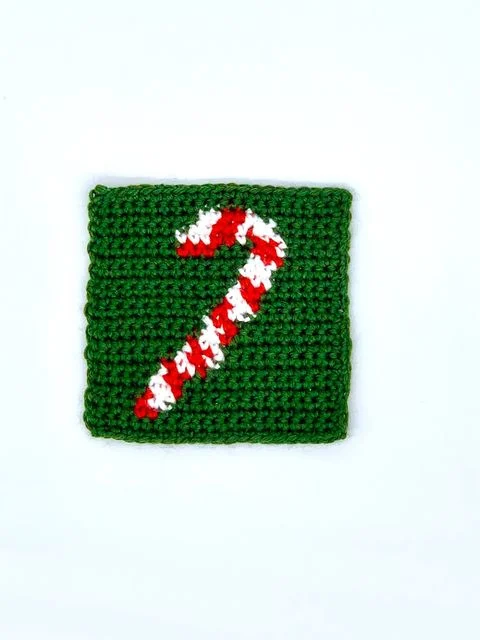 Part 7 Sweet Potato 3
Part 8 – Loops and Love crochet
Part 9 – Green Fox Farm Designs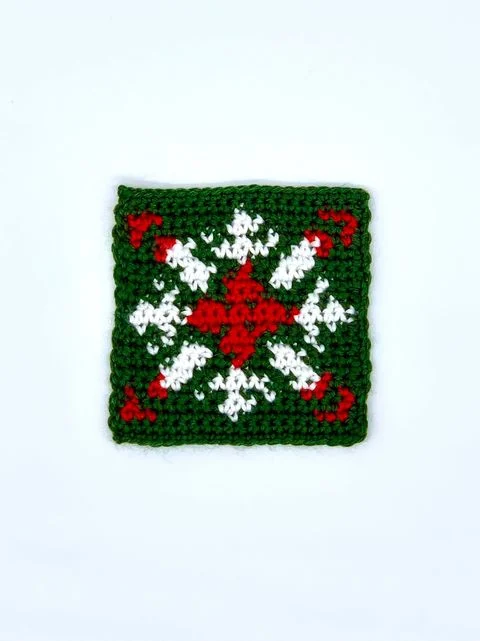 Join me at Off The Hook For You to share your crochet!
Thanks for visiting  – I'd love to stay connected with you so please sign up for my email list where a free PDF pattern is waiting for you (just so you can see what my PDF patterns are like).   
Finished one of my crochet pattern makes?  I'd love to see it and so would the world, so get sharing!  You can find me in the following ways:
Disclaimer 
This post may contain affiliate links which I earn a small commission from if you choose to click and purchase anything from. You pay the same price, I get a very small amount for sending you their way.  It helps me to make my crochet patterns free on the blog.